Fantasy Football is a stock market that never sleeps. Even before the Super Bowl has ended, coaching changes start sending player values awry. Next, March brings Free Agency, which carries obvious and massive implications, which is soon followed by the NFL Draft. A new home alters not just the value of the FA, but also his new teammates — for better or worse. While a new, shiny WR can send a QBs value soaring, the target share for the other weapons may take a tough hit. Perhaps a "workhorse" back becomes committee-trapped (cough, Nick Chubb, cough), while a previously overlooked FA RB lands a featured gig.
Either way, the Fantasy Football Stock Market will be swinging wildly come March 13th. Below, we rank the 2019 NFL Free Agents by heaviest potential fantasy implications for both themselves and their future compadres. I'll also recap any rumored landing spots, as well as the "ideal" fits, for each player.
Tier 1 – Fantasy Earthquake
1) RB Le'Veon Bell
No player will send more seismic shockwaves through the RotoWorld than the NFL's pinnacle workhorse, Le'Veon Bell. While his year-long holdout may have rubbed many the wrong way, Bell remains a 27-year old transcendental talent that can shoulder an entire offense. He offers immense versatility as one of the league's top-three receiving backs, alongside a bulldozer build with arguably the best rushing patience and vision in the game. Bell, who led the league with 406 touches when last on the field, wasn't locked into a Top-Two selection in 2018 drafts without reason.
Considering his $17 million a season, $45 million guaranteed contract demands, Bell is likely to find workhorse volume wherever he lands — no team's shelling out this money without the intention to ride him for 350+ touches. He's likely to be a 2019 first-rounder on Talent and Usage alone, while ruining the value of any backfield mates around him. The Surrounding Talent and Coaching Scheme will determine just how high he ultimately goes.
Rumored Landing Spots: Jets, Bucs, Eagles
Flush with cap-space, the Jets have been endlessly linked to Bell. Yet, reports vary greatly, with some labeling New York the "undeniable favorites" while others say the team has "little interest." Though supposedly ascending, this overall offense remains a question mark and the line is abysmal. Bell would certainly have a clear path to usage, but Adam Gase has always been sketchy with his RBs.
The Eagles also make minimal sense, considering they're the pinnacle of a committee backfield. If Doug Pederson does pursue Bell, he'd almost assuredly abandon his RBBC ways, and this overall line and offense drip in appeal. However, the Bucs present the near perfect spot. Bruce Arians' attack peaks with a bulldozing and versatile back, ala David Johnson in 2016. Amidst an explosive overall offense, Bell would approach Johnson's ungodly 2,100 total yards, 20 TDs, and 80 rec.
Ideal Fits: Chiefs, Bucs, Texans
Admittedly a pipedream, Bell would be the ultimate weapon inside the league's ultimate juggernaut in Kansas City. Andy Reid peppers his backs, plus boxes would be light and the scoring chances bountiful with Patrick Mahomes under center. He would threaten for the 2019 Fantasy MVP title here. At minimum, CBS Sports' Jason La Canfora suggested the Chiefs are "looking to add on offense" and "some teams I spoke to wouldn't be shocked if they got in on Bell."
Still, the Bucs remain a close-second. The offense drips in weaponry, and Arians has made monsters of similar talents. Fingers crossed their rumored interest is real.
Don't count out the Texans, either. Similarly, Bill O'Brien loves riding a back with strong vision and receiving chops, and the team's depth chart is wholly uninspiring. This offense should be among the most explosive in the league, and Bell could be an ideal centerpiece.
Tier 2 – Major Fantasy Impacts
2) RB Mark Ingram
Indeed, Mark Ingram is approaching 30, aka the dreaded "cliff age" for RBs. Yet, this big-bodied, three-down horse hasn't been overly worked as a mostly-committee back in New Orleans. With only 1,321 career carries — roughly 163 per year over his 8 seasons — the tread on Ingram's tires is relatively light.
Thus, after Bell, Ingram seems the second-likeliest to earn a true featured back role on whatever team is willing to ride him into his career sunset. He's a smooth pass-catcher and sound in protection, and Ingram is likely motivated to prove himself as a solo artist.
Note – even more important than his own value, an Ingram departure from New Orleans would be enormous for Alvin Kamara. In fact, Kamara's potential freedom was our No.1 Offseason Storyline, and for good cause:
Simply put, Alvin Kamara was otherworldly in his four games without Ingram. Just let the pictures do the talking:
Yes, Kamara's Ingram-less pace was: 360 touches (140 rec.), 2396 tot. yds (1344 = rec), 24 TDs (20 Rush).
This equals 524 total PPR FPs… nearly 33 FPPG! 
That's not only insane… it's legitimately record setting. Kamara's pace would've been the greatest single fantasy season of ALL TIME! To help put this in perspective:
Even if Payton seems highly unlikely to just hand Kamara those 22.5 touches per game over a full season, Ingram's departure would still clearly be huge, and not just for himself.
Rumored Landing Spots: Saints (return), Ravens 
The Saints hope to bring Ingram back, and met with his representatives at the Combine. Likewise, Ingram has stated he'd prefer remaining in New Orleans… but also isn't afraid to "bet on myself" with "all confidence in my abilities and all confidence in what I can do given the opportunity to be a feature guy." If the Saints low-ball him, expect Ingram to depart. If he returns, Ingram still would carry serious value. He was fantasy's RB6 just two seasons ago as an excellent GL hammer in an offense that resides in the Red Zone.
However, the Ravens have rumored interest, and would be an excellent fit. Even though John Harbaugh recently expressed confidence in Gus Edwards, Ingram would undoubtedly be the featured runner in Greg Roman's insanely productive power run game. In fact, over six seasons calling plays (four for San Fran, two for Buffalo), Roman's offenses have all ranked within the top-10 in both rush attempts and yards. His Buffalo teams also both ranked No.1 in rushing TDs, and Roman's been below 12th in rushing TDs just once. The run-heavy trend would undoubtedly remain the same with Lamar Jackson under center, and Ingram would thrive with the gaping cutback lanes Jackson's mobility creates.
Ideal Fit: Bucs, Chiefs, Ravens
See Bell, Le'Veon. Ingram may not be on Bell's level talent-wise, but isn't overly far off either. In Tampa or KC, Ingram would similarly profile as a three-down workhorse in an explosive offense that would feed him in all facets.
3) WR Golden Tate
The unquestioned top-FA WR in an unfathomably weak class, Tate is likely to land monster deal and target share in his future home. Prior to an unsuccessful trade to Philly, Tate had been thriving as a short-to-intermediate monster for the Lions. He had four straight years of 90+ catches, with three going for 1,000+ yards, and was on pace to cross both thresholds again in 2018, all while never missing a game. Perhaps no one is more dangerous after the catch, as Tate turns into a running back with the ball in his hands. He possesses enough speed and ball-tracking skills to also get deep, though Tate's best work is in YAC situations. He can play both inside and outside as a movable chess piece.
Rumored Landing Spots: Patriots
Surprisingly, Tate hasn't been linked to many teams this offseason. The one that's emerged repeatedly?
The New England Patriots.
Undoubtedly, Tate would be a perfect fit in New England. He runs crisp routes, finds the soft spots of defenses, and can churn after the catch — all necessary staples of this attack. Tate's also cerebral, and possesses the football IQ to fully grasp and thrive in this complex offense. Tate isn't hiding his admiration for this fit:
"Man, I would love it… That organization, they've proven to be champions year in and year out. They work hard, for sure. But you know where you're going to be at the end of the season… You gotta admire that organization. They do things right. They've been doing it for a long, long, long time. So, I'd definitely love to be a part of something like that and catch a few passes from ol' Tommy Boy."
Tate would be a WR2 with enormous upside here, as the target totem pole is wide open outside of Julian Edelman. Please, make this happen.
(Other) Ideal Spots: Browns, 49ers
In both Cleveland and San Francisco, Tate would slide into a top-target role for ascending QBs and play-callers. He'd be an ideal fantasy WR2 in either locale.
Tier 3 – Mediocre Impact
4) RB Tevin Coleman
Coleman is a burner who can get North-South in a hurry, and has produced countless highlight-reel long runs while in Atlanta. Yet, he's far from consistent, as Coleman rarely fights through contact and often is brought down for minimal gain. He also has never shouldered a true bell-cow workload; even with Devonta Freeman's injury in 2018, Coleman never hit 20 carries, and was held at 50 or fewer yards in half of his contests. Simply put: Coleman is much more committee than feature back material.
On that front, he is a quality pass-catcher, and operates best in a tandem with a bruiser who can wear down defenders. He could flirt with RB2 value in the right system, though owners expecting a sudden workhorse emergence are likely to be disappointed.
Rumored Landing Spots: Jets
According to The Athletic, the Jets "think high of" Coleman, and are more interested in his price range than pursuing Bell. CBS's Jason La Canfora also noted the Jets' interest in Coleman, and this seems the most likely landing spot for the speedster. Here, however, Coleman would likely form a gross committee with starter Isaiah Crowell, and would be trapped in an unappealing overall offense. Simply put: he wouldn't be on my draft radar.
Ideal Fit: Saints, Eagles
In my opinion, Coleman's value would peak in a committee-based system where he won't be overworked, will find plenty of scoring chances, yet can remain fresh so his speed his constantly threatening. Should Ingram leave, New Orleans would be ideal, where Coleman could complement Kamara nicely.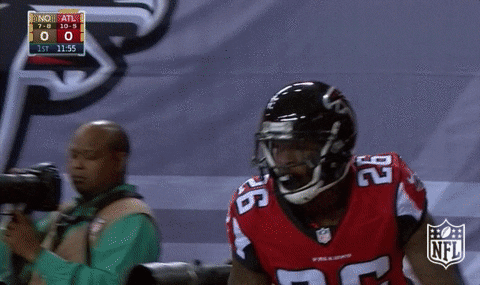 5) RB Jay Ajayi
Health is a major red flag for Ajayi, who'll likely have to settle for a one-year, prove-it style deal. He entered 2018 with "bone-on-bone" knee concerns, and last year's torn ACL certainly won't help matters.
Still, Ajayi has flashed special talent throughout his career. He's one of only four backs to log back-to-back 200 yard games, and the company is elite: Ricky Williams, Earl Campbell, and OJ Simpson. When right, Ajayi is a bruiser with plus vision, particularly at the second-level of the defense. He falls forward and rips through arm tackles with the best of them. Any team willing to take a shot could land a rental workhorse, and the fantasy implications could be massive.
Rumored Landing Spots: None
As of now, no teams have been connected to Ajayi. Due to shaky health, he'll likely have to wait until the other FA RB dominoes fall before getting a look.
Ideal Fits: Bucs, Saints
No team will put all their chips into the Ajayi Workhorse basket. However, he could come up huge in the right spot. Arians' love for power-runners with receiving chops is established, and Ajayi's always been underrated as a receiver. He could shoulder a 270+ touch workload if healthy. Otherwise, he'd make the perfect Ingram replacement and GL hammer for the Saints, carrying 10+ TD upside.
6) QB Nick Foles – Jaguars all-but locked-in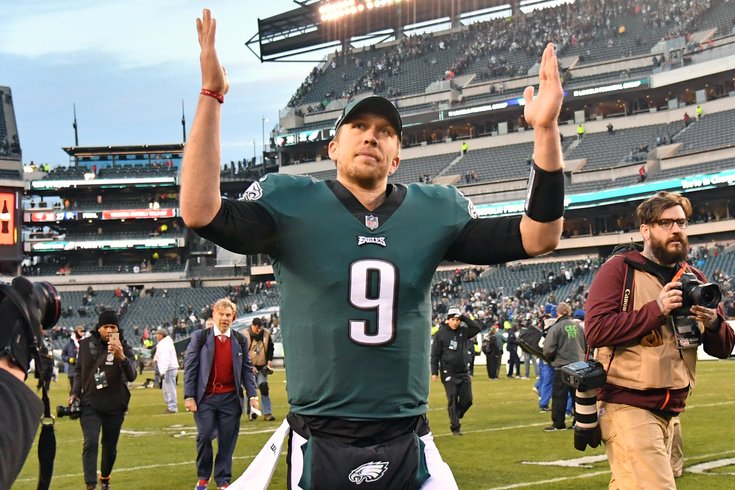 Rarely do starting-caliber QBs hit the market, and Foles would rank far higher on a "real-football importance" list. He has a cannon arm, can thread tight needles, and is clutch in huge moments. Plus, he's apparently towing a hammer between the legs.
Yet, QBs are plentiful in fantasy. With Jacksonville essentially locked-in as his new home, Foles carries minimal upside for his own self. The WRs corps is among the NFL's worst, and Doug Marrone has always preferred slow-paced, methodical offenses.
On the plus side, Foles will reunite with old Eagles QB-coach John DeFilippo, who'll serve as Jacksonville's OC. DeFilippo knows Foles' strengths and how to use him better than any one, and averaged nearly 40 pass attempts (2nd most) per game with the Vikings. Marrone will undoubtedly reign him in, but the play-caller could not fit Foles any better.
Beyond Foles' own value, the move carries far greater implications for the weaponry around him. No longer will exciting young talents like Dede Westbrook and Keelan Cole lean on the erratic Blake Bortles for their development. In particular, Westbrook feels like a massive breakout candidate. He logged 79% of his snaps out of the slot in 2018, where DeFilippo has schemed magic for Nelson Agholor and especially Adam Thielen in back-to-back seasons. With improved QB-play and far higher usage, Westbrook could experience a similar breakout.
7) WR Tyrell Williams
Standing at 6'4″ with 4.43 speed, Williams has the prototypical "size-speed" build of an Alpha WR1. Following a Week One Keenan Allen injury in 2016, Williams did his best to shoulder the passing game, logging a team-high 119 targets for 69 catches, 1069 yards, and 7 TDs. Yet, he struggles with finesse routes and sharp cuts, and thus is more of a fantastic "lid-lifting" complement piece than a true Number 1.
In such a depleted WR market, Williams is still expected to command $12 million or more annually. Clearly, team's see an untapped ceiling that was masked by the Chargers' impressive WR-depth, and Williams seems likely to cash-in on his impressive measurables.
Rumored Landing Spots: Colts, Browns, Raiders
According to Cleveland.com, the Browns have "strong interest" in Williams — unsurprising after he roasted them for 118 and 2 TDs last year. This would be the ideal home for Williams. OC Todd Monken will draw up plenty of Air Raid concepts to maximize Williams' unfair size/speed advantage, and Mayfield can drop dimes wherever he pleases.
The Colts are also in "strong pursuit" of Williams. Both HC Frank Reich and especially OC Nick Sirianni understand Williams' game well as former members of the Chargers' coaching staff. Sirianni was Williams' WRs coach during his 2016 breakout, and would utilize him properly. The No.2 role alongside TY Hilton is wide open, and a hefty piece of Andrew Luck's Aerial Pie carries huge fantasy value.
The Raiders are certainly WR-needy. Don't forget: entering last year, Jon Gruden's WR1 had topped 1,000 yards in 11 of 11 seasons. This offense isn't nearly as unappealing as it may appear, and Williams would still drip in potential, albeit more in the previous two spots.
Ideal Fits: Browns, Colts
Remaining Names of Interest
TE Jared Cook
In a barren market and overall depleted position, Jared Cook is in a prime position to cash in. Despite finishing as fantasy's TE5, Cook will remain difficult to trust. He was useless in 9 of 16 games, and his high EOY ranking was on the back of a couple scattered monster games. Still, at 6'5″ with elite athleticism, he'll land a major role somewhere, likely worth a Top-10 fantasy investment with such few options.
The Slot WRs
Beyond Golden Tate, the WRs market is sneakily loaded with slot WRs. Adam Humphries, Jamison Crowder, and even Cole Beasley and Randall Cobb all project as sound safety blankets, with sure-hands and crispy route-running. All are rumored to receive around $8-10 million. At least a few "slotties" will land in explosive, target-needy offenses (Patriots, Green Bay) and offer enormous "Penny Stock" upside.
The Aging Bruisers
Thicc Boi CJ Anderson and Adrian Peterson both shocked with surprising burst in addition to trademark power in 2018. Peterson in particular shouldered 270 touches admirably at age 33, and showed surprising juice in those old legs. Though neither feels likely to land a starting gig, the two could be invaluable handcuffs.
Meanwhile, Latavius Murray is reportedly seeking a "starting role" after racking up nearly 1700 total yards and 14 TDs across his two seasons in Minnesota. He's unlikely to find it in a loaded FA class, though Murray again proved he can be a fantasy force with volume. He's worth tracking.
The Wildcards
Prior to WR-hell in Baltimore, Michael Crabtree racked up 25 TDs across three seasons in Oakland. He'll make for a strong Red Zone presence, and may sneakily be the second most complete WR in this awful crop. He's still smooth in-and-out of the breaks, and could resurface as a reliable WR3 in the right home… John Brown was the more productive Ravens WR, and still flashed his trademark wheels throughout the year. A reunion with Bruce Arians could create genuine 1,000+ yard upside… Donte Moncrief: Cock Tease…. Devin Funchess has flashed dominant jump-ball abilities, yet often looks like he's running through quicksand. Likely just a glorified Kelvin Benjamin…TJ Yeldon is an underrated runner and quality pass-catching back. He filled in admirably for Fournette, and could thrive if provided adequate volume.