Player Stock Ticker
2019's 5 Most Important NFL Offseason Stories for Fantasy Owners
Empty. Dark. Hollow. A plastic bag, drifting through the wind, wanting to start again. So, so paper thin.
This is the feeling true Fantasy Football Wolves (addicts) are feeling these days, stuck in the unending abyss of the Fantasy Offseason. Sure, the 2019 NFL Playoffs promise to be the most unpredictable and exciting slate of games in years. But these are a mere bandaid to the fact OUR teams, our little slices of heaven (and hell) are now gone for 35 more Sundays.
Still, a true Fantasy Wolf knows there's no such thing as "the offseason," but instead only chances to get ahead while all your sheep leaguemates are sleeping. Whether it is the Coaching Carousel, Free Agency, the NFL Draft, OTAs or Training Camp, the Fantasy Stock Market never sleeps.
We will, of course, capture every value swing on our Fantasy Stock Watch. However, below are the 5 absolutely massive, must-watch fantasy stories that'll send earthquakes through the Roto World.
Five Most Important NFL Offseason Stories for Fantasy Owners
1) Will Alvin Kamara be Freed? Mark Ingram's Free Agency Status
Saints RB Mark Ingram is set to hit Free Agency this offseason, and has reportedly always been a longshot to return. Indeed, his own fantasy value could rise or fall dramatically based on where he lands, with RB1 upside in the right home (Chiefs or Bucs?!)
But that's not the most intriguing or important aspect of Ingram's potential departure.
Simply put, Alvin Kamara was otherworldly in his four games without Ingram. Just let the pictures do the talking:
Yes, Kamara's Ingram-less pace was: 360 touches (140 rec.), 2396 tot. yds (1344 = rec), 24 TDs (20 Rush).
This equals 524 total PPR FPs… nearly 33 FPPG! 
That's not only insane… it's legitimately record setting. Kamara's pace would've been the greatest single fantasy season of ALL TIME! To help put this in perspective:
Yes, I'm well aware that Sean Payton typically deploys a committee. Even if Ingram leaves, Payton seems highly unlikely to just hand Kamara that 22.5 touches per game pace for a full season.
Still, in a generally weak free agent and draft class, an Ingram "replacement" is unlikely to be on the same level. We also just saw Christian McCaffrey  redefine "Workhorse Back" this season after logging 97% of snaps in Weeks 1-16.
The increased GL rushing usage is especially of note, as Kamara was on pace for 20 Rushing TDs. If Kamara avoids a "Hammer" style addition, he would be in prime position to cross the 20 total TD threshold in 2019.
In only two NFL seasons, Kamara's already finished as the RB4 both times. His No.1 overall, hell All Time, fantasy ceiling could be opened up in 2019.
2) Who Will Fill the Chiefs RB Value Hole?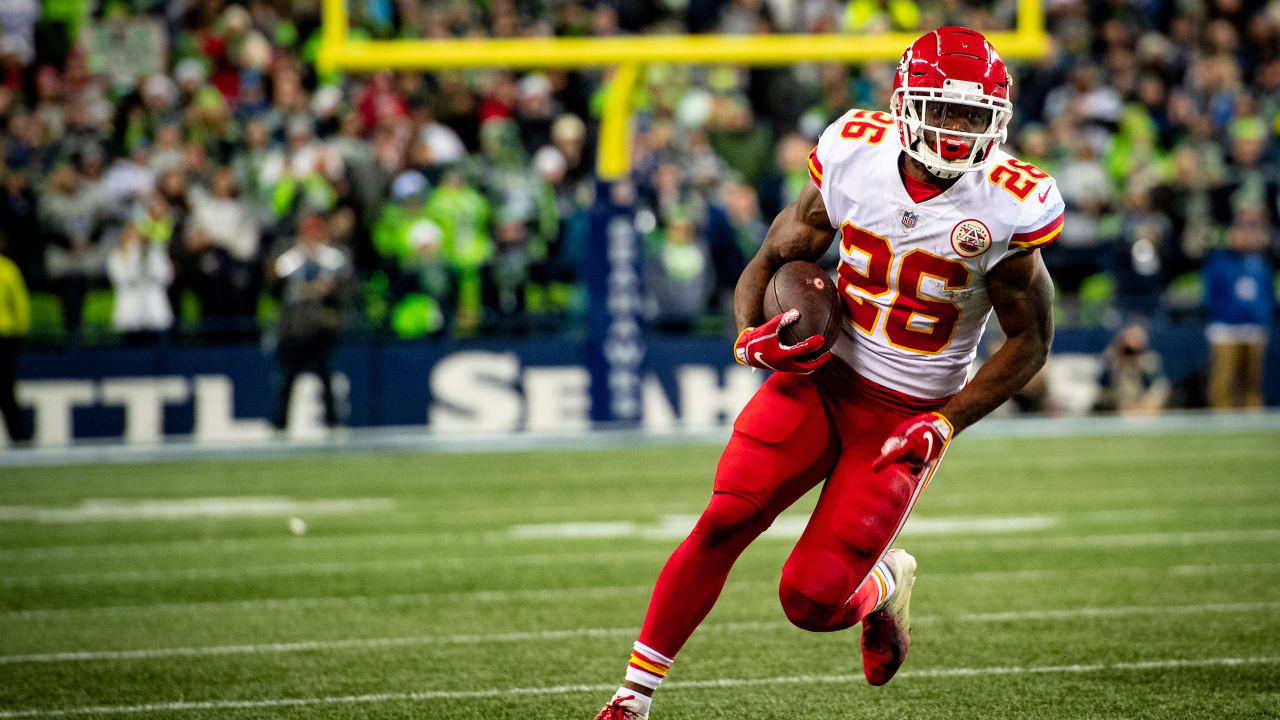 At RSJ, we use "Value Hole" to define vacated opportunity. Job openings that drip in fantasy upside. For 2019, none are juicier, or more important to monitor, than the glaring Value Hole in Kansas City's backfield.
Our Fantasy Stock Formula is all about holistically grading fantasy value. Two key aspects are Surrounding Talent and Coaching Scheme, which are both elite for any Chiefs lead RB.
Surrounding Talent is obvious: under likely-MVP Patrick Mahomes, the Chiefs posted the third highest PPG (35.3) in NFL History. Scoring chances and sustained drives don't get more plentiful. Boxes couldn't be less stacked when a cannon-arm is delivering ropes to Tyreek Hill, Sammy Watkins, and Travis Kelce. Even the line took massive leaps forward, surging to PFF's 13th Ranked Unit of 2018.
Coaching Scheme is also elite. Andy Reid has historically ridden a workhorse to the fullest, especially in the passing game. In fact, even before Kareem Hunt led the league in rushing and was the RB4 in 2017, Reid's backs had averaged 19.5 FPs and 20.8 touches per game — numbers that have since risen further.
Even if the Individual Talent is mediocre, the lead RB will be elevated to low-end RB1 status by being a 15-20 touch guy in an offensive juggernaut. Hell, Damien Williams — fresh off an extension and a potential candidate to fill the Value Hole — was the RB3 once Hunt was suspended. Williams went went 17, 27.3, 21.9, and 12.4 (half a game) while scoring six TDs over four weeks. He and Hunt combined to score 295.4 Half PPR FPs, which would've ranked as the RB5, ahead of Ezekiel Elliott.
Simply put, an average talent will be an Top-18 pick here. A quality RB (Mark Ingram / Tevin Coleman as FAs) would be a Top-12 selection. If, *gasp*,  Le'Veon Bell lands here… he'd be worthy of No.1 overall consideration.
Speaking of Bell…
3) Le'Veon Bell's Landing Spot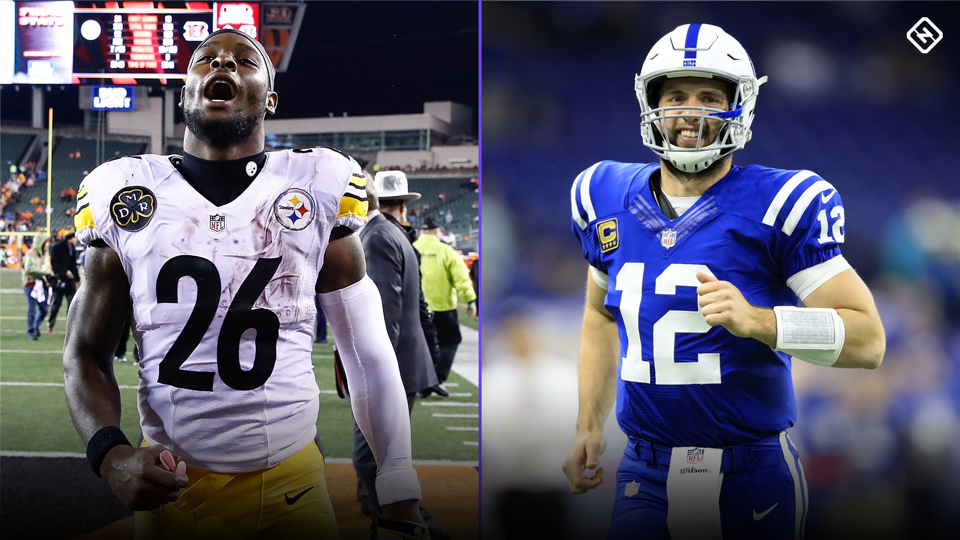 Bell's landing spot obviously carries enormous implications, both his own fantasy value and also whoever's he ruins.
Despite the maddening year off, Bell was a locked-in Top-2 Overall selection in back-to-back seasons for good reason. Talent-wise, he is an elite talent who offers immense versatility as one of the league's top-three receiving backs, alongside a bulldozer build with arguably the best rushing patience and vision in the game.
Moreover, considering his $17 million a season, $45 million guaranteed contract demands, Bell is likely to find workhorse volume wherever he lands — no team's shelling this money out without the intention to ride him for 350+ touches.
The question then becomes: which offensive scheme and Surrounding Talent will Bell find himself amidst?
Get the popcorn ready, folks. We'll write a more detailed breakdown of Le'Veon Bell's Ideal Landing Spots, but for now, here's a preliminary list that considers Available Volume, Surrounding Talent, and Coaching Scheme.
Tier 1:
1) Chiefs – no brainer. No explanation needed… if so, please see No.2 on this list.
Tier 2:
2) Texans (assuming Lamar Miller would be promptly sent packing) – Explosive offense. Run Heavy scheme. Horrendous line. 2/3 work for me.
3) Buccaneers – Wide open backfield with explosive overall offensive talent. Play-caller remains question mark, but if Todd Monken remains, Bucs become second-best value hole.
4) Colts – More congested after Marlon Mack played extremely well, and Frank Reich has always been a committee guy. Still, if they committed to Bell, you'd have to imagine the backfield reigns inside a Top-Five offense and behind arguably a Top-Five line would be all his. Rumored to be Bell's preferred spot.
5) 49ers – IF the team was willing to abandon the massive money they poured into Jerick McKinnon, the 49ers and Kyle Shanahan's zone blocking scheme could not be more perfect. Bell has arguably the league's best vision, patience, and hands, which are the three most crucial ingredients in this blocking scheme that also targets the RB voluminously.
While on disgruntled Steelers…
4) A Potential Antonio Brown Trade?! Where would be his ideal new home?
Sure looks like Antonio Brown likes the idea of a #49ers uniform on him…. pic.twitter.com/oA4CwHDIf0

— NFL Update (@MySportsUpdate) January 1, 2019
I won't pretend to understand whether or not Antonio Brown's contract, and a potential $21.1 million cap hit, makes him untradeable. Some say it's avoidable, and he could be shipped. Others say the team would need to eat it, and he's locked in.
Regardless, there's a real chance he's played his last down as a Steeler. Adam Schefter certainly thinks so.
The fire began when Antonio Brown left a Week 17 Wednesday practice and went AWOL. He was then put on the Inactive list, and left the team at half time. Since then, he's been cryptic on Twitter and various social media, tweeting about "free will," as well as flirting with 49ers like George Kittle.
Considering AB's rush to get out of Pittsburgh, and an awful 2019 WR Free Agent class, a deal could easily happen. Just like Le'Veon Bell, we'll go more in-depth later, but a few spots we'd love to see Brown land:
1) 49ers: Massive target void. Kyle Shanahan's scheme typically peppers an "Alpha X," and AB is built to dominate at every layer. Jimmy Garoppolo certainly can deliver the mail. Cap-space to pull it off.
2) Colts: Andrew Luck is at a top-five level right now. Frank Reich's West Coast scheme emphasizes horizontal routes, and no one is cleaner than AB. Him and TY Hilton perfectly complement one another.
3) Browns: With a more diverse route tree (especially vertical), AB would be the ideal No.1 to Jarvis Landry's No.2… and Landry is already putting in his work to make it happen. Playing with the league's next up-and-coming star, and with the Revenge Division Narrative, would keep Brown motivated.
5) Where will the Coaching Carousel Spin?
Got tired of seeing some brutal swaps out there…Decided to pump one out.

Gotta' admit, Josh looks good! 🙌🧀
What say you, Packers Twitter?#GoPackGo :: #Packers :: #NFL pic.twitter.com/ptxHMY6FA6

— Mitchell Pantzke 🏹 (@_Pantzke) January 3, 2019
2017 saw Sean McVay help the Rams shoot from legitimately the lowest scoring team to the highest scoring unit. In 2018, Matt Nagy's Bears vaulted from 29th to 9th in scoring.
Simply put: coaches matter. No, neither playcaller was the sole reason for these leaps. But to ignore their role is foolish, and too many fantasy sites pay little to no regard.
2019 presents openings just soaked in fantasy intrigue. The Packers boast a stacked cabinets of weapons with an All-Time arm talent in Aaron Rodgers. The Browns are an up-and-coming barrel keg of talent looking for the right leader to send them soaring. Even the Buccaneers and Bengals sport some explosive fantasy options, and the Jets have the draft capital and cap space to become an overnight force.
Thus, tracking where offensive minded candidates like Josh McDaniels, Todd Monken, and Eric Bieniemy land is crucial. Will former fantasy wizards Bruce Arians and/or Gary Kubiak return to breed more bell cows? The intrigue is drool worthy.
Be sure to track the Roto Street Journal everywhere to find out the answers to these seismic questions all offseason! Keep rotostreetjournal.com and our Stock Watch bookmarked, and follow all our socials (Twitter, Facebook, Instagram) to never miss a swing or shake. Plus, don't miss our Fantasy Fullback Dive Podcast.