All week I've been fielding question after question about a particular man of mystery: Nick Foles.  Until yesterday, my replies have generally been along the lines of: "I'd like to stash him and see how he does, but the floor is too low to trust immediately. I'd rather pair him with Jimmy Garoppolo."
Still, as more and more inquiries came in, I decided to dig a little deeper. Across my ravenous search for more on this Marilyn Manson clone, I unearthed two crucial nuggets that have me taking a complete 180.
Nichols Edward Foles is 100% a Week 15 starter and potential fantasy football title-bringer for two key reasons:
His reputation and numbers have been blemished by the Fantasy Killer, Jeff Fisher.
His is towing an absolute anaconda between his legs.
Foles' Fisherless Numbers
Admittedly, this search and subsequent epiphany were spawned while laying aimlessly in bed, watching random Facebook videos melt into each other. A fifth round of BatDad. The Reason Men Don't Approach Women. The Moment She Meets Your Female BFF (which, for the record, don't exist).
Nonsense after nonsense garbage, just spewing out of my phone that I was unable to remove my high, half-closing eyes from.
Until I heard Colin Cowherd's voice break through the noise with a bold statement: "The Eagles will still make the Super Bowl with Nick Foles."
At first, I scoffed at this absurd notion. Foles is horrendous, right?
Yet, the more Cowherd dug in, the clearer Foles' real-life, and (most importantly) fantasy upside became clear. His main argument?
That Foles has been a very solid starter whenever out of Jeff Fisher's torture chamber offense, paired with this lovely graphic: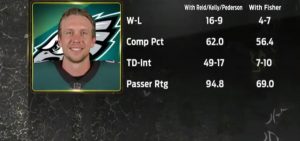 Of course, us fantasy enthusiasts don't gain points for W-L records or Passer Ratings, but the trend made sense and prompted further digging.
The actual stats for 25 career starts outside STL: 6,475 yards (259 per game) and 43 TDs (1.72). 
Moreover, in easy matchups (like he has this weekend against the nonexistent Giants), Foles has displayed enormous ceiling. Like, 407 yard and (a record-tying) 7 TD upside. Plus, 3 games over 400 yards under his belt, and eight GPs over 320).
Sure, he's also had his fair share of duds — he wouldn't have been a backup otherwise. Again, however, these were generally predictable, most often coming in tough matchups.
Regardless, the main point is clear: Foles can get it done when not trapped in Jeff Fisher's awful scheme. Just like Case Keenum has received forgiveness, Foles should also be passed a "Get out of Jail Free" card.
More importantly, however…
Foles has a Monster Penis
Dick. Dong. Python. Meat Axe.
Whatever your term of choice, Foles reportedly has a massive one. Shocker of the century, I know.
I discovered this astonishing news via a conversation with my right-hand man CJay: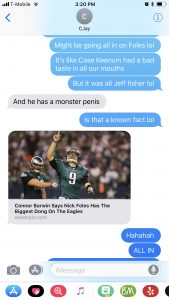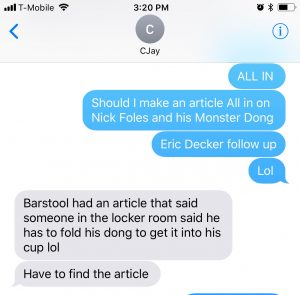 Hence, this beautiful article baby that you're now reading was born.
Despite my incessant digging, I could not find a report which denied or confirmed Foles actually had to fold his penis to fit into a cup.
Nonetheless, in a Reddit thread of all places, Connor Barwin broke news on the sledgehammer capable of smashing skulls:

Though PFF hasn't yet spouted out a feature on The Correlation Between Air Yards and Penis Length, I imagine the trend increases with inches.
Can't argue stats.
Conclusion – Do You Start Him?
Nick Folds. Nick Footlong. Nick Enormous Cock.
Call him what you will, but the evidence all points to one thing: he's a fantastic streamer who could be a title bringer in 2017.
Sure, there's very, very real risk of a complete 180 yard, 1 INT suckfest that ruins your season.  Or that the Eagles unleash the Jay Train and steamroll via the run game and their beastly line.
Still, the beyond-pathetic defense of the Giants make an absolute dud highly unlikely. Plus, even in a run centric plan, I think Foles carries fantastic red zone, 3+ TD upside.
The Giants get routinely destroyed by tight end,  and Zach Ertz is conveniently returning from his concussion. 2 TDs right there. Meanwhile, New York also displaying some of the worst tackling in the league, Nelson Agholor and Alshon Jeffery are also both very capable of breaking a huge run-after-the-catch play.
The matchup is right. The upside has been displayed when in the right system. This is the most talent Foles has ever been surrounded with.
And the penis is huge.
If you lost Carson Wentz or are just desperate for a streamer, roll with Foles. He's risen to my QB14 – just below Dak Prescott, and just above Garoppolo, Matt Ryan, and even Drew Brees (though that'd be entirely too risky).
Projection: 259 yards, 3 TDs
Have a Sit / Start Dilemma regarding Foles (or anyone else)? Don't miss our Facebook LIVE Broadcast tomorrow @11:30 AM EST.