We're so back. With a full slate plus another Thursday Night Football under our belts, I can confirm that we are so back. The NFL season is a precious part of the year. Not only do we get to watch our fantasy (and real) teams play, but we also get to steal money from Vegas. I dare you to find a better time of the year; you simply can't. With that being said, let's look back at Week 1 and look forward to how we will attack the Week 2 slate– –nearly all these bets are available on Power Play!
Most player props (Pick 'Em) will be provided by our friends at Underdog Fantasy.
If you've never played Underdog Fantasy, the platform allows users to pick and combine two to six player props to win up to 20X on an entry. Plus, it's the best platform to play season-long and weekly Best Ball leagues! Sign up with Underdog Fantasy by clicking the banner below to get up to a $100 first deposit match

WEEK 1 RECAP
Week 1 was very kind to us, leading to a 4-1 record.
New Orleans vs. Tennessee went exactly according to plan. The game stayed close, leading to Jamaal Williams carries throughout. Handling 18 of 21 running back carries, Williams cashed over 15.5 with ease. The other bet in this game was Tennessee +3. The Titan defense is to thank for this win. Despite three interceptions from Ryan Tannehill, the defense kept this game within reach, and a late field goal led to a cover from the Titans.
As expected, the Dolphins and Chargers game was nothing short of a shootout. Jaylen Waddle cashed in on this very quickly. It didn't take long for Tua and Waddle to connect, going for a 35-yard catch and run on the first drive. Waddle's longest reception is once again set at 24.5 yards. While it won't be an official play, this is a bet that I take almost every week, especially when it hovers around 25 yards.
Just like the previous games, Eagles vs. Patriots went exactly according to plan. New England ran man coverage at a fairly high rate, and AJ Brown took advantage of this. Brown caught seven balls for 79 yards, cashing our bet with a slight sweat.
The only miss came on Joe Mixon anytime touchdown scorer. The Bengals could not get it done on offense. Cincinnati finished with zero touchdowns and zero trips to the red zone. Nobody saw this coming from the Bengals, and their poor play led to a missed bet.
2023 RECORD: 4-1-0
SPREAD BET: CINCINNATI BENGALS -3 (-118, FANDUEL)
After getting burned by the Bengals last week, we're back again and looking to take advantage of a bounce-back spot. Cincinnati will make their home opener after getting embarrassed in Cleveland last week. We saw the absolute floor of the Bengals' offense last week with no touchdowns scored and Joe Burrow held to 82 yards.
This a great spot to take advantage of a Joe Burrow bounce-back. Burrow and the Bengals will be looking to make up for last week's loss against a team they have played well against.
The Bengals will also be facing a very thin Ravens lineup. Baltimore will be without RB JK Dobbins, CB Marlon Humphery, OT Ronnie Staley, C Tyler Linderbaum, S Marcus Williams, while TE Mark Andrews is questionable.
Facing a banged-up Ravens team and being undervalued due to their Week 1 performance, the Bengals provide great value in Week 2.
PICK 'EM: KHALIL HERBERT LESS THAN 11.5 RUSH ATTEMPTS
Chicago's Week 1 was surprising for a few reasons.
First, Justin Fields attempted 37 passes, the second most of his career. This was largely due to the fact that they trailed Green Bay throughout the game, but there were still more attempts than expected. Chicago's Week 2 opponent, Tampa Bay, will be without starting cornerback Carlton Davis. This could easily lead to success through the air for Fields and a reliance on the passing game.
The other surprise was the workload split in the backfield. PFF's Nathan Jahnke provides great info on usage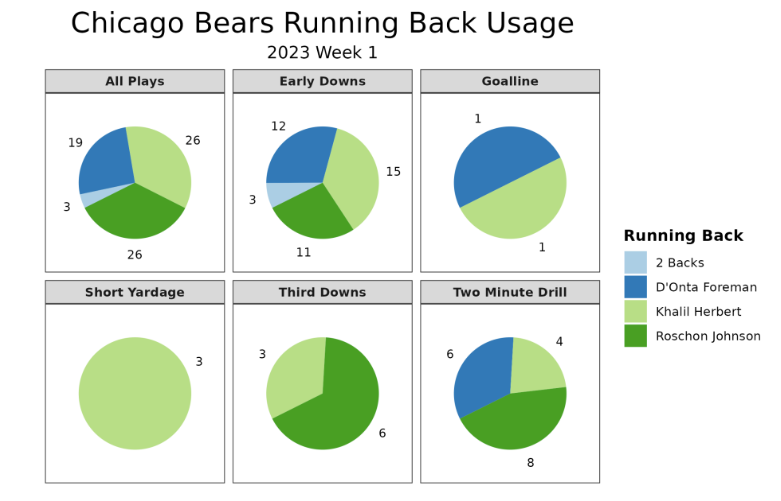 Khalil Herbert was the clear top option, but this backfield is very much split. This resulted in just nine carries for Herbert in Week 1. I expect this to be similar in Week 2 against Tampa Bay. Rookie Roschon Johnson had some quality plays in Week 1 and it is entirely possible he sees more work because of this.
Justin Fields will get his carries and this backfield is an ugly committee. Until Herbert solidifies himself as the alpha among these RBs, betting on his under is a good call.
PICK 'EM: DAVANTE ADAMS MORE THAN 6 RECEPTIONS
The perfect storm is brewing for Davante Adams to have a big day. First, is the matchup. Josh Allen and the Bills were put in the blender by the Jets' defense last week. Like the Bengals, I expect the Bills to have a much better showing in Week 2. The Bills will score their fair share of points and Vegas will be playing catchup for most of the game. It doesn't take a genius to connect these dots, but playing from behind leads to lots of targets for the top receiver.
Adams will also be dealing with virtually zero competition for targets in Week 2. The Raiders' second option at receiver, Jakobi Meyers, will be sidelined with a concussion. In Week 1, Adams saw nine targets, Meyers saw 10, and no other receiver saw more than one. This also came against a tough Denver defense, with budding superstar Patrick Surtain II covering Adams throughout the game.
With virtually zero competition, an advantageous game script, and an easier matchup at corner, expect Adams to see plenty of volume in Week 2.
PICK 'EM: DAVID MONTGOMERY OVER 0.5 RUSHING AND RECEIVING TDS
The Lions feature a two-headed monster at running back. As expected, David Montgomery has been the big bruiser of this duo. This was indicated by their usage. Montgomery was on the field for 5 of 6 short-yardage plays and punched in an 8-yard score in the 4th quarter.
The Seattle defense also appears to be a solid matchup for Montgomery. Seattle allowed the Rams to score 30 points last week while running a league-high 78 plays. With a high-quality offense, the Lions will likely run many plays and have several trips to the red zone.
Montgomery will hold onto his short-yardage role, likely translating to multiple rushes in goal-to-go situations. If given the opportunity (he will), Montgomery should punch one in on Sunday.
PICK 'EM: GARRETT WILSON MORE THAN 49.5 RECEIVING YARDS
It's just an incredibly ugly spot here. Garrett Wilson is getting discounted because of Zach Wilson and a quality Dallas defense. We can all agree that Wilson's talent level should have this line higher than 49.5. Unfortunately, everything around Wilson is negative.
This is purely a bet on talent. Everything points to this being a bad idea. Zach Wilson is terrible and the Dallas defense proved that offenses should fear them. Despite this, I am very interested in this highly discounted line. If we get burned by Zach Wilson and the Dallas defense, oh well, Garrett Wilson will just have to go on the "do not bet" list. For now, I am looking to take advantage of the discount on one of the league's most talented young receivers.