The first pick of fantasy drafts can be a source of concern for fantasy managers. To be honest, this concern is completely warranted. As I have mentioned before, the first pick of your draft can easily derail your season and cost you a chance at a championship.
Thankfully, I'm here to help you out. Over the course of this article, I'm going to cover who should be selected for each pick of a 2023 fantasy football first round, based on a 12-team league with half PPR scoring.
1ST OVERALL: WR, JUSTIN JEFFERSON (MINNESOTA VIKINGS)
Justin Jefferson has taken the league by storm since entering it in 2019. Jefferson's dominance peaked in 2022 when he finished as the overall WR1. Jefferson averaged 17.9 fantasy points per game, a full point better than the WR2, Davante Adams. Jefferson finished 2022 as an elite receiver in every significant metric: targets (1st), receptions (1st), yards after catch (1st), red zone targets (1st), deep targets (1st), EPA (1st), and yards per route run (5th). There is no debate that Jefferson is the top receiver in the league and he is worthy of a top-two pick, at minimum.
Currently, there is still a debate on who should be the first pick. However, nearly the entirety of the fantasy community agrees that Jefferson and Christian McCaffrey are the clear top dogs. The only question is who should be drafted first. As of now, Justin Jefferson is my guy. Now, let me explain why I am passing on Christian McCaffrey with the first overall pick.
2ND OVERALL: RB, CHRISTIAN MCCAFFREY (SAN FRANCISCO 49ERS)
In the past, Christian McCaffrey has proven to be a fantasy cheat code. When healthy, he is truly unlike any other running back in fantasy football. Last season, McCaffrey was sent to the San Francisco 49ers where he continued his dominance in Kyle Shanahan's zone scheme.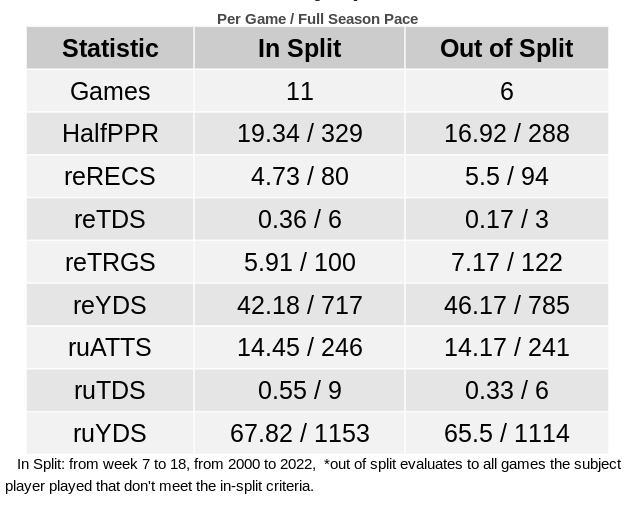 Over the course of 11 games with the 49ers, McCaffrey averaged an absurd 19.34 points on nearly 20 touches per game. Like Jefferson, McCaffrey is in the elite tier of nearly every relevant metric and is truly a Swiss army knife at the RB position. If McCaffrey can keep up a similar pace with San Francisco next year, he will prove to be the most valuable asset in all of fantasy.
There are just two reasons that I am taking Jefferson over McCaffrey.
First, the San Francisco offense is full of elite talent. Aside from McCaffrey, George Kittle, Deebo Samuel, and Brandon Aiyuk are all very talented and will command significant attention within the offense. While McCaffrey was still able to perform in this offense last year, Deebo Samuel did miss three games last year and many expect Aiyuk to take on a larger role in the offense this season.
The second reason I prefer Jefferson at first overall is due to who will be available when making second and third-round picks. Whether you go with McCaffrey or Jefferson, you are set up with a premium talent. Yet, when your next picks come around the talent will have taken a steep drop off. The available players (based on current ADP) at RB will be names like Tony Pollard, Derrick Henry, Rhamondre Stevenson, and Breece Hall. At WR, available players will likely be DeVonta Smith, Tee Higgins, and Chris Olave. I much prefer the running backs within this range.
For this reason, I would much rather lock down elite talent at receiver and select Jefferson with the first pick.
3RD OVERALL: WR, JA'MARR CHASE (CINCINNATI BENGALS)
Similarly to his former LSU teammate Justin Jefferson, Ja'Marr Chase has been an elite talent since entering the league. Despite missing four games and having his Week 17 contest vs. the Bills canceled, Chase still finished the season as the WR12. Based on the 12 games that Chase actually played, he finished as the WR4 in points per game.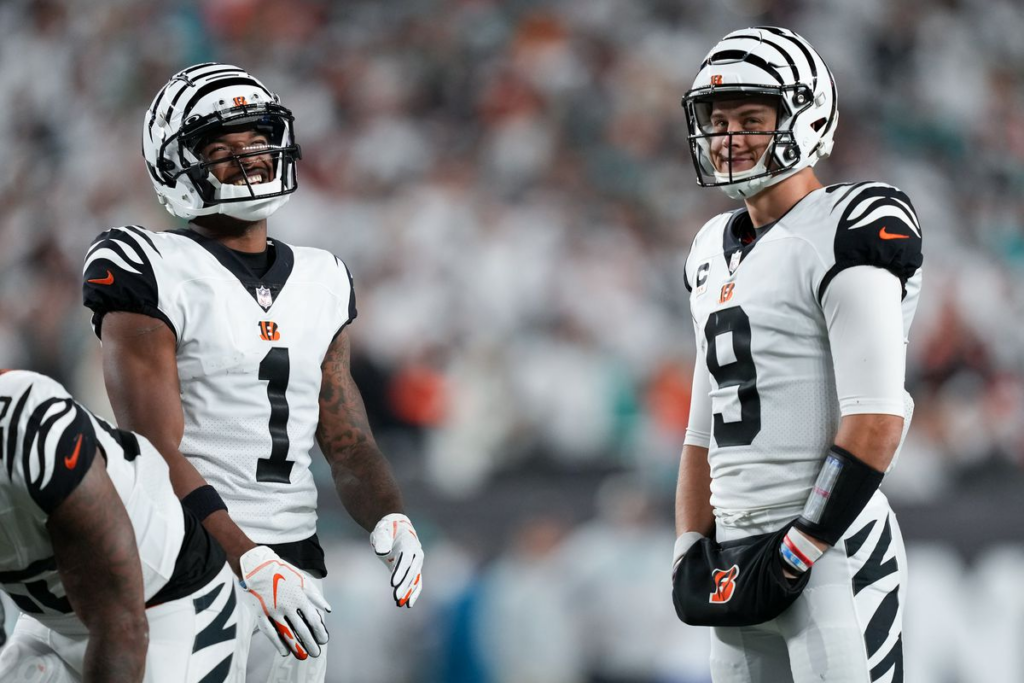 What's encouraging is how Chase's role in the Cincinnati offense changed between his rookie and sophomore seasons. During his rookie campaign, Chase heavily relied on the deep ball and explosive plays. Chase was incredibly efficient and he delivered a WR5 finish in his first season.
During his second season, Chase did not rely on big plays as much and his volume skyrocketed. The Bengals' coaching staff made a clear effort to get Chase the ball in every part of the field, not just 20 yards past the line of scrimmage. Chase is no longer a one-trick pony and has truly developed into an all-around alpha WR1 in the Bengals' offense. If Chase can stay on the field throughout the year, he should challenge Jefferson as the overall fantasy WR1.
4TH OVERALL: WR, TYREEK HILL (MIAMI DOLPHINS)
First off, I understand that this is slightly controversial. Regardless, we have to remember who we're talking about here. Tyreek Hill is a freak of nature and is one of the fastest humans on the planet. Not only is he a freak athlete, but throw his name in as another elite receiver who could finish as the WR1 this season.
In his first year on the Dolphins, Hill featured a combination of volume and efficiency that very few pass catchers are given. Hill was first in yards per route run, first in fantasy points per route run, third in targets, and second in receptions. Hill certainly has the skill set to be the WR1 and I think he will once again see the volume to succeed.
Ideally, Tua Tagovailoa will remain healthy throughout the 2023 season. At times last year, Tua and Hill looked like an unstoppable force who were capable of putting up massive numbers in fantasy. I previously discussed that Tua is capable of exploding this season and this clearly would benefit Hill.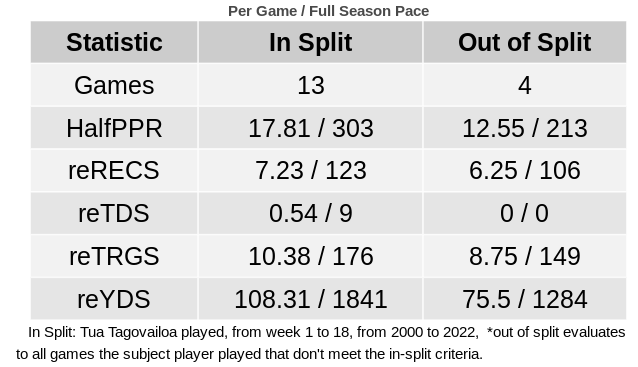 With Tua on the field, Tyreek was on pace for 303 fantasy points across the full season. This would have placed Hill just one point behind Jefferson for the year. If Tua can stay on the field, and possibly take another step forward, the sky is the limit for Hill.
5TH OVERALL: RB, AUSTIN EKELER (LA CHARGERS)
Austin Ekeler has been a fantasy superstar over the last two seasons, finishing as a top-two running back and scoring over 300 points each year. Ekeler has been able to do this by catching more passes and scoring more touchdowns than any other running back. This pass-catching upside makes Ekeler even more valuable in PPR and half-PPR leagues.
Similar to other top draft picks, Ekeler receives an enormous workload. Between carries and receptions, Ekeler had over 300 touches in 2022. On top of this, Ekeler ranked fourth in fantasy points per opportunity, showcasing what he can do with the ball in his hands.
What has really set Ekeler apart from other ball carriers is his ability to find the endzone. Over the last two seasons, Ekeler has found paydirt 38 times, the most of any player. This didn't happen for just any reason: Ekeler was the Chargers' primary target in the red zone. Ekeler finished 2022 with 64 red zone touches, the most of any player in the NFL.
It may be ridiculous to say, but Ekeler has the potential to score even more this season. This offseason, Los Angeles added Kellen Moore as their offensive coordinator. In the past two seasons, Moore has led the Dallas offense to a top-five scoring offense. While the Los Angeles offense was respectable last year, they certainly underperformed for the talent on their roster. I believe Moore can bring the potential out of this offense, leading to more scoring opportunities for Ekeler.
6TH OVERALL: TE, TRAVIS KELCE (KANSAS CITY CHIEFS)
In my opinion, Travis Kelce is the safest first-round pick. Kelce may even be the most dominant player in fantasy over the last several seasons. Kelce easily finished as the TE1 last season and has accomplished this in six of the last seven seasons. To put into perspective how dominant Kelce has been, he more than doubled the total scoring of the TE7 (Cole Kmet) last season and scored nearly 90 more points than the TE2, TJ Hockenson.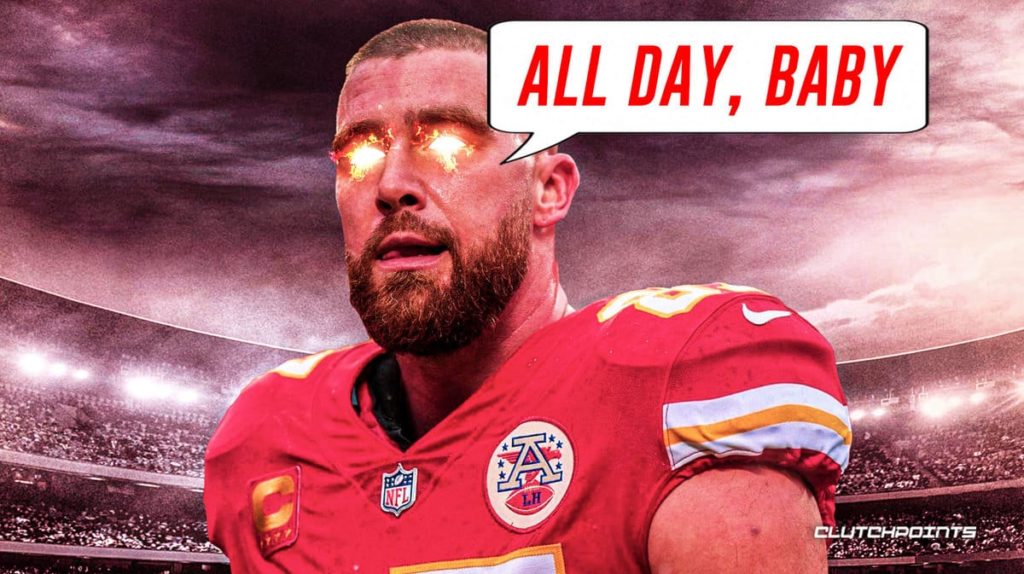 I fully expect Kelce to have a similar season in 2023, if not even better. In 2022, the Chiefs only other truly established pass catcher was JuJu Smith-Schuster. However, he is no longer with the team and this opens up an even greater opportunity for Kelce to carve out a more significant role in the Kansas City offense.
Travis Kelce provides a positional advantage, unlike any other player in fantasy. If Kelce is on your roster, you will almost certainly be outscoring your opponent's TE each week. Winning at this position each week provides a massive advantage and can make up for deficiencies at other positions.