When discussing the Zero RB strategy, I mentioned that the first few picks are the most critical of the draft. Many have said this before but it doesn't hurt to repeat: Your first two picks probably won't win you your fantasy league but they can certainly make you lose your league. With that being said, what can be done to make sure these picks aren't busts?
Let's clear one thing up first. A first-round pick ending up injured does not make them a bust. Injuries are unpredictable and they can happen to any player at any time. With this established, let's figure out how to determine what picks are safe.
All of the players selected in the first round should be fantasy studs. However, each year some first-round selections don't work out. I think everyone remembers David "Season Destroyer" Johnson in 2019:
In order to avoid this, the general idea is to target players with the highest overall floor. These picks may not be the "sexy" choice but they are set up to have solid production throughout the year.
What attributes contribute to players having a high floor? There are a few things to look for: guaranteed volume, an efficient offense, and red zone opportunities. These factors are highlighted in the Fantasy Stock Formula and are very reliable indicators of fantasy success. Relying on these indicators is a great way to ensure your first few picks are not busts.
ROUND 1: TRAVIS KELCE
Some fantasy managers have a hard time convincing themselves that taking a tight end in the first round is a good idea. I have one thing to say to this: grow up. This isn't 2011 where nobody played (half) PPR and running backs were king.
The production and fantasy success of Kelce over the last few years is undeniable. In the last seven seasons, Kelce has finished as the TE1 (PPR) six times! While he is clearly the most valuable TE, Kelce's 2022 performance solidified his fantasy value amongst all NFL players. In 2022, Kelce would have finished as the WR5, scoring just five fewer points than the WR4 Stefon Diggs.
It may sound impossible, but there is certainly a path for Kelce to have an even more productive season in 2023. Kelce finished 2022 as the sixth-most targeted player, amassing 152 targets. However, Kelce's biggest competition for targets, JuJu Smith-Schuster, is no longer in the picture and the Chiefs are trotting out a handful of unknowns at the receiver position. It is entirely possible that Kelce has a more significant target share than ever before.
Kelce is also the Chiefs' primary weapon in the red zone. Kelce led both the Chiefs and NFL in red zone targets last season. Touches in the red zone are the most valuable touch without a doubt, as explained by our xFP model. Kelce's volume in the red zone is a big reason why he continues to have fantasy success. As long as Patrick Mahomes is under center, the Chiefs are primed to have an explosive offense. Kelce will have the volume to succeed next year and will have a positive return on his first-round investment.
ROUND 2: NICK CHUBB
I have already discussed Nick Chubb's 2023 fantasy outlook. However, I think it is still worth it to highlight Chubb as an incredibly safe pick. This can be shown by simply looking at how Chubb has performed in the last few seasons. In PPR leagues, Chubb has finished as the RB5, RB11, RB9, and RB7 all while missing seven games between the 2020 and 2021 seasons. Chubb is currently being drafted as the RB7 and assuming he stays healthy, I have a hard time seeing him being a bust at this price.
As of now, Kareem Hunt remains out of the picture. This could lead to Chubb seeing more volume than ever before, especially in the passing game. Hunt leaves behind 44 targets that are up for grabs as there is no clear receiving back in Cleveland.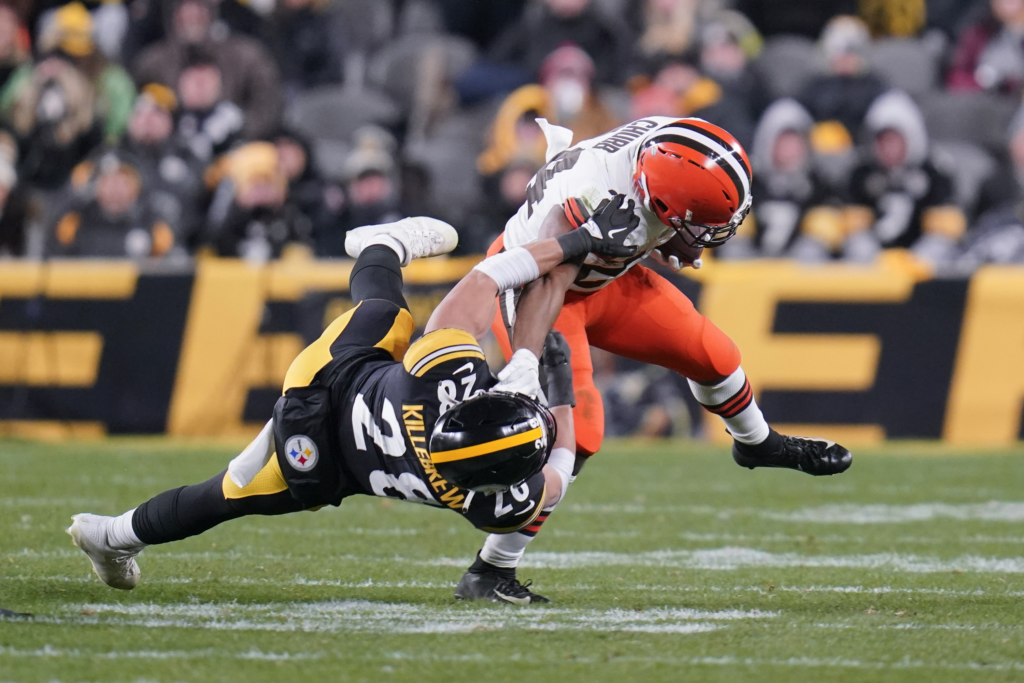 Chubb also has a very established role in the red zone for Cleveland. Chubb finished last season with 41 carries inside the red zone, the fifth most in the league. The Browns also rely on Chubb at the goal line. He received 12 carries from inside the 5-yard line, the ninth most in 2022. The departure of Kareem Hunt creates an opportunity for Chubb to take on an even larger role in the red zone. Over the course of last season, Hunt had 24 carries and eight targets inside the 20. Barring a surprise from projected RB2 Jerome Ford, Chubb will likely be taking on a lot of these touches.
Chubb consistently provides one of the safest floors of any running back in the NFL. I don't see this changing in 2023. With the departure of Hunt, I believe his ceiling is higher than ever before and he will easily finish as a fantasy RB1.
ROUND 3: JOSH JACOBS
Josh Jacobs could certainly get drafted in the second round of drafts when August rolls around. However, his current FantasyPros ADP is 26, making him an early third-round pick for now.
Jacobs being drafted in the third round is frankly shocking. I think this price provides tremendous value and is a very safe pick as well. Jacobs finished last season as the overall RB3. He did this on the back of absurd volume. Jacobs toted the rock 340 times last season and accounted for 80 percent of the Raiders' rush attempts.
There is no indication that anything will be different next season.
The Raiders made no significant additions to their running back room, no major coaching changes, and have made no indications that Jacobs will have a reduced workload. While Jacobs will likely not have the same volume as last year, it will certainly still be high enough to return value on his ADP of RB8.
Just like Chubb and Kelce, Jacobs is the primary weapon in the red zone for his team. Jacobs ranked third in the NFL in rushing touchdowns last season. Jacobs was able to do this because he ranked 10th in red zone rush attempts and was responsible for 86.4 percent of attempts in the red zone for the Raiders last season.
There is no doubt that there will be competition for touches and red zone work between Jacobs and alpha WR Davante Adams. Yet, 2022 showed that the Las Vegas offense can support two fantasy superstars, even though QB performance was subpar. I expect both Adams and Jacobs to have WR1 and RB1 performances, respectively, with Jimmy Garoppolo (hopefully) running Josh McDaniels' offense.
FINAL COMMENTS
I can't emphasize it enough: The early rounds of fantasy drafts are by far the most important. Sometimes this means taking the safe but slightly boring pick. Selecting players with the highest floor does not always mean you're selecting the player that will have the best season. Nevertheless, it does mean you are minimizing risk in your picks.
In order to win fantasy football leagues, some risks must be taken. For this reason, it's best to select a mix of players with high floors and players with high ceilings. To develop this mix, consider taking players like Travis Kelce, Nick Chubb, or Josh Jacobs. After one of these players with guaranteed production is secured, consider taking some risks. Regardless, if you don't take a sure-fire elite player, your season could be in jeopardy if your risky early picks don't work out.