DeVonta Smith, known by some as the Slim Reaper, is one of those players who is incredibly difficult to rank for this upcoming season. At times, Smith looked like a player who was a no-doubt WR1 in fantasy, and he certainly has the talent to do so.
Unfortunately, Smith has to compete with the specimen that is AJ Brown. If it weren't for Brown, I believe Smith would be a bonafide fantasy stud. Unfortunately, the reality is that they share touches and this creates volatility in fantasy production between weeks.
THE UPSIDE
Outside of passing the eye test, DeVonta has put together the stats and production to prove he's an elite talent. Smith finished 2022 as the overall WR9 (PPR) and had 6 weeks where he finished as the WR15 or better. These big weeks allowed for his massive improvement between his rookie and sophomore campaigns:

Smith also maintains a high level of opportunity. In 2022, Smith finished with 128 targets and a 27 percent target share, both of which are in the upper tier for receivers. These targets resulted in 95 receptions, the ninth most in the NFL. Not only is Smith receiving high levels of targets, but he is also incredibly efficient with them as well. Smith's 2.3 yards per route run was top-15 in the league. It may have something to do with his slim frame allowing him to slide by defenders, but Smith's 5.2 yards after catch per reception were 16th best among his position.
The breakout season that he had in 2022 had a lot to do with the Eagles' overall offensive production. There is nothing wrong with this. Being in a premier offense is something to look for when determining a player's fantasy value.
There's no need to do a deep dive into the Eagles' offense. The full picture can be painted by simply stating that the Eagles were second in both scoring and total offense last season. The Eagles retained many of their offensive weapons and will look to continue their dominance in 2023. This will do nothing but help Smith next season.
THE DOWNSIDE
As I mentioned previously, Smith must compete with AJ Brown each week. This leads to a fairly high level of inconsistency which can be frustrating for fantasy managers. Take a look at his weekly finishes: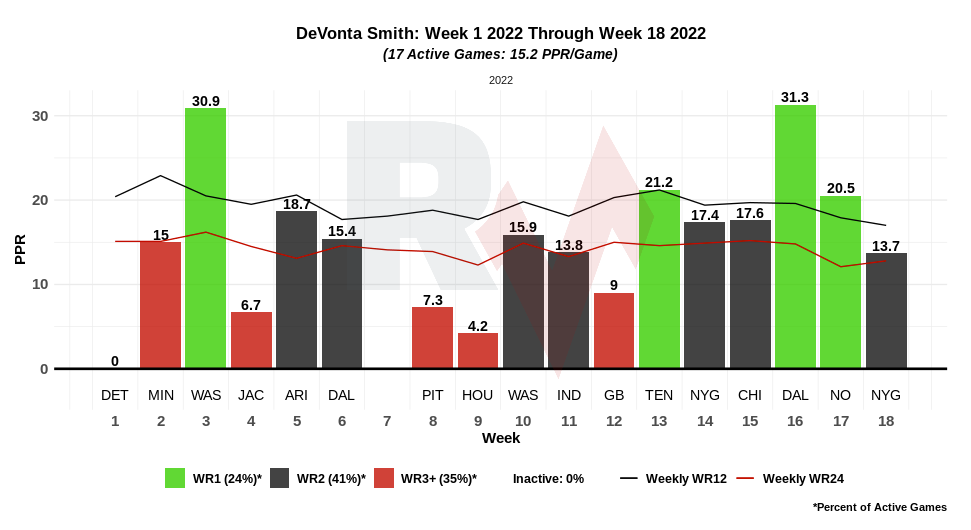 Smith finished as a WR3 or worse at a higher rate than he finished as WR1. Smith is currently being drafted as a WR1 (WR12). This level of inconsistency is not something I'm looking for in a player who may be drafted as my first receiver.
The Eagles offense was so productive in 2022 thanks to their plethora of weapons. Unfortunately for Smith, this means he is not the primary option when the Eagles approach the endzone. This is demonstrated by the fact that Smith received just 12 red zone targets. Here are just a few players who had more targets inside the 20: Isaiah McKenzie, Josh Reynolds, and Noah Brown. The primary red zone weapon for the Eagles is clearly Jalen Hurts, who carried the ball a whopping 44 times inside the 20.
THE FINAL TAKE
My stance on Smith is fairly simple. I think his ranking and ADP are fair due to his performance last season. However, I would prefer to take Smith at a slightly discounted price and there is no chance that I am taking him as my WR1. His inconsistency and lack of touchdown upside are not something that you should be looking for when finding your top WR. Smith's boom-or-bust nature makes him a better target in best ball drafts, in my opinion.
Smith is currently being drafted at the beginning of the third round and I would happily take him as my WR2, or even better, my WR3. Shoutout to the zero RB drafters.
Smith is an elite talent and benefits from one of the league's best offenses. I believe he can have another great fantasy season but Smith is not one of "my guys". Smith is not someone I will be actively seeking out in drafts and I certainly won't be reaching on him. I'm not saying that Smith should be avoided. Rather, I recommend taking a cautious approach when considering taking Smith in 2023 drafts.