If you are new to fantasy football, then welcome! If you are a seasoned vet of the game and are familiar with the running back "dead zone," then I wish to extend you a heartfelt welcome as well.
For those that might be reading this and aren't sure exactly what constitutes the running back dead zone, it's a term used to describe the multi-round area of the draft where running backs historically fail to return value on their draft investment. Historically speaking, these running backs typically fall between round three and round six.
For context, here is a list of running backs that have Underdog Fantasy average draft positions (ADPs) between those four rounds:
Breece Hall
Ezekiel Elliott
Cam Akers
James Conner
David Montgomery
Travis Etienne
Antonio Gibson
Josh Jacobs
JK Dobbins
Elijah Mitchell
AJ Dillon
Clyde Edwards-Helaire
Miles Sanders
Damien Harris
Now, which running backs would you outright prefer to have over similarly drafted wide receivers like:
Michael Pittman Jr.
Diontae Johnson
Jaylen Waddle
Terry McLaurin
Marquise Brown
Courtland Sutton
DK Metcalf
Allen Robinson
Gabriel Davis
Amon-Ra St. Brown
Darnell Mooney
Jerry Jeudy
There are also quality tight ends like George Kittle and Darren Waller falling in this range as well.
But objectively, can anyone say for certain that that list of running backs will prove to be better than their wide receiver and tight end counterparts?
Every single one of those running backs has reasonable doubt surrounding them and their path to opportunity and touchdown upside.
With all of that being said, let's dive into the running backs you should target in the dead zone and a couple of high upside dart throws near the end of the dead zone.
Take advantage of the 'RB Dead Zone' before you're on the clock in your redraft league. Download the Underdog Fantasy app, use promo code RSJ or click the link, get a 100% first deposit match up to $100, and dominate their season-long best ball tournaments.
BREECE HALL – RB18, ADP 42
Breece Hall was the crown jewel of an otherwise underwhelming group of running backs in this draft class.
Hall showed off a workhorse skillset after two sensational seasons at Iowa State that saw him accumulate:
279 rushes for 1,572 yards and 21 TDs, 23 receptions for 180 yards and two TDs
253 rushes for 1,472 yards and 20 TDs, 36 receptions, 302 yards, and three TDs
In other words, Hall produced with the ball in his hands no matter how it happened.
In an attempt to continue to build around quarterback Zach Wilson, the Jets continued to invest in their offensive line. The Jets have poured in a whopping $48.5 million of cap space into their offensive line in 2022, with two first-round rookies being joined by three free agent signings who will see a combined $58.7 million in guaranteed money.
The Jets have tailored their offensive line to suit a wide-gap zone-blocking scheme that meshes beautifully with Hall's athletic profile.
Hall's calling card is breakaway speed, as evidenced by his blazing 4.38s 40-yard dash at a staggering 217 pounds.
Graham Barfield of Fantasy Points pointed out how Iowa State's running game was predicated around zone-blocking concepts utilizing Hall's one-cut-and-go ability.
Now what about Michael Carter?
Carter was a productive running back for the Jets last season but his production largely came from volume and check down work. As a whole, Carter scored -17.4 fantasy points over expectation (FPOE) and finished as an RB2 or better in only five of his 14 games played.
Carter showed enough promise to merit seeing touches in this offense, but the majority of the work should immediately be dominated by Hall.
With many managers terrified of Jets continuing to be a cellar dweller with limited touchdown upside and the ambiguity of Michael Carter, Hall is a screaming value at his price point.
Hall checks in at 43 overall on The Wolf's 2022 Fantasy Football Rankings.
EZEKIEL ELLIOTT – RB17, ADP 39
It almost feels like heresy to bring Zeke into this conversation. Perhaps the general overwhelming negativity around how he finished the season last year is clouding everyone's perception of him.
The list of questions around Zeke is staggering. Is Tony Pollard better at this point in their careers? Is Zeke just washed up? Is this a timeshare backfield now?
I don't pretend to know the answer to these questions, but I do advocate for peeling back the curtain and looking into exactly what happened in 2021 that caused the wheels to fall off.
In 2021, after dealing with the aerial shootout between Tom Brady and Dak Prescott and the smothering Tampa Bay run defense, Zeke lit the ground on fire to start the season.
Looking at his 17-game pace numbers, Zeke was on pace for 280 rush attempts, 1,454 yards, and 17 touchdowns on the ground. He was pacing out for 301 PPR fantasy points which would have been good for *checks notes* the RB3 overall, just ahead of Najee Harris and just behind Austin Ekeler.
In fact, his 17-game pace changed drastically after Week 4, where he was on pace for only 863 rush yards and eight rushing TDs.
As far as work in the red zone, in 2021, Zeke saw 55 red zone opportunities and scored 12 TDs. Since 2019, after Kellen Moore took over calling plays on offense, Zeke has seen 179 red zone opportunities and scored 33 TDs.
In an offense that ranked first in points per game, second in points per play, and sixth in red zone scoring opportunities, it's safe to assume Zeke will see plenty of red zone opportunities again in 2022.
It was revealed after Week 4 that Zeke had suffered a partially torn PCL and that inhibited his play and ability to hit the holes with the same ferocity he was early on in the season.
This raises the question about Pollard. Is he going to see the field more?
Pollard is a dynamic, elusive back that provides an excellent change of pace for the Cowboys' offense in Zeke's stead. So why is Pollard not a threat to Zeke's workload?
Since being drafted in 2019, Pollard has played 45 games. In 15 of those 45 games, Pollard has topped 10 rush attempts, one of those came in 2020 when Zeke was sidelined with an injury.
After Zeke tore his PCL and had his workload managed a little more, Pollard's role didn't really change. Pollard averaged 11.25 touches per game prior to Zeke's injury and averaged 11.27 touches per game after the injury.
In other words, Pollard's role was unchanged regardless of Zeke's status.
So Zeke showed he still had plenty of juice last year prior to his injury, a solidified and lucrative red zone role, and a backup RB who doesn't appear to be a threat to his workload. He's finished as an RB1 every year he's played, not counting the year he missed six games due to a suspension.
League winner in 2022.
Zeke lands right at his ADP (35 overall) on The Wolf's 2022 Fantasy Rankings.
TRAVIS ETIENNE – RB16, ADP 37
I can already hear the chirping and backlash as I write these words.
Doug Pederson is a huge committee back advocate. James Robinson is back from his Achilles injury and is looking good. Travis Etienne is the second early-down option.
I've heard it all.
What people are forgetting is just how much more valuable pass-catching is when compared to rush attempts.
Utilizing Scott Barrett's weighted opportunity metric, the case for Etienne writes itself.
Barrett's work looks at the average number of fantasy points scored inside the red zone per rush attempt and per target and compares them to their corresponding outside of the red zone values from the 2018 season to the 2021 season.
The average carry outside of the red zone was worth 0.49 fantasy points per attempt and a target outside of the red zone was worth 1.48 points. Meanwhile, targets inside of the red zone were worth 2.29 fantasy points while carries were only good for 1.35 points.
In other words, a target outside of the red zone is 3.04x more valuable than a rush attempt and 1.69x more valuable inside of the red zone.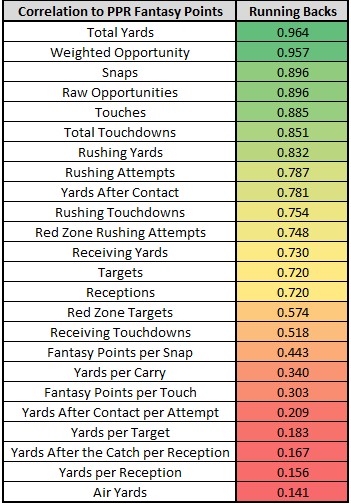 Let's just assume Robinson comes back and commands most of the rush attempts. So what?
If Cam Akers' rapid return from a similar injury is any indication, then Robinson will lack explosion and be largely ineffective in what doesn't project to be a lucrative ground game to hitch your wagon to.
Jacksonville will likely be trailing most of the time this season and most of the fantasy value projects to come through the air.
Enter Etienne.
Etienne is coming off of an unfortunate foot injury that stole what could have been an electric rookie season from us. As a prospect, Etienne was graded as a year-one starter and earned an elite score of 99 overall, courtesy of Next Gen Stats. The other four running backs to do so: Saquon Barkley, Jonathan Taylor, Melvin Gordon, Nick Chubb
Lance Zierlein, an NFL Network analyst, described Etienne as:
Very capable of excelling on all three downs
Excellent read-and-cut timing
YAC daddy whose default running style is set to rampage
Etienne ran an electric 4.38 40-yard dash. He compares favorably to a more complete, more explosive Miles Sanders.
So let's look at Miles Sanders with Pederson at the helm.
In 2021, Trevor Lawrence led the NFL with a check-down rate of over 11%. In college, with Lawrence at the helm, Etienne saw a 12.2% target share.
Etienne brings the type of electric playmaking resume to the Jaguars offense that makes NFL and fantasy GMs alike salivate. His price tag makes him a smash value.
Etienne hovers the ADP on The Wolf's 2022 Rankings, right at 39 overall.
Take advantage of the 'RB Dead Zone' before you're on the clock in your redraft league. Download the Underdog Fantasy app, use promo code RSJ or click the link, get a 100% first deposit match up to $100, and dominate their season-long best ball tournaments.