Player Stock Ticker
NFL DraftKings Week 17 Picks: Stud Wide Receivers Dominate the Sunday Slate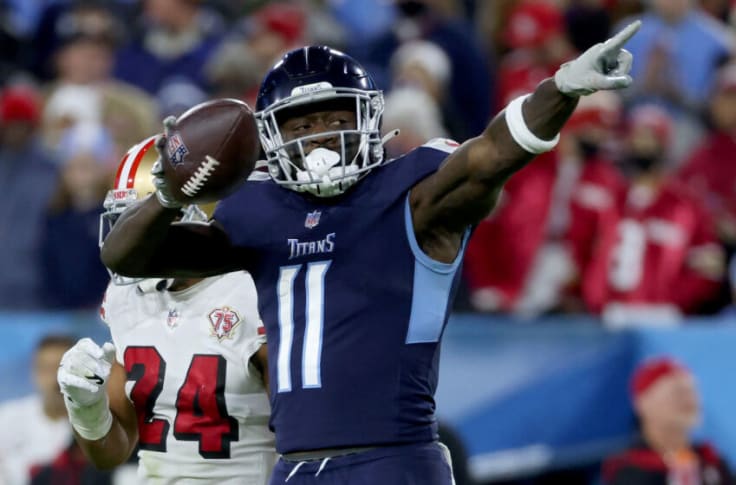 While Matthew Stafford let me down big time last week, we still ended up hitting on a good number of picks. Justin Jackson and Mark Andrews were massive this week while Ronald Jones and Antonio Brown rounded out solid showings. A late pivot to Emmanuel Sanders had me tilting massively after Gabriel Davis was ruled out because Isaiah McKenzie was the guy in Buffalo to roster. On top of that, injuries to James Robinson and Miles Sanders kept me from what could have been a very lucrative day.
We're #OntoWeek17
QUARTERBACKS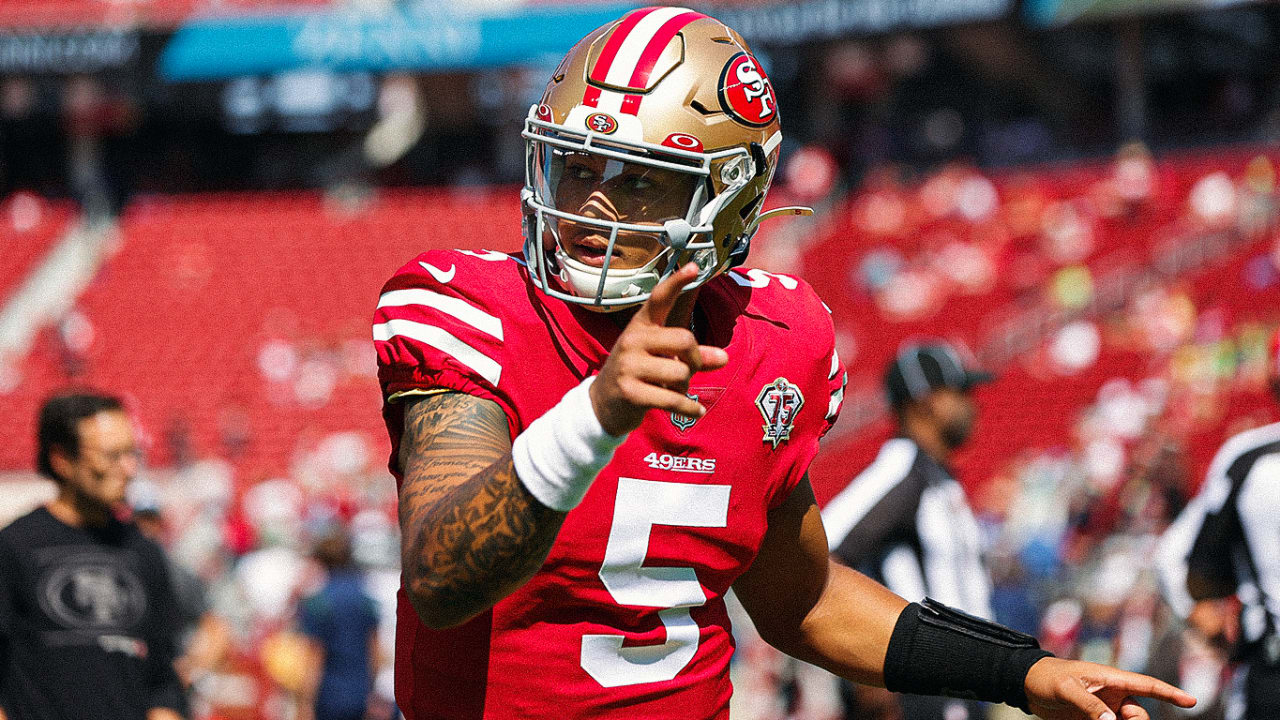 Dak Prescott $6,700
Dak Prescott went nuclear last game with 34 DK points — throwing for 330 yards and four scores on Sunday Night Football. Dallas got up big early against Washington and never looked back. With all these weapons at his disposal, and a big game against the Cardinals coming up, Prescott looks to have another massive showing on deck. It's the highest projected total on the slate so points galore should be in store for Dak and company.
Trey Lance $4,800
The time has finally come. Trey Lance will be the 49ers' QB1 this week in place of an injured Jimmy Garoppolo. During his last start, Lance ran the ball 15(!) times against the Cardinals, which is one of the main reasons why we were so high on the rookie showing his elite dual usage. He's got a favorable matchup with the Texans in a spot to show that he is indeed the future of the 49ers' organization. As long as he feeds Deebo, Kittle, and Aiyuk — he should be fine.
Others to consider: Josh Allen $8,000 (vs Falcons), Matthew Stafford $7,100 (vs Ravens), Joe Burrow $6,900 (vs Chiefs), Jalen Hurts $6,600 (vs Washington), Tua Tagovailoa $5,800 (vs Titans)
RUNNING BACKS
Jonathan Taylor $9,000
A "let down" spot last week for Taylor with only 13 DK points, he should be leaned on heavily this week against a bad Raiders defense. With Carson Wentz's status up in the air and Sam Ehlinger likely to start a must-win game, I'd bet the Colts just hand Taylor the ball 25-plus times and hope he can work his magic because lord knows they won't be throwing the ball. Hopefully, Taylor can be involved in the short dump off game this week.
Damien Harris $6,600
The Patriots play their best football when they're ahead with an established lead. They are built to run the ball and control the game, which is exactly what they should do this week against a bad Jaguars' team in a get-right game. Despite no receiving work, Harris is a goal line beast and should be penciled in for 20ish touches this week as big home favorites.
Jeff Wilson Jr $5,600
As long as Jeff Wilson operates as the RB1 this week, he should be in line for another productive day against a bad Texans team. Wilson has been getting 15-20 carries as the lead back and his target share is growing by the week. As heavy home favorites against Houston, the game script lines up very nicely for Wilson.
Others to Consider: Joe Mixon $7,500 (vs Chiefs), David Montgomery $6,500 (vs Giants), Ronald Jones $6,300 (vs Jets), Josh Jacobs $6,200 (vs Colts), Rashaad Penny $6,100 (vs Lions), Sony Michel $5,800 (vs Ravens), Devin Singletary $5,400 (vs Falcons), Dare Ogunbowale $5,100 (vs Patriots), Boston Scott $4,900 (vs Washington)
WIDE RECEIVERS
Cooper Kupp $9,500
Cooper Kupp is averaging nearly 30 DK points per game, and even in a game with no touchdowns and a slow start, he still finished with 109 yards and 10 receptions on 13 targets. This week, the Rams get a depleted Ravens defense that just allowed over 500 yards and four touchdowns to Joe Burrow. Kupp nuclear game incoming.
AJ Brown $7,200
What a return from injury for AJ Brown, going for 11-145-1 on 16 targets. Just absolutely insane numbers as the Titans' WR1 while the team fights for playoff positioning. A healthy Brown has always been a target hog, it's just a matter of if he can connect with Tannehill and put up those monster stats.
Tee Higgins $6,900
The Bengals have a huge game coming up this week against the Chiefs. Fighting for the division, Cincy and Joe Burrow will have their work cut out for them in this high scoring affair, which means I'll be betting on another strong showing from Tee Higgins as a near WR1 for the team. Higgins has caught fire over the last month or so and there are no signs of slowing down.
Jaylen Waddle $6,700
Jaylen Waddle has seen 10-plus targets in three straight games and now he's getting increased red zone work out of the backfield. In a plus-matchup against the Titans, Waddle's increased usage should result in another WR1 week as the Dolphins look to remain one of the hottest teams in the league.
Antonio Brown $6,100
How did AB do as Tampa's WR1 after injuries to both Chris Godwin and Mike Evans? He balled out with 10-101 on 15 targets and should probably do the same again this week. His chemistry with Tom Brady is undeniable and now gets a Jets' secondary that has no one to slow him down.
Isaiah McKenzie $4,300
Last week I had Gabriel Davis pegged for a nice game against the Patriots before he was ruled OUT. Then, I moved Emmanuel Sanders into my lineup. You can probably guess how pissed I was seeing Isaiah McKenzie go off instead, but nonetheless, here we are! Operating out of the slot, McKenzie was a beast for the Bills and No. 2 option aside from Stefon Diggs. Who knows with the new COVID rules, but McKenzie would be a prime option if Cole Beasley remains out of the lineup this week.
Others to Consider: Deebo Samuel $8,700 (vs Texans), Stefon Diggs $7,900 (vs Falcons), Hunter Renfrow $6,500 (vs Colts), DeVonta Smith $6,300 (vs Washington), Amon-Ra St Brown $6,000 (vs Seahawks), Odell Beckham Jr $5,700 (vs Ravens),
TIGHT ENDS
Mark Andrews $7,400
They are playing musical quarterbacks in Baltimore, but it doesn't matter for Mark Andrews. The stud tight end is averaging over 30 fantasy points per game over his last three outings and should get Lamar Jackson back this week. Andrews should have more responsibility on his shoulders with Jalen Ramsey manning the perimeter.
Zach Ertz $5,200
The former Eagles' tight end has seen back-to-back double-digit target games after DeAndre Hopkins was lost for the season. Kyler Murray is leaning on Ertz and the Cardinals should be in for a shootout with the Cowboys.
Others to Consider: Dalton Schultz $5,000 (vs Cardinals), Gerald Everett $4,100 (vs Lions), Moe-Alie Cox $2,800 (vs Raiders)
D/ST
New England Patriots $3,900
The Patriots appear to be spiraling after tough losses to both the Colts and Bills over the last two weeks. But, this is the ultimate get right game against a horrendous Jaguars team that just lost its best offensive weapon in James Robinson. Not to mention, Trevor Lawrence hasn't thrown a touchdown pass since the end of November. This offense is ice cold.
Chicago Bears $3,200
Coming off a stunning win over the Vikings, the Bears now welcome the Giants and either Mike Glennon or Jake Fromm calling the shots. Both suck and both offer the Bears plenty of opportunity to rack up points. Hopefully, they get some 'Bear Weather' as well to make it even more difficult.
Others to Consider: San Francisco 49ers $3,800 (vs Texans), Buffalo Bills $3,500 (vs Falcons), Seattle Seahawks $3,300 (vs Lions), Carolina Panthers $3,000 (vs Saints), Indianapolis Colts $2,900 (vs Raiders)