Player Stock Ticker
Mike Williams is Thriving as Chargers' X Receiver, 2021 Fantasy Outlook Hits Next Level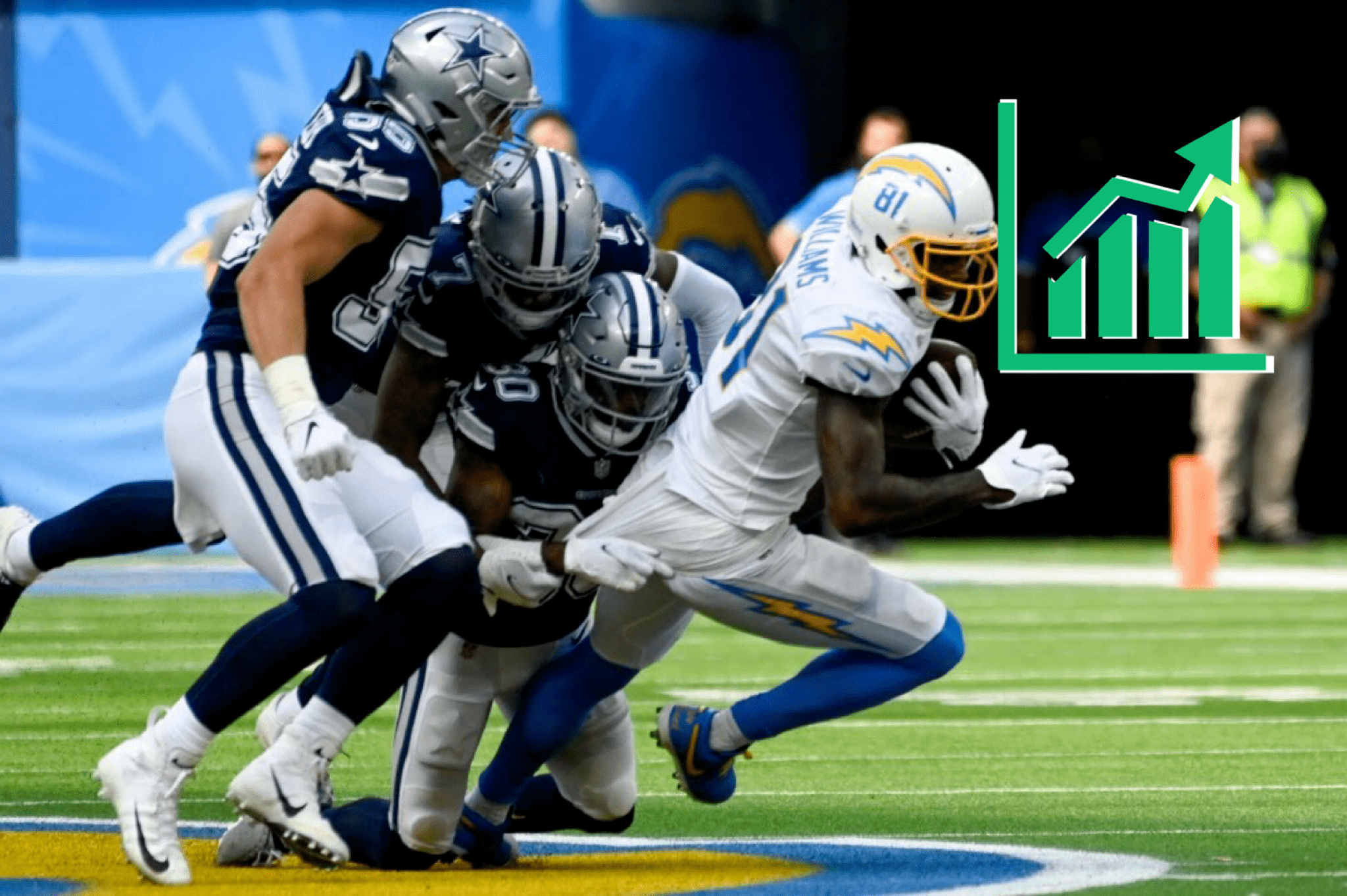 Preseason coach speak is tricky. Sometimes you fall for it and draft Marquez Callaway. Other times you land a bonafide target hog at a mid-round price tag. Through two games, Mike Williams looks like the Alpha WR we all thought he could be and Joe Lombardi, his new offensive coordinator, told us this would happen before the season. Williams is averaging 11 targets per game (25% target share), 102 air yards per game (33% air share), and is seeing a receiver-best 2.5 red zone targets per game.
Running out of Lombardi's "X receiver" spot, the same position that made Michael Thomas the league's premiere target hog, Williams is dominating in ways he's never dominated before. Brainless Anthony Lynn previously deployed Williams as a deep ball and jump-ball specialist. Now, he's featured in short to intermediate routes and is making plays after the catch.
Mike Williams is 100% in a new role.
2018: 6 targets per game on 17.8 aDOT
2019: 6 targets per game on 14.6 aDOT
2020: 11 targets per game on 9.3 aDOT https://t.co/6j3pzJoPYw

— Hayden Winks (@HaydenWinks) September 20, 2021
Standing at 6-foot-4, 218 lbs, Williams was built for the X receiver role. There's typically less room to maneuver on the short side of the field and just like Thomas, Williams can apply his physicality against smaller defensive backs to create separation and make plays after the catch.
"I see a big role for him," Lombardi forecasted back in June. "If I were a betting man, I'd bet on nice numbers coming from him on the stat sheet, that's for sure…You see the talent and the size. There's no reason why he cannot be majorly productive. I've been impressed with him mentally so far, getting lined up and knowing what to do. I see a big role for him."
Thus far, Lombardi looks like a prophet. Williams is ranked WR5 overall with 18.4 half PPR points per game.
Above all, Williams has earned Justin Herbert's trust.
"Mike Williams has really stepped up and he's one of those guys that you really trust out there and he knows what he's doing," Herbert said. "He's just so athletic and able to make so many great plays. One of those guys that you really trust when he's out there."
Big Mike Williams as the X for Joe Lombardi (Michael Thomas role) is a printfest. Through two weeks:

* 115-of-152 snaps
* 17 slot, 98 wide
* 83 routes on 103 Herbert dropbacks
* Team-high 22 targets for a 25% share
* 15-173-2 line

— Adam Levitan (@adamlevitan) September 20, 2021
The Wolf is all-in on the physical wideout. Williams soared into his top-25 wide receivers on his Rest of Season Fantasy Rankings & Big Board.