Player Stock Ticker
Marquez Callaway 2021 Fantasy Outlook is Quickly Legitimizing as the Saints' True WR1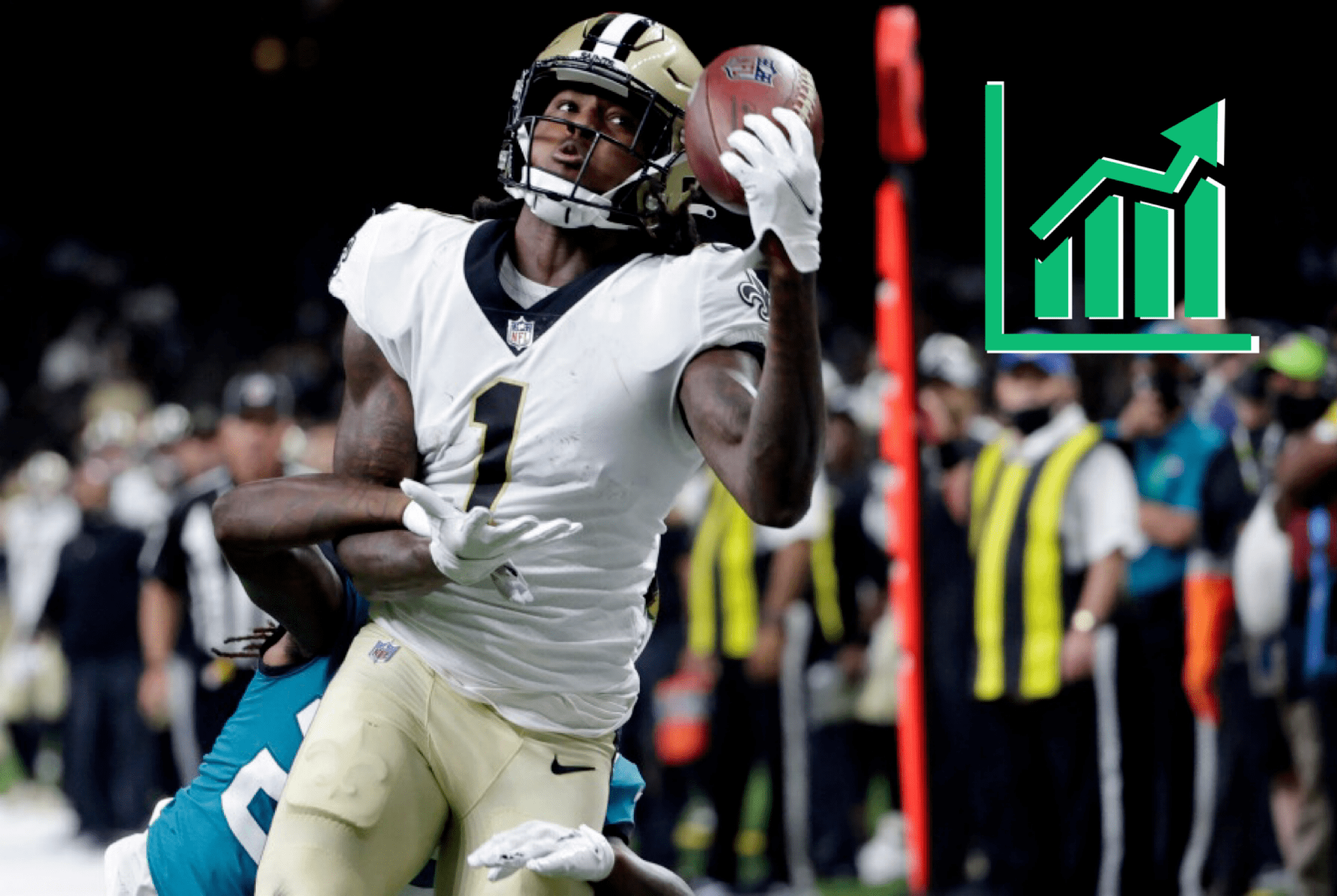 Marquez Callaway, labeled the "breakout star" of Saints camp, has quickly risen as the Saints' likely WR1 among this underwhelming cast of receivers.
Just weeks ago, Callaway dripped in 2021 fantasy sleeper appeal. But after blowing up on Monday night to the tune of five receptions for 104 yards and two touchdowns, Callaway is no longer a deep sleeper or "late-round best ball dart throw."
"I think that's what makes Marquez so phenomenal," Jameis Winston said. "Like every time the lights turn on, he does an amazing job."
Last season, Callaway flashed some promise as a UDFA rookie, snagging 21 balls for 213 yards and a score on limited snaps. He'll no longer be dealt low playing time and a COVID-shortened rookie camp. Thus, he looks primed to take the next step for a team that's looking for a pass-catcher to fill some serious voids left by Michael Thomas, Adam Trautman, and Emmanuel Sanders.
In reality, this is almost as much of a Jameis Winston post as it is a Marquez Callaway post. Winston attempts and makes the type of throws that will only boost Callaway's 2021 fantasy outlook.
The first example occurred early in the first quarter when Winston placed a 43-yard pass perfectly between two defensive backs and into Callaway's sprawling arms for a touchdown.
Marquez Callaway is no longer a late-round steal 🤐 pic.twitter.com/a5zpAex4vr

— Roto Street Journal (RSJ) (@RotoStJournal) August 24, 2021
According to Nick Underhill, Winston noticed a Cover 3 look that led to Callaway getting one-on-one coverage with a lagging defensive back coming over to provide help.
"As soon as I saw the safety cut I'm letting it go, making sure the backside corner isn't really around to make a play on that ball," Winston said. "It just showed great concentration by him to finish that catch."
Just two drives later, Winston recognized Cover 0 (no safety) and dropped a 29-yard dime into Callaway's hand for his second score of the night.
He did it again: Marquez Callaway and Jameis Winston is a 🔥🔥🔥 connection.

Callaway was an undrafted free agent in 2020. He's going off tonight. pic.twitter.com/aOPXq1caUD

— Ari Meirov (@MySportsUpdate) August 24, 2021
"The coverage they were in, Cover 0, Jameis changed the route at the line and we just connected on that," Callaway said.
Monday night showed the world what Callaway and Winston can do when they're on the field together. If/when Winston is named the starter over Taysom Hill, Callaway will begin the season as one of fantasy's greatest bargains.
"I think [Callaway]'s just an incredible football player," Winston said. "I mean, the guy was undrafted, right? Who missed out on that guy? I'm happy that we were able to get him.
"The thing about him, man, it's like when he's out there, it's like we're playing little league football," Winston continued. "He loves it so much; he has no fear in his heart. He has elite energy. He's out there playing football. It's fun to have teammates out there that see the game the same way that you see it and just really love taking advantage of these opportunities."
We were initially much higher than the consensus on Callaway, and we still are, as the young wideout currently resides at WR43 (+52 vs ECR) on The Wolf's 2021 Fantasy Big Board and Rankings.