Chargers WR Mike Williams hasn't exactly been a joy to own in fantasy football. In the four years since being selected 7th overall, he has alternated between game-changer and nonfactor, taking over a week with contortionist catches that only a handful of humans are capable of…before disappearing for a month. Ultimately, Williams has never hit 50 receptions and has never finished higher than the WR33 in fantasy, failing to crack the Top-40 in back-to-back seasons now.
Yet, if Williams is to ever find consistency in his career and capitalize upon his immense natural ability, 2021 may provide his last gasp.
New Chargers OC Joe Lombardi, who served as the Saints' QB coach and carries over his version of New Orleans' passing game, suggested Williams will fill the "X" WR role. This is the same position in which Michael Thomas put up record-setting stats, and could provide Williams a monstrous usage bump that would send his 2021 fantasy outlook to the moon.
Granted, Williams and Thomas are much different beasts. Whereas Thomas shreds the short-to-intermediate ranges as a target hog, Williams has been much more of a big-play field-stretcher. Just look at 2019: Thomas set the NFL record for receptions (149) in the same year Williams led the NFL in yards per catch (20.4).
Thus, even in the same technical spot within a similar scheme, Williams won't sniff Thomas' volume. Still, even a slight uptick in targets, including more high-percentage looks, would be a massive boon towards Williams' finding consistency and hitting his ceiling.
As Lombardi explains:
"As much as this offense will resemble New Orleans, Williams plays the 'X' and the ball has always kind of found the 'X' receiver in this offense… I think that there will be some natural production that comes his way because of the nature of the offense."
How Williams' previous usage blends with the Saints' typical "X" WR role will be fascinating. Keenan Allen would appear far better suited for the slant-heavy, chain-moving "MT role." Similarly, Austin Ekeler will be an obvious target magnet out of the backfield as Lombardi's new Alvin Kamara. Williams will, at best, be third fiddle.
Still, a Justin Herbert offense could easily sustain at least three fantasy beasts. In fact, I think Herbert emerges as the next great QB and hurls 45+ scores. With Hunter Henry gone, plenty of scoring is up for grabs, and the 6'4″ Williams who can outjump (and outman) just about anyone when given the chance. He hauled in 10 TDs on only 43 receptions (66 targets) in 2018 – essentially one every fourth catch. That efficiency is obviously unsustainable, but if the targets double, Williams could truly hit 850+ yards & 10+ TDs.
Lombardi forecasts big numbers for a higher-usage Williams:
"I see a big role for him. If I were a betting man, I'd bet on nice numbers coming from him on the stat sheet, that's for sure…You see the talent and the size. There's no reason why he cannot be majorly productive. I've been impressed with him mentally so far, getting lined up and knowing what to do. I see a big role for him."
Plus, Allen has dealt with his fair share of injuries throughout his career. Williams has only played three games without Allen, but here are his stat lines:
7 receptions (9 targets), 76 Yards, 2 TDs + 19 Rush Yards & 1 TD
4 receptions (10 targets), 54 yards
6 receptions (7 targets), 108 yards, 1 TD
Here are his stats in this split, via RotoViz: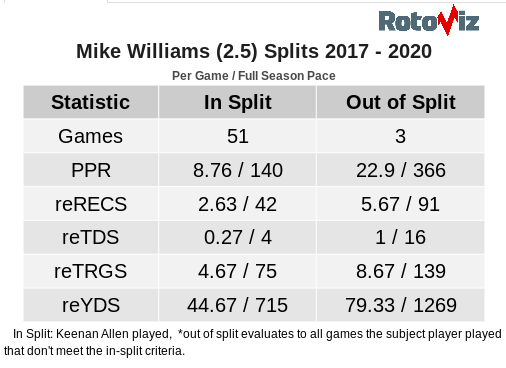 Obviously, the sample size is small. Still, it flashes Williams' potential to be a true Alpha should Allen miss any time.
Overall, Williams' frustrating past has greatly reduced his current price tag.  He's risen inside The Wolf's Top-100, a whopping +30 above his current ADP & ECR.