Player Stock Ticker
2021 Fantasy Football Week 2 Waiver Wire: Elijah Mitchell, Mark Ingram, Kenneth Gainwell Lead Waiver Wire Pickups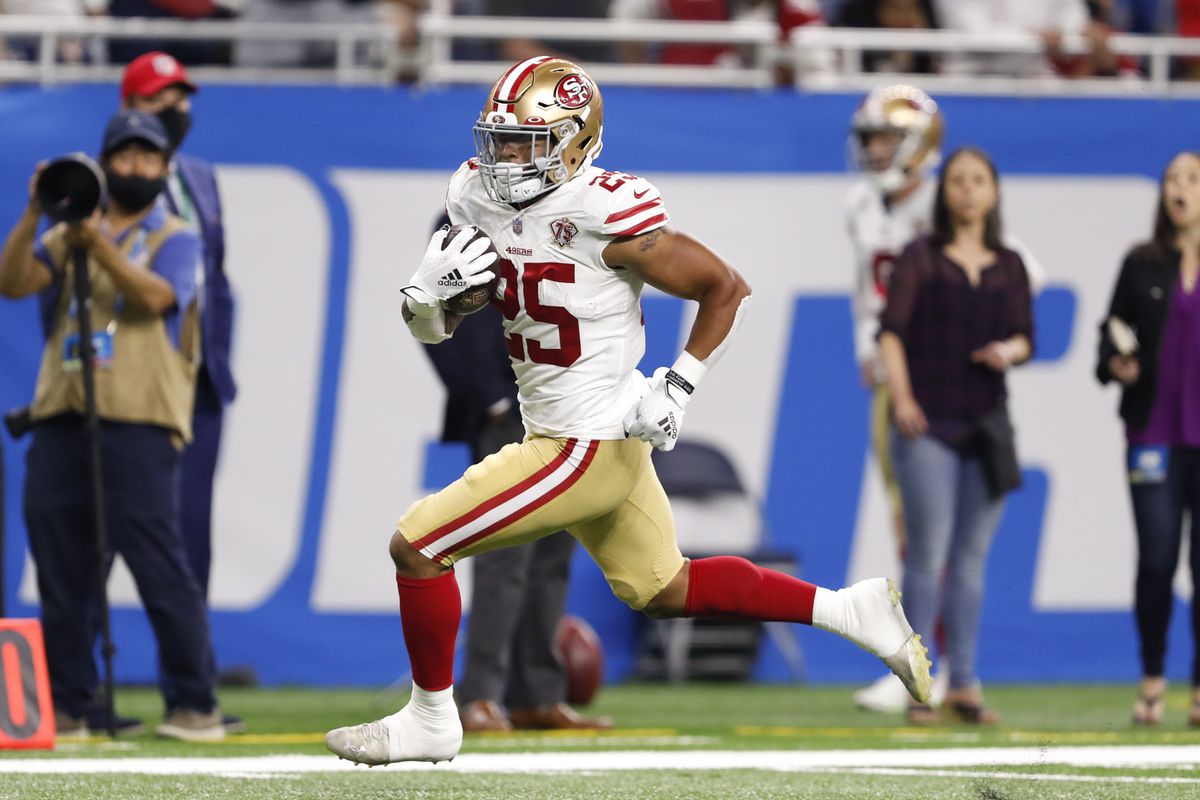 Welcome back to the Fantasy Football Week 2 Waiver Wire: Start, Stash, Stream, where we break down the fantasy football free agent landscape and give you the best picks for the short and long haul.
Let's look back at Week 1 and see our future prospects for the Fantasy Football Week 2 Waiver Wire.
Note: Ownership % based on Yahoo and must be under 50% owned
WEEK 2 WAIVER WIRE RANKINGS
START
Elijah Mitchell, RB San Francisco 49ers (7% owned)
Sterling Shepard, WR New York Giants (39% owned)
Mark Ingram, RB Houston Texans (19% owned)
Cole Beasley, WR Buffalo Bills (45% owned)
Tim Patrick, WR Denver Broncos (2% owned)
In this bizarre world that is fantasy football, a creature named Elijah Mitchell led the 49ers' Week 1 backfield, finishing with a 19-104-1 line. Trey Sermon was a surprise inactive this week, as Coach Shanahan said Mitchell and JaMycal Hasty simply beat him out in training camp. Any RB who can stay healthy and get the RB1 carries in Shanahan's zone-blocking scheme will put up solid numbers. Mitchell looks to be that guy for roughly eight weeks while Raheem Mostert is sidelined with a knee injury.
The Giants' offense looked pretty bad in Week 1, but Sterling Shepard was the lone bright spot. Shepard led the team in targets (9), receptions (7), and yards (113), and added a touchdown. The rest of the offense looked pretty sluggish, but Shepard continued to get open consistently and rack up points. You could see the chemistry between Shepard and Jones, while guys like Kenny Golladay are slowly working their way into the groove of things coming off a hamstring injury that kept him out all preseason.
Not sure how many people saw this coming, but the Houston Texans ran the ball 41 times in a dominating 37-21 win. The Texans aren't poised to win and dominate many games this year, but Mark Ingram ran the ball 26(!) times Sunday, dominating the messy depth chart. He averaged only 3.3 ypc, but did score while racking up 85 yards. For now, Ingram is the Texans' workhorse.
We all know the Buffalo Bills love to throw the ball with Josh Allen, and Stefon Diggs is the unquestioned WR1. But don't forget about anti-vaxxer Cole Beasley, who was the clear WR2 finishing with 8-60 on 13 targets. This team is simply not a fan of running the football, and Beasley knows how to work the middle of the field.
Tim Patrick is one of the most underrated sleeper receivers in football. He topped 100 yards in three games last season (one more than Jeudy) and should be the most consistent pass-catcher with the Alabama product on ice for four-to-six weeks. Patrick is a PFF darling, catching 86 percent of his contested targets 20-plus yards downfield, which ranked first among all 2020 wideouts. Expect Patrick to be a consistent WR3/Flex option filling in for Jeudy after averaging over 10 fantasy points per game through Week 14 last season.
STASH
Kenneth Gainwell, RB Philadelphia Eagles (8% owned)
Christian Kirk, WR Arizona Cardinals (13% owned)
Rondale Moore, WR Arizona Cardinals (27% owned)
KJ Hamler, WR Denver Broncos (2% owned)
Jalen Reagor, WR Philadelphia Eagles (21% owned)
Zac Pascal, WR Indianapolis Colts (1% owned)
Nelson Agholor, WR New England Patriots (32% owned)
James White, RB New England Patriots (33% owned)
Tony Jones Jr., RB New Orleans Saints (23% owned)
Juwan Johnson, WR/TE New Orleans Saints (10% owned)
Le'Veon Bell, RB Baltimore Ravens (46% owned)
JJ Taylor, RB New England Patriots (1% owned)
With Boston Scott active but getting no carries or targets, Kenneth Gainwell has planted himself as the Eagles RB2. He had a modest nine carries for 37 yards but scored a touchdown and caught two passes. Gainwell is a great stash behind the injury-prone Miles Sanders, and could even start gaining more work as the Eagles seem content working an RB rotation.
While De'Andre Hopkins went off this week as he usually does, Christian Kirk had himself a big day going for 5-70-2 on five targets. While his floor can be considerably low, he possesses big-time upside as a deep threat when Kyler Murray takes the top off the defense.
Cardinals' rookie WR Rondale Moore worked his way into the waiver wire rankings after a solid opener. He put together four grabs for 68 yards on five targets, which was third on the team in all categories. Kirk is the big play guy with the potential to explode, while Moore usually works on shorter throws and then capitalizes with YAC. The talented receiver can be a weapon in this offense.
WIth Jeudy set to miss up to six weeks with a high ankle sprain, the electric KJ Hamler has the highest upside of Teddy Bridgewater's bunch. The speedster dropped a would-be 50-yard touchdown after burning Adoree Jackson, but still finished with three receptions for 41 yards on four targets. Expect Hamler to be Denver's big-play machine with Jeudy sidelined.
Following a disappointing rookie season, Jalen Reagor got off to a nice start, going for 6-49-1 on six targets as the Eagles WR2. The team is still pretty thin on pass catchers, so DeVonta Smith and Reagor should have plenty of opportunities to capitalize within the Eagles' potential high-flying attack.
This man just continues to produce when his number is called. Zac Pascal played a more significant role for the Colts with TY Hilton sidelined and responded with 4-43-2 on five targets. With Hilton out for an extended period of time, Pascal will operate as the WR2 behind Michael Pittman, although Carson Wentz was peppering his RBs out of the backfield this week.
While the final scoring numbers weren't spectacular, Nelson Agholor led the Patriots with a 5-72-1 receiving line on seven targets. He should end up finishing behind Jakobi Meyers in terms of targets this year, but Agholor has shown a nose for the end zone and he should be in line for Mac Jones' deep balls.
One of The Wolf's favorite guys to target this year in drafts was James White, who he labeled as one of fantasy's greatest values. White only carries value in PPR leagues where he caught six balls for 49 yards on seven targets. He'll completely dominate third-down snaps, and with the younger RBs on the team both fumbling in key spots, White could be earning more playing time by default.
Tony Jones Jr. is one of the juiciest handcuffs in the league as Alvin Kamara's clear backup. In Week 1 he racked up 50 yards on 11 rushes, mostly in garbage time, but he's a must-cuff for Kamara owners and would drip in season-winning upside if the team's workhorse were to get injured.
The big factor with Saints pass-catcher Juwan Johnson is his recently acquired tight end status. New Orleans somehow CRUSHED the Packers with only 20 pass attempts. The volume was low for Johnson, but what's encouraging was the red zone usage. Winston hit Johnson twice in the end zone and his size and skill make him an ideal target down at the goal line — especially with Michael Thomas out of the lineup. Johnson is an ideal target in TE Premium leagues.
Who the hell knows what's going to happen in the Ravens' backfield. Yet, it wouldn't hurt to spend your final roster spot on the former Fantasy MVP, Le'Veon Bell, just in case Ty'Son Williams and/or Latavius Murray fail to amount to anything over the next few weeks.
JJ Taylor is merely a deep, speculative add but there's no easier way to enter Bill Belichick's dog house than by turning the ball over. Both Damien Harris and Rhamondre Stevenson fumbled during the team's Week 1 loss to the Dolphins — with the former fumbling the game away inside the 10 late in the fourth quarter. Taylor was a Week 1 inactive, yet he's a strong runner who excels at catching the football. Taylor is a waiver add in deep leagues only.
STREAM
Jameis Winston, QB New Orleans Saints (43% owned)
Ben Roethlisberger, QB Pittsburgh Steelers (39% owned)
Teddy Bridgewater, QB Denver Broncos (11% owned)
Green Bay Packers D/ST (22% owned)
Jameis Winston only threw for 148 yards, but Winston looked GOOD as the Saints QB1. He threw for five touchdowns and most importantly, zero interceptions against the Packers. We know Jameis loves to throw the ball with no regard for any consequences and that confidence is what we love in fantasy. His weapons could be better than we thought and he just torched an NFC favorite. Next week, he faces the Panthers in Carolina.
Ben Roethlisberger wasn't sharp during the Steelers' Week 1 victory, but he's on track for a Week 2 bounce back at home against the Raiders. The Raiders defense hasn't been anything special, and with the elite receiving trio the Steelers have, Big Ben should be just fine.
Mr. Two Gloves himself got back to his reliable ways, completing 28 of 36 passes for 264 yards and two touchdowns. Teddy Bridgewater lost his top target, but the offense should still roll against a pathetic Jaguars defense that just let Tyrod Taylor put up 291 yards and two touchdowns.
The Packers DST looked terrible against Jameis and the Saints, but maybe a home game against the Lions is what's needed for the team defense to right the ship.