Player Stock Ticker
Updated Fantasy Football Outlooks on Ty'Son Williams, Latavius Murray, Le'Veon Bell After Gus Edwards' Injury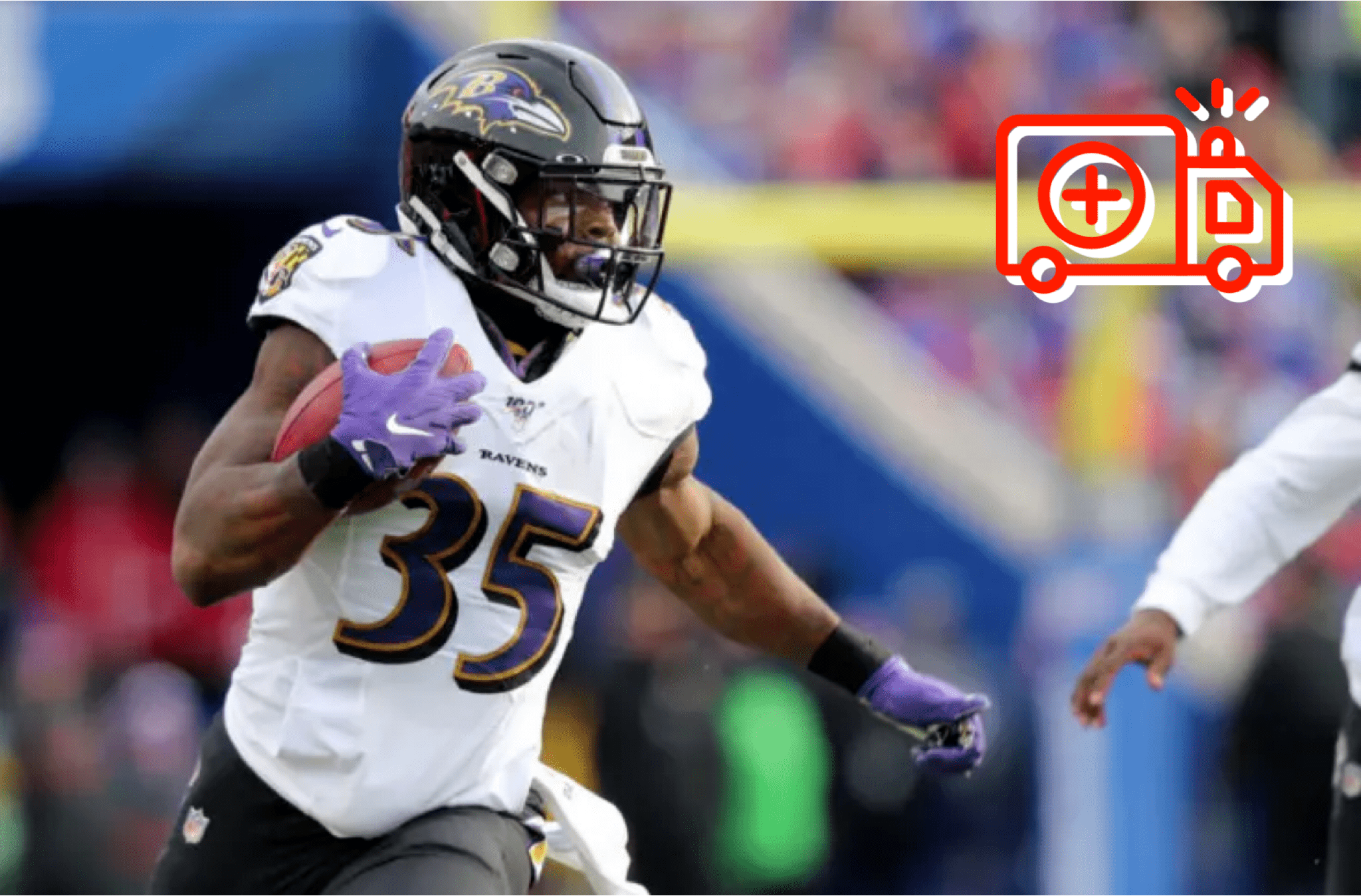 Another day, another Ravens' running back lost for the season. It seems like just yesterday it was going to be the JK Dobbins–Gus Edwards one-two punch in the Ravens' backfield. But on Thursday afternoon, Edwards (and CB Marcus Peters) suffered a season-ending ACL tear that sent a gigantic ripple effect down the Ravens' running back depth chart. Not only did this injury elevate Ty'Son Williams to RB1, but the team signed veterans Le'Veon Bell, Devonta Freeman, AND Latavius Murray to the practice squad and/or 53-man roster.
The real reason we care about this backfield is because of the man calling the shots: Greg Roman
Greg Roman's offenses have finished Top-10 in Rush Att and Rush Yards in 9/9 szns

Top-3 in rush TDs for 5 straight years and No.1 in YPC for all 5

One of Le'Veon Bell, Latavius Murray, & even Devonta or Ty'Son will likely be a free Top-20 RB.

Head says Lat, gut says Lev🤷‍♂️

— Wolf of Roto Street (@RotoStreetWolf) September 10, 2021
Roman's offenses have pounded the rock more times than any other offense over the past four seasons — averaging 540 attempts per season. They've led the NFL in rush attempts per game for three straight seasons since the Roman arrived, with 33.5, 36.8, and 34.6 per game.
In fact, every Ravens' running back with over 100 carries over the last two seasons has averaged at least 5.0 yards per carry, according to PFF.
The touchdowns will also be there. Lamar Jackson will steal a handful of goal-line carries and touchdowns, but Edwards' injury alone opened up 17 rushing attempts from inside the 10-yard line.
In layman's terms, whoever can capture the lion's share of touches and the goal-line carries will provide significant 2021 fantasy football value.
TY'SON WILLIAMS GETS THE FIRST CRACK
Williams, the undrafted second-year back, holds the keys to Roman's lethal ground attack. He'll get the majority of the carries in Monday night's juicy matchup against the Raiders, which could propel him into lead dog status for a week or two until the veterans are physically ready.
From there, things could take a turn for the worst and a four-headed monstrosity could be in store.
Through the Ravens' three preseason games, Williams accumulated 130 yards on the ground on 24 carries (5.42 YPC). He even proved his worth as a pass-catcher, securing all seven of his targets for 38 yards.
Although his college career was underwhelming, it's clear he has an NFL skill-set. Williams doesn't have an elite athletic profile, but he's a tough runner with better quickness and vision than he demonstrated in college. He also proved to be a reliable pass-catcher during the preseason and could find a way into a third-down role due to his pass protection prowess.
The Wolf is high on Williams this week, ranking him RB21 (+14 vs ECR) on his Week 1 Fantasy Football Rankings.
IS LE'VEON WASHED?
Bell, who was just signed to the practice squad, will likely be called up for Week 1 and should be the change-of-pace back.
"Le'Veon's a guy I think we're very familiar with obviously," John Harbaugh said Thursday. "We've played against him so many times in so many highly competitive, emotional games. It was fun to have him in for the workout, he had a good workout. Practiced yesterday, did a good job. So, we'll have a process with him. He's excited, he's learning and we'll see where it goes."
The former Fantasy MVP has fallen off the cliff during his post-Steelers career and his coaches have either done him no favors or he just plain sucks. Bell had just three games with over 10 carries during his 2020 campaign with the Jets and Chiefs. He recorded 328 rushing yards and two scores on 82 carries for the two teams.
If we're going by past success, Bell should be able to seize RB1 duties from Williams. But in 2021, I'm not betting on Bell to get off the couch and turn back the clock to his Steelers' days.
Harbaugh didn't say what RBs definitely are playing Monday. But he did note that Bell is still getting his legs under him while Freeman and Murray are more game ready.

— Jeff Zrebiec (@jeffzrebiec) September 10, 2021
Either way, The Wolf ranked Bell RB54 on his Week 1 Rankings and low-key thinks he could be the Ravens' RB1 moving forward
LATAVIUS MURRAY COULD BE THE GUY
When the team signed Saints' cap casualty, Latavius Murray, Williams' days as the team's RB1 was truly in trouble.
"His style fits what we do," Harbaugh said in his press conference. "You've seen our offense, I think you can picture him pretty easily in that offense."
Murray, who's coming off a very successful season, carried the ball 146 times to the tune of 656 yards and four touchdowns last season. He also added 23 receptions on 26 targets and he's averaged nearly 3 yards per carry after contact during his career.
However, he had a very underwhelming 2021 training camp with the Saints, where he plodded throughout the preseason. The Saints offered him a pay cut for his services, but he declined.
WILL DEVONTA FREEMAN BE A PEST?
If the other backs stay healthy, it's tough to see Freeman lasting long on the Ravens' depth chart.
The former Falcon appeared in five games for the Giants last season after Saquon Barkley went down. He put up 172 rushing yards on 54 carries (3.2 ypc) and snagged seven receptions on 10 targets. He missed two weeks due to an ankle injury then landed on injured reserve.
At this point in his career, it'll be tough for Freeman to jump Williams, Bell, and Murray. I'd expect him to be involved as a spot committee member in case of injury, but outside of Week 1, I can't see him being a factor.
SUMMARY
If Harbaugh had the utmost faith in Williams, he wouldn't have added veteran after veteran. This doesn't mean his 2021 fantasy value has plummeted from being a potential league-winner due to his ADP. It just means he will likely remain in the same role that he had before the Edwards injury, just behind either Bell or Murray.
"Murray came in, he's been in training camp. He's in shape. I just saw him — he's in great shape, he's ready to go," Harbaugh said. "Le'Veon's been in great shape, but he's got to get his sea legs a little bit, football-wise. But he looked good yesterday at practice. Freeman was in camp, so he's in shape. So football shape does mean something.
"Now, we've got to get them up to speed with the playbook. So what can they take into the game Monday night? That's what we've got to figure out in the next two practices over the next couple days, is what different guys can handle during the game and just make a specific game plan for what they're ready for and merge it into our plan for the game and playing the game."
If I were to put a wager on this backfield, I'd bet on a Murray-Williams combo. Meanwhile, The Wolf said his gut is on Le'Veon to take over. Either way, it's an absolute mess.