Player Stock Ticker
Elijah Mitchell Premium Week 2 Waiver Wire Target as 49ers RB1, Mysterious Trey Sermon Demotion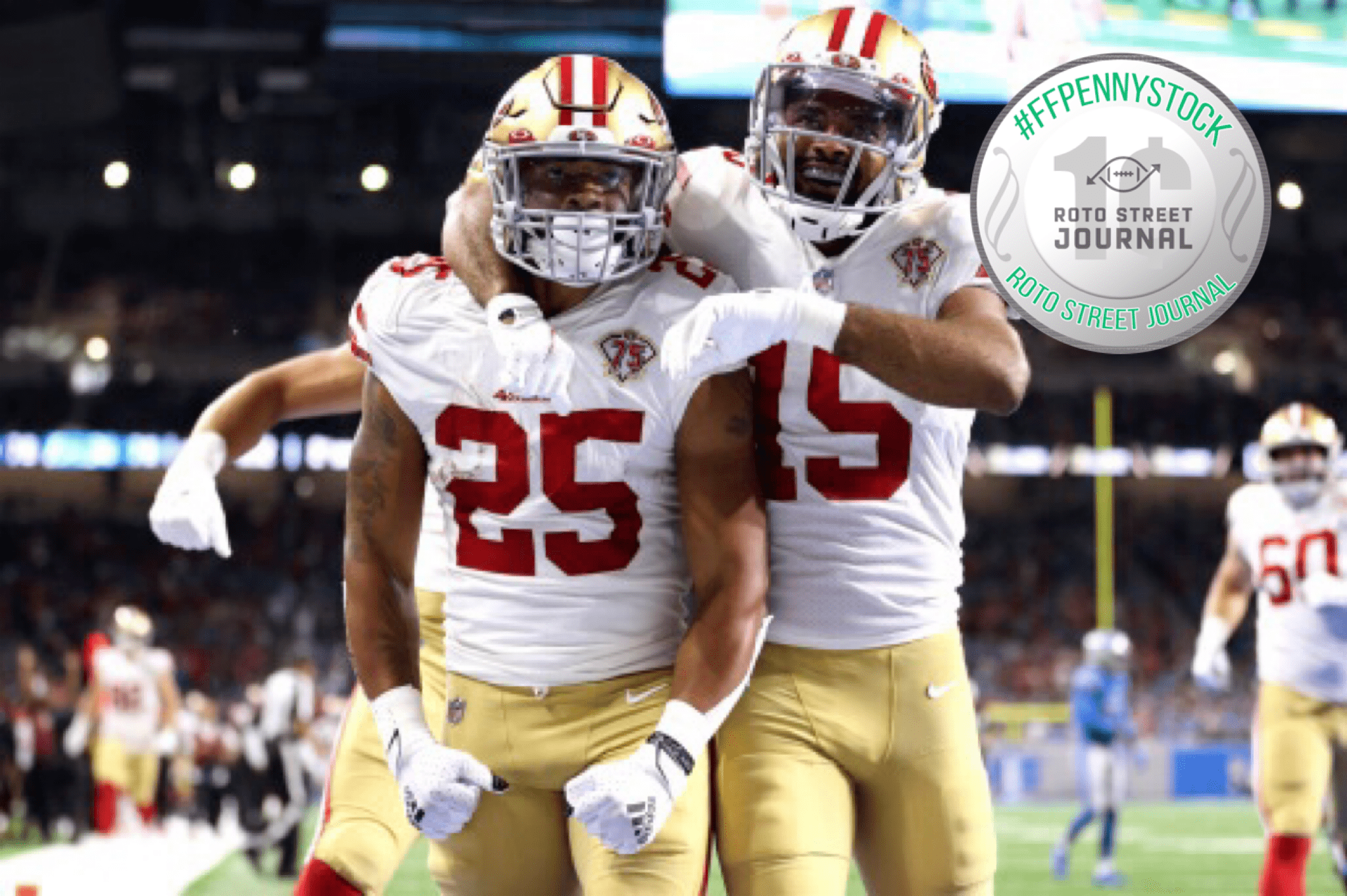 Despite our best efforts, predicting which players will emerge and be productive in certain situations can be very difficult. And it doesn't help when avenues aimed at helping us foresee the future spin opposite narratives.
Trey Sermon's fantasy stock rose when the 49ers traded two fourth-round picks to move up and draft him at pick No. 88. GM John Lynch called him "a really good fit" for San Fran, touting his "deceptive" speed, and pass game skills.
However, red flags about his instincts as a runner couldn't be ignored. Scouting reports such as Lance Zuerlein's at NFL.com observed his running style as "indecisive," "uncreative," and "too upright," particularly during his senior year at Ohio State.
Nevertheless, he appeared on track to join Raheem Mostert as a one-two punch for San Francisco's running attack, "1B to Raheem Mostert's 1A" according to The Athletic's Tim Kawakami.
AND THEN WEEK 1 HAPPENED…
…and Sermon was a healthy scratch. Raheem Must-start became the too familiar Raheem Most-hurt we saw in 2020 with an early exit from the game against the Lions due to a knee issue. The Athletic's David Lombardi reported Mostert will be out roughly eight weeks with a chip in his knee cartilage that will require a scope.
And then on Tuesday, it was revealed that Mostert will have season-ending surgery.
Sixth-round rookie Elijah Mitchell seized his opportunity to rush for 104 yards on 19 carries and a TD, going for 5.5 yards-per-rush and finishing as the RB13 prior to Monday night.
Shanahan says that Mitchell/Hasty simply beat out Trey Sermon in training camp/preseason

— David Lombardi (@LombardiHimself) September 12, 2021
Kyle Shanahan has a history of not caring where you were drafted, or even if he drafted you or not. Most notably, when he joined the Falcons as offensive coordinator in 2015, Devonta Freeman was already on the team. And even though Tevin Coleman was drafted in '15 and better fit the profile of a primary back, it was Freeman who got the majority of the receiving and rushing work when both backs were active, highlighted in 2016 when Freeman finished as the PPR RB1.
DIFFERENT YEAR, SAME SHANAHANIGANS
It's hard to imagine that Sermon is already in danger of the Dante Pettis treatment, but it can't be ignored that Pettis, a second-round pick during Shanahan's tenure in 2018, had even better draft capital than Trey. Pettis was given a shade over two years before the 49ers cut ties with him, but how long will Sermon be given the chance to translate his game to the pros?
Maybe because he's the worst running back on the team. https://t.co/c7xwoyWZzr

— Grant Cohn (@grantcohn) September 12, 2021
One week into the season, and with Shanahanigans already in full swing, we know without a doubt that football's back. It was much easier to avoid the temptation of Kyle's dad, Mike Shanahan's running backs in Washington, because that run game wasn't as fantasy-relevant.
Now, if Mitchell is on your Week 2 Waiver Wire (available in 92% of Yahoo! leagues), he'll be a hot commodity. If you want him, prepare to overpay for a back who may go back down the depth chart if Shanahan believes any of their other RBs are performing better. We know if Sermon does improve, Kyle will have no reservations about putting him in if he thinks he's the better player.
The Wolf originally put Elijah Mitchell's FAAB price at around 25%. But after news of Mostert's season-ending knee surgery, it's seems you'll have to pay 50%-plus to get him now.
Those who have Sermon could be desperate, and those who have Mostert could be more desperate. If you're not particularly RB-needy, you may want to make a bid less than 50%, perhaps considerably less depending on your positional priorities, in the event you do end up getting him. But, I wouldn't expect to.
At this point, it's safe to assume you'll be paying for a back whose usage is far from guaranteed, but has already shown that he's in the conversation to enter your starting lineup anytime he's part of San Fran's one-two punch in the backfield.
Check back Tuesday night to see where the 49ers' running backs land on The Wolf's Week 2 Fantasy Rankings.