Player Stock Ticker
Marquez Callaway Prime Late-Round Best Ball Dart Throw, 2021 Fantasy Sleeper as Saints Potential WR1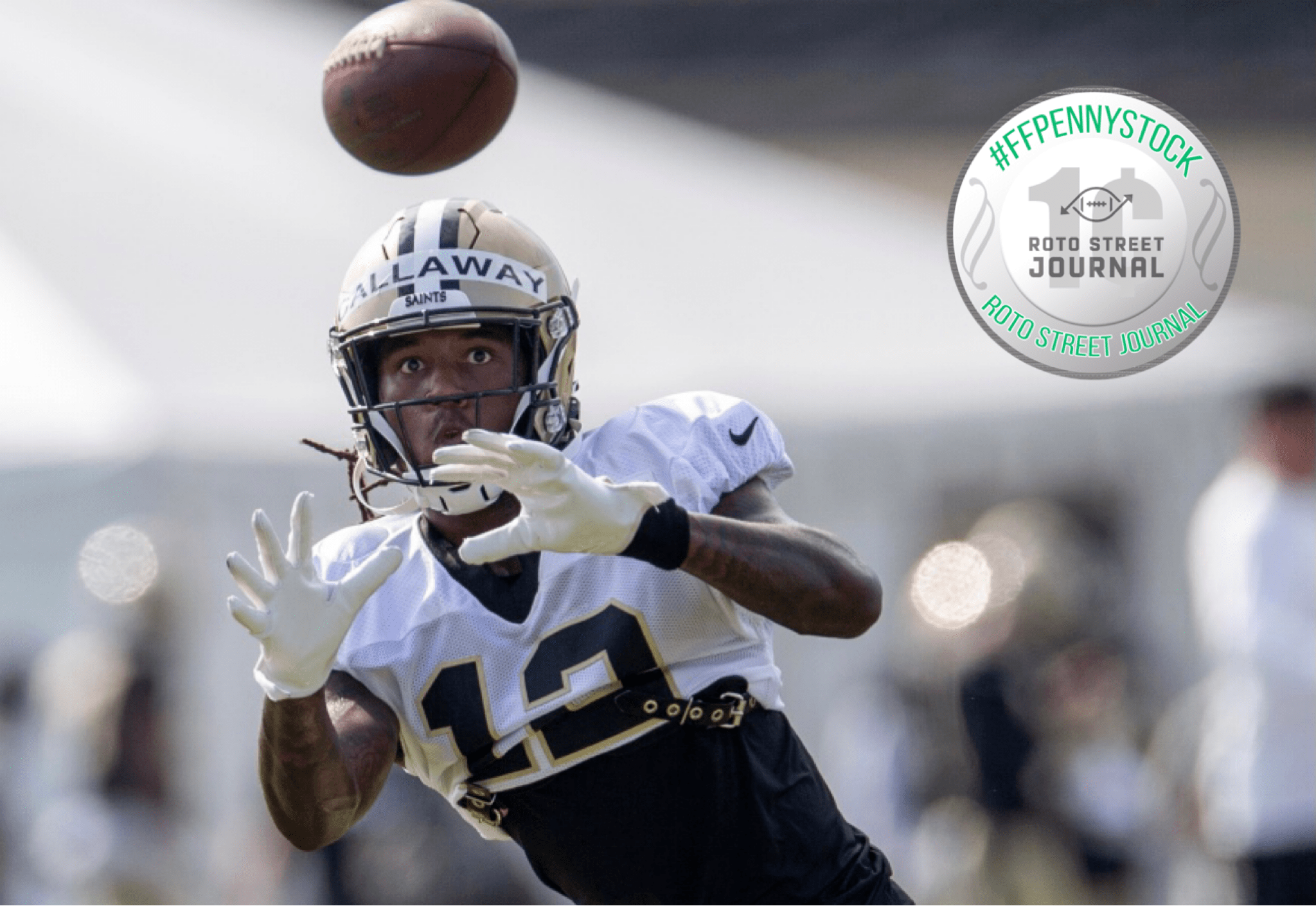 With Michael Thomas on the shelf for god knows how long and Emmanuel Sanders now in Buffalo, Tre'Quan Smith, Marquez Callaway, Chris Hogan, Deonte Harris, and Adam Trautman are five pass-catchers who will be called upon to step up in Thomas' absence.
Callaway, labeled the "breakout star" of Saints camp thus far, has quickly emerged as the potential WR anchor among this cast of characters. With a last-round price tag, Callaway drips in 2021 fantasy sleeper appeal.
In fact, according to NOLA.com's Jeff Duncan, Callaway's been so strong that "there's a belief inside the building that the offense will be just fine without Thomas."
Callaway flashed some promise as an UDFA rookie, snagging 21 balls for 213 yards and a score on limited snaps. He'll now no longer be strapped with low playing time and a COVID-shortened rookie camp,  and looks primed to take the next step.
After seeing little playing time early on, Callaway's snaps increased throughout the year. He hit his career-high in targets (10), receptions (8), and receiving yards (75) in a Week 6 matchup against the Panthers. The young wideout's season derailed when he was put on injured reserve at the end of the season, but showed promise and upside in glimpses during the year.
The recovery could last over four months, which could keep Thomas sidelined weeks, or even months, into the season. The Saints' bye comes in Week 6 after games versus Green Bay, Carolina, New England, New York Giants, and Washington.
Then, things got weird again this week when Thomas posted a cryptic tweet about his reputation and keeping things under wraps.
— Michael Thomas (@Cantguardmike) August 9, 2021
Who really knows what is going on behind the scenes between Thomas and the Saints, but the star receiver reportedly stopped talking to the team entirely.
Now with Tre'Quan Smith sidelined with a leg injury, Callaway is taking advantage of his opportunity at the top of the depth chart. He's refining his route running and becoming a more dependable receiver for both Jameis Winston and Taysom Hill.
Fun watching Marquez Callaway really take ownership of being the top dog at receiver right now. Playing with so much confidence.

— Luke Johnson (@ByLukeJohnson) August 6, 2021
"Very excited about him, a kid who made some plays for us last year," Saints WR coach Curtis Johnson said of Callaway. "The biggest thing about Callaway is just inexperience playing NFL games. But he's very smart, picks up everything well. I like how he separates and catches the ball."
Then last week, Hill painted a picture of Callaway's training camp emergence.
"I think Quez is one of those guys that when he had the opportunity, he's taken advantage of it," Hill described. "So, I have not seen Quez have an opportunity and not step up to it. And, we saw that last year. I think we're seeing that this camp where Quez plays really well when his opportunity is really high."
The Wolf is high on Callaway. He ranked the receiver WR81 (+29 vs the ECR) on his updated 2021 Fantasy Rankings.