Player Stock Ticker
5 Most Common Fantasy Football Draft Day Personalities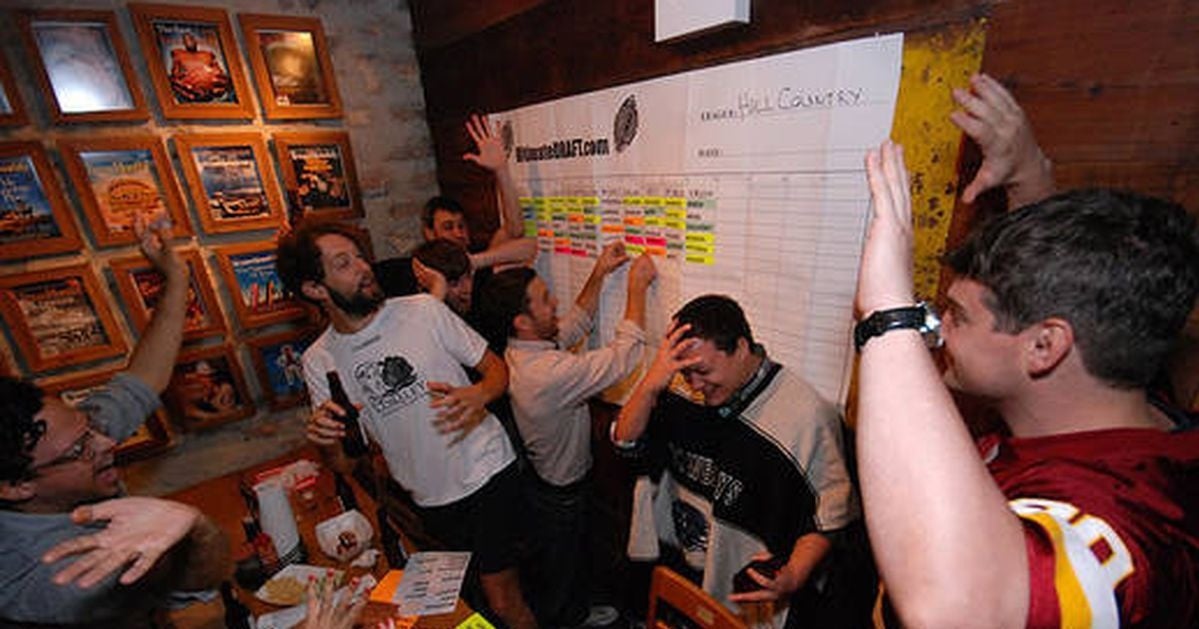 With summer in full swing, fantasy football draft day is around the corner. Roto Street Journal's Fantasy Stock Formula and The Wolf's Fantasy Rankings & Big Board are here to lead you to fantasy nirvana, but blocking out the noise on draft day is easier said than done.
These five draft day personalities can ruin the best day of the fantasy season for any owner.
Mel Kiper Jr., Junior
This league-mate opines where every player is selected.  Muttering things like, "That's a reach, you could have taken him a round later." Or, "Great value in the fifth, he went in the third in all my mocks."  Their picks are then preceded by, "I can't believe this guy is still on the board" and "Wow, you guys let him fall to me" as if somehow flexing their perceived fantasy prowess (and lack of social skills).  Avoid being this player in your league.  They're like sandpaper in everyone's ears, and the act is old after five minutes.  Choose your player and move on.  Don't critique everyone's team, and let everyone draft in peace.  Select your squad, drink your beer, and relax.
Mr. Unprepared
All leagues also have the owner that's more unprepared than Nathan Peterman for draft day.  This GM shows up asking if the league is PPR, or how many wide receivers you start.  This is who you need to be in a league with, the proverbial fish in a barrel.  While they're drafting Tom Brady in the second round, you're snatching up the game-breaking wide receivers and running backs.  His rankings are from early July, and doesn't know Cam Akers tore his Achilles, or Le'Veon Bell doesn't have a team.  Hopefully, you're drafting immediately before or after this owner to take advantage of their misses.
The Hourglass
This type of draft day personality might be the most annoying.  When on the clock in round 10, after staring at the same list he's for 2 hours, they claim, "I'll take D'Andre Swift."  He makes the pick with such conviction, you can't even muster a response.  Half the league then explains that Swift was picked (as he should be), to which normally generates a reply of "He was?" or "I don't have him crossed off my list."  Like many on this list, don't be this GM.  Pay attention during the draft, and keep up with the pace.  Stop asking if Lamar Jackson is available in round 13.
Premature Peter
This owner, even after five rounds, doesn't know the draft order.  Their inability to remember 10 or 12 names in sequence (even with the aid of a draft board visual!), has them shouting picks before their turn, blowing their proverbial sleeper-pick load.  If you're drafting adjacent to them, pull the trigger on this player for him to overpay via trade later on.
Jack Daniels
This is arguably the most entertaining, (or most annoying) owner at the draft.  He arrives with rankings rolled up in his pocket, and a case of Rolling Rock (no one said he had good taste in beer). Twelve empties are sitting at his feet before the first pick is made.  In addition to nabbing the (still in his mind) Legion of Boom Seahawk defense in round four, he also manages to drip ketchup on his shirt and trips over his chair into the pool.  He brings entertainment but also delays a draft that's already four hours too long.  Jack is best enjoyed in moderation.  Don't drink and draft.
These owner types show there's ample opportunity on draft day (in addition to the prep you've done, like listening to the Fantasy Fullback Dive podcast) to gain a competitive advantage on your league, just by paying attention.  Remember draft etiquette, but maximize the fun on draft day, we only get to enjoy it once a year.