Player Stock Ticker
James Robinson 2021 Fantasy Outlook Ascends as Urban Meyer's Workhorse RB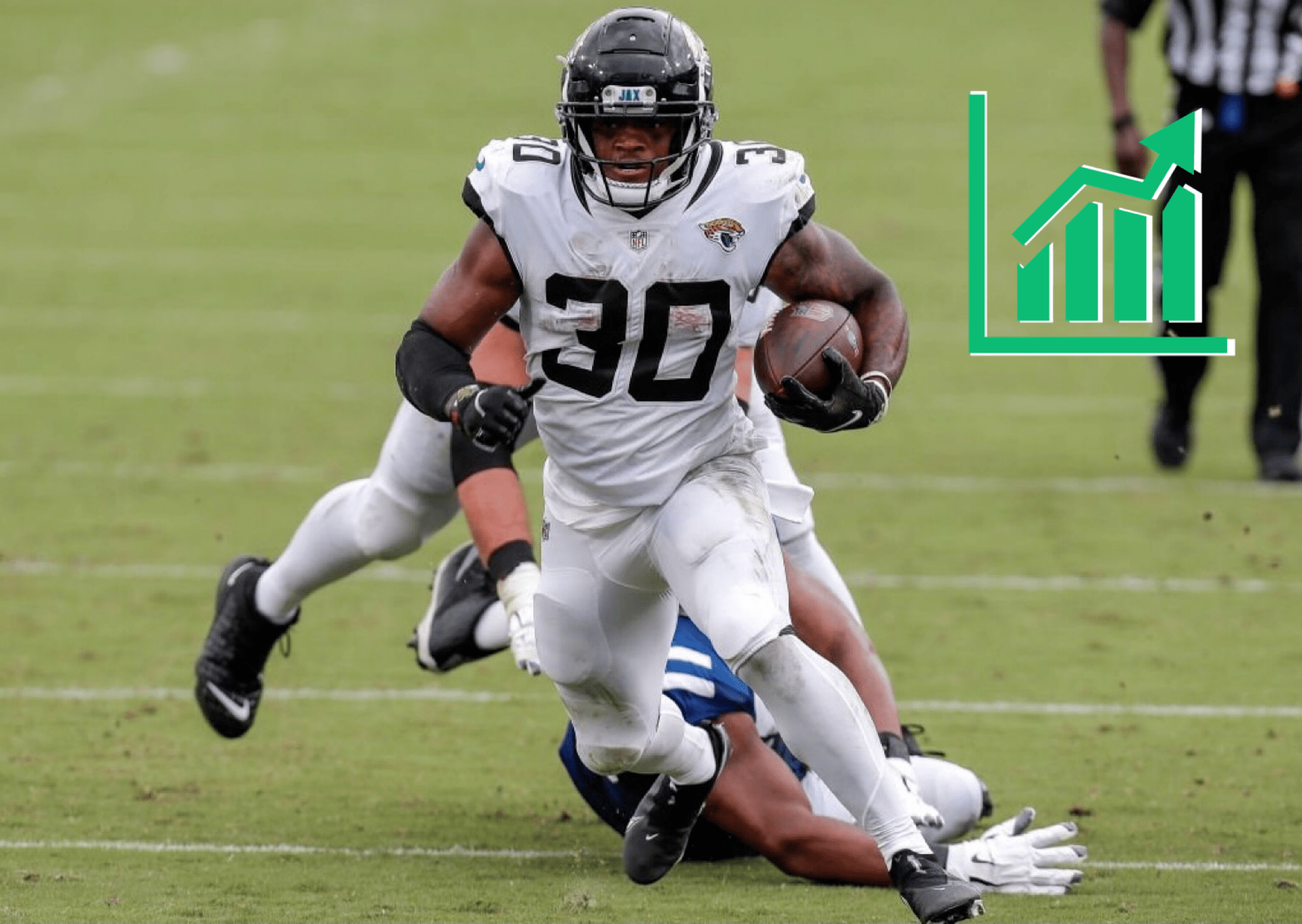 5/3 Update: James Robinson 2021 Fantasy Outlook after Jaguars draft Travis Etienne
It would have been easy to assume that James Robinson would've cooled off after exploding onto the scene as an unknown and undrafted rookie free agent. However, Robinson proved why he has always produced on every level, and that didn't stop in the NFL. One of the most decorated all-time rushers in Illinois high school history and one of the best FCS backs of this century took over the Jaguars' starting job and never looked back. As a result, he finished with 1,070 yards and 10 total touchdowns, which made him a finalist for NFL Offensive Rookie of the Year.
Now with Urban Meyer and Darrell Bevell calling the shots in Jacksonville, expect an encore performance for Robinson and a potential RB1 2021 fantasy season as a true workhorse.
While some think of Meyer as a life-long bell-cow breeder because of his recent running back success at Ohio State, it took until Carlos Hyde in 2013 for Meyer to produce his first-ever 1,000-yard back. But since Hyde's 1,668-yard and 18 touchdown season, Ezekiel Elliott put up back-to-back 2,000 total yard seasons, Mike Weber cracked the 1,000-yard mark in 2016, JK Dobbins exceeded 1,500 yards as a true freshman, and then eclipsed 1,300 yards and found the end zone 12 times as a sophomore in 2018.
Additionally, when people think of Urban Meyer, they think of Percy Harvin or Curtis Samuel running east-west with a handful of misdirection and motion. Not so fast, my friends. Meyer's offense is based on a power run scheme with heavy inside zone looks. But he adapts his run game to his offense. At Florida, Tim Tebow was the team's hammer in between the tackles when the team needed a yard. And although he had the running back talent at Ohio State, JT Barrett would run power in the team's most crucial moments – much to the dismay of Buckeye fans.
"I'll fight anybody on this; you have to run the football to be successful at the highest level," Meyer said in a recent interview.
While Meyer's offense will likely have to have more balance in the league than he had at Ohio State, where his team was bigger, faster, and stronger than 99 percent of the teams he faced, he recently hired Darrell Bevell as the team's offensive coordinator and play-caller.
Bevell has one of the better run game minds in the league and when he has had the quarterback, he's shown the ability to mix the pass and the run together to create an unstoppable force.
Bevell saw his most success as a play-caller with Russell Wilson and Marshawn Lynch in Seattle and he could replicate that success with Trevor Lawrence and Robinson in Jacksonville.
This will also be the first time in a while where Bevell has worked for an offensive-minded head coach, as his last two stints were with Pete Carroll and Matt Patricia, respectively. So while he could be free to throw the ball now more than ever, expect Bevell and Meyer to cook up a power run game with Robinson as the team's workhorse.
As a result, Robinson should firmly establish himself as a 2021 fantasy RB1 and he will get a bump up The Wolf's 2021 Fantasy Big Board and Rankings.