Player Stock Ticker
Did The Jaguars Destroy James Robinson's 2021 Fantasy Outlook After Drafting Travis Etienne?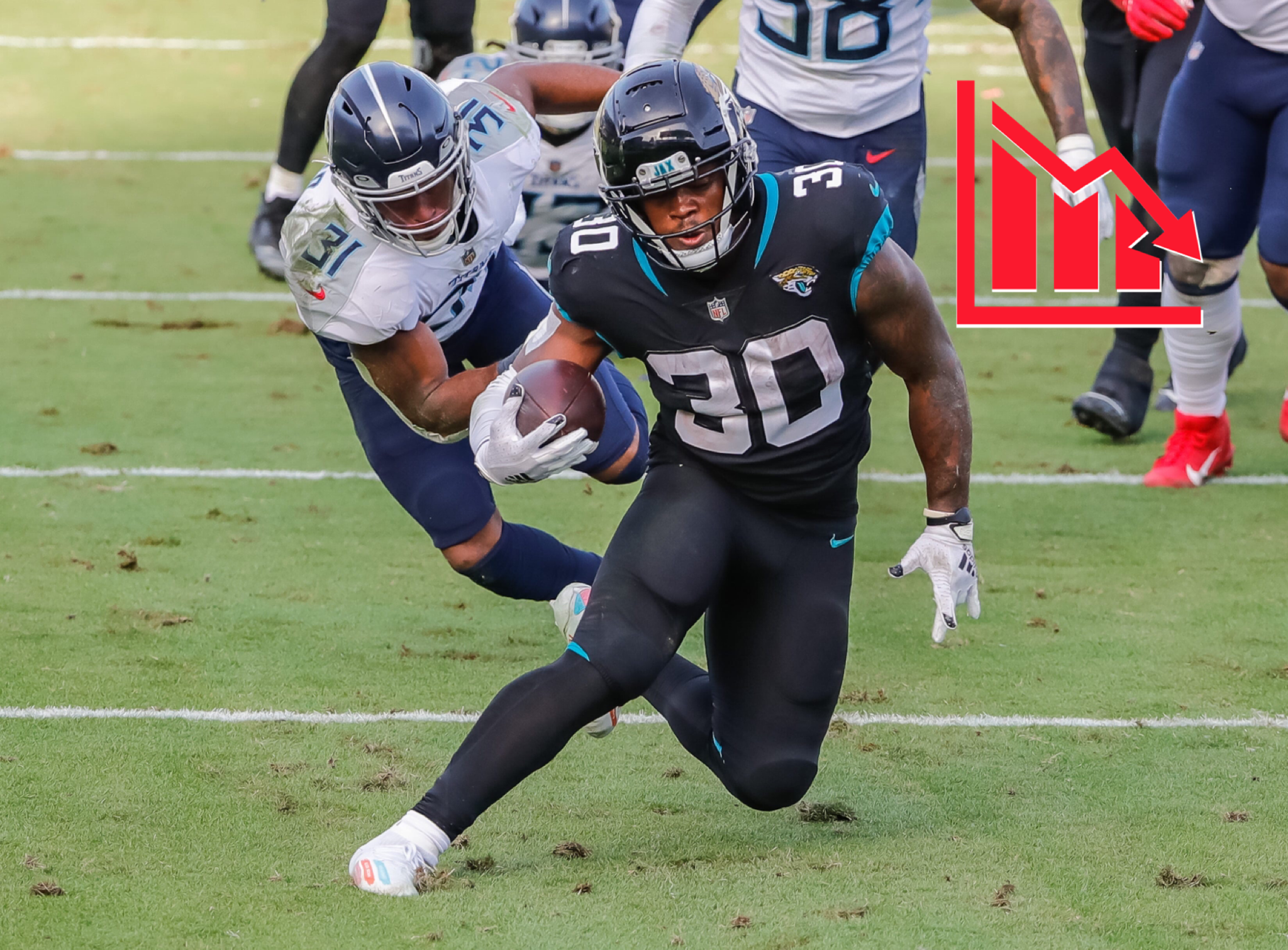 Thinking about closing the book on James RB1SZN?
With the 25th pick in the 2021 NFL Draft, the Jacksonville Jaguars selected James Robinson's fantasy owners' worst nightmare. With Trevor Lawrence's teammate, Travis Etienne, and free agent signing Carlos Hyde, JRob's inevitable volume hit is potentially a bigger one than many hoped for. With Etienne's faster raw speed and first-round draft capital, some are already writing off Robinson as a one-year wonder.
No matter what else happens, no one will lose more fantasy value than James Robinson from this draft

— Wolf of Roto Street (@RotoStreetWolf) April 30, 2021
Jags coach Urban Meyer isn't, however:
Urban says he sees J-Rob, Carlos Hyde as the 1-2 punch, Etienne as a third-down back.

"We wanna be Top-8 in the league… and with James Robinson, Hyde and Etienne, we think we're there" #Jaguars

— Mia O'Brien (@MiaOBrienTV) April 30, 2021
With Lawrence and Etienne's career paths heading to Jacksonville in lock-step, some are taking Meyer's comments here as coach-speak. You don't draft someone so high just to relegate them to a third-down role, right? And, to those who know anything about Urban Meyer, he likes to play fast. Referencing Player Profiler, we see that Etienne comes in with a faster 40-yard dash and Speed Score than Robinson and Hyde.
But as John Oehser points out, when Urban talks about playing fast, he's not just talking about raw speed:
"When I say fastest, not necessarily 40-time fast, but fast," Meyer said. "One of the great compliments I can remember we ever had was the legendary coach John Robinson. He's coaching at UNLV and I'm coaching at Utah (in 2003 or 2004), and we walk out to the 50-yard line and he looks at me and says, 'That's the fastest team I've ever coached against.' And I'm thinking we only had maybe one guy that runs sub-4.5, but then you watch the film and they played fast."
Check Player Profiler again. Who runs the gamut on Burst, Agility, and Bench Press? JRob's upper hand in strength in conjunction with his superior mobility in the Jags' RB room means he could absolutely play fast the way Meyer envisions, as clearly Meyer doesn't expect you to have to run a sub-4.5 in order to get the job done.
Pass Protection
Robinson's got pass-blocking chops. The consensus is that Etienne's is a concern. In this respect, it's understandable that you could take Meyer's comments on his RB usage as coachspeak. Why call a guy with suspect pass protection your guy in obvious passing situations? Maybe he thinks Trevor Lawrence is good enough to extend plays on his own where it won't be a liability. Or, maybe he thinks Etienne can pick up his pass blocking skills in due time. We'll see.
And What Of Carlos Hyde?
Hyde is set to be 31 years old in September. Feel free to let me know if anything about his game right now should pose a threat to Robinson's workload, because I don't see it. To me, the JRob/Hyde snap count split resembles 2020's Josh Jacobs/Devontae Booker split at best.
We all found out what the Jags' coaches thought of the RBs not named Robinson after Leonard Fournette got cut. So, it's not surprising that Hyde could immediately slide in as a depth piece. I can't fault Urban for giving props to one of his old Ohio State players, but even he has to know the reality of running back shelf lives.
Offensive Line Considerations
The 2020 Jags interior O-line fared better than the tackles. The only draft spot used to address the O-line was on Stanford's Walker Little, who was All-Pac 12 First-Team honors in 2018 and Pac 12 Co-Offensive Freshman of the Year in 2017. After a season-ending knee injury in September 2019 and a 2020 season opt-out, Little could end up being a steal. Time will tell.
Regardless, Lawrence's presence will force defenses to keep tabs on every part of the field, all the time. Not only should DJ Chark and Laviska Shenault (and Tim Tebow?!?!?!) enjoy the benefits of a generational talent at QB, Jacksonville's backfield could see the field open up a bit more for them if the scheme can utilize every part of the field.
Stay Up With The Wolf's Rankings
Concerns over Hyde's potential goal-line vulturing results in J-Rob coming in as The Wolf's RB34 (-7 vs ECR) in the 2021 Rankings and Big Board. Etienne currently stands at RB27 (+2 vs ECR). But remember it's only May, and there are three things you could debate about forever — politics, religion, and fantasy football. The conversation never stops, so be sure to stay up with RSJ and The Wolf all offseason long.
Plus, stay up to date on all the Fantasy Football Value Swings! Bookmark our Fantasy Stock Watch. Even better, consume them in our cleanest format by downloading the Roto Street App