Player Stock Ticker
Which Players Could Blow Up During the 2021 NFL Playoffs?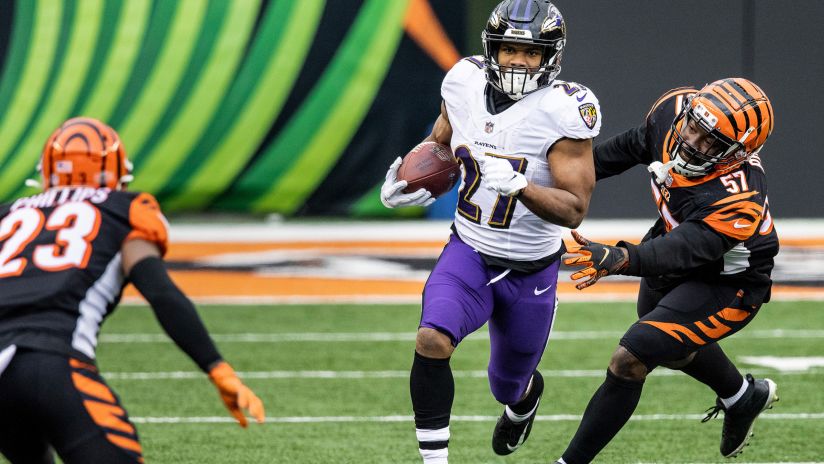 Football fans, rejoice! Amidst the most uncertain season in NFL history, the 2021 NFL Playoffs have arrived unscathed. Just like Weeks 1-17, this postseason shapes up to be one of the most competitive and unpredictable in recent memory.
With every postseason, a handful of players seem to "take over" games and go completely berserk. Often, it's the established studs, like Derrick Henry, who rumbled for 148.7 rushing yards per game last year. Yet, in those same playoffs, we saw more obscure players like Raheem Mostert explode for 220 rushing yards in a single game (second most of all time).
Of all years, this one feels ripe for some epic postseason blow ups. Below, I highlight some of my favorite picks to light up the stat sheets during the 2021 Postseason.
I'm not doing this solely to flex my predictive muscles, however. On the contrary, projecting playoff heroics could be hugely profitable thanks to one of my favorite new fantasy game: PredictionStrikke (iOS app download here). Branded as a fantasy sports stock market, PredictionStrike allows you to "invest" in players. Values rise as players outperform projections, and fall if they underperform.
Make some money and boost the playoff excitement even further by investing in the following players before they tear up the 2021 NFL Playoffs.
Note: Projections change daily. These are updated as of Thursday, 1/7, but be sure to check out PredictionStrike (iOS app download here) for any changes. If you join, please consider using code RSJ to get $10 bonus dollars (with a $20+ dollar deposit) while helping us out! 
2021 Playoffs: Blow Up Candidates
Obvious = Josh Allen (BUF-QB)
No single player enters the postseason hotter than Josh Allen, who's topped 30+ fantasy points in three of his last four full games played. Fantasy's QB1 in the regular season, Allen should continue scorching in the playoffs.
Allen is ranked as my No.1 overall player for fantasy playoff leagues, largely because I see him breaking Eli Manning's record for passing yards in a single postseason (1,219). He has averaged 284 yards and 2.3 scores per game on the year, but actually improves as the competition heats up. In matchups versus top-10 defenses (per Pro Football Focus), Allen has posted 315 yards and 2.5 scores per game.
If the Bills go on a four-game Super Bowl run like I expect, Allen will absolutely feast.
He's not cheap on PredictionStrike, sporting a $29.07 price tag per share. Still, projected for a modest 24.1 for Wild Card Weekend, Allen should smash this and immediately boost his value. While the Colts have been formidable on defense, they're far stouter versus the run than the pass. Expect Allen to chuck for 300+ and 3+ TDs en route to a 28-30 FP day, sparking an epic playoff run that sees his share price rise to the $40+ range when all's said and done.
Top Value: John Brown (BUF-WR)
Not willing to stomach Allen's hefty share price? No problem. Enjoy the ancillary benefits and invest heavily in John Brown, among the best value picks on PredictionStrike right now. At only $1.77 per share, "Smokey" could 3x that value by the end of the playoffs.
Yes, Stefon Diggs defines "Alpha." Toss out last week in which he only played half the game, Diggs recorded 9-145-3, 11-147, 10-130, and 10-92 lines across his last four games. He's a solid investment at ~ $13 a share himself.
Yet, Diggs also commands significant defensive attention. Brown absolutely eats secondary corners, and no one on the Colts can run with him. He's projected for a measly 10.1 points, a statline Brown bested in five of his nine games played, including four above 17 FPs.
In his first action back from a five-week absence, Brown posted a 4-72-1 line, and a similar – if not better – output is totally plausible for Wild Card weekend. His likelihood at a huge line only grows should Cole Beasley, who hasn't practiced all week and is on the wrong side of questionable, sits.
Now and Future King: JK Dobbins (BAL-RB)
Although JBrown is PredictionStrike's best value price-wise, Dobbins is, by far, my biggest lock to yield value during Wildcard Weekend. He's currently projected for a paltry 9.6 FPs, a total he has exceeded in six straight weeks and one he could easily double, if not triple, this weekend vs. the Titans.
For starters, the Titans are atrocious on defense, allowing the 9th most total points per game (27.4) and 7th most FPs to RBs on the year. Across their last three contests, they surrendered over 20 PPR points to D'Andre Swift (22.2), AJ Dillon (25.9), and David Johnson (21). Dobbins should extend that streak.
Since the Week 7 Bye, Dobbins has averaged nearly 14 FPs per game. He's been especially hot in his last five, where he ranks seventh among running backs in rushing yards (425) and fourth in rushing touchdowns.
In his last meeting with the Titans, Dobbins rolled for 17 touches (2 rec), 85 YFS, and 1 TD, totaling 18.5 FPs. He's also fresh off a career-high 160 yard, 2 TD smashing of the Bengals, a performance John Harbaugh should undoubtedly reward and build upon.
Granted, the Ravens could be one-and-done in the playoffs, as I love the Titans this year. Even still, Dobbins could legitimately 3x his 9.6 projection, and he'd remain a highly appetizing offseason hold on PredictionStrike.
Mark Ingram, largely irrelevant over the last five weeks, is expected to be an offseason cap casualty. Dobbins' share price will skyrocket both this week when he destroys his projection, and once again when Ingram is officially cut. As the Ravens' backfield centerpiece in 2021, Dobbins has the talent and scheme to join the elite RB1s. You'll giggle with delight when the $5 you pay now becomes a $25+ value by the end of next year. He's a current and especially future King.
Playoff Takeover Potential  = Alvin Kamara (NO-RB)
You don't need me to spell out the insane talent of Alvin Kamara, the reigning RB1 from 2020 fantasy. He just hand-delivered titles with his epic 162 total yard, 6 TD, 56 FPs performance in Week 16, which could be a precursor to a monstrous playoff run.
He did miss Week 17 due to a positive COVID-19 test. Given his asymptomatic status, Kamara is eligible to return for Wild Card Weekend versus the Bears. Indeed, the matchup isn't ideal, as Chicago surrendered the 9th fewest FPs to RBs, including 0 receiving TDs to the position. Additionally, Kamara's projected for a hefty 24.9 FPs on PredictionStrike. No one's sleeping on his upside, even in a tough matchup.
Still, Kamara's a different beast. Against these same Bears in Week 8, Kamara posted 25 FPs without even scoring a TD, including a 9 catch, 96 yard receiving performance.
Many believe AK41's greatest 2020 performances came without Michael Thomas in the lineup. Yet, the two only shared the field with Drew Brees twice this year. Kamara posted 24 and 35 FPs in those contests against the Bucs and 49ers, two top-five run defenses, respectively. He'll be fine even with Thomas returning.
In fact, the dreadful Taysom Hill experience has Kamara's PredictionStrike price a far-too-cheap $7.13 per share. AK41 could go berserk for multiple 30+ FP days and single handedly takeover the playoffs. Get in while his price remains this low.
2021 Mostert = Ronald Jones? (TB-RB)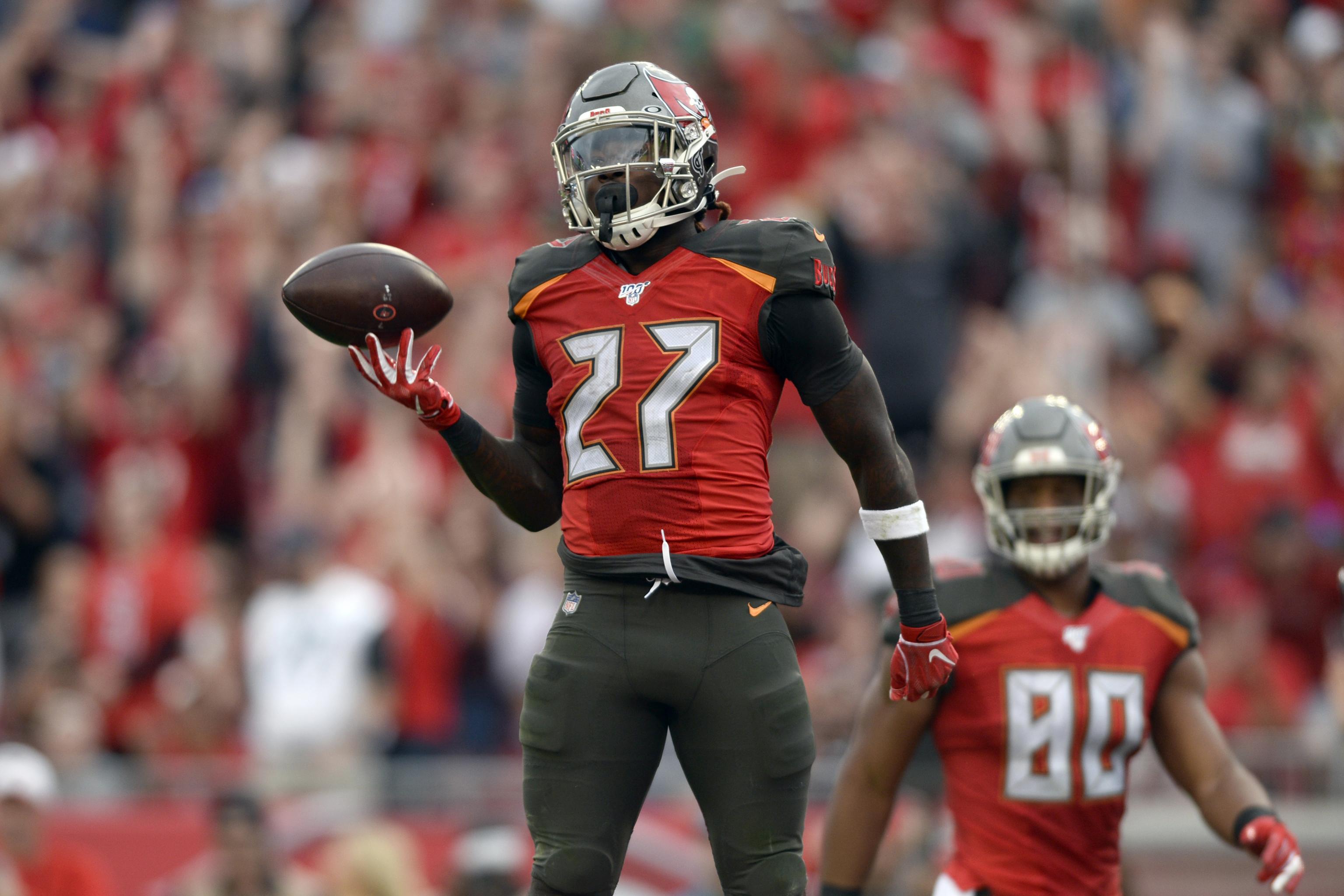 Ronald Jones has been a frustrating fantasy product in 2020. At times, he looks like the next stud back, churning through defenses for monster fantasy days. At others, Bruce Arians supplants him for Leonard Fournette if Jones drops a single pass.
To reflect this volatility, Jones' PredictionStrike price is severely depressed at $1.21 a stock. I'm not overly hopeful for his Wildcard Weekend prospects against a tough Washington front seven. He's projected for a fairly robust 13.6 FPs, which would require a TD.
Instead, Jones makes sense to wait a week to invest, where he'd be lined up with a pathetic Green Bay run defense. The same defense which Mostert set records against last year, and Jones himself torched for 113 rushing yards and 2 TDs (26 FPs) in Week 6. Fournette is also a free agent this offseason, so Jones' value could skyrocket if Lenny leaves and isn't replaced.
Diontae Johnson & Chase Claypool (PIT -WR)
Diontae Johnson absolutely balled this year. Yes, he had three soul-crushing games where he left early due to injury and recorded just one catch. In his other 12 contests?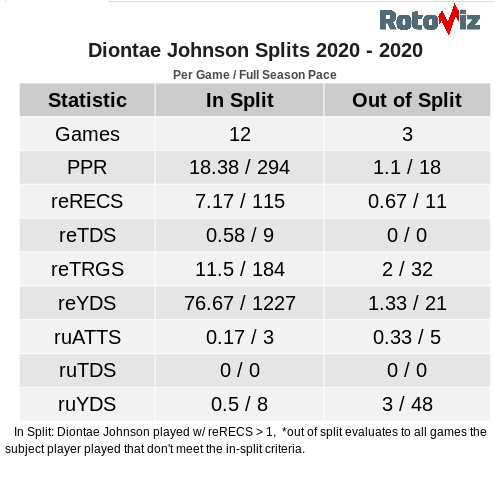 Johnson's 18.38 PPG would've ranked 5th among WRs in 2020, behind only Davante Adams (25.6), Tyreek Hill (21.9), Stefon Diggs (20.5), and Calvin Ridley (18.8).
Moreover, he saw 10+ targets in 10/12 of these games. The two under included a game he was benched for an entire half, and Week 17 with Mason Rudolph under center.
Essentially: if he doesn't get hurt early, Johnson will surpass 10+ targets, and likely smash his 14.9 PredictionStrike projection. Considering he had 20+ FPs in seven of his 12 healthy games, Johnson offers huge profit potential. If the Steelers piece together a sneaky 3+ game run, Johnson might lead all WRs in playoff receptions and yardage. His $1.59 share price should be illegal.
Meanwhile, Chase Claypool comes in as a higher-priced asset ($3.46), likely due to rookie buzz and higher "sex appeal." He's already dismantled Cleveland twice for 18.1 FPs and most recently 21.1 with Rudolph chucking ducks. The Browns sport an atrocious secondary outside Denzel Ward, who will likely spend most of his time on JuJu.
While Johnson is my prefered investment, Claypool undoubtedly brings an enormous ceiling. Mike Tomlin definitely has some huge plays drawn up for his rookie phenom that he's just waiting to unleash in these playoffs.
The other reason I wanted to highlight these two: JuJu Smith-Schuster will be a 2021 free agent. Big Ben has already pledged to return next season, so if JuJu departs and minimal competition is added, both Diontae and Claypool should be absolute target hogs in an offense that just led the league in pass attempts. This make both WRs highly intriguing assets for the playoffs and especially beyond.
Summary
Sure, I could have highlighted Patrick Mahomes, Davante Adams, Derrick Henry, and other obvious studs here. Instead, I wanted to highlight some underappreciated players (besides Kamara, who's just too damn cheap) who could truly tilt games during the 2021 NFL Playoffs.
That's also the way to steadily win on PredictionStrike (iOS app download here) the new fantasy sports stock market. Join the action and use code: RSJ (case sensitive) to get $10 bonus dollars (with a $20+ deposit) to invest on these guys before the games kickoff Saturday. Plus, hit the comments or me up directly @RotoStreetWolf with other players you see blowing up during the 2021 NFL Playoffs.