Player Stock Ticker
2020 Fantasy Football Strategy: Week 16 Buy Low, Sell High Using Expected Fantasy Points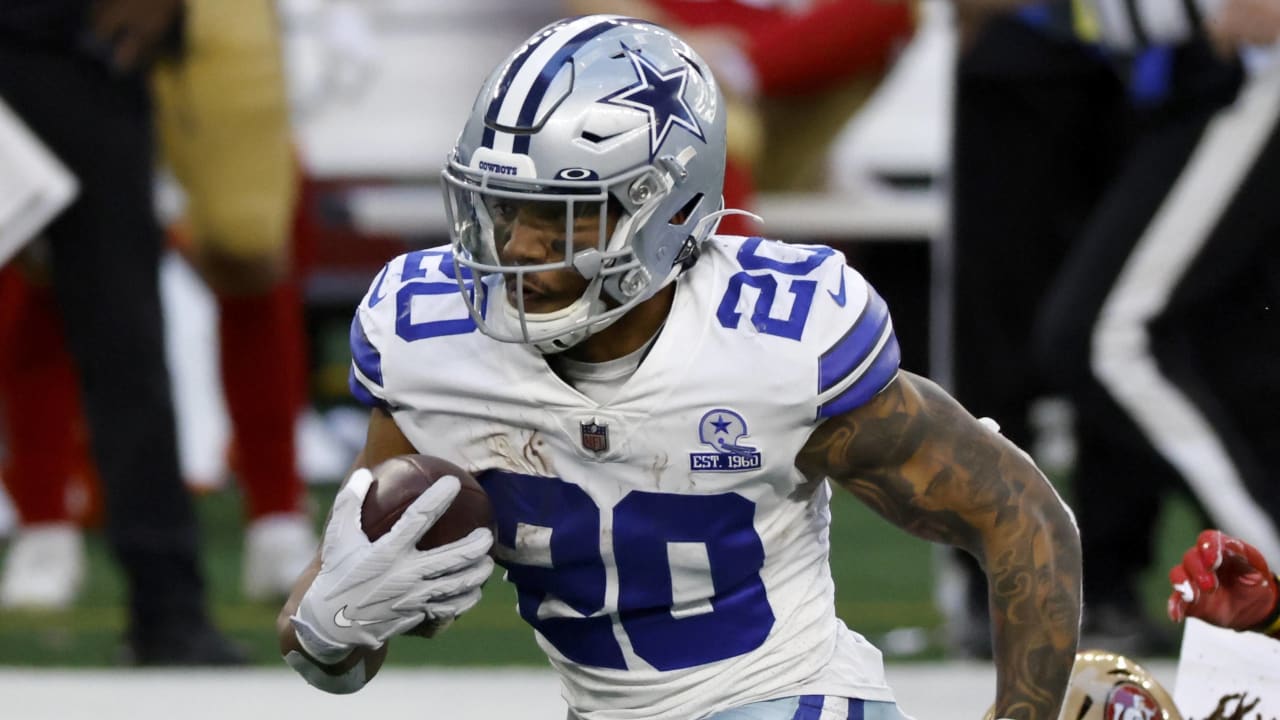 Welcome to the Week 16 Expected Fantasy Points Report! With a championship on the line this week, you don't want to start the wrong guy. Find out exactly who is the valuable opportunities you need to finish your season strong!
If you have any questions or feedback, let me know @RSJ_Jackson on Twitter!
All data in this article uses full PPR scoring. A sample of the data through Week 15 is pictured. The PDF hides the weekly data for Weeks 1-10 to save space, but all data is still factored into the season averages. For the full data, click the links below.
**DOWNLOAD THE EXCEL VERSION!**
Expected Fantasy Points
I built the model based on a metric called Expected Fantasy Points (xFP). A player's xFP is calculated based on the value of each target or carry, using historical data attributes that correlate highly with actual fantasy points scored. You can find a more detailed breakdown of how this works here.
Expected Fantasy Points essentially show what an average player would have done with the opportunities seen by any given player. We can then subtract the player's actual fantasy points scored to arrive at the difference, a key metric.
How to Interpret Expected Fantasy Points
The difference between expected and actual fantasy points comes from two sources:
Talent/Situation
We would expect the most talented players in the NFL to score more fantasy points than their expected fantasy points. That's pretty obvious since xFP is based on the averages of all players. Also, a given coach or scheme might lead to a sustainable difference in actual over expected points. A carry in Kyle Shanahan's offense will typically produce more points than a carry in Adam Gase's offense. A carry behind an elite offensive line would be more valuable than a poor one.
These are all sustainable ways for a player to consistently outperform or underperform their expected points. Because of these differences between players, we should not assume that the difference between expected and actual points will always regress to zero. In other words, don't blindly buy any player with a negative difference. Don't sell every player with a positive difference.
Luck
The main reason to use expected fantasy points is to identify players who are experiencing very bad or very good luck. Unlike the previous differences, luck will even out over a long period. We want to buy players who are having bad luck and sell players who are having good luck.
Separating differences that are sustainable from differences due to luck can be tricky. It's not an exact science. However, most players will score within a few points per game of their expected fantasy points for the season. The players with the largest differences are the ones most likely to be benefitting or suffering from luck.
Week 15 Expected Fantasy Points Leaders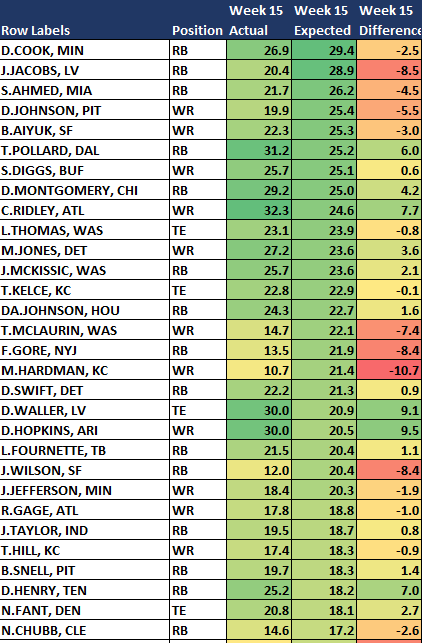 Emergency Options for Week 16
At this point in the season, you probably have a good idea of who you want to start. However, you should still prepare for the unexpected.
Running Back
Hopefully, you listened last week when I suggested stashing Tony Pollard because he finished as the overall RB1 last week with 31.2 fantasy points. Ezekiel Elliot's status is up in the air for Week 16, but Pollard looks like a great option again if he sits.
Similarly, Salvon Ahmed dominated the Dolphins backfield with 23 carries for 122 yards and while Myles Gaskin missed another game on the covid list. Like Elliot, Gaskin's status for Week 16 is unclear, so stash Ahmed if you can.
Other than Pollard and Ahmed, your running back waiver wire is likely pretty thin. Guys like Le'Veon Bell and Giovani Bernard are only about 60-65% owned and should see solid volume in Week 16, so they could be options. If not, you might as well handcuff your starting running backs in case of a surprise mid-week injury. Players who you aren't starting in Week 16 have no value, so don't be afraid to drop anyone your opponent wouldn't start against you.
Wide Receiver
Like last week, I don't see too many available receivers I would be thrilled about starting, but if you find yourself in a pinch, I suggest looking at Russell Gage and Laviska Shenault.
Gage pulled in five of his ten targets in Week 15 for 68 yards and a score, racking up 17.8 points and 18.8 xFP. If Julio's nagging hamstring injury forces him to miss Week 16, Gage is a good option.
Unfortunately, James Robinson is probably going to miss Week 16 with a high-ankle sprain.
James Robinson —
Very likely suffered a Left High Ankle sprain here (watch as the defender rolls over his left leg, the toes plant in the turf & twists).
Plan to be without him Wk16. pic.twitter.com/Dc4Wpu40FW

— Jeff Mueller, PT, DPT (@jmthrivept) December 21, 2020
Shenault saw a solid 19.2 xFP in Week 14 and 13.8 xFP in Week 15. He faces a solid Bears defense in Week 16, but he could gobble up some of James Robinson's vacated touches in addition to his normal workload. Shenault comes with risk, but the waiver wire isn't exactly stacked with great options at this point in the year.
Hopefully, you have a lineup full of studs and don't need to rely on any of these guys. But if you find yourself in a pinch, one of them could help you bring home the title!