Player Stock Ticker
2020 Fantasy Football Week 15 Waiver Wire: Jalen Hurts, Baker Mayfield, Jeff Wilson Lead the Waiver Priorities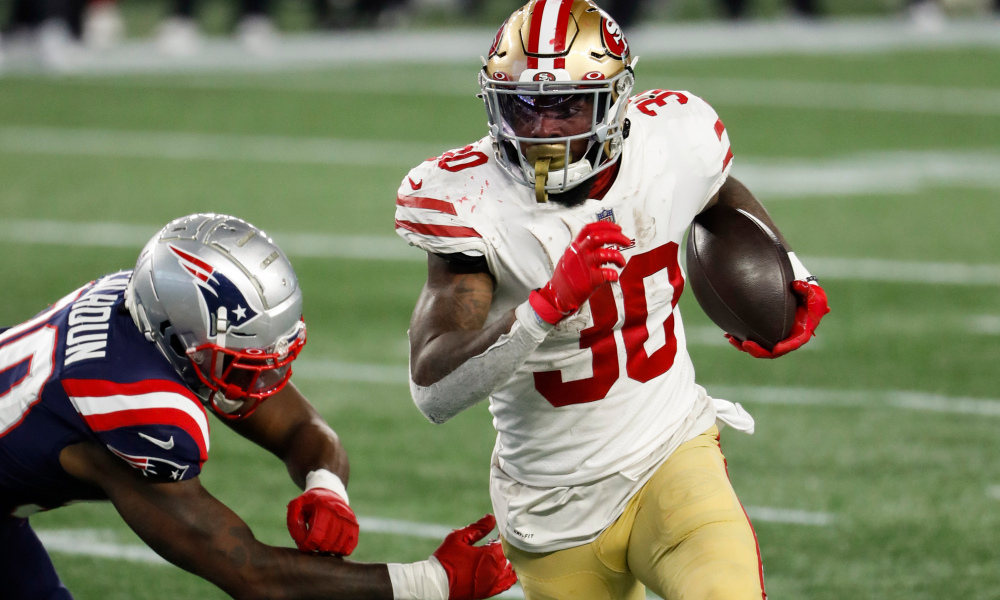 Welcome to the Fantasy Football Week 15 Waiver Wire: Start, Stash, Stream, where we breakdown the fantasy free agent landscape and give you the best picks for the short and long haul.
We have our three groups of 'starts' 'stashes', and 'streams.' The starts can be inserted into your lineup immediately, the stash guys add depth to the end of your bench and can provide longer-term benefits, and the streamers are generally D/ST's and QBs that are matchup dependent.
Let's look back at Week 14 and see our future prospects for the Fantasy Football Week 15 Waiver Wire.
Note: Ownership % based on Yahoo and must be under 50% owned
START
Jalen Hurts, QB Philadelphia Eagles (17% owned)
Baker Mayfield, QB Cleveland Browns (41% owned)
Nelson Agholor, WR Las Vegas Raiders (36% owned)
The Eagles unleashed Jalen Hurts for his first start against the Saints, resulting in a win and thrusting Philly back into the playoff hunt. Hurts has the 'Konami Code' upside with his rushing ability, as he finished the game with 106 yards on 18 carries. Add in the 167 passing yards with a touchdown and he finished with 19.28 fantasy points. Getting the Cardinals and Cowboys to close out the fantasy season, Hurts could be that Taysom Hill-esque cheat code to put your team over the top.
Once the Browns are out of extreme wind conditions, their offense has looked fantastic. Baker Mayfield is looking like a new quarterback with 30 fantasy points in back-to-back games. While he has a tougher matchup with the Giants in Week 15, a Week 16 date with the Jets could be fantasy gold in the championship round.
Nelson Agholor responded to his last subpar game with a bounce-back 5-100-1 contest on 9 targets. With the Raiders fighting for a playoff spot, a game against the Chargers in Week 15 looks promising for the Raiders offense and Agholor's outlook.
STASH
Tim Patrick, WR Denver Broncos (28% owned)
Keke Coutee, WR Houston Texans (45% owned)
Jeff Wilson, RB San Francisco 49ers (19% owned)
Cole Kmet, TE Chicago Bears (6% owned)
Keelan Cole, WR Jacksonville Jaguars (24% owned)
Phillip Lindsay, RB Denver Broncos (44% owned)
Gus Edwards, RB Baltimore Ravens (33% owned)
DeAndre Washington, RB Miami Dolphins (23% owned)
John Brown, WR Buffalo Bills (41% owned)
Laviska Shenault, WR Jacksonville Jaguars (16% owned)
Emmanuel Sanders, WR New Orleans Saints (40% owned)
Rashard Higgins, WR Cleveland Browns (13% owned)
Irv Smith Jr, TE Minnesota Vikings (6% owned)
Lynn Bowden, RB/WR Miami Dolphins (2% owned)
Marquez Valdes-Scantling, WR Green Bay Packers (20% owned)
Chad Hansen, WR Houston Texans (2% owned)
James Washington, WR Pittsburgh Steelers (5% owned)
KJ Hamler, WR Denver Broncos (3% owned)
This dude just lives at the top of the stash list. Tim Patrick produced yet another double-digit fantasy game with 3-36-1 on 5 targets. His consistent range of 8-12 points is truly something, despite the erratic play of Drew Lock.
Notwithstanding the low target share, Keke Coutee caught the lone touchdown pass of Houston's Week 14. Coutee has filled in nicely for the absences of Will Fuller, Kenny Stills, and now Brandin Cooks. Should Cooks return for Week 15, that would hurt Coutee's stock a bit, but he's still the WR2 in a pass-happy offense.
Raheem Mostert and the 49ers' backfield are an injury-riddled mess. Although Mostert returned from a potential concussion in Week 14, he has a lingering ankle injury that is clearly bugging him. As a result, Jeff Wilson would be the clear lead back in Kyle Shanahan's run-heavy scheme and could be a potential championship game start if Mostert re-injures himself at some point next week. Wilson is a must-stash and a potential streamer against the Cowboys this week.
We said that Cole Kmet has taken over the reins as TE1 in Chicago, which was reinforced by Kmet's 51 snaps this week compared to Jimmy Graham's 29. A measly 4-41 stat line is more encouraging looking at the 7 targets he saw, which was second on the team behind only Allen Robinson. With the Vikings and Jaguars on deck for the Bears, that's two very beatable defenses.
With Gardner Minshew back under center for the Jaguars, Keelan Cole saw a nice bump to his stock with a 7-67-1 line on 12(!) targets last week. We know Minshew loves to sling the rock and generally focuses on Cole and Chark within the offense. They get a tough game against the Ravens next, but they also just gave up 42 points to the Browns on Monday night, so anything can happen.
Melvin Gordon appeared to ding his shoulder in Week 14's win over the Panthers, resulting in Phillip Lindsay out-snapping Gordon by 1. Should Gordon miss time, Lindsay becomes an interesting play against the Bills next week. A difficult matchup, but hopefully quality volume if Lindsay is given the workhorse duties.
For some reason, John Harbaugh loves feeding Gus Edwards despite the emergence of and talent of JK Dobbins. Edwards continues to produce, so maybe he's right after all. On MNF, Gus Bus produced 49 yards on 7 carries and added two goal line touchdowns in limited work. With Jacksonville up next, there's no reason the Ravens ground game can't replicate Week 14's rushing output once again.
With Myles Gaskin on the COVID-19 list and the rest of the Dolphins running backs nowhere to be found, DeAndre Washington had 15, albeit useless, touches against the Chiefs in Week 14. He only tallied 52 total yards, but he could be serviceable if Gaskin and the rest of the running backs miss their Week 15 clash against the Patriots.
John Brown will return to practice this week and is eligible to play Week 15 if he's able to physically suit up. He's missed the last three games but always has the potential to put up a 20-point game. He's more reliable and consistent than most of the receivers on this list, but does get the Broncos and Patriots to round off the fantasy season.
The Jags Swiss army knife, Laviska Shenault, enjoyed Gardner Minshew's return, going 6-49 on 11 targets. He's progressed in the offense each week since returning from injury and offers upside as a high target receiver in Jacksonville's offense.
The Saints have a huge game next week against the Chiefs, meaning Hill and the offense will have to put up a lot of points offensively. Emmanuel Sanders is coming off his best game since Week 9, and the Saints need experienced and veteran players to step up on offense. He's had nearly 5 targets in every game since injury, excluding a blowout win over Denver.
Make it back-to-back games with over 15 points for Rashard Higgins as one of Baker's top targets. In those two separate games, he has 6-95-1 and 6-68-1 with 9 targets. He's building rapport with Baker and emerging as a reliable receiver in an improving offense. The Giants matchup is less than ideal but this offense is red hot at the moment.
With Kyle Rudolph out last week, Irv Smith Jr got the start and went for 4-63-1, catching all 4 of his targets. Smith has the talent and potential to take over the TE1 role in Minnesota and should feast once given the opportunity. If Rudolph is out again, Irv is a great play once again.
Lynn Bowden, who has the elusive RB/WR designation, led all Dolphins WRs with 35 pass routes after DeVante Parker and Jakeem Grant left the game with injuries. In return, he caught seven balls for 82 yards and looked like he had a good rapport with Tua. If Parker and Grant sit Week 15, Bowden could be a viable PPR desperation plug-in.
Aaron Rodgers is playing at his elite level, meaning his receivers are greatly benefitting. This week it was Marquez Valdes-Scantling who pitched in nicely with 6-85-1 on 6 targets. Adams has clearly been Option A, while Tonyan has been a reliable 5 target pass catcher. Lazard has cooled down immensely, opening the door for MVS against an atrocious Panthers defense next week.
Making his Roto Street Journal debut last week at the bottom of the Stash list, Chad Hansen had another solid game for Houston, leading the way with a 7-56 line, catching all 7 targets. He's basically averaging 10 points a game now in his two appearances and should be right back in the mix next week. Must be the name.
If you're like me, you've probably noticed that James Washington has had a recent habit of catching touchdown passes for the Steelers recently over the likes of notable guys like Chase Claypool. Saying that, Claypool will probably go off next week, but if you are in need of a Hail Mary, Washington has been hot and has a great matchup with the Bengals next week.
It was quite the boom or bust game for KJ Hamler in Week 14, going for 2-86-2 on 3 targets. These Broncos receivers have big-play upside when Drew Lock is on and playing like Elway expected him to when drafted. Hamler's floor is super low, and this was likely the highest his ceiling will go, but he's versatile and talented enough to play a role in Denver's offense.
STREAM
Derek Carr, QB Las Vegas Raiders (47% owned)
Tennessee Titans D/ST (38% owned)
Philip Rivers, QB Indianapolis Colts (41% owned)
Mitch Trubisky, QB Chicago Bears (11% owned)
Coming off back-to-back 20+ point games, Derek Carr plays Thursday night against the Chargers hunting for a playoff spot. The Chargers have been so bad, and Carr has rebounded nicely from that stinker against the Falcons.
I don't necessarily love the matchup, but the Titans are at home against the Lions who have been known to choke horribly in many ways. Tennessee is still fighting for their division title, so here's the best you'll find from a defensive end under the threshold.
Philip Rivers has been living in the 17-18 point range for QBs. It's not elite, but it can get it done in a pinch. With Houston up next, he's got a serious chance to go for over 20 unless they hand it off to Jonathan Taylor 30+ times.
It would be nearly impossible to feel good about starting Mitch Trubisky in the fantasy semifinals or finals, but here we are in 2020. Trubisky is playing well as of late and gets the Vikings' leaky defense in Week 15. As a pending free agent, Trubisky is showcasing himself at the right time.