Player Stock Ticker
Jalen Hurts' Fantasy Impact on Miles Sanders, Eagles Offense After Week 14 Upset Over Saints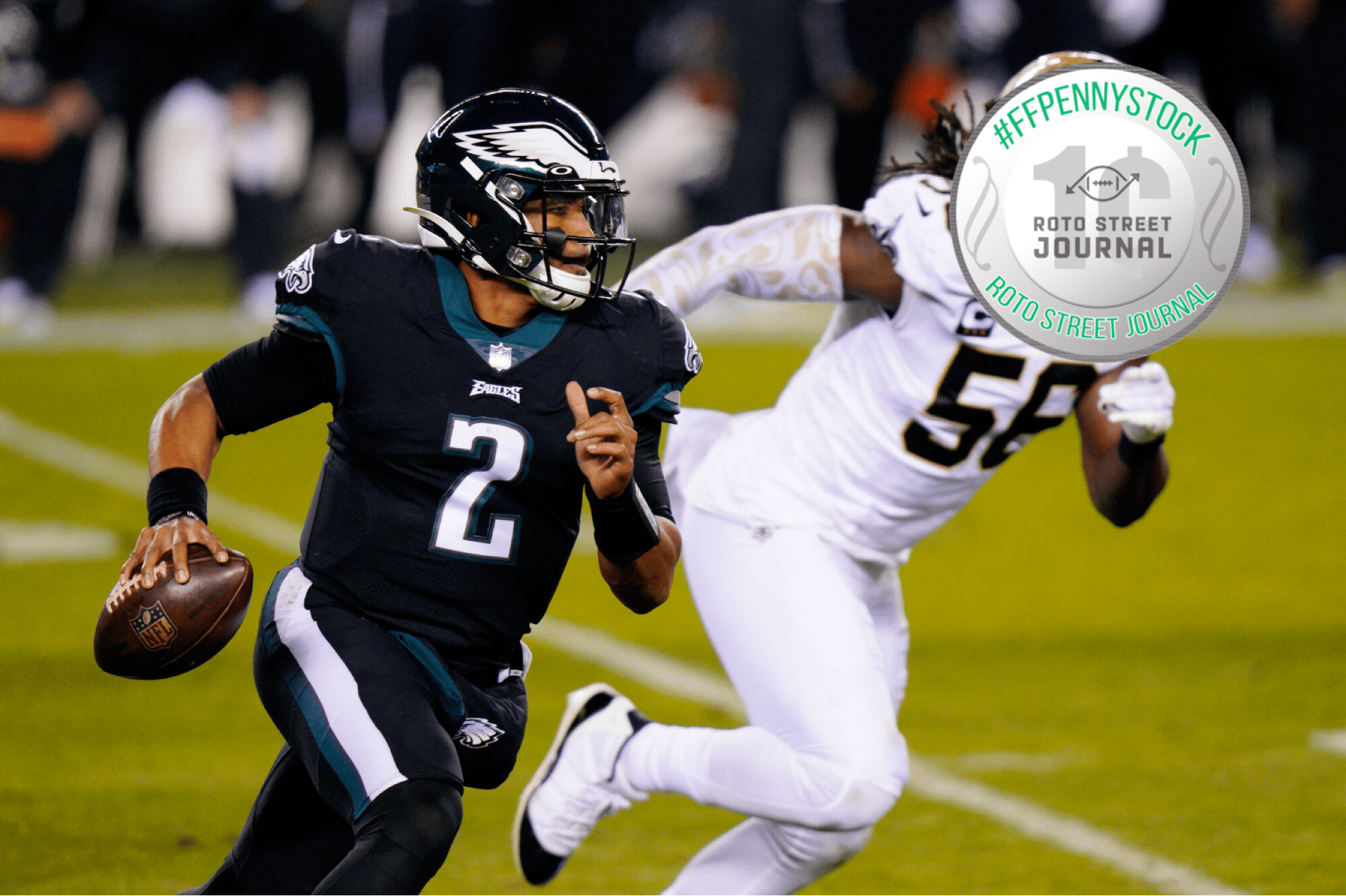 If there was a way to remove any doubt about keeping the starting gig you were just promoted to, Jalen Hurts did it, by leading his team to a 24-21 win over the then NFC-leading Saints.
It looks like Philly has a duel-threat QB with Hurts under center. He ran it 18 times, compared to 30 throws, and his rushes accounted for 37.5-percent of his total plays. This ability alone makes him a Week 15 Waiver Wire target and a quarterback who fantasy owners could potentially start for the remainder of the fantasy playoffs — if necessary.
"He played awesome today. The tape shows for itself. He's so confident and he's a natural leader. We just needed that and he gave us that spark to start from last week," Miles Sanders said about the rookie quarterback.
With 167 total passing yards for the game, a resulting 5.6 yards-per-attempt hurts the fantasy stock of the Eagles' receiving options if it continues. But, one player became a clear riser of Hurts' presence.
Miles Sanders
As Rotoworld points out, New Orleans hadn't allowed a 100-yard rusher in 55 games leading up to their date with the Eagles. Sanders ended that streak with 115 yards on 14 rushes, much of it coming off an 82-yard TD run courtesy of the run-pass option play design.
82 YARDS for @BoobieMilesXXIV!#NOvsPHI | #FlyEaglesFly

📺: FOX pic.twitter.com/AN4riFIYzR

— Philadelphia Eagles (@Eagles) December 13, 2020
The threat of Hurts running it adds an element that requires defenses to stay honest, and hesitate, like they did on Miles' TD run, particularly the defensive backs. That's a threat that Wentz didn't bring.
Now, Sanders and the Eagles running attack will close out the fantasy playoffs with lighter opponents against the run, with a middle-of-the-pack test in week 15 against the Cardinals (13th in fantasy points allowed vs RB), and a struggling Dallas (26th) if you're still alive in week 16.
How Much are the Eagles' Receiving Options Affected?
While Miles' target share (5 vs Saints) may not necessarily be affected, Hurts' rushing load stands to drop the entire stock of the passing game in general.
And, the drop looks to affect everyone pretty evenly so far. Dallas Goedert led the team in targets with six. He tied with Miles in catches with four. No other Eagle recorded more than two catches, while Hurts spread the ball around to eight different players on only his 17 completions.
Passing defenses get lighter the next two weeks much the same way the running defenses do, with Arizona (5th vs TE, 20th vs WR) and Dallas (14th vs TE, 25th vs WR) stiffer on tight end than wide receiver in terms of fantasy points allowed, according to NFL.com. So although the Philly offense still looks TE-centric after Jalen's first start, the door is open for guys like Jalen Reagor, Greg Ward, and even Alshon Jeffery to get a little more involved.
How will the Eagles offensive players change, and how many will be fantasy-relevant, when The Wolf adjusts his rankings on the Rest Of Season Big Board And Rankings? Find out throughout the week on Youtube, Facebook, or Periscope.