Player Stock Ticker
4 Wide Receivers to Target at the 2020 Fantasy Football Trade Deadline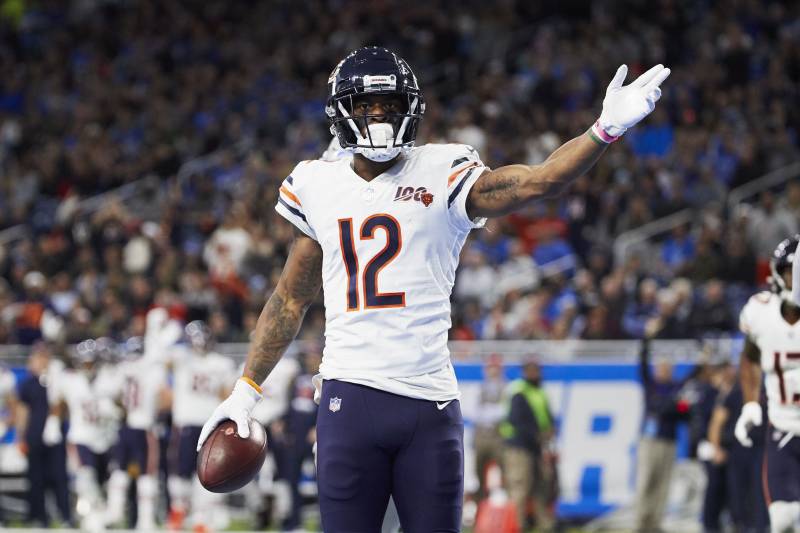 For fantasy owners looking to shore up their final roster for the playoff push, these next two weeks are going to be make or break.  Derrick Henry's late-season heroics are now well known, and Henry owners aren't moving on from him this far into the season. 
Running backs are a huge trade commodity as well this late, as they have been all year long, so a well-timed trade for a wide receiver would massively swing the future odds of many fantasy owners.  If you're willing to move on from some pieces from your team, these receivers could win you your next few games and position yourself well for the playoffs.
Allen Robinson
The No. 9 overall PPR wideout this season, Robinson has really been the only spark on the offense on this putrid Bears team.  A lot of that falls on Matt Nagy and the lack of quality quarterback play, but Robinson, week in and week out, gets it done.  He has at least 10 PPR points in every game but one, and over 9 targets in all but two. 
The QB play has limited his role scoring the ball, with only two touchdowns on the season.  The matchups should continue to allow Robinson to get the ball consistently, with four of his next six matchups against defenses rated 20th or worse.  The price on Robinson could be high in your league, but the massive workload he takes on every week is well worth the sacrifice.
Terry McLaurin
Fantasy managers may be wary of adding any Football Team member, and rightfully so.  The offense just stinks.  I personally was a pretty big fan of Dwyane Haskins, but he won't see the field again this year most likely, and it looks like Alex Smith is the only signal-caller remaining on the depth chart. 
Even so, McLaurin has had a super productive sophomore campaign with four weeks of 20+ PPR points and 11 or more in every game but one, culminating as the 12th ranked WR this season.  He is the only real superstar target on the Washington Football Team either, with 77 targets over eight games. 
The biggest selling point however is the upcoming schedule.  Weeks 10 through 15 the Football Team plays defenses no better than 13th, and three ranked in the bottom 12, paired with the inevitability that Washington will be trailing in most of those games, McLaurin is a guy with massive upside and won't gauge your roster too much.
AJ Brown
Coming off 20 point PPR games in four of the previous five games he played in, AJ Brown has been running wild since returning from injury.  Garnering at least 7 targets in every game he has been healthy, the dude is certainly the go-to man in Ryan Tannehill's offense.  Brown also gets his fair share of red zone looks, with seven in as many games.  Those looks have turned into six touchdowns, and one in each of the last five games. 
He has a bit of a tough schedule defensive-wise going forward, with Baltimore and Indy weeks 11 and 12, but follows that up against Cleveland and Jacksonville, who rank 28 and 20 respectively against the pass.  A move to Brown as a WR2 would be massive in terms of scoring and receptions for your lineup.
AJ Green
Now, this may seem like a bit of a stretch, but AJ Green is dirt cheap right now.  I was even able to roster him from waivers in two leagues.  He had a good two week period a few weeks ago, which was a positive sign after he had yet to really find any chemistry with Joe Burrow in the early portion of the season. He hasn't found the end zone yet this year, but the constant veteran presence around the rookie gunslinger is bound to pay off. 
On top of being a cheap option, maybe even for one of your bench wideouts, the schedule for the Bengals is CHEESE to end the season.  Week 12 to 16 the opponent defenses rank 23rd, 22nd, 27th, 21st, and 26th, and with Burrow growing in confidence and the probability that the Bengals will be throwing at a higher clip for the rest of the year, AJ Green is a low risk, high ceiling addition that could swing things in terms of your fantasy roster come playoff time.