Player Stock Ticker
2020 Fantasy Trade Deadline RB Targets: Easiest and Hardest Fantasy Strength of Schedule (Playoffs & Rest of Season)
For most fantasy football owners, the trade deadline hits either this week or next. Savvy wolves know that, outside of 2-3 Waiver Wire heroes waiting to be discovered, this is the last real shot at improving your rosters. Whether in desperate "Win Now" mode or comfortably set up for a playoff run, don't miss out on a Buy Low or Sell High opportunity that could push your team to a 2020 Fantasy Football Title.
Two of the most crucial factors to projecting these late-season blow-ups? Expected Fantasy Points & Fantasy Football Strength of Schedule.
Throughout this week, Roto Street Journal will provide position-by-position strength of schedule analysis. In each, we first breakdown the Easiest and Hardest "Rest of Season" Strength of Schedule for owners who must "Win Now. Then, we dig into the Easiest and Hardest Fantasy Playoffs Strength of Schedule (Weeks 14-16) for owners with 7+ wins and a goal of loading up for the title push.
We start with the most crucial position in all of fantasy: RBs. Find out which schedules and players to target and avoid at your trade deadline below!
RBs Rest of Season Strength of Schedule Overview
One of my favorite Strength of Schedule tools is FFToolBox's "Strength of Schedule" grid. You can sort by position and length of time (ie Weeks 14-16; Remaining Games). This gives you a holistic sense of where all teams' schedules rank, at any position, for any purpose.
Below, we dive into the five easiest and five hardest rest of season schedules.
RBs with Easiest Rest of Season Strength of Schedule
1) David Montgomery / Chicago Bears
You'd think an RB with Barkley's feet, Bell's vision, Zeke's strength, and Michel's (?) athleticism would be more interesting against this creampuff calendar.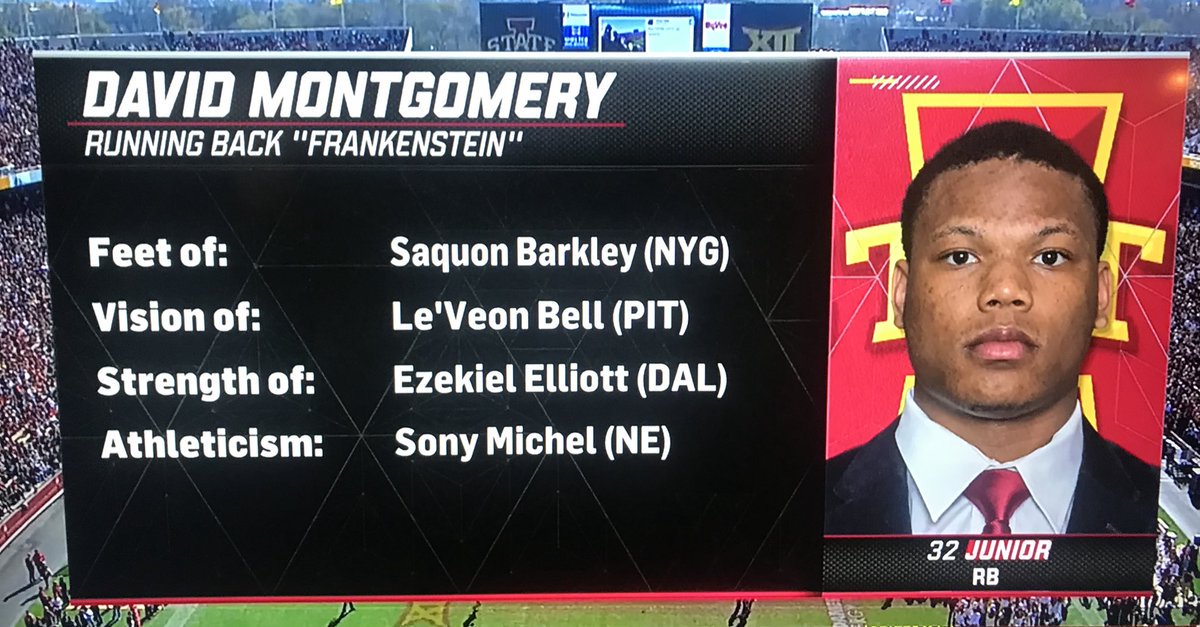 Yet, the fact of the matter is, David Montgomery is nothing more than a fantasy creampuff himself – pure empty usage calories. He has faced three bottom-10 defenses so far in 2020, and scored a robust 7.9, 11.7, and 3.7 in those contests, despite seeing 16, 26, and 17 opportunities. Montgomery is one of the only RBs in the league who could fail to take advantage of this juicy slate. If you own him and can use the calendar as a selling point, please do.
2) Jonathan Taylor, Jordan Wilkins, Hell RBBC / Indianapolis Colts
If there's any reason to touch the Colts hideous committee, it'd be this gorgeous green schedule. Not a single tough matchup til Week 16, with four of the next six against bottom-five run defenses.
Unfortunately, given the disgusting and unpredictable committee situation, the Colts' beautiful ROS schedule looks like another missed opportunity. Over the last two weeks, Jordan Fucking Wilkins has out-snapped Jonathan Taylor 62-47, out-touching him 34-21 in that span. Some weeks Nyheim Hines mixes in for multiple scores, and other weeks – like against the Ravens, when you'd expect him to be highly used in a passing-heavy script – he disappears.
There's no rhyme or reason to this backfield. If one takes over, it'd likely be Taylor, and he'd likely be a league-winner. It's worth seeing just how low you can get him for, as long as your expectations are in check and he's not someone you'd rely upon immediately.
3) Dalvin Cook / Vikings
Because you clearly need another reason to love the NFL's current leading rusher (despite missing a game)… Dalvin Cook's schedule is quite dreamy heading into the Fantasy Playoffs.
Unfortunately, Cook will be impossible to acquire if you don't already own him after his latest nuclear two-game stretch: 226 YFS & 4 TDs v. GB (48.6 FPs) and 252 YFS & 2 TDs v. DET (39.2).
A risky but potentially huge move, though: sell high?
If you're comfortably headed towards the playoffs, Cook's schedule does stiffen in Weeks 14-16. If you could swing him for December Derrick Henry, his joke playoffs schedule (covered below), and another viable asset, I'd at least strongly consider it.
4) D'Andre Swift & Adrian Peterson / Lions
If D'Andre Swift sees his role elevate into 60% snap range each week, he has the talent and schedule to be a league-winner.
Unfortunately, as has always been the case under Matt Patricia, the Lions seem intent on keeping this backfield a three-headed nightmare. Swift leads the team with 208 (29 per game) total snaps, and has been at 40% or higher the past three weeks.
Still, even after his massive Week 6 blow-up vs. the Jags, Swift hasn't seen the consistent role elevation many, including us, expected. As such, his price isn't likely to be crazy, so Swift makes sense if you can get him cheap and don't need to depend on him. If his role is growing by that fantasy playoff slate… look out!
5) Derrick Henry / Titans
We all know Winter Derrick Henry is coming:
Winter is coming.

Derrick Henry career yards per carry by month:
September: 3.88
October: 4.33
November: 5.87
December 5.38
January: 5.2

— Ian Hartitz (@Ihartitz) October 26, 2020
The man doesn't need a cake walk schedule to feast, but that surely won't hurt. Indeed, the next three weeks are tough "on-paper" matchups, so if you're in a Win Now situation, Henry might not be the best guy to target. You'd have to sell the farm to get him, and he's unlikely to be peak Henry in those two dates versus a stingy Colts run defense plus a third against the second-toughest Ravens D.
Yet, if you're confident you'll be in the Week 14-16 playoff hunt… look out. Jaguars (6th most FPs allowed), Lions (2nd most), and Packers (most)?! It won't matter who else is on your or your opponents' teams, Henry will be racking up 700 yards and 10 TDs in those three weeks alone! (Note – deep, deep, deep stash could be D'Onta Foreman in case the Human Tank ever did miss time).
RBs with Hardest  Rest of Season Strength of Schedule
32) Ezekiel Elliott / Dallas Cowboys
Perhaps no one's stock has fallen further in fantasy since Week 5 than Ezekiel Elliott. Once in contention for No.1 Overall, Elliott has totaled 12 (RB18), 6 (RB39), 8 (RB35), and 9 (RB30 PPR FPs, a robust 8.8 per game average.
Unfortunately, blue skies don't appear to be on Zeke's horizon. Four of his final six come against Top-5 run defenses. He has a lingering hamstring ailment. Tony Pollard has looked more explosive, and the team might decide to give the sophomore some extra "show us what you've got" burn in a lost season. If you can capitalize on the name value, or an owner feeling "savvy" by "buying low," I'd move Zeke for a competent RB2 or WR2/3.
31) Chris Carson / Seattle Seahawks'
Chris Carson's tough schedule is less worrisome given the offense he plays in. You're not starting him for "rushing crown" upside, but rather the weekly TD upside this tank provides. Russell Wilson should have no problem moving the ball against any of the above opponents, with many (LAR, ARI) projecting as potential points factories.
Carson has played five full games. He's topped 19 FPs in four of them, and never been below 10. Use his recent injuries and this "tough" schedule as potential "Buy Low" talking points.
30) Todd Gurley / Atlanta Falcons
Nothing about it has been pretty, but somehow Todd Gurley is the PPR RB6 (what?!) in fantasy football right now. This has been largely volume (3rd most carries, 4th most total opportunities) and schedule-based, however.
Gurley hasn't looked particularly impressive, with his 3.6 YPC ranking 57th in the league. He'll still be a viable TD bet every week, but there could be some cavernous floor games in his near-future given this tough rushing schedule and projected shoot-out matchups in nearly every remaining game.
I'd be selling high wherever I could. If Gurley + another low-end WR1 / high-end WR2 could net me an elite option like Tyreek Hill, I wouldn't blink an eye smashing accept.
29) Wayne Gallman? / New York Giants
Do you really need another reason to avoid using the Giants backfield? Well, there it is — third hardest remaining slate.
Wayne Gallman has somehow been surprisingly useful, with 13+ FPs in three straight starts. I wouldn't bank on that continuing with this schedule + Freeman set to return.
28) Alvin Kamara / New Orleans Saints 
If there was any RB to whom SoS didn't apply in the least, it'd be Alvin Kamara. As such a dynamic and versatile threat, Kamara will get his through the air on any weeks he may struggle to get it cooking on the ground.
As such, I wouldn't be advising to "Sell High" or anything wild of that nature, despite a remaining slate full of "red" matchups. The only consideration: if you can acquire a similar Tier 1 ROS Asset (CMac, Cook, Henry, Adams), who all have sexy remaining slates, by using Kamara as a centerpiece, then I would do so.
RBs Rest of Season Strength of Schedule Overview
RBs with Easiest Fantasy Playoffs Strength of Schedule
1) Derrick Henry / Titans
Opponents: JAX (6th Easiest), DET (2nd), GB (1st)
Covered earlier, but December Henry + Joke Schedule = Title Bringer. I imagine he'll be one of the higher % owned players for 2020 championships.
2) Aaron Jones / Packers
Aaron Jones is one of the few RBs capable of 35-40 FP days. He'll have a chance to string three together in a row during the fantasy playoffs, with three-straight bottom-10 matchups, including two Bottom-five (one against a Lions team he already destroyed for 45.6 FPs in Week 2).
Unlike Cook or Henry, Jones just may be acquirable too after his recent injury bout. If his owner left his absence with a few losses and needs help, swoop on in. Outside Henry, no RB is set up to hand-deliver titles better than Jones.
Note – This should also encourage all Jamaal Williams owners to HOLD. Should Jones go down again and miss any of these matchups, Williams would feast for 25+ FPs.
3) D'Andre Swift / Detroit Lions
We covered Swift earlier, but if he gets rolling before the playoffs, lookout. Particularly tasty about all three matchups? They project to be blowouts, in which case Swift would be the heavy snap favorite. Plus, with the Lions well out of contention already and certainly by then, maybe we'll get some extended "try out" run for the impressive rookie when it matters most.
4) David Montgomery / Chicago Bears
Did you miss the part about Montgomery being a useless bag of crap earlier? Move along.
5) Melvin Gordon / Broncos
Gordon's schedule is plenty tasty, especially when it matters most. The problem? He's locked into a committee in which he's the less-explosive half. The schedule alone is enough reason to hold him if you own him, just in case Phillip Lindsay goes down again. But I'm certainly not seeking Gordon out anywhere, easy SoS notwithstanding.
RBs with Hardest Fantasy Playoffs Strength of Schedule
32) Ezekiel Elliott / Cowboys
Worst remaining rest of season schedule + worst playoff schedule + worst starting QB + Bottom-10 offensive line + more involved Tony Pollard = no reason to ever, ever, ever consider buying Zeke at a "discount."
31) Chase Edmonds / Cardinals
The Cardinals backfield has been a complete fantasy dumpster fire in 2020, largely because their most valuable runner is Kyler Murray.
Owners who hoped the lack of production was a Kenyan Drake problem were surely disappointed with Chase Edmonds' 11.8 starting debut.
Volume hasn't been the issue. Hell, Edmonds saw 28 touches this past week, and Drake has routinely topped 15+ carries. The team seems hell-bent on running their lead RB straight up the lineman's asses, out of shotgun formation, rarely generating the receiving and "space" opportunities we saw under Kliff Kingsbury in 2019.
Now, a brutal stretch-run schedule makes it less likelier we ever get something steady out of Arizona's RB room. If Edmonds still has any name value, sell ASAP
30) Zack Moss & Devin Singletary / Buffalo Bills
Devin Singletary should already have been cut. This schedule only further confirms he'll be useless when you need him most.
Zack Moss, on the other hand, is out-touching and out-playing Singletary, particularly where the touches matter most.
Unfortunately, this schedule is not promising. As we saw against the Seahawks, the Bills will enter unfavorable rushing matchups and chuck the ball nonstop, even while up. That could be the case in fantasy crunch time.
As such, if Moss is a piece who could help swing a deal given his recent inspiring play, I would toss him in without hesitation.
29) James Conner / Steelers
Sheesh, a complete dud against the Cowboys?! James Conner's schedule isn't a complete killer, but it sure ain't friendly either.
He's somehow made it through every game unscathed this year. Yet, between the "ticking time bomb" nature of his health, to the ugly Week 12-16, I'd be looking to sell high where possible. Perhaps you can package Conner with 1-2 other solid pieces to get a true anchor like Dalvin Cook or Derrick Henry if their owner is struggling. His Week 10 v. CIN and Week 11 v. JAX is highly marketable for a "Win Now" owner.
28) David Johnson / Texans
Similar to Conner, David Johnson makes a nice sell if you're in good shape and can prey upon a win-now owner. His next three games are soft, and he should again be a reliable 12-16 points from Week 10-13. Unfortunately, his concussion may ruin that chance (unless you can package Duke Johnson).
Come Week 13, I wouldn't want DJ in any lineup. He's already looking slower by the week. By the time we hit deadly dates against Indy x 2 and a stiff Chicago front, Johnson might be a glacier out there. He's performed with steady volume in a solid offense, but this one seems ready to crash. Package on up without hesitation if it can help swing a deal.
Catch the rest of our 2020 Fantasy Trade Deadline Strength of Schedule analysis all week! Find out who has the Easiest Rest of Season Strength of Schedule, plus the Easiest Fantasy Playoff Schedule, for each position!
Plus, get any trade questions answered during our LIVE Strength of Schedule Pod Breakdown on Facebook, YouTube, and Periscope.