Player Stock Ticker
2020 Fantasy Football Week 7 Waiver Wire: Start, Stash and Stream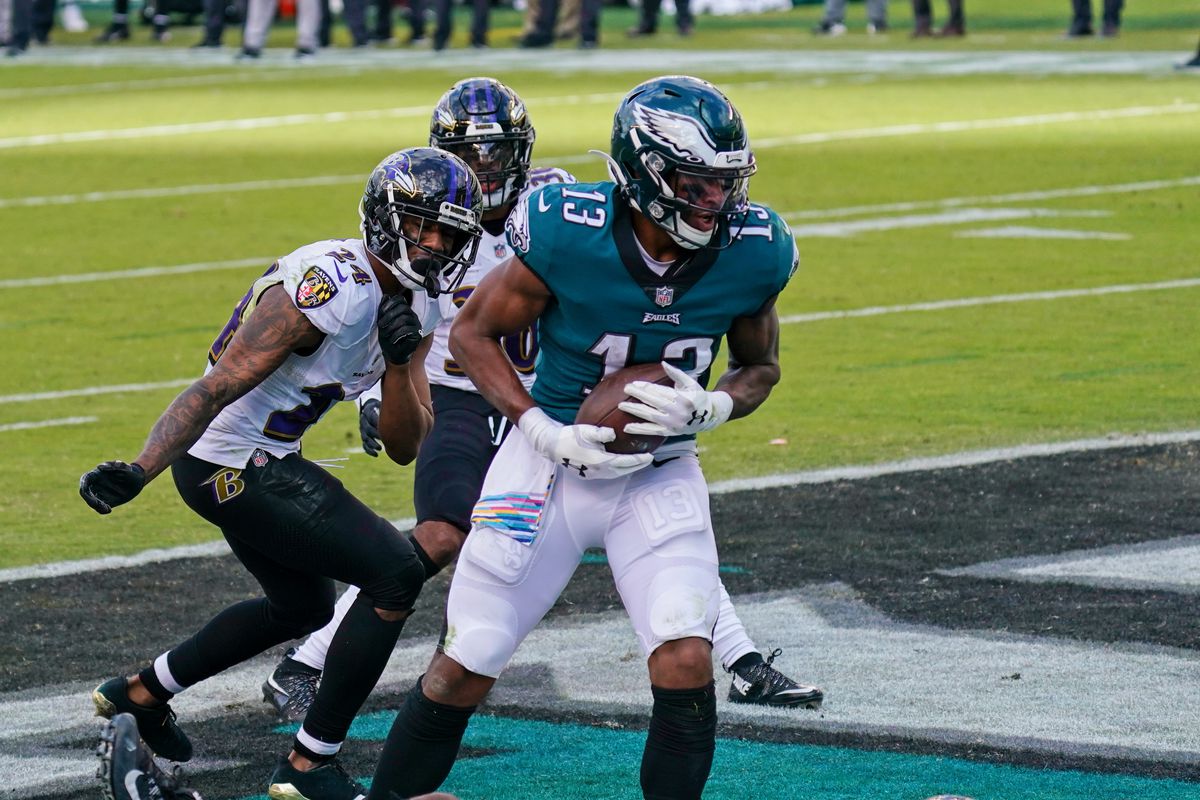 Welcome to the Fantasy Football Week 7 Waiver Wire: Start, Stash, and Stream, where we break down the fantasy free agent landscape and give you the best picks for the short and long haul.
We have our three groups of 'starts' 'stashes', and 'streams.' The starts can be inserted into your lineup immediately, the stash guys add depth to the end of your bench and can provide longer-term benefits, and the streamers are generally D/ST's and QBs that are matchup dependent.
Let's look back at Week 6 and see our prospects moving forward for the Week 7 Waiver Wire.
Week 7 bye weeks: Colts, Dolphins, Vikings, Ravens
Note: Ownership % based on Yahoo and must be under 50% owned
START
Chase Claypool, WR Pittsburgh Steelers (49% owned)
Justin Jackson, RB Los Angeles Chargers (46% owned)
Travis Fulgham, WR Philadelphia Eagles (31% owned)
Apparently, this article didn't reach as many people as intended last week, or there are just too many people who don't know it exists. Chase Claypool still falls under the 50% mark and needs to be owned immediately in all leagues. Wolf has been praising him all week and with JuJu struggling so bad Claypool looks destined to take over the WR1 role. He's even getting carries at the goal line! If he's still available in your league, shame on you for not grabbing him last week but it's okay just make sure you clean it up and grab him now.
With Austin Ekeler still on the shelf, Justin Jackson slipped into the RB1 role in LA. The bye week probably kept his ownership lower than normal, but Jackson out-snapped Joshua Kelley 42-25 against the Saints and finished with 15-71 rushing and 5-23 receiving. Jackson looks like the better overall runner in the offense and should have a great matchup here with the Jaguars on deck.
The Eagles have had an insane amount of injuries to their offense this season, and with all the casualties going down, Travis Fulgham is stepping up do to his best at keeping the ship afloat. This marks back-to-back games with double-digit targets and he finished Week 6 with a 6-75-1 line. Now that Zach Ertz is out for Week 6 alongside Miles Sanders, Fulgham should play an even bigger role on Thursday night.
STASH
Dallas Goedert, TE Philadelphia Eagles (41% owned)
Trey Burton, TE Indianapolis Colts (20% owned)
Tim Patrick, WR Denver Broncos (18% owned)
Alshon Jeffery, WR Philadelphia Eagles (15% owned)
Irv Smith Jr, TE Minnesota Vikings (9% owned)
JD McKissic, RB Washington Football Team (12% owned)
Cole Beasley, WR Buffalo Bills (34% owned)
Adam Humphries, WR Tennessee Titans (9% owned)
Keelan Cole, WR Jacksonville Jaguars (29% owned)
Preston Williams, WR Miami Dolphins (25% owned)
Darren Fells, TE Houston Texans (5% owned)
Anthony Firsker, TE Tennessee Titans (1% owned)
Gus Edwards, RB Baltimore Ravens (3% owned)
Frank Gore, RB New York Jets (31% owned)
Lamical Perine, RB New York Jets (18% owned)
Breshad Perriman, WR New York Jets (8% owned)
Eagles tight end Zach Ertz is expected to be out for at least a month with an ankle injury. Once Dallas Goedert returns from his own injury, he should be inserted into lineups immediately. Goedert was outplaying Ertz before the injury, and now with all the missing pass catchers in Philly, Goedert will end up getting tons of looks.
Trey Burton is still being out-snapped by Jack Doyle, but he's certainly making his mark in the offense. Burton was brought to Indy by his old coach Frank Reich, and plays with a tight end happy QB in Philip Rivers. His role in the offense is growing week by week, and he even got a goal-line carry out of the wildcat.
Tim Patrick has been a consistent deep threat for Denver ever since Courtland Sutton went down for the year. He's really been their WR1 in terms of production and has either scored or put up 100+ yards in three straight games.
Similar to Goedert, Alshon Jeffery will benefit from all the injuries once he returns to action. Week 7 could be the week against the Giants, and the Eagles need all the help they can get.
Is there a new TE1 in Minnesota? Irv Smith Jr got the start and out-snapped Kyle Rudolph this week while finishing with four catches for 55 on 5 targets including a would-be touchdown that slipped through his fingers in the end zone. Even better, the Vikings terrible defense has continuously struggled which has put the team in pass-heavy game scripts. With Thielen and Jefferson excelling, Smith Jr can be that third option on the team looking for whatever it can get depth-wise.
This week JD McKissic both out-snapped and out-touched Antonio Gibson in the near loss to the Giants. They were near identical in usage terms, but the fact that McKissic was used so much this week is troubling for Gibson moving forward. McKissic has always been a receiving back, and with Washington trailing often, he could play more moving forward.
Cole Beasley has been Mr. Reliable in Buffalo, producing for the Bills despite being the WR3 on the team. The 7-12 point range is his sweet spot week in and week out.
Returning to the field this week, Adam Humphries has been consistent in Tennessee's offense. Gets about 6-7 targets each game finishing usually around 5 catches for 40-50 yards. When he finds the end zone like he did this week he's a serviceable WR3. The Titans and Tannehill are on fire so he could be worth a look if you need help at the receiver spot.
I'm still pretty tilted with the day Keelan Cole had this week thinking it was finally Laviska Shenault's time. Cole went for 6 catches and 143 yards on 9 targets. The Jaguars defense stinks and Minshew has had to throw a ton in the offense to try and keep up. He hasn't put up spectacular numbers, but his usage could be bench stash worthy if needed or especially if Chark's injuries flare back up.
Touchdowns in three of his last four games, Preston Williams is a bit TD-dependent heavy with low target and reception numbers. However, he's making up for it in the end zone while Ryan Fitzpatrick has been red hot with Miami's offense. DeVante Parker dealt with a groin injury last week and if that were to linger past their bye week, Williams would be in a great spot. Regardless the Dolphins WR2 has been a red-zone weapon.
Touchdowns in two straight, tight end Darren Fells is dominating snap share at the position and working into Deshaun Watson's good graces. He went for 6-85-1 on 7 targets for a 16 point game. The Texans offense looks revitalized following the firing of Bill O'Brien.
This depends on the injury to Jonnu Smith, but if it's something long term then Anthony Firkser could move higher up this list and be way more important. After Smith went down, Firkser went for 8-113-1 on 9 targets in a huge day for the Titans. The tight end spot has always been fantasy-friendly for Tannehill and it showed again this week.
The backfield is a mess in Baltimore, but while rookie JK Dobbins has the hype, it's been Gus Edwards quietly emerging. Mark Ingram hurt his ankle last game and Edwards led the way after that with 26 yards on 14 carries (ew) but punched in the goal-line touchdown. For some reason, the team refuses to unleash Dobbins, and Edwards hasn't given the team any reason to cut back on his reigns.
The Jets RB's in the wake of Bell's release aren't sexy, but if the usage gets to a certain level then maybe they could be emergency flex worthy. Frank Gore had the more productive day with 46 yards on 11 carries, but Lamical Perine out-snapped Gore 41 to 25. The Jets coaching staff also said they want to get Perine more involved moving forward.
Breshad Perriman returned to the field this week and while the Jets offense is horrific, he had a nice 8 targets on the day that went for 4-62. Signed to be the WR2 aside from Crowder, Perriman could have later value once Darnold returns and the Jets are playing catch up all season long.
STREAM
Boston Scott, RB Philadelphia Eagles (14% owned)
JaMycal Hasty, RB San Francisco 49ers (0% owned)
Philadelphia Eagles D/ST (31% owned)
Los Angeles Chargers D/ST (28% owned)
With Miles Sanders out for Week 7, Boston Scott should assume the RB1 duties against the Giants.
Raheem Mostert left the Sunday night game with an ankle injury and is expected to land on the IR. With Jeff Wilson ruled out, JaMycal Hasty got the bulk of the reps after Mostert's departure. Jerick McKinnon will still be there but Hasty looked like he'd be capable of leading Shanahan's ground game.
Speaking of Eagles, their defense should have a nice matchup here against Daniel Jones and the Giants. Jones has been terrible at QB, and with Saquon gone, this team lacks skill players.
The Chargers welcome Jacksonville into LA for Week 7. While Minshew has put up his numbers, he's been no stranger to turnovers so far in 2020.