Even though fantasy owners lost a couple of Week 5 Sunday games due to COVID-19, at least we got to witness another spectacular showing from the supremely (and deservingly) hyped 2020 rookie wide receiver class.
No pass-catcher showed up more emphatically than Chase Claypool, who straight-up dominated in his fourth career game. In fact, I don't even know if the word "dominate" does his performance justice.
Claypool showcased all of his talents in exploding for 7 receptions (11 targets), 3 rushes, 116 yards from scrimmage, and 4 total touchdowns. This blow-up would be most players' dream "career" game, and Claypool accomplished this in only his fourth time on an NFL field, all while dealing with an extremely condensed offseason.
Was this just a random blow-up? Or should we expect Claypool to be a dominant NFL and fantasy force moving forward?
Who is Chase Claypool?
The Pittsburgh Steelers used their second-round pick (49th overall) on Chase Claypool in the 2020 draft. Given the Steelers track record of success at the position, this draft capital alone should've had fantasy owners salivating.
Claypool was coveted more for his elite physical tools than his college production (only 64.5 receiving yards per game in his final two seasons). Check out the 238-pound, 6'4″ Claypool's workout metrics per PlayerProfiler.com.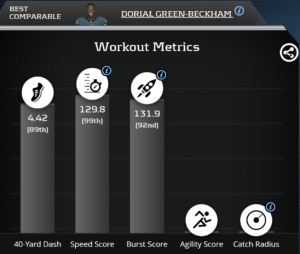 I know the comparison to Dorial Green-Beckham is a downer, but don't forget that the freakish Green-Beckham was an elite 5-star recruit coming out of high school and he never made the most of his talents by being a complete knucklehead.
Spend your time focusing on the fact that Claypool is 99th percentile and 92nd percentile in Speed Score and Burst Score, respectively. Tape guru Brett Kollman (highly recommend getting acquainted with his Youtube channel if you want to learn more about the game) showed Claypool significant love in his "Sleepers" video this fantasy draft season (talks about him at the 3:03 time mark).
Chase Claypool in the NFL
Claypool is currently PFF's 6th highest-graded wide receiver and WR20 in fantasy, despite playing in only four games. It's comforting during my evaluation of Claypool to know that his elite production and efficiency started from the get-go. See a snapshot of his first two weeks below:
Week 1 = 7 routes run, 2 targets, 2 receptions, 39 receiving yards
Week 2 = 13 routes run, 3 targets, 3 receptions, 88 receiving yards
Claypool's absolutely smashed his efficiency metrics in his first two games to the tune of 6.35 yards per route run. For anyone that's read my content or Twitter feed before, you know I am OBSESSED with this efficiency metric.
Claypool finally saw the increased routes and snaps he deserved in Week 3 (with the help of a Diontae Johnson injury) but was borderline nonexistent with 24 receiving yards on 31 routes run. I'm inclined to give Claypool a pass on the lack of production… and instead, focus on the fact that he ran more routes than James Washington and only three fewer routes than JuJu Smith-Schuster.
Week 5 was one for the fantasy (and Steelers) history books, as Claypool juiced out 110 receiving yards off of 24 routes run. Seventy-five percent of Claypool's career games have each featured beyond-elite efficiency.
For my volume-lovers, you have to love Claypool's 32.4% Week 5 target market share (11 targets, 34 team targets) and .46 targets per route run (for reference, 2019 SlantGuardMike Michael Thomas had .30 targets per route run).
Simply put, his Week 5 usage was what we would expect of an elite wideout. Big Ben saw this young man take over the game, and couldn't stop feeding him. Nothing about this was fluky.
Chase Claypool's 2020 Outlook
Some may say his volume moving forward is sketchy and heavily dependent on Diontae Johnson's availability (who has already suffered back, toe, knee, and concussion injuries since this offseason), but I don't necessarily agree.
Per SharpFootballStats, Pittsburgh has run about 70% of their offensive plays with at least three wideouts on the field. Only five receivers have run a route for Pittsburgh this season (four, heading into Week 5), and it is safe to say that one of them (Johnson) is injury-prone. I think Mike Tomlin is a great coach, and great coaches don't sit their most productive and athletically gifted wide receiver… especially when their team is undefeated through four games.
Moving forward, I expect Claypool to see ample playing time as the third receiver on the depth chart (assuming Diontae plays) and I expect him to at least run more routes than Washington regardless of Diontae's injury status.
Claypool's elite production cannot be ignored any longer.
As long as he plays the expected 60%+ snaps, I currently value him as a WR3 with the upside to be much more. He could easily end up dominating the snaps at the X-receiver role and see close to the team-leading 36.5 routes run per game that JuJu Smith-Schuster currently holds. If upside really does win championships, then by the transitive property, Claypool can win you a championship.
Make sure to get Chase Claypool off the Fantasy Week 6 Waiver Wire (if he's even still available), and don't be afraid to pay definitively more than market value (e.g., Jarvis Landry or a Deebo Samuel for Chase Claypool) in trades while he is still attainable.
The Wolf and I both agree – Claypool is well-worth a No.1 overall Waiver Claim and 30-40% of your FAAB. Very few genuine league-winners will emerge from the waiver wire from here on out, and Claypool showed the type of ceiling he can bring to your WR3 spot from here on out. This is Martavis Bryant without the baggage.
As a result, Claypool shot up The Wolf's Rest of Season Rankings, up to WR33 (+14 vs ECR).