During the offseason, Cadet Wolf did a tour of duty on Deep Space Nine. There wasn't much time to spend monitoring the football world, but, Wolf knew he should satisfy his commitment to Starfleet. After all, there would be plenty of time before the season starts once he returned to Earth.
But while on duty, he received a strange request. An old Bajoran Vedek felt called to ask that our beloved Cadet visit Bajor. And once there, he should visit with the Orb of the Prophecy under the assumption that the Prophets would bestow a vision upon him through it.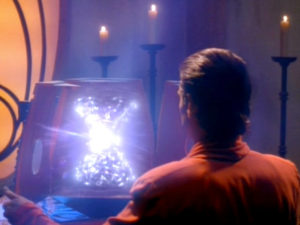 What an odd request. Non-Bajorans were widely skeptical of Bajor's so-called Prophets. Why are they never seen? Why do they always speak through these orbs? They act-shoo-awl-ee live in a wormhole? They're not subject to the limitations of "linear time." What does that even mean?
It all sounds so fishy. And now the Prophets supposedly want to speak with a hue-mon? The dots aren't connecting here. Nevertheless, Cadet Wolf went to Bajor in good faith.
He visited the Orb, and its light expanded, seemingly encompassing Wolf's entire existence!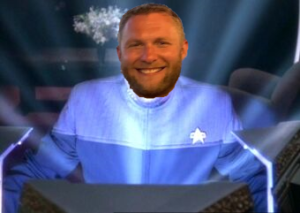 And what did he see?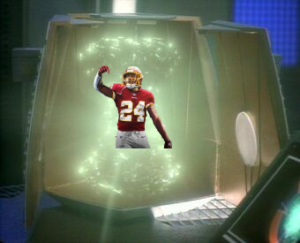 Uh, really? Antonio Gibson? Dude barely saw the field in college, and now all of a sudden he's a world-beater? A Round 4/5 "League Winner"? Pssh, whatever, don't preach to me, freak.
Washington coach Ron Rivera wasn't shy about his vision of Gibson playing a role much like Christian McCaffrey's, proclaiming that Antonio has a "skill set similar to Christian." CMC was fantasy's top performer last year, even with a mediocre quarterback and offensive line.
With a similarly talented supporting cast, it stands to reason that Gibson can succeed in a CMC-like role. And Cadet Wolf tracked his chosen one's progress, in the hopes that the sheeply masses would listen.
Then, in Week 4, time was up. The chosen one was tasked to battle one of the NFL's elite defenses in the Baltimore Ravens, and what happened?
Gibson ran for a score, seeing 80 percent of the team's goal-line touches. Washington successfully schemed him into open space. Of his 82 receiving yards, three of his four catches went for at least 17 yards. Not just the volume, but the quality of it, breeds fantasy production.
Antonio Gibson is here.

-13 Att, 46 Yards, 1 TD
-5 Targets, 4 Rec, 82 Yards
(3 out of 5 targets were lined up as a Receiver)

He currently sits as the RB17 in PPR formats on the year. RB2 every week with RB1 upside. (33 Carries in College Remember?) pic.twitter.com/7kV6H67MlQ

— SportsBettingBub (@FantasyFootBub) October 5, 2020
Against slim odds, A-Gib finished as Week 4's RB5.
Fools! Mercy on those who failed to listen! Pity on those who let Gibson fall to me in the 12th round! What has your self-proclaimed wisdom brought you? May you suffer for your lack of faith! Be thee smited, as thine cup over-FLOWETH with L's!!!!
Gibson is currently the RB17 (+5 vs ECR) on the Wolf's Rest of Season Big Board and Rankings.
Plot twist: The Wolf is a Prophet. He's not bound by linear time (uh, yeah, how else could he have possibly been on a 24th-century spacestation, derp!), so show some respect. And may the Fantasy Prophets guide you.