Player Stock Ticker
2020 Fantasy Football Week 5 Waiver Wire: Start, Stash and Stream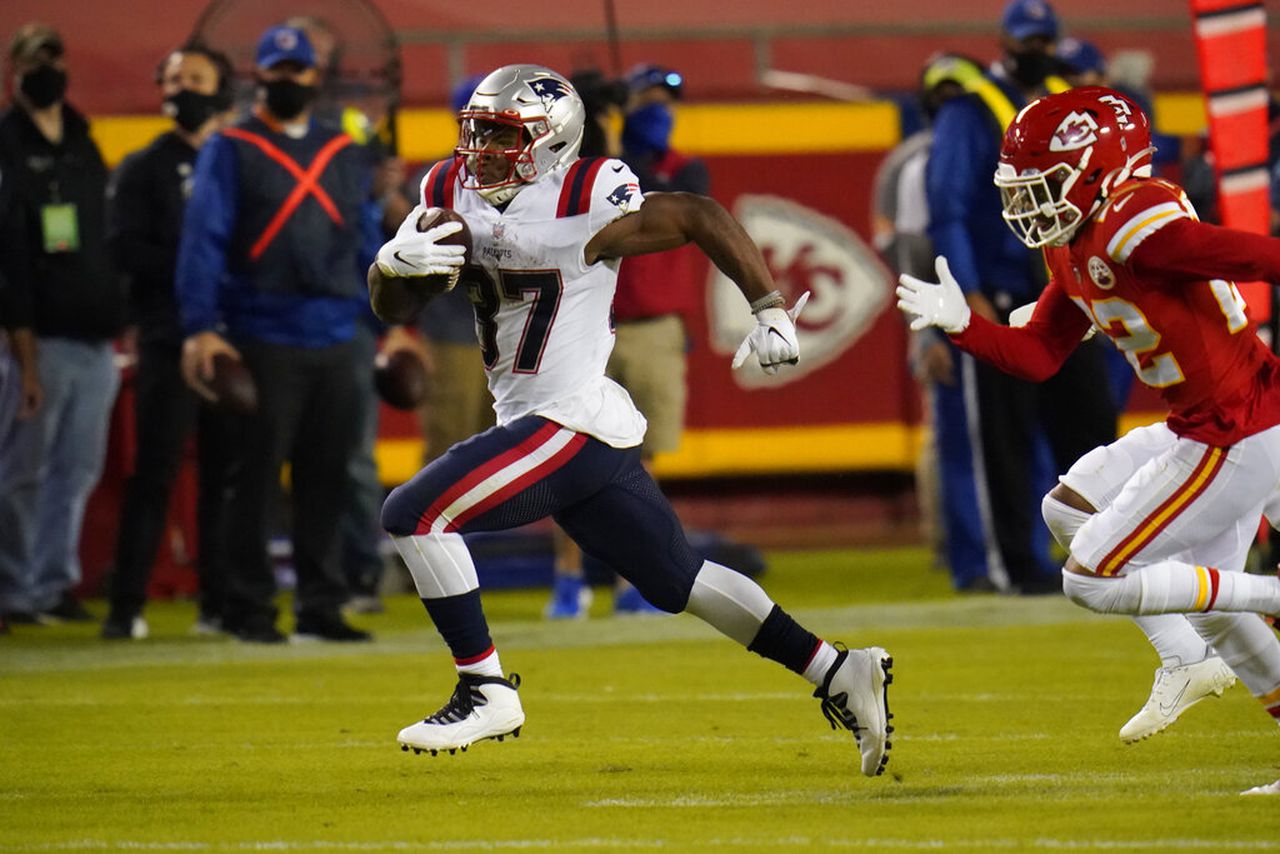 Welcome to the 2020 Fantasy Football Week 5 Waiver Wire: Start, Stash, and Stream, where we break down the fantasy free agent landscape and give you the best picks for the short and long haul.
We have our three groups of 'starts' 'stashes', and 'streams.' The starts can be inserted into your lineup immediately, the stash guys add depth to the end of your bench and can provide longer-term benefits, and the streamers are generally D/ST's and QBs that are matchup dependent.
Let's look back at Week 4 and see our prospects moving forward for the Week 5 Waiver Wire.
Note – Ownership % based on Yahoo and must be under 50% owned
START
Damien Harris, RB New England Patriots (31% owned)
Tee Higgins, WR Cincinnati Bengals (33% owned)
Ryan Fitzpatrick, QB Miami Dolphins (35% owned)
Gardner Minshew, QB Jacksonville Jaguars (46% owned)
With Sony Michel placed on the IR due to a quad injury, Damien Harris could be a season-changer off the Week 5 Waiver Wire. This makes him worth No.1 Waiver Wire priorities, and 30% (more if you're desperate) of your FAAB. In his first career start, Harris was sensational, racking up 100 yards on 17 carries. Sure, James White and Rex Burkhead will eat up most RB receptions, but Harris can catch the ball and is a legitimate three-down back. If you're RB-needy, then it's a no-brainer.
While AJ Green continues to collect dust on the outside, Tee Higgins is climbing up the Bengals' target totem pole. The chemistry is building, and despite only playing 57% (43 of 75) of snaps, he made the most of it with 4 catches for 77 yards on seven targets. He's been grading out well on PFF, while Green continues to scrape the bottom of the barrel. Burrow has impressed so far in his rookie season, and it seems like he'll grow alongside Higgins, whose usage and opportunity will increase over time.
It's a weird week on the Waiver Wire when Ryan Fitzpatrick is a top "start." However, he's been lights out, going for 20+ points in three straight games. The Wolf has been singing his praise of Fitzmagic throughout the season and despite the position usually being quite deep, Fitzpatrick is the QB9 thus far.
Gardner Minshew put the Week 3 dud behind him with the return of DJ Chark and had himself a third 20+ point game on the season. Once again, with Jacksonville's defense struggling to stop anybody, Minshew was forced to play from behind, and the game script helped him rack up late-game points. With Houston and Detroit up next on the schedule, these poor defenses should be easy enough for Minshew to capitalize on.
STASH
Justin Herbert, QB Los Angeles Chargers (16% owned)
Robert Tonyan, TE Green Bay Packers (28% owned)
Chase Edmonds, RB Arizona Cardinals (35% owned)
D'Ernest Johnson, RB Cleveland Browns (1% owned)
Justin Jackson, RB Los Angeles Chargers (5% owned)
Laviska Shenault, WR Jacksonville Jaguars (24% owned)
Alshon Jeffery, WR Philadelphia Eagles (16% owned)
Tre'Quan Smith, WR New Orleans Saints (27% owned)
Tim Patrick, WR Denver Broncos (2% owned)
Damn, does this kid look good through his first few games? Justin Herbert wasn't expected to play much this season, but apparently, the team doctor had enough of watching Tyrod suck, so he stabbed his lung and forced Anthony Lynn's hand. Taylor shouldn't be getting this job back anytime soon as Herbert has shown great strides early on and was going toe-to-toe with Brady and the Bucs. Also, having Ekeler out an extended period of time could tip the offensive game plan into more of a pass-heavy one. Regardless, Herbert looks good and could even potentially be played in your Week 5 lineup against a banged-up Saints defense.
It looks like Aaron Rodgers has found his new favorite red-zone weapon in undrafted, third-year tight end, Robert Tonyan. The Indiana State product has found the end zone five times in his last three games, highlighted by a crazy six catch, three-touchdown game on Monday Night Football. While he'll lose red zone and end zone targets when Davante Adams returns, it's clear Rodgers trusts Tonyan. If you're in tight end hell, stash Tonyan while the Packers are on their Week 5 bye week.
Chase Edmonds got a lot of buzz in the preseason from his coaches about how he could be the 1B to Kenyan Drake, but fantasy owners did not take it seriously. Now, Drake looks horrific to start the season in easy smash spots against both Detroit and Carolina. One would assume that Edmonds could get more involved in the early downs, as he's already established himself in the passing game. Edmonds finished with a 5-24-1 receiving line on 6 targets and had a higher YPC on the ground than Drake.
The injury to Nick Chubb is devastating, but nobody will benefit more from the Week 4 injury than Kareem Hunt. But D'Ernest Johnson played the RB2 role quite nicely in Cleveland during their win in Dallas. Johnson actually out-carried Hunt 13-11 and finished with 95 rushing yards on 7.3 YPC. Cleveland has operated with two RBs all year, and while Johnson isn't really up to the talent level of Chubb or Hunt, he showed that he can slide into an RB2 role in Kevin Stefanski's system and could still play a decent part of Cleveland's future without Chubb.
The injury to Austin Ekeler is a tough pill to swallow. While rookie Joshua Kelley looks to be the immediate fill in, Justin Jackson remains a possibility to end up as the RB1 for the Chargers. The team may not be ready to give the reigns to a rookie right away, and Jackson was closely out-snapped by Kelley 30-21. Both had pretty abysmal days on the ground, going for 1.5 and 0.8 YPC against a stingy Bucs front seven. While Jackson's talent score won't be what makes him an intriguing waiver wire stash, the potential usage/opportunity of the Chargers RB1 role is intriguing. Give him a stash as he should split work and be given a full workload depending on the coach's comfortability level.
Laviska Shenault finally got the start in Jacksonville, but 54% of snaps are still not enough. Shenault has been able to do enough with what he's been given, but the guy needs to be fed the ball more to become a reliable fantasy asset in Jacksonville. The talent is there, but Minshew has spread the ball around a lot to start the year. His targets and touches are trending upwards, which makes him a solid stash at the end of your bench.
After getting in a limited practice last week, Alshon Jeffery was ultimately put on the shelf for another week to recover from Lisfranc surgery, which occurred in December 2019. While Jeffery likely won't be what he was in his prime, he's a viable receiver and one of Carson Wentz's favorite options on the perimeter. Will Jeffery last a week or two before reinjuring his foot? Probably. But could provide some upside at the end of your fantasy bench.
With Michael Thomas sidelined yet again, Tre'Quan Smith took advantage of a larger target share and finished with a 4-54-2 stat line. Smith trailed only Emmanuel Sanders in targets, and the Saints were draining the clock in the second half, which likely lessened his number of targets. Smith's red zone prowess could keep him fantasy relevant even when Thomas returns as the Saints continue to look for reliable weapons outside Alvin Kamara and Thomas.
Multiple injuries in Denver's offense has led to more opportunities for Tim Patrick. As a result, he had a great game against the Jets on Thursday night. Patrick played 76% of the snaps, and with Sutton and now both KJ Hamler and Noah Fant hurt, Patrick is one of the few reliable options in Denver's offense. He finished with a 6-113-1 line on 7 targets and seemed worthy of a late bench stash should you need WR help moving forward.
STREAM
Teddy Bridgewater, QB Carolina Panthers (19% owned)
Scotty Miller, WR Tampa Bay Buccaneers (16% owned)
Hunter Renfrow, WR Las Vegas Raiders (42% owned)
Teddy Bridgewater and the Panthers offense looks like it's picking up steam, and they get a very nice matchup with Atlanta in Week 5. Teddy has also started using his legs more, which gives his fantasy ceiling a boost.
A quick turnaround to the Thursday night game has the Bucs shorthanded at pass-catchers. Chris Godwin is likely out, Mike Evans looks banged up, and OJ Howard was also lost for the year. If Evans were to miss Thursday's action or be hampered a bit, Scotty Miller would capitalize on extra targets. Brady looked very good in Week 4.
Hunter Renfrow played 89% of the team's snaps but didn't really do much until late in the game when the Raiders were chasing. Renfrow was in a smash spot against a Bills defense struggling against slot receivers. He was Derek Carr's most reliable target on the perimeter, with both Ruggs and Edwards unavailable. If those two remain sidelined, Renfrow could be a top streaming option in Week 5.