The Move
The Panthers have lured Norv Turner out of his very brief retirement, naming him their offensive coordinator. Turner said he'd need "the right person in the right place" to leave retirement, and Carolina meets both requirements — he previously coached with Ron Rivera, who served as his DC for four years in San Diego, while he deemed the Panthers "an exciting team to be a part of."
Indeed, the Panthers have some incredibly enticing pieces in place, with none more important than arguably the greatest dual threat to play this game: Cam Newton. The elusively explosive Christian McCaffrey, seam-stretching Greg Olsen, and big-bodied Devin Funchess round out other exciting pieces who Turner will try to squeeze the most out of in his first season in Carolina.
But how do they all fit? Is he the guy who can unlock Newton's limitless ceiling? Let's dig in:
Coaching Background 
History – Early Success, Recent Failure
Turner has as extensive of a playcalling history as anyone still in the league, beginning in 1991 with the Dallas Cowboys. Alongside the legendary Jimmy Johnson, Turner oversaw a massively explosive offense that generated monster outputs from Emmitt Smith and Michael Irvin, and ultimately won two Super Bowls.
This success earned Turner a head coaching gig with the Redskins, where he generated some monster RB1 (Terry Allen, Stephen Davis) and WR1 (Henry Ellard, Michael Westbrook) seasons over a six year run. This included a 1999 season where his team ranked 2nd in both yardage and points generated; however, the win / loss percentages rarely correlated with some heroic individual statistical seasons, and thus Turner was let go in 2000.
Over the next six seasons (2001 – 06), Turner continued play calling in a variety of spots, bouncing between San Diego, then Miami, then Oakland, and finally San Francisco. Just like in Washington, some absolute monster fantasy seasons were generated (especially in the backfield), including masterpieces from LaDanian Tomlinson, Ricky Williams, Lamont Jordan, Chris Chambers and Randy Moss. 
Consequently, the Chargers came calling for their head coaching vacancy, where Turner's forged during his legacy during a six season stretch as head coach. Turner consistently crafted some offensive juggernauts that could never ultimately get the job done in the playoffs. Still, he helped LaDanian Tomlinson and Antonio Gates cement their legendary careers, while also creating monsters in Vincent Jackson and even Malcolm Floyd.
Ultimately, the lack of playoff success was Turner's demise. Since San Diego, he facilitated a league-leading 1,646 yard season out of Josh Gordon as Cleveland's offensive coordinator, while also helping Adrian Peterson earn a rushing crown in 2015.
Indeed, Turner has coaxed out some massive individual efforts, and crafted some highly impressive overall attacks. Over these 26 years calling plays, his teams have ranked in the top 10 of points 10 times, while finishing in the top 10 in total yardage in eight instances. He's also found himself inside the bottom-10 for these respective categories only five times.
Unfortunately, most of these lowly finishes have come in the last five seasons. In fact, none of Turner's last five offenses have cracked the top-15 in yards or points over his past five seasons. Still, all of these squads have lacked any semblance of firepower, and Turner was able to squeeze the absolute most out of a puke-worthy Cleveland QB Committee of Jason Campbell, Brandon Weeden, and Brian Hoyer.
In Carolina, he'll be equipped with the most offensive firepower he's had since the Tomlinson, Gates, and VJax eras in San Diego. More importantly, many of these pieces fit his scheme / system like a glove:
Scheme / System – The Air Coryell, Simple yet Relentless
With many offenses switching to a "West Coast" backbone, Turner's "Air Coryell" attack will be a refreshing breath of fresh air.
The Air Coryell was coined after the infamous Don Coryell's relentless vertical attack. The offense is predicated upon stretching the defense to it's limits in the passing game, while softening the front-seven and establishing the play action with a bruising power run game. In general, the offense isn't so much dependent on high percentage plays as it is gaining massive chunks at a time. Oftentimes, this requires wide receivers winning one-on-one jump ball type of deep routes.
As such, Turner has historically LOVED taller wide receivers that bring speed with their size. 6'2″ Michael Irvin, 6'5″ Vincent Jackson, and 6'3″ Josh Gordon all feasted down the field in this scheme. His offense has clicked most with an athletic tight end capable of stretching seams, with Antonio Gates changing the position under Turner, and even Jordan Cameron proving dominant.
In the running game, Turner's offense is at it's best with a versatile workhorse who can punish the defense up the gut and rip off finesse screens in equal measure (think LaDainian Tomlinson, Ricky Williams, Emmitt Smith); however, he also incorporates a satellite back (i.e. Darren Sproles) regardless of his lead back.  With the defense constantly stressed with the deep ball, the power run game and screens are opened up. In a deadly cycle for defenses, should they choose to shut down the run game and stack the box, they'll be peppered relentlessly down the field.
Chudzinski summarized all these tendencies up when explaining why Turner was his clear-cut top choice and a perfect philosophical match, stating, "It matches with the philosophy that I've grown up in," Rivera said. "You run the football, you're physical as a running team, but then you take your shots with hard play action. It's OK to throw the ball downfield and see how things unfold."
In the same piece, a former Turner QB Sage Rosenfels emphasized the attacking, vertical nature of his offense, stating, "Norv's core belief is he would like to push the ball downfield. I don't think Norv is trying to set a record for 75 percent completion percentage. He also doesn't want it to be a 50 percent completion percentage. He thinks you have to attack a defense and put a defense on its heels by pushing the envelope down the field."
Beyond just the plays and schematics, one area Turner thrives is simplification — something that'll be crucial for Cam Newton:
"I remember early conversations where it was, 'I don't know. Look out there. The guy's open. Just throw the ball," Philip Rivers told Sports Illustrated's Monday Morning Quarterback for a video piece on Turner last year.

"People make it way too complicated. There are some common-sense elements to it," Turner said in the same video. "There are progressions, but sometimes common sense overrides the progressions."

"He's coached all different types of quarterbacks. He's made a ton of successful quarterbacks," Chudzinski said. "He just has a way of taking things that are complex and simplifying them and making the game easy. Letting guys go out and play, not be robots and let them do what they do best."
With a relentless yet simple offense that attacks down the field, the Panthers could return to their dominant 2015 form.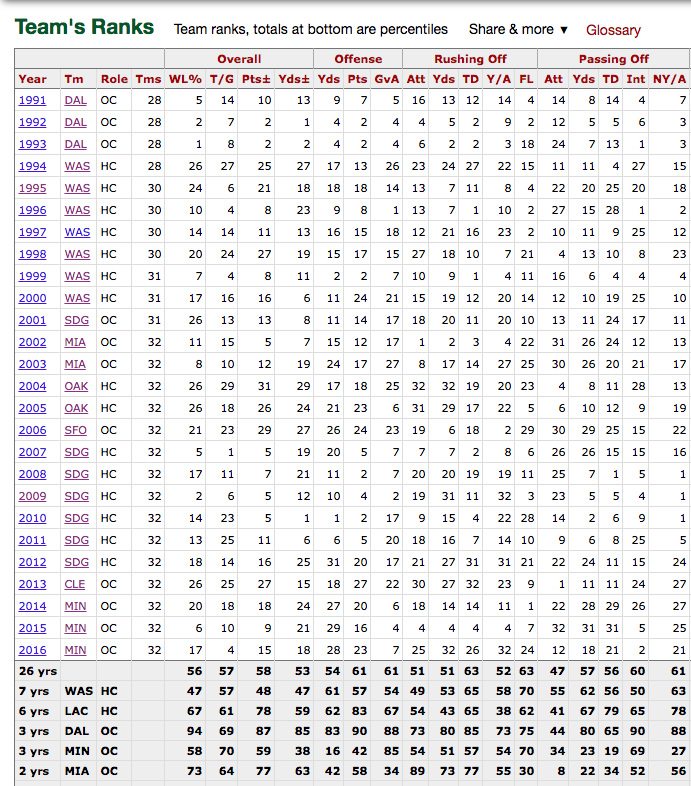 Passing Game Impact
Quarterbacks
Past QB Production (though he's coordinated 26 offenses, we stopped with the last 12)
2005 – Kerry Collins (15 GP): 302/564 (53.5%), 3759 yds, 20 TDs, 12 INTs
2006 – Alex Smith (SF): 257/442 (58.1%), 2890 yds, 16 TD, 16 INTs
2007 – Philip Rivers (SD): 277/460 (60.2%), 3152 yds, 21 TDs, 15 INTs
2008 – Philip Rivers: 312/478 (65.3%), 4009 yds, 34 TDs, 11 INTs
2009 – Philip Rivers: 317/486 (65.2%), 4254 yds, 28 TDs, 9 INTs
2010 – Philip Rivers: 357/541 (66%), 4710 yds, 30 TDs, 13 INTs
2011 – Philip Rivers: 366/582 (62.9%), 4624 yds, 27 TDs, 20 INTs
2012 – Philip Rivers: 338/527 (64.1%), 3606 yds, 26 TDs, 15 INTs
2013 – QB Committee (CLE, Campbell, Weeden, Hoyer): 379/681 (55.7%), 4372 yds, 26 TDs, 20 INTs
2014 – Teddy Bridgewater (12 GP): 259/402 (64%), 2919 yds, 14 TDs, 12 INTs (3892 yds, 18 TD pace)
2015 – Teddy Bridgewater: 292/447 (65%), 3231 yds, 14 TDs, 9 INTs
Summary: Turner's offense obviously clicked most with Rivers under center, who threw for over 4,000 yards in 4/6 seasons (including two over 4600). In general, the vertical, "one-on-one" type of attack can create more "boom or bust" fantasy production. Some games, the WRs are roasting defenses deep and the ball is dropping right where it needs to, resulting in 400+ yard and multi TD days. Other times, the corners are winning those battles and the QB heaves disastrous 3 INT clunkers. Ultimately, as seen in San Diego, the upside is enormous with a talented gunslinger who is surrounded with weaponry.
Turner uses frequent five and seven step drop route concepts that do require precision timing and tight fundamentals beyond just a rocket arm.
2018 Outlook: Newton's Upside Higher than Ever 
Before digging into specifics, one thing is clear: Turner recognizes just how special of a talent he has at his disposal:
"There's nobody like Cam (Newton). He can really do anything you want to do," Turner said.
With a cannon arm and the ability to buy time in the pocket, Newton could fit this system like an absolute glove. The major concerns with Newton have always been his short and intermediate game accuracy, and never his ability to rope the ball down the field or willingness to take shots for the big play. A scheme centered around simplifying these bombs and shaking the WRs free down the field absolutely plays into his strengths. In fact, Newton highest yardage came as a rookie, when Chudzinski was emulating Turner's system from San Diego.
As mentioned, Newton will also benefit from Turner's ability to simplify the offense and relieve mental stress. Remember — Turner wants to craft a simple plan centered around his player's strengths, allowing them to simply play versus constantly thinking. No one is more dangerous than Newton when in groove and simply playing ball.
Where Newton will need to improve is his attention to the intricacies — the footwork in the drops, setting his feet before slinging. Despite frequent coaching on this, Newton's rarely developed his pocket passing habits. Turner himself is well-aware of these gaps, noting:
"I always think it's important for the quarterback when you're in the pocket, the things you're doing to be very quick with the ball, be specific, get the ball out, and I think that's where we can help Cam," Turner said.

"I think there's some technical things in the drop, in the vision, where you're looking, when you're looking that we can help and get the ball out quicker. We can help with his accuracy and then continue to find the things he does best and let him do those."
Meanwhile, Tomlinson is fully confident Turner will be the guy who can turn these habits around and fully refine Newton's laser arm and pocket passing habits. When asked how Turner can most help Newton, LT replied:
"As Cam gets older, and he's not a spring chicken anymore, he's going to have to continue to develop in the pocket. The completion percentage has to go up above 60. I think he's going to take that next step with Norv. If anybody can do it, it's Norv. Cam is going to have to put in the work and he's going to have to trust Norv. And it's going to have to be about timing. Norv's offense is all about timing. Three steps, get the ball out, five steps, hitch and get it out of your hand. Those are some of the ways Norv will be able to help Cam. And he's going to do the things that Cam likes to do. Cam loves to throw the ball down the field and Norv is going to use that, just as he did with Philip Rivers."
The major question then becomes: what about Newton's mobility? This is, after-all, what gives Newton a higher ceiling than legitimately any other player in fantasy.
Meanwhile, Turner's almost exclusively worked with statuesque pocket passers — sure, Bridgewater has some athleticism, but nothing that can hold a candle to Newton. Encouragingly, QBs coach Scott Turner (Norv's son), recognizes this ability and does not plan to rein it in but rather let it flourish:
"He's going to play his way. He's going to run — that's what makes him the dynamic player he is.
"But also making the throws in the pocket, going through his reads. All of those things come from experience, and he's played seven seasons now. A lot of things go into that — your eyes, your feet and ultimately your decision making… He doesn't need changing; he just needs to be the best version of Cam Newton."
Ultimately, the table is set for an absolute monster fantasy season. If (a major if) Newton accepts the coaching, gets precise in his timing and fundamentals, and evolves as a pocket passer, he's going to have limitless deep ball and rushing opportunities to feast upon. A large, speedy WR would only boost his ceiling, but Newton has enough weaponry and the right coaching to truly explode in 2018, ala his MVP campaign just two seasons ago.
Wide Receivers 
Past WR1 Production:
Pre 2005: Michael Irvin led the league in receiving in 1991 with Turner and had three straight seasons with over 75 catches, 1,300 yards and seven scores. Meanwhile, Turner squeezed out three straight 1,000-yard seasons from Henry Ellard in Washington, including a 74-1397-6 line in 1994.
2005 – Randy Moss (OAK): 123 tgts, 60 rec, 1005 yds, 8 TDs
2006 (PUKE) – Antonio Bryant (13 GP): 91 tgt, 40 rec, 733 yds, 3 TDs
2007 (Puke) – Vincent Jackson: 80 tgts, 41 rec, 623 yds, 3 TDs
2008 – Vincent Jackson: 101 tgts, 59 rec, 1098 yds, 7 TDs
2009 – Vincent Jackson (15 GP): 108 tgts, 68 rec, 1167 yds, 9 TDs
2010 (Injuries) – Malcolm Floyd (11 GP): 77 tgts, 37 rec, 717 yds, 6 TDs (1042 yd, 9 TD pace)
2011 – Vincent Jackson: 115 tgts, 60 rec, 1106 yds, 9 TDs
2012 (Puke) – Malcolm Floyd (14 GP): 85 tgts, 56 rec, 814 yds, 5 TDs
2013 – Josh Gordon (14 GP): 159 tgts, 87 rec, 1646 yds, 9 TDs (1881, 10 TD pace)
2014 – Greg Jennings: 92 tgts, 59 rec, 742 yds, 6 TDs (Cordarrelle Patterson fiasco year)
2015 – Stefon Diggs (13 GP): 84 tgts, 52 rec, 720 yds, 4 TDs (886 yd, 5 TD pace)
Summary: When Turner's been provided a lanky, speedy, deep ball artist, he's typically dominated. From elite talents like Michael Irvin, Randy Moss, and Josh Gordon, to otherwise nobody's in Vincent Jackson and Malcolm Floyd, Turner has squeezed out 1,000 yard seasons like no other. He gives his WRs simple routes, and peppers them with opportunity after opportunity to win contested balls. As noticeable in the low reception but high target and yardage totals, the catch percentages might not always be eye popping, but the yards per receptions and scores come in bunches. His top wideouts may not have weekly 7-8 reception floors, and thus the floor is a bit lower with Turner's WRs as compared to your typical WR1s.  Still, all it takes are a few chunk plays for a very productive day, and the booms can often be week winners.
2018 Summary – A Makeover Coming to the WR Room?
As currently constructed, the Panthers don't have a wideout in the typical "Norv Turner build." Indeed, current No.1 Devin Funchess has the size at 6'4″, but he's far from a burner and best fitted for a complementary role.  He'll do some intermediate damage, but the Panthers need someone with more speed alongside the size to truly execute this scheme. Curtis Samuel definitely has jets, but hasn't been an effective deep-ball player dating through college, and is more of a slot type of weapon. Perhaps their best deep option is Demiere Byrd, who has excellent long speed and ball tracking skills. Still, he only stands at 5'9″, and doesn't come with the size Turner craves for his one-on-one balls.
Unsurprisingly, Panthers' reporters expect "overhaul" at the position. Unfortunately, this years rookie class and the free agents are very lackluster. If the roster stays as composed, expect Funchess to be peppered due to his imposing stature. Whether or not he'll have the time to get downfield with his lumbering speed remains a major question mark. It'd be a long shot to expect a WR to lead this team in catches, yardage, or scores.
Tight Ends
Past Tight End Production (note – only four of 14 tight ends barely crossed the 500 yard threshold prior to Gates. Hence, we start with him): 
2007 – Antonio Gates (SD): 117 tgts, 75 rec, 984 yds, 9 TDs
2008 – Antonio Gates: 92 tgts, 60 rec, 704 yds, 8 TDs
2009 – Antonio Gates: 114 tgts, 79 rec, 1157 yds, 8 TDs
2010 – Antonio Gates (10 GP): 65 tgts, 50 rec, 782 yds, 10 TDs (1,251 yd, 16 TD pace)
2011 – Antonio Gates (13 GP): 88 tgts, 64 rec, 776 yds, 7 TDs (957 yd, 9 TD pace)
2012 – Antonio Gates (15 GP): 80 tgts, 49 rec, 538 yds, 7 TDs
2013 – Jordan Cameron (15 GP): 118 tgts, 80 rec, 917 yds, 7 TDs
2014 – Kyle Rudolph (8 GP): 34 tgts, 24 rec, 231 yds, 2 TDs (462 yd, 4 TD pace ew)
2015 – Kyle Rudolph: 73 tgts, 49 rec, 495 yds, 5 TDs
Summary: Outside of Kyle Rudolph, Turner has pulverized seams when provided an athletic tight end. Gates forged a legendary career under Turner's tutelage. Often, Turner will use simple hitch and out patterns, before unleashing the "shallow-and-go" concepts with his tight ends. He also loved using Gates and Cameron on isolation routes in the red zone, splitting them to the outside and allowing them to box out defenders with their larger frames. Simply put, a vertical and athletic tight end will be used to the maximum.
2018 – Greg Olsen Set for a Late Career Renaissance 
Fresh off three straight 1,000+ seasons, Olsen had his 2018 cut tragically short due to a foot injury. Turner's presence should inspire hope for an immediate 1,000 yard rebound, however. Even at less than 100%, Olsen still flashed his long speed and silky route running down last season's stretch, and his injury does not require any surgery. Olsen was always used by Shula down the seams, but where Turner may really bring him to life is in the red zone. Expect Olsen to split out wide plenty when inside the 20, where he can bully smaller corners with his 6'5″ frame and excellent hands and ultimately top his career high 8 TDs from way back in 2009.
Running Game Impact
Past Running Back Production:
Pre-2005: Emmitt Smith continued to forge his Hall of Fame career under Turner as a three-down workhorse. Meanwhile, Terry Allen and Stephen Davis had dominant seasons (1353 total yards and 21 TDs for Allen in '96 and 1405 total yards and 17 TDs for Davis in '99) in Washington. Ricky Williams also had two monster seasons during Turner's brief Miami visit, including a 16 TD, 1852 total yard league winner in 2001.
2005 – Workhorse – LaMont Jordan (OAK):  1588 tot. yds, 11 TDs, 70 rec (103 tgts), 272 carries
2006 – Workhorse – Frank Gore (SF): 2,180 tot. yds, 9 TDs, 61 rec (86 tgts), 312 carries
2007 – Workhorse – LaDainian Tomlinson (SD): 1,949 tot. yds, 18 TDs, 60 rec (86 tgts), 315 carries
2008 – Workhorse – LaDainian Tomlinson: 1,536 tot. yds, 12 TDs, 52 rec (77 tgts), 292 carries
2009 – Committee – LaDanian Tomlinson (14 GP): 884 tot yds, 12 TDs, 20 rec (30 tgts), 223 carries; Darren Sproles: 840 tot yds, 7 TDs, 45 rec (57 tgts), 93 carries
2010 – Committee / Injuries – Mike Tolbert: 951 tot yds, 11 TDs, 25 rec (29 tgts), 182 carries; Ryan Mathews (9 GP): 823 tot yds, 7 TDs, 22 rec (26 tgts); Darren Sproles: 787 tot. yds, 2 TDs, 59 rec (75 tgts)
2011 – Workhorse-ish – Ryan Mathews (14 GP): 1,510 tot. yds, 6 TDs, 50 rec (59 tgts), 222 carries; Mike Toldbert: 923 tot. yds, 10 TDs, 54 rec (79 tgts), 121 carries
2012 – Committee / Injuries – Ryan Mathews (9 GP): 959 tot yds, 1 TD, 39 rec (56 tgts); Ronnie Brown: 591 tot. yds, 0 TDs, 49 rec (59 tgts)
2013 (PUKE) – Committee: Chris Ogbonnaya (CLE): 583 tot yds, 2 TDs, 48 rec (74 tgts)
2014 -Committee / Injuries: Matt Asiata: 882 tot. yds, 10 TDs, 44 rec (63 tgts), 164 carries; Jerick McKinnon: 673 tot. yds, 27 rec (41 tgts)
2015 – Workhorse – Adrian Peterson: 1707 tot. yds, 11 TDs, 30 rec (36 tgts), 327 carries
Summary:  Turner is no stranger to a workhorse, and has coached some absolutely monstrous campaign in his extensive history. His system produced the NFL's leading rusher six times, with Emmitt Smith (1991-93), Ricky Williams (2002), LaDainian Tomlinson (2007) and Adrian Peterson (2015). Tomlinson had plenty of other dominant seasons, while Gore, Terry Allen, Stephen Davis, and Lamont Jordan all had their career bests under Turner as well. Turner's unafraid to saddle up a back for 300+ carries to establish his play action and screen game and softening the front seven. Moreover, thanks to his vertically obsessed passing game, defenses cannot stack the boxes or they risk giving up humongous chunk plays on every down.
However, Turner's history isn't exactly committee free. Most of these timeshare plagued years were the result of an injury, however. Moreover, the pass-catching backs have always dominated. Over his career, RBs have accounted for 30.8% of Turner's target share — right on par with Sean Payton's usage of Alvin Kamara and Mark Ingram in 2018. In fact, over the past 12 seasons, Turner has had 10 RBs top 45 receptions, whether in a committee or workhorse role.
2018 Outlook – McCaffrey to continue, perhaps surpass, his receiving dominance… but who'll be the power rusher?
McCaffrey set a tough receiving bar to top in 2017, leading the league in RB targets with 113, finishing third in receptions (80) and fifth in yardage (651). Still, meeting those targets and perhaps exceeding the yardage is a surprisingly realistic 2018 outcome under Turner. Tomlinson, who understands how Turner deploys his backs more than anyone, thinks McCaffrey will find even more space and success as a sophomore — especially as a runner:
"We all know the glaring thing that Christian excels at, and that's coming out of the backfield and catching the ball. That's a given, and Norv will create those matchups for him in a way that he's never seen before. That will be really good, but the thing I'm excited about seeing is how Norv is going to use him in the run game. Norv is going to get him on the perimeter. He's going to call the things that Christian does well – getting him on the edge, getting him in space. So you'll see a lot of those toss plays, you will see the misdirection plays… To me, Christian will be the guy, the premier player in that offense."
Still, McCaffrey will never be confused for a power runner. While he has underrated strength and can knife through defenses up the gut, he won't soften them the way Turner likes to do with a bruiser. The initial guess would be the physical Jonathan Stewart for this role, but he's reportedly a cut candidate after a fully unimpressive 2017 and due over $3 million next season. Stewart lacked any type of explosion and was among the league leaders in negative runs. The Panthers need a power-back who can constantly churn forward, and this draft class is loaded with talent.
Ultimately, expect McCaffrey to thrive as a receiver, while either Stewart or (ideally) a power back racks up carries to establish the power run game. Newton's prowess at the goalline will always lower the TD ceiling of the lead back, regardless of who this may be.
Summary:
While some call Turner a retread, uninspiring hire, I absolutely love how his scheme meshes with the Panthers' current roster. First and absolutely foremost is Cam Newton, who could absolutely thrive in Turner's vertical-based "Air Coryell" attack. Sure, Newton will need to improve his precision in timing, footwork, and other pocket-passing habits to truly thrive. Yet, his rocket-arm, ability to extend plans, and love for the big play are a perfect fit for Turner's downfield attack. Moreover, the coach has no plans to rein in Newton's rushing, and the signal caller will benefit from Turner's ability to simplify the complex and allow his players to "just ball." An absolute monster could be brewing here.
While ascending, Newton will undoubtedly carry Christian McCaffrey and Greg Olsen along with him. McCaffrey was already used more heavily than any other back in the receiving game (2017), but LT expects Turner to utilize McCaffrey just as heavily and in even more opportune ways, especially as a runner with sweeps and counters to get him in space. Meanwhile, Olsen stands to benefit from Turner's rich history stretching seams and terrorizing red zones with his tight ends.
Still, the Panthers remain a speedy, lanky WR threat away from truly igniting this attack. Devin Funchess certainly has the size while Demierre Byrd and Curtis Samuel possess the speed, but it's a deadly combination of the two that typically thrive under Turner and all the one-on-one contested ball situations he'll craft up. Additionally, while prime Jonathan Stewart could've thrived under Turner, he appeared sapped of any real explosion or power for most of 2017. An upgrade at the power back role would be ideal to help soften up the defense and better establish the play action and screen games.
Regardless, Turner has plenty of tools to turn around his recent lack of success (bottom 15 in yards and points for his past five years), and return to his days of dominant attacks. If a few pieces are added and Newton takes to his coaching, everything could blend to recreate the Panthers dominant 2015 offense, creating fantasy megastars in the process.
Check out the rest of the Coaching Carousel library!