Player Stock Ticker
Analyzing Broncos OC Rich Scangarello: Fantasy Impact on Phillip Lindsay, Noah Fant, and *Puke* Flacco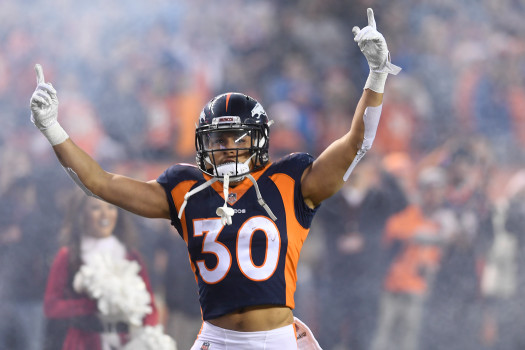 Who's going to run your offense?
That's the hugely consequential question Vic Fangio needs to answer correctly if the Broncos are going to contend in the brutal AFC West in 2019.
His response? A first-time play-caller in Rich Scangarello.
Instead of playing it safe with an uninspiring retread, Fangio has put all his chips in on the former 49ers QB Coach. Though unproven, Scangarello is the ultimate "(Kyle) Shanahan-Disciple" and has garnered heavy praise for his masterful work with QB Nick Mullens and even CJ Beathard last season.
Scangarello will be the latest branch in the rapidly-expanding "Shanahan / McVay" tree, and the move carries sneakily significant fantasy weight… for, well, two Broncos weapons at least. Plus, even if Joe Flacco and an unproven WRs corps appear ugly… Scangarello helped the 49ers squeeze more out of even less passing game fruit these last two seasons. There's room for ugly hope here.
Of course, the new OC is far from a lock to succeed, as he's never called an NFL play and the leap from a position coach can be steep. Plus, we can't be fully certain about the system without any track record.
Still, based on his rise and history, we expect this to be a near mirror to Shanahan's offense. The core staples of this attack fit at least two pieces to perfection.
Scangarello's Rise and System – Stalking Shanahan
The Scheme:
Before we breakdown why we believe Scangarello's offense will include chapters, and not pages, from Shanahan's playbook, let's remind you of the core principles. Almost poetically, its roots are in Denver, dating back to owner John Elway's playing days, and we can expect a similar backbone, even though Scangarello is bound to put own spin on it.
The core of this offense is "marrying the run and pass games," making objective Number One a threatening run presence. Thus, the core of the offense is the zone run game. Rather than man-blocking, lineman move in unison to block areas of the field. When executed well, a zone-run game features plenty of double-teams at the point of attack, before a lineman peels off to secure the next level of linebackers. Combined with an RB who possesses vision and acceleration, a zone-run game is beautiful to watch unfold, as the lanes can be massive and the chunk plays plentiful.
Once the run is established, the passing game then thrives on play-action fakes and screens. What appears to be a run becomes a massive bomb down the seam or a screen in the flat. With defenders biting on the run, large areas of grass become open, creating huge YAC opportunities, as well as shots at the big play. The passing game generally features one centerpiece — for years, this was the vaunted "Shanahan X WR" after Andre Johnson, Julio Jones, and even Pierre Garcon were bathed in league-high targets. Yet, this could become the TE (i.e. George Kittle) if that's the best option.
Scangarello's Rise
Note – There's not a ton of true "Fantasy Insight" in here. I just found Scangarello's story fascinating, and think his commitment to the Shanahan scheme, as well as his own evolution as an offensive mind will mean big things for Denver. Skip down to the next section if you only want the impact on players.
If you need further proof Scangarello will heavily model his offense after these Shanahanian principles, just take a look at his almost-stalker style rise into the league.
Prior to this Broncos gig, 17 of Scangarello's 24 years of coaching experience came at the lower-collegiate level; he served as an offensive coordinator at Wagner College, Northern Arizona, Millsaps and UC Davis. Though under everyone's radar, Scangarello began displaying his natural ability to groom QBs (two All-Americans and record setters at UC Davis)… and, more importantly, sneakily modeling his offense after Shanahan, who had just entered his first OC gig with the Texans and promptly lead the league in passing.
"I started to model my offense after his," he said. "It's what I always believed from afar. The truth is that I taught off of his film and he didn't even know it for years."
Yet, to fully comprehend Shanahan's offense, Scangarello decided he needed to work under the man himself. Thus, like an intern begging for a chance to assist a celebrity he idolizes, Scangarello accepted a lowly offensive line position and its minimum-wage salary and maximum-hours commitment.
"The truth is it completed me in the cycle of knowing everything about this system," he said. "… I really took the job in Atlanta for free, quite honestly. And I wasn't afraid. I was willing to do the work and I really just wanted to be around coach Shanahan."
Here, he learned the nuances of the vaunted "Shanahan / McVay" attack: the zone run game married to the passing attack, through play action fakes and screens, along with timely aggressiveness. Maximizing the talent around you, especially if they can run after the catch. When asked for his biggest takeaway from studying under Shanahan, Scangarello didn't hesitate:
"I would say the one thing I could truly appreciate beyond anything with coach Shanahan is that he's trying to score on every single play he calls," Scangarello said. "And I never thought that way as a play caller in the pass game. Sometimes I was thinking more about staying on schedule. And he was always thinking, 'How can we attack the defense and create explosive (plays)?' It really changed my mindset for the better."
The results are tough to dispute. Despite working with four different QBs, three of which most consider below NFL-starting caliber (Hoyer, Mullens, Beathard), .
The new OC hopes to bring his QB-expertise, the aggressive pass-game, and the historic zone-run game to a Denver team with some intriguing fits. Here are the most crucial takeaways.
Three (Really Two) Crucial Fantasy Football Takeaways
1) Phillip Lindsay's Breakout Will Prove No Fluke
Though many will call for regression after his stunning rookie season, Phillip Lindsay could be even better in 2019. This may seem blasphemous, considering Lindsay rumbled for 1,278 total yards and 10 TDs to earn a Pro Bowl berth despite being an UDFA.
Yet, Scangarello may actually improve Lindsay's outlook, particularly because of the aforementioned zone blocking scheme and overall offensive ingenuity. This blocking scheme has made fantasy monsters out of both elite and no-name talents alike. Shanahan was groomed under his father and Gary Kubiak, and the proof is in the consistent results:
In 22 years as an OC or HC, 15 RBs topped 1200 YFS (63%). This includes 13 backs netting over 1480 YFS, 10 going over 1600, and seven finishing with 1800+. Even better, of those seven to fall under 1200 total yards, five were injury related, meaning only two of 22 RBs have flatout busted under Kubiak.

Supreme talents like Terrell Davis, Clinton Portis, and Arian Foster were all 1900+ total yard, 18+ TD monsters in this scheme. Yet, even no-names like Olandis Gary, Mike Anderson, Reuben Droughns, and Steve Slaton have been 1,500 yard, 10+ TD beasts.
Meanwhile, Lindsay fits the demands of a zone scheme to perfection. According to his scouting report and as seen on tape, Lindsay "goes from patient to urgent instantly as a runner," "contorts through crevices and finds the second level," and "runs with timing and instincts." Patience and acceleration are the two paramount traits to success in a zone scheme, and Lindsay has them in spades. Unsurprisingly, he thrived in zone concepts last year, averaging 6.02 YPC on outside zone, as well as 5.04 on the inside zone game.
Comparatively, Royce Freeman averaged 3.81 YPC on zone runs. Considering Lindsay is also a smooth route runner and fantastic pass-catcher that should thrive in a screen-heavy Shanahan passing game, the better fit seems clear. Plus, Flacco has a long history peppering his RBs in looks:
Fingers crossed Phillip Lindsay is ready for training camp in July — because he should explode as a receiver in 2019.

Over the last three seasons, Joe Flacco has targeted his RBs on 24.4% of his attempts, 4th-highest rate behind Brees, Brady, Trubisky. https://t.co/6te8QBtUcg

— Graham Barfield (@GrahamBarfield) March 24, 2019
Ravens rank in total targets to RBs with Joe Flacco:

2008: 7th
2009: 1st
2010: 7th
2011: 3rd
2012: 8th
2013: 9th
2014: 13th
2015: 5th (during Flacco's 10 starts)
2016: 2nd
2017: T4th
2018: 9th (during Flacco's 9 starts)

— Ian Hartitz (@Ihartitz) May 5, 2019
Put the competition talk to bed. Lindsay will again dominate in this perfect-fitting scheme, and comes at a bargain fourth round price right now.
2) Noah Fant Could Be an Immediate Top-8 Fantasy Tight End
Last season, Kittle broke out for 88 receptions, over 1300 yards, and 5 TDs en route to a Pro Bowl berth and Fantasy Value of the Year consideration. His best performance? A 7 catch, 210 yard, TD thrashing of… none other than the Denver Broncos. Operating in the same system Scangarello will try to mimic, Kittle "was open every play, man."
After this thrashing, John Elway immediately circled the freakish Noah Fant as a must-draft target:
"I think obviously with the success that [49ers TE George] Kittle had in San Francisco with [Offensive Coordinator] Rich [Scangarello] being out there last year, speed tight ends can be very effective in his offense," Elway admitted after Fant's selection. "He was a good fit for us."
With a 4.5 forty at 6'4″, size-speed terrors don't get more nightmarish than Fant. Just as the 49ers did for Kittle, Scangarello will draw up plenty of YAC and seam-busting opportunities for Fant.
Having a QB who's historically peppered the tight end doesn't hurt, either:
Over the last three years, Joe Flacco has targeted a tight end on 23% of his passes, the fifth-highest rate in the league during this span. Only Wentz (32%), Alex Smith (31%), Luck (26%), and Mariota (26%) are higher.

— Graham Barfield (@GrahamBarfield) April 29, 2019
New Broncos QB Joe Flacco admitted his affinity for seam-stetchers while noting the heavy role he expects for Fant, gushing:
"I think it naturally is part of this offense… When you have a guy that can get matched up on the linebacker and he's in the middle of the field right in front of you, I think it can be big plays and they can be easy completions that turn into big plays. I think he's the type of guy that can do that.
"He can obviously run," Flacco continued. "The tight end in this offense, I think can be a big-time player if he can run and get a feel for how we run a couple of routes that we have in."
Between Fant's athleticism, Scangarello's TE-heavy scheming, and Flacco's history peppering TEs, this has the makings of plenty of five yard dump offs turned into 15 yard plays. Apparently, the duo are already "connecting on multiple plays" and Fant has been "turning heads" throughout OTAs.
Count Kittle, a fellow Hawkeyes alum, as a believer in the Fant and Scangarello duo:
"Noah is going to absolutely love playing for him," he recently said, via The Denver Post's Ryan O'Halloran. "Scans has a lot of tricks up his sleeve and I think he sees things a lot of people don't. Noah is going to fit right in with that offense quickly and he won't have too much of a learning curve. He's going to come in running." 
With Kittle already mentoring Fant on the nuances of the scheme, the rookie should be an immediate fantasy contributor with enormous upside. He's up to my TE10 in my 2019 Fantasy Football Rankings, a whopping +14 spots on the ECR.
3) Some Hope for an Ugly Looking Passing Game?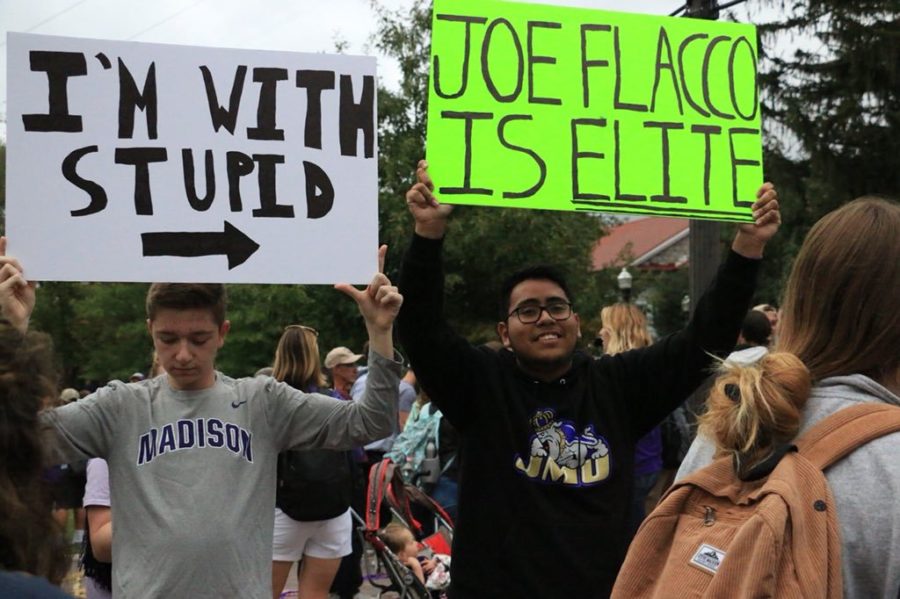 Puke. Trash. Pure dog shit.
On paper, the Broncos passing game appears to be whatever hideous descriptor you prefer.
Yet, consider what Scangarello and Shanahan have had at their disposal the past two seasons: Creatures named Mullens, Beathard, Hoyer plus roughly 8 games of Garoppolo under center, and a WRs corps spearheaded by Pierre Garcon's corpse, a track-sprinter with zero quality NFL production, and… something named Kendrick Bourne?
Even still, 49ers racked up the 10th most passing yardage and completions of 20+ yards during Scangarello's two year tenure coaching their QBs.
Suddenly, Joe Flacco (or sneakily intriguing rookie Drew Lock), plus an "ahead of schedule" Emmanuel Sanders, and intriguing sophomores Courtland Sutton and DaeSean Hamilton aren't so hideous.
Certainly, the fact Flacco set career highs with 3986 yards and 27 TDs under Kubiak, who's offense follows the same core "Shanahan Principles" won't hurt. Scangarello is well aware, calling Flacco the "perfect fit" while noting:
"It was easy to evaluate that year and watch him play that season because they did some similar things," Scangarello said. "Joe's been a pro in the NFL for a long time," Scangarello said. "His resume is really solid when you look at the course of his career. More than anything, I think his skill set marries very, very well with the type of offense we run. He's tough, he stands in the pocket, he can make all the throws."
Getting Sanders back healthy from his Achilles tear will be paramount to the Broncos passing game success. Prior to going down, Sanders was the WR10 in fantasy. Once he departed, the entire offense sputtered, as Sutton struggled with No.1 defensive attention, and the lid remained capped while boxes were completely stacked to shut down the previously thriving run-game.
Though Sanders looks solid in his recent IG clips, this is a brutal injury for anyone to return fully from, nevermind a 32 year old. He's reportedly targeting a mid-July return, but we won't know until we truly know and see him on the field. Still, going beyond Round 10 in early drafts, Sanders could still prove to be a huge value… even if Flacco is much more prone to target RBs and TEs, and has never had a WR finish above No.17 in fantasy.
Summary
No, the Broncos don't drip in any immediate fantasy appeal. They ranked 24th in the league with 20.6 points per game, and the only real addition was… "elite" Joe Flacco.
Yet, the bigger addition could prove to be Scangarello. Any branch of the Shanahan Tree comes with intrigue considering the system's historic success, and few are as versed in the offense as Scangarello after his stalker past. Phillip Lindsay and Noah Fant fit the scheme to absolute perfection, and both come at major discounts due to the gross aura surrounding this offense.
Meanwhile, although I'll mostly avoid the passing game outside Fant, Scangarello has done more with less in his 49ers tenure. Even a Flacco revival would be unlikely to create fantasy-worthy QB value at such a deep position. However, a healthy Sanders, or one of the emerging sophomores in Hamilton or Sutton, could come with value appeal.
Either way, expect Scangarello to lead a solid step forward with his next variation of Shanahan System.