Player Stock Ticker
Three Crucial Fantasy Football Takeaways from Gary Kubiak to Vikings
After a brief two year hiatus from the sidelines, Gary Kubiak is making his coaching return. Shockingly, this won't be with the Denver Broncos, where Kubiak spent 13 of his 22 seasons and won a Super Bowl just four years ago. Instead, he heads to Minnesota as an "offensive adviser" for new OC Kevin Stefanski. Between the Vikings' offensive firepower, combined with Kubiak's historic success calling plays, this move carries massive implications for fantasy football. Even if not calling plays, Kubiak's fingerprints will be all over this attack.
History / Scheme
Though buzz is abound over the "Shanahan / McVay" offense, Kubiak is arguably the Godfather of this scheme. He spent 10 years calling plays as Mike Shanahan's OC from 1995-2005, and then groomed Kyle Shanahan, who served as Kubiak's OC, during his Houston tenure (2006-2013). All the buzzwords and phrases — from "zone blocking scheme" to "pass and run game marriage" — are rooted in Kubiak.
Kubiak truly is the master of the zone running game. Beautifully explained in detail here, zone running is all about the lineman moving in sync and blocking an area more-so than a man. This involves plenty of double teams at the point of attack, which then break off at the defense's second layer. The goal is to create gaping lanes, whether on the playside, or through a cutback if the defense is over-aggressive.
A relentless, well-executed zone running game is both gorgeous to watch, as well as the perfect springboard for play-action passing. The synchronized lineman movement, which causes aggressive biting from secondaries, creates chunk plays down the field with regularity. Often, the targets funnel to an "Alpha-X" wideout, but Kubiak has sustained strong WR duos when provided enough talent. Kubiak will often send his QB around the edge with bootlegs off the play-action as well.
With this brief overview established, let's dive into the three fantasy football takeaways for 2019.
1) With Health, Dalvin Cook  will be a no-brainer RB1
Though many owners won't touch Dalvin Cook following two injury-plagued seasons, they'll deeply regret this by the end of 2019. Already a fantastic individual talent, Cook is primed to explode as Kubiak's next bell-cow.
In fact, with health, Cook is in prime position to be 2019's Christian McCaffrey. This is especially true with Latavius Murray (FA-RB) expected to depart to Free Agency.
Most important is Kubiak's heralded zone-blocking scheme. Cook has both the vision and acceleration to thrive with the massive cutback lanes and overall space he's going to find. The historic success is undeniable: overall, 14 of Kubiaks's 22 offenses have ranked Top 10 in rushing (63%), with 10 of these finishing among the Top-5 (nearly 50%). Half of his teams have been Top-5 in rushing TDs as well. Simply put: the zone blocking effect is very real.
The best part? These stats largely funnel to one back, because Kubiak loves a true bell cow:
"I can tell you this, I believe in the (bell cow)," Kubiak told the Denver Post. "I think if a guy goes out there and he shows he can play three downs, can protect the quarterback, and can handle it, then he should stay out there."
The proof is in the numbers. During Kubiak's 22 years as an OC or HC, 15 RBs topped 1200 YFS (63%). This includes 13 backs netting over 1480 YFS, 10 going over 1600, and seven finishing with 1800+. Even better, of those seven to fall under 1200 total yards, five were injury related, meaning only two of 22 RBs have flatout busted under Kubiak.
Supreme talents like Terrell Davis, Clinton Portis, and Arian Foster were all 1900+ total yard, 18+ TD monsters in this scheme. Yet, even no-names like Olandis Gary, Mike Anderson, Reuben Droughns, and Steve Slaton have been 1,500 yard, 10+ TD beasts. Cook's ability and ceiling are much more in-line with those first three names.
Plus, when provided with a capable pass-catching back, Kubiak will fully exploit it. Six of his last nine RBs caught at least 40 balls, and Cook drips in receiving ability. Even in a down 2018 and across only 11 games, Cook caught 40 passes for 305 yards.
Some are worried that Kubiak is only an "adviser," and not the actual play-caller. Don't be. In Week 15, Stefanski's first game taking over for the fired John DeFilippo, he rode Cook for a season-high 20 touches, 163 yards, and 2 TDs. Overall, Stefanski flipped the Vikings from a 67/33 run-to-pass ratio (31st ranked run rate) to a 52/48 balance (9th highest run rate). He will dial up Dalvin far more often in 2019.
Yes, Cook's health is a major question mark after he missed serious time in his only two professional seasons. With health, however, Cook is finally set-up to unlock his elite RB1 ceiling. Just like McCaffrey last year, Cook's always had the Talent, but his surging Usage and Scheme scores should send him into the land of elite RB1s.
2) Kirk Cousins Volume Will Decrease, but the Quality Should Rise
Indeed, Cousins' volume will take a steady hit in 2019. Under DeFilippo, Cousins averaged the second most pass attempts in the league at 40 per game thanks to an insane 67 / 33 run-to-pass ratio. Kubiak's teams have always hovered much closer to 55 / 45, and this team is bound to pound the rock more often. His attempts dropped to 27.3 per game under Stefanski, and should hover much closer to the low 30s.
Still, this isn't necessarily a death knell for Cousins in fantasy. In fact, he fits Kubiak's system so perfectly that the spike in efficiency could help him improve upon his 2018 fantasy stats.
For one, Kubiak's passing-game will call for a heavy dose of play-action. Since becoming a starter in 2015, Cousins leads all QBs in play-action passer rating according to PFF.com. Hell, in his infamous rant breaking down all the NFL's QBs, Jalen Ramsey gushed over Cousins, praising, "Coming off the play action, he's the best quarterback in the league. Play action passing, he's a hell of a quarterback." In 2018, Cousins averaged nearly 10% higher QB-rating and completion percentage on play-action throws. Yet, without the semblance of a run-game, DeFilippo only dialed this up 18% of the time. This number spiked to 36.4% over Stefanski's final three games, which would've ranked tops in the league. In 2017, under Pat Shurmur and with Kevin Stefanski as his QBs coach, Case Keenum attempted the third most play action throws in the league. Expect a Top-Five ranking on such attempts in 2019.
Additionally, Cousins has sneaky athleticism, and is excellent on roll-outs and bootlegs. From John Elway to Jake Plummer to even the statuesque Matt Schaub, Kubiak thrives out getting his QBs out of the pocket. The added leg points are a bonus, and Cousins maintains accuracy while on the move.
Ultimately, with defenses respecting the run and play-action game, Cousins should face less pressure as well. After Stefanski took over, in Weeks 15 and 16, Kirk had only 4.5 pressures/game compared to the 14.8 he averaged per game previously. Only 29.1% of Kirk's drop backs were under pressure compared to 38.7% before that – from 27th best to 4th best. Cousins' yardage did take a hit, but he also averaged 2 TDs per game to only 1 total interception in that three-week span.
Sage Rosenfels, who played for Kubiak in Houston, laid out the expectations clearly and realistically: "Kubiak is a guy who does a great job of maximizing a quarterback's strengths and minimizing weaknesses," said. "The Vikings are not going to lead the NFL in passing yards and touchdowns next year but as far as being efficient with your quarterback and putting him in really good chance to have success — which I believe is the No. 1 goal for your offense — Kubiak has done that at a high level with guys who are less talented than Kirk Cousins."
Thus, Cousins' ceiling may be slightly capped. Still, the improved play-calling that meshes with his abilities should keep his fantasy stats among the Top-15. A 4,000 yard, 25-30 TD season with a serious downturn in interceptions seems plenty reasonable.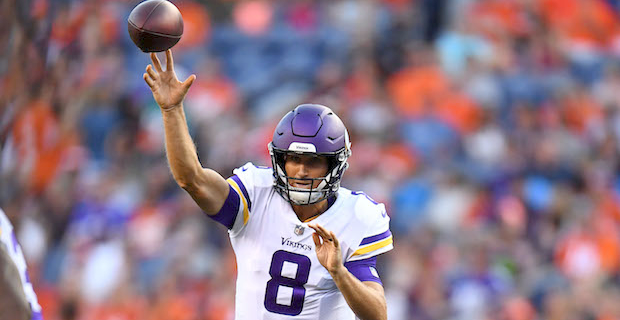 3) Enough Fantasy Food to Sustain Stefon Diggs and Adam Thielen?
The good news: Kubiak's produced a 1,000+ yard WR in 18 of 22 seasons calling plays (81%). Two misses were a result of Andre Johnson getting hurt, and he was on pace to smash 1500+ yards both times.
The bad news? The volume has rarely been available to sustain two truly useful fantasy products, particularly in the Red Zone. Kubiak is extremely run-heavy inside-the-20, and has only had four WRs hit 10+ TDs — and none since Rod Smith in 2001. In fact, no WR has topped 6 TDs under Kubiak over his past five years, despite having impressive talents like Andre Johnson, Demaryius Thomas, and Emmanuel Sanders at his disposal. Meanwhile, 11 of his 22 offenses have ranked in the Top-5 for Rushing TDs.
Simply put: TDs could be hard to come by for Stefon Diggs and Adam Thielen. In general, considering this system has typically peppered an Alpha, one of these two could be hit hard.
Granted, there have been exceptions to this rule, unsurprisingly when the right WRs and QB were present. The four times he had two useful fantasy products:
1998: John Elway to Rod Smith (92 rec, 1285, 6 TDs) & Ed McCaffrey (64, 1053, 10 TDs)
2000: Elway to Smith (100, 1602, 9 TDs) & McCaffrey (101, 1317, 9 TD)
2004: Jake Plummer to Rod Smith (84, 1177, 7 TDs) & Ashley Leslie (57, 1089, 7 TDs)
2015: Peyton Manning to Demaryius Thomas (105, 1305, 6) and Emmanuel Sanders (79, 1164, 6 TDs)
Indeed, Cousins, Diggs, and Thielen all are high-end talents, and mimic the above stellar trios much more than other Kubiak rosters. As pristine route runners with the speed and size to especially thrive off of play-action, I firmly expect both Diggs and Thielen to go over 80+ catches and 1,100+ yards. I'd never recommend entirely writing off such high-end talents.
Still, the TD-distribution still remains the question. Dalvin Cook isn't the largest GL-hammer, so maybe Kubiak will take the the air more than his past. In this case, both could approach 2000 Broncos level stats (9 TDs a piece)
But just be wary that at least one WR could take a major downturn, especially in the scoring department. The volume decreased heavily for both after DeFilippo departed, particularly for Thielen. He went from averaging 10.8 targets per game to just 4, while falling under 5 FPs in two of three contests. Meanwhile, Diggs also took a volume hit, falling from 10.5 to just 7.7 targets per game. But he also caught a TD in each of the last three games, including multiple off of roll outs.
Gun to my head, I might actually take Diggs over Thielen in 2019. Both take just slight hits in my ranking from the move to Kubiak, yet Diggs feels like the higher-floor, with a better shot at developing into that true "Alpha-X," as compared to Thielen, who operates more from the slot.
Summary:
Fans of zone blocking and bell-cows should be excited for Kubiak's return, particularly if they draft Dalvin Cook in 2019. With health, he's a lock for 1,400+ total yards and 10+ TDs, with the upside to be a true 2,000+ yard, 15+ TD season winner. In the passing game, Kirk Cousins will see his volume decrease, but a spike in efficiency should keep his numbers buoyed. His ceiling will be a bit more capped, but a scheme that fits his strengths should allow for similar yardage and TD totals, with only a slight downtick. Meanwhile, Stefon Diggs and Adam Thielen have the talent to overcome Kubiak's concerning trend of poor WR red zone production and lack of WR duos dominating. Still, be wary that at least one could take a serious hit in stats, especially scores.