Player Stock Ticker
Fantasy Football Fallout of Tyreek Hill's Looming Suspension
Let's eliminate the obvious: Tyreek Hill is a complete and utter scumbag. Recently released audio highly suggests Hill, who already owns a troubled past, indeed broke his three-year old son's arm. If / when confirmed, his NFL career should absolutely be over, "detailed denial" notwithstanding.
Thus, fantasy football owners should be preparing for a RotoWorld without 2018's top-scoring WR. Though despicable off-field, Hill's onfield explosiveness is unparalleled. His abrupt removal will leave a gaping hole in the NFL's highest-powered attack, and the fantasy football implications are massive.
Below are the Fantasy Stock implications for all affected parties. If you think I'm missing one, hit me up @RotoStreetWolf.
Patrick Mahomes is still the QB1… but no longer in a tier alone
On sheer ability, Mahomes remains the de facto No.1 QB in fantasy. This is a historic arm in a system that unleashes it to the fullest.
Still, the "Surrounding Talent" hit is indisputable without Hill; the deep ball magic between these two was truly gorgeous, and a reason both could swing a fantasy week on a single play. Mahomes, then, drops from a perfect 15 to a lesser 12 in the S.Talent category.
Granted, his Stock Score was a near-perfect 99/100. His 96 "Stock Score" still bests the next closest QBs by 4 points.
Still, while Mahomes' remains atop my QB rankings, his throne is definitely hotter, and more attainable. He no longer ranks a sturdy over +30 spots higher than Andrew Luck and Baker Mayfield, my next ranked QBs. Instead, the gap has narrowed to +15, with Mahomes at 50 and Mayfield and Luck 65 and 66 respectively.
Granted, I won't own any of these enthralling names; I never take a QB before Round 10 (Hello, Kyler Murray + Philip Rivers combo). But for the sheep, Mahomes is no longer an entire tier above this class. Even if he repeats as the QB1, Mahomes will struggle to amass . the 5,097 yards and 50 TDs of yesteryear.
Sammy Watkins' upside is Fantasy's No.1 WR, despite the scary-low floor
Ah, Sammy Watkins. Your talent has always tantalized. Yet, your health risks are as grave as any player in the NFL, with nary a full season under your belt.
Still, if Watkins somehow manages even just 12+ healthy games in 2019, he'll now be a season-changer at his 75+ ADP.
Detailed far greater here, the case for Watkins is:
A) He's flashed dominant Alpha WR1 "Individual Talent" before, especially during a mini-breakout during the second-half of his sophomore campaign when he was fantasy's WR4 with an absurd on pace for 86 catches, 1600 yards, and 16 TDs. This would've topped all WRs in 2018 FPs, including Hill's league-leading 284 Half PPR FPs.
B) The Surrounding Talent is by far the best of his career. Watkins put these insane stats up with Tyrod Taylor. Imagine what his numbers could look like with league-MVP Patrick Mahomes tossing the rock.
C) There's truly no other WRs for target competition. Sure, Travis Kelce will likely lead the team in looks, and the Reid's RBs always garner a healthy dosage of the Aerial Pie. But Watkins shouldn't struggle to match Hill's 8.6 looks per game whenever on the field.
That's of course the rub here, and Watkins' health concerns cannot be ignored. Still, as a pure ceiling stab, Watkins can still be drafted as your WR3, and has the upside to pace the position in points. Cushion up your floor with some safer WRs late, while raising your team's ceiling tremendously with Watkins.
Sammy Watkins Offers Limitless, Top 5 Fantasy Football WR Upside in 2019
Travis Kelce… helped or hurt?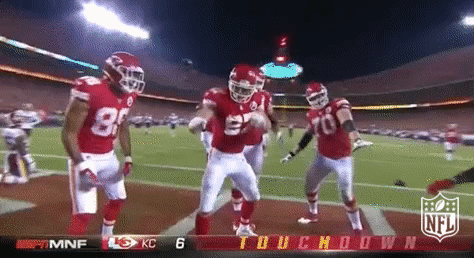 Kelce's post-Hill fantasy stock is tricky to analyze.
On the positive, Kelce already led the Chiefs in 2018 looks with 150, and now faces significantly less competition for targets. Already a centerpiece of the league's most dangerous juggernaut attack, Kelce's "Usage" should be the highest of his career.
Still, the quality of those looks may take a steep hit without Hill on the field. For one, the Chiefs may struggle to live in the Red Zone as they did in 2018. Kelce's at his most dangerous when using his massive 6'5″ frame to shield off defenders inside-the-20, and 9 of his 10 scores came from this distance. Additionally, the seams may not be as spacious without a lid-lifter like Hill drawing safeties deep.
Overall, Kelce remains fantasy's No.1 TE by a mile. He's led all TEs in FPs for three-straight seasons, including the 4th best fantasy season of all time last year. Even if Hill's removal hurts his efficiency a bit, the volume uptick should keep him right around, or even above, his 294 FPs from last year.
Considering how huge this gap is compared to the rest of the position, Kelce should be in your first round considerations. He outscored the No.12 TE in FPs by over 10 FPs per contest last year — the difference between Hill and 2018's 32nd ranked WR (Dede Westbook).
Mecole Hardman's "Penny Stock" Upside Even Clearer
Since the Chiefs traded up to select Hardman, the Hill comparisons were inevitable. Granted, Hardman is not nor ever will be Hill, who can do things no other human are capable of on an NFL field.
Still, the athletic comparables – especially in regards to speed – are strikingly similar:
Similarly built with near identical speed, Hardman does lack to completely match Hill's suddenness and quick-twitch abilities. Still, Hardman was used quite similarly downfield at Georgia, with long-developing double moves and slot fades staples in both WRs arsenals.
Indeed, Hardman will have to prove he can beat NFL presses with his slight 187 pound frame – something Hill was masterful with. Plus, we don't know if Hardman will be used similarly or as frequently on jet sweeps and quick screens, nor if he can make defenders miss like Hill.
But the raw skills are here for a Tyreek-lite style role as Hardman develops. According to Reid, Hardman displayed the right attitude and "got a little better every day" at OTAs. Most promisingly, he reportedly "did extremely" in the red zone, where he routinely made leaping grabs of difficulty and displayed strong finishing abilities.
More Active Run-Game?
We've been singing Damien William's praises all off-season — easy to do after he ripped off 10 TDs in six games and averaged over 22 Half-PPR FPs per start, behind only Todd Gurley.
With Hill removed, Williams' role may grow even further. We know he's locked into Reid's invaluable workhorse role; the team made minimal backfield additions, and Williams was recently endorsed by OC Eric Bieniemy as the "starter" who will "excel in the role."
Granted, Hill's field-stretching abilities will be missed, as will his aid in getting the Chiefs permanent red zone residency. Thus, similar to Kelce above, Williams' stock feels only slightly improved. His number should be called more often, but the quality of said volume could take a fair hit.
Summary
Ultimately, Hill's likely removal will undoubtedly send shockwaves through the Fantasy World and Chiefs offense. Patrick Mahomes is the clearest "fantasy loser" here, with his most dangerous weapon abruptly erased. Still, he has the individual talent to still be a fantasy force, and remains the top QB selection for 2019 drafters.
Meanwhile, both Travis Kelce and Damien Williams will benefit from slight volume bumps, yet should also expect their scoring chances and the amount of open-grass to decrease. As such, Hill's departure would be a relative wash for both. Kelce remains a fringe first-rounder for his major edge over all other TEs, while Williams should continue presenting one of fantasy's best values in 2019.
If there's any clear winner here, it's Sammy Watkins. The remainder of this WR locker-room is wholly unproven, and Watkins has shouldered passing attacks and posted beastly numbers with far less throwing to him. He drips in WR1 upside, despite the obvious and glaring health risks. Rookie Mecole Hardman will also have ample opportunity to make an immediate fantasy mark. His athletic profile and route tree is eerily similar to Hill's, though expecting parallel results would be foolish, as Hardman remains raw and lacks Hill's suddenness and ability to beat the press. If both refine, look out.
Be sure to follow The Wolf (@RotoStreetWolf) and bookmark our Stock Watch to never miss an invaluable fantasy beat.