Why do I think Sammy Watkins can be a Top-5 Fantasy WR in 2019?
Because Watkins achieved this high of a pace, in a much worse situation, just three seasons ago. Now, in light of Tyreek Hill's likely suspension, Watkins should command a significant slice of the NFL's juiciest Aerial Pie, creating a limitless fantasy ceiling. Yes, his injury-risk is inarguable. Still, Watkins now comes with No.1 overall WR upside.
Here's why:
Alpha WR1 Flashes… in 2015
Leading into Week 6, Watkins was amidst a dreadful sophomore campaign. He was completely shut out in Week 1. Then, in Week 2, he posted a promising 6 catches, 60 yards, and 1 TD.
Yet, as always with Watkins (an unavoidable risk we will discuss later), he suffered some flair up – this time, a calf – which sidelined him for most of Week 3 and the next two contests.
Even still, Watkins boldly and publicly demanded more targets entering his Week 6 return against Cincinnati:
"When I have one-on-one coverage, go to me. I don't care what's going on over there. I don't care if he's open. When I get one on one, just target me…I understand that these guys (QBs) are young and they need some time to trust me. Once we get that trust, it'll be different

But for me, I need the ball at least 10 times — I need 10 targets — and I'll be fine with however many yards I get…a guy you go up in the draft to take as your No. 1 receiver, you would love those 15 targets that Julio gets, those 20 targets that Odell gets. Of course I'd have 100 yards every game and a TD, if I'm getting 20 targets."
Though seemingly unwarranted, Watkins immediately validated his "100 yards, TD" claims. Through just two quarters, Watkins had turned five looks into 4 catches, 48 yards, and a score. Maybe the man taken over Odell Beckham and Mike Evans would finally validate his stock!
Alas, the ever-nagging injury bug returned, this time in the form of a sprained ankle that put Watkins on crutches, ultimately sidelining him for Week 7 and through the Week 8 Bye.
Fast forward to Week 9, and the fantasy magic starts to brew:
In his nine full games after speaking up on wanting the ball, Sammy Watkins averaged 8.9 targets, 5.4 catches, 100 yards and a TD a game.

— Tyler Dunne (@TyDunne) January 4, 2016
Extrapolated over 16, this pace would yield 86 catches, 1,600 yards, and 16 TDs. Watkins was the WR4 over this span, topping the same exact Julio Jones and Odell Beckham he had referenced during his Week 6 rants with over 17 Half PPR FPs per contest. The game logs don't lie: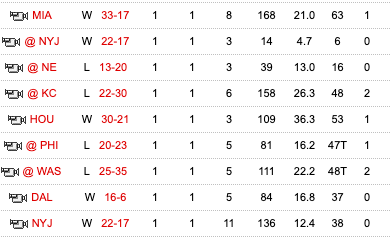 7/9 games above 10 Half-PPR FPs, including 26.8, 30.8, 25.1 and two 19+ FPs week-swingers.
The best part?
This was all with Tyrod Taylor throwing him the rock.
2019 Outlook: His Best Situation Yet
With Tyreek Hill likely to miss 2019, Watkins is staring at Andy Reid's invaluable WR1 role. In this Air Circus, he shouldn't struggle to hover around the 8.9 targets he averaged amidst his sophomore mini-breakout; Hill averaged 8.6 per game looks in this role last year, and Watkins faces less competition for looks.
Seriously, look at the NFL-production of the wideouts behind him:
Career catches from Chiefs WRs (if Tyreek Hill is ultimately not in the picture):

Sammy Watkins (232)
Demarcus Robinson (43)
Mecole Hardman (0)
Gehrig Dieter (1)
Marcus Kemp (1)
Byron Pringle (0)
Josh Crockett (0)
Davon Grayson (0)
Sammie Coates (29)

— Ian Hartitz (@Ihartitz) May 8, 2019
Outside of Travis Kelce and the backfield, Watkins faces minimum competition for looks. His "Usage" score gains a significant +6 points and now sits at a sturdy 21.
Most important, however, is who Watkins will be receiving these targets from. Last time he was thrust into a target-hog style role, Watkins shredding through secondaries and hauling in bombs from Philip Rivers' current back-up in Taylor.
Now? He'll be on the receiving end of passes from the arm of God, and defending League MVP, Patrick Mahomes.  Undoubtedly, Watkins will haul-in plenty of Hill-esque "jugular" plays, with perfectly placed deep balls. The Surrounding Talent score is a pristine 15/15.
If nothing else, all the early OTAs reports suggest Watkins is fully-prepared to seize this enormous opportunity. When visiting Chiefs practices for NFL Network, Peter Schrager noted:
"I'm hearing stuff guys, and I know we've been down this road – Sammy Watkins looks incredible… it's from the local guys and it's also from people that know the organization very well saying Sammy is finally in the best shape of his life, that if there is a Tyreek Hill issue, if Tyreek Hill is not going to be on the field, Sammy Watkins is ready to make that next step."
Unsurprisingly, this "best shape of his career" chatter (we chuckle with you) has Watkins making bold predictions of a massive resurgence:
I will be the best this year mark my word I want it more now than I ever did before in my life im sacrificing everything to get to where I once was the world will now get to witness my greatness again..! #STARSHIP14 #LIMITLESS14

— King me (@sammywatkins) May 18, 2019
The Unavoidable Injury Risk
Well Wolf,  you may ask, if Watkins is still a quality talent set for the most valuable WR-gig in all of fantasy, why is he only No.41 overall and WR16 on your latest 2019 Big Board and Rankings? (Both over a round higher than the experts, nonetheless).
Injury risk.
Watkins has never pieced together a full-season, and more hits / defensive attention seem unlikely to help. Worse, many of the ailments have come in the form of nagging soft-tissue injuries that linger all year. His ankles seem balkier by the year.
Thus, as tantalizing as Watkins' Top-Five on-field upside may be (5/5 Score), the high likelihoods that he misses time and plays at under 100% have to be factored in. His "Risk" score is a paltry 4/10, and this cavernous floor keeps Watkins ultimate Fantasy Stock Score capped in the high-end WR2 range.
Bottom-Line
Last year in the Chiefs WR1 role, Hill led all fantasy WRs with 284 points. Now, I'm not suggesting Watkins' and Hill are equal talents. Still, in a worse offense with a worse QB and amidst injuries, Watkins' was on pace for 299 FPs just three seasons ago. He's still just 26, has trained harder than ever to prepare for the promotion, and could easily match Hill's lofty fantasy 2018 fantasy output. The individual and surrounding talent, usage, and scheme are all aligned. The injury concerns are as real as they come, but Watkins will be a 2019 fantasy season-changer at his Round 5 price if he can play 13 or more.