Player Stock Ticker
Dalvin Cook: Fantasy League Winning Upside with a Perfect Marriage of Talent and Scheme
One of the most polarizing and hotly debated fantasy players of 2019 is Dalvin Cook.  Since being drafted in by the Vikings in the second round of the 2017 NFL Draft, Cook has electrified when he's been on the field.  Blessed with a ridiculous combination of vision, patience, and speed; Cook is the prototype running back for a zone-blocking scheme. Unfortunately for the Vikings and fantasy owners, Cook hasn't consistently been able to stay on the field.
Injury Concerns
The common belief is that Cook is an injury prone player.  Cook has had two shoulder surgeries dating back to his high school playing days.  However, while at Florida State, Cook missed only two games across three seasons due to an ankle injury. These injuries, plus off-field concerns are what led to Cook falling into the Vikings' laps in the second round. After a highly productive start to his rookie year, Cook suffered a devastating left ACL tear that robbed fantasy owners of what appeared to be a special season.
Coming off of the ACL injury, Cook injured his hamstring, then re-aggrivated it again — which is typical for a player who is coming off of a torn ACL. Overall, Cook has only played in 15 out of 32 games over the course of two seasons.  While that deservedly raises eyebrows, does this string of injuries really deserve the injury prone tag?
Is an ACL tear and the over-compensation injuries that commonly follow worthy of an injury prone tag?  Or are they just fluky injuries?  There isn't a definitive answer, but the Vikings are clearly putting all of their chips into Cook's basket.
Offensive Scheme Changes
John DeFilippo started the 2018 season as the Vikings' offensive coordinator.  DeFilippo's pass heavy style wasn't very friendly to Cook's strengths.  Cook wasn't getting nearly as many touches as he deserved and the offense lacked consistency.  DeFilippo was fired after Week 13 when the offense again sputtered and struggled to move the ball.  The difference in fantasy production for Cook from before DeFilippo to after DeFilippo are staggering.
After the firing of DeFilippo, the Vikings promoted longtime assistant Kevin Stefanski to interim offensive coordinator.  Under Stefanski, Cook flourished.  Cook really began to flash that game changing play-making ability that made him such a coveted draft prospect.  Cook electrified despite having the 23rd ranked run blocking offensive line, according to Football Outsiders.
As if the end of Cook's 2018 campaign wasn't enough to get fantasy owners excited, the Vikings signed bell-cow breeder Gary Kubiak to be an offensive advisor and assistant head coach.  Kubiak was the mastermind behind some of the most exciting run games that turned ordinary backs like Olandis Gary and Steve Slaton to 1500-plus yard, 10-plus TD backs.  As our "Coaching Carousel" highlights, Kubiak is known as the "Godfather" of the zone-blocking scheme.  Kubiak's strengths also lie in a marriage between the running game and the passing game.  That means tons of wide open cut back lanes and targets for Cook to exploit.
Perhaps the name Arian Foster rings a bell?  Foster is arguably the most dominant disciple of the Kubiak bell-cow running back tree.  In Foster's most productive season (2010), he toted the rock 327 times for 1,616 yards and 16 touchdowns, along with catching 66 passes for 604 yards and an additional two touchdowns.  Foster followed those numbers up with back-to-back seasons averaging over 1,600 total yards and at least 12 total touchdowns.  To Foster's credit, he was an absolute machine in the red-zone but his overall talent wasn't anywhere near Cook's.  Under Kubiak's guidance and Stefanski's commitment to the run game, Cook easily could be 2019's Christian McCaffrey or David Johnson.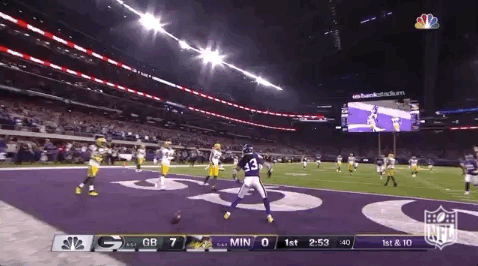 Commitment to the Offensive Line/Running Game
In the NFL Draft in 2019, the Vikings clearly showed a commitment to not only Cook, but the overall ground game as a whole.  With the 18th pick in the NFL Draft the Vikings selected punishing run blocking center Garrett Bradbury from NC State.  Bradbury's strengths lie in his size, strength, and ability to move defenders where he wants.  Bradbury's presence will likely help lead to running lanes opening up in the middle for Cook to glide through for chunks of yards.
With their second round pick, the Vikings selected all-around tight end Irv Smith Jr. from Alabama.  Smith isn't just a run-blocking tight end, he also excels at catching passes and serves as the likely successor to longtime tight end Kyle Rudolph.  Smith's excellent run/pass blocking will likely help him see the field right away and help seal off the edges for Cook to explode through.
In the fourth and seventh rounds the Vikings added more hulking mammoths to the offensive line in Dru Samia and Olisaemeka Udoh.   Both of these linemen have excellent core power and footwork that will allow running lanes to open in abundance.  Cook thrives in open space.
Presence of Alexander Mattison A Cause for Concern?
With the departure of Latavius Murray, an obvious depth problem was created in the Vikings backfield.  In the third round, they added Alexander Mattison from Boise State.  Mattison appears to be a clone of Murray.  Mattison is a very decisive runner with excellent contact balance and punishing power.  He may well serve as a bit of a threat to Cook's goal line work, Mattison doesn't appear to be any real threat to Cook's workload.  Especially with Kubiak's history of using just one bell-cow running back.
Rankings and Projections
Our 2019 Big Board has Cook as RB11 (+1 ECR) and the No. 15 overall player (+7 ECR) for 2019.  Cook absolutely drips with explosive, league winning upside and has a legitimate chance of being a dark horse No. 1 overall back.
RSJ Projection: 1,900 Total Yards (1,350 Rushing) on 265 rushes and 65 receptions for 14 total touchdowns.