Player Stock Ticker
NFL Preseason Week 2: Fantasy Football Risers, Fallers, Sleepers and Takeaways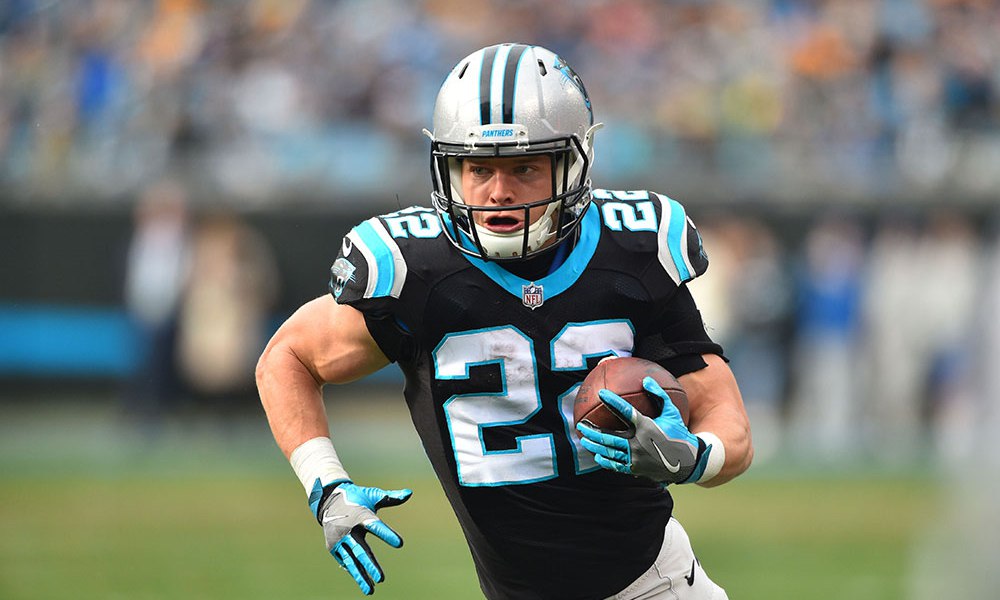 Fallers
Below are the players who lost value after Preseason Week 2 Action
Ronald Jones was already on our "Overpriced Avoids" list to enter the preseason, yet continues losing fantasy value, and fast. He's played firmly behind starter Peyton Barber for two straight weeks, and has even begun ceding snaps to *puke* Jacquizz Rodgers. Even worse, in the time he's earned, Jones has been a disaster, netting more carries (12) than total yards (11), while dropping both of his two targets.
A quick look at the Bucs preseason first-team backfield snap counts are about all you should need to see here: Peyton Barber: 25-of-34 (73.5%) – Jacquizz Rodgers: 6-of-34 (17.6%) – Ronald Jones: 3-of-34 (8.8%). Failing to make plays and struggling in pass-protection during practice, Jones has fallen completely out of the starting picture as of now.
Not only has Jones been buried on the depth chart, he's been vastly outplayed by Barber. On 10 carries, Barbers gone for 53 yards (5.3 YPC) and a score, while also hauling in 3 receptions. As mentioned earlier, Jones has averaged under 1 yard per carry, and dropped both his passing game looks.
Thus, while Jones does carry the longer-term ceiling and more overall explosiveness, this simply isn't translating onto the NFL field at the moment. Barber is far more productive, and unsurprisingly the clear starter in HC Dirk Koetter's eyes. The coach went as far as suggesting a workhorse role for Barber, stating, "He's got his eye on the prize and right where it should be. He's doing everything he should be doing right now, and I think if we went out there and gave it to Peyton 20 times, we'd like what he does."
Thus, the fact Barber is even drafted after Jones, nevermind over 70 spots later, is absurdity. The starter carries a 134 overall, RB46 Price Tag as compared to the 61 overall, RB26 asking price for the struggling rookie. These price tags should begin balancing out as people wake up, but Barber still projects to be a massive bargain, while Jones looks like a severe reach. Side with the starter, production, and price here.
According to The Athletic's Jeff Howe, Patriots RB Rex Burkhead is dealing with a "slight tear" in his knee. Granted, Howe also added "there's a good chance he could have played through his minor injury," but the team, "Knowing his value to the offense… have opted to take an extremely cautious path this week." Nonetheless, Burkhead, who missed six games last season, including Weeks 15-17 due to a knee strain, is growing into a riskier fantasy pick, despite his monumental upside.
Just over a week ago, Burkhead made my "Top Fantasy Football Bargains" list in our Preseason Kickoff Guide. Indeed, everything from his enormous TD upside (8 TDs in only 10 games last season), to his high-end versatility and receiving ability, still make him a potential fantasy monster inside New England's juggernaut attack. However, considering his injury-ridden 2017, a lingering knee ailment now creates an equal amount of risk to match the reward. While on the field, Burkhead seems likely to match his RB12 PPG output from last season. The question now becomes: how long will he last? Moreover, will the team want to keep using him in goalline situations, where contact is highest? Or will they try to preserve him and utilize him more in a pass-catching role, particularly with an effective hammer like Jeremy Hill behind him? Thus, Burkhead falls a hefty 21 spots in my rankings to 71 overall. He's now more in-line with his ADP (73) and ECR (64) than far ahead.
Colts RB Nyheim Hines generated plenty of "Penny Stock" buzz as a potential do-it-all "chess piece" after promising play all OTAs.  He's falling fast, however, due to serious fumbling issues and poor overall play this preseason. Hines has coughed the ball up four times in only two preseason games, while also only mustering 19 yards on 7 carries (2.7 YPC) and struggling in pass protection. 
Already in a crowded stable of backs, Hines seems to quickly be falling out of favor in Indianapolis after his horrid preseason start. He worked behind Christine Michael, Jordan WIlkins, and Josh Ferguson in this contest, and only cemented his spot below them all with another horrendous showing. Keep in mind, this awful play is coming against third and fourth stringers, and Hines seems to be far away from any fantasy relevance this season.
Granted, he did blaze the fastest 40 of this entire RB class, and was an excellent playmaker against stiff college competition. Moreover, he was one of the most exciting Colts players before the pads came on, and could potentially breathe life into his value if he's able to let this talent shine through — the Colts had major designs for him prior to these blunders, afterall.
But football isn't played in helmets and shorts. Hines' inability to produce anything positive against weak competition doesn't bode well for his immediate or long-term potential. He's no longer a recommended "Penny Stock" target as once stated in our Preseason Kickoff Guide. 
"Penny Stocks" (Sleepers)
James White has been largely slept on in Fantasy Football (157 ADP, 149 ECR) thus far. Perhaps drafters will wake up after White tallied 91 total yards and 1 TD on 10 touches (6 receptions) against the Eagles.  More importantly, White played on 26 of Tom Brady's 39 snaps (67%), suggesting he'll remain a key cog in this offensive juggernaut. 
Yes, Rex Burkhead did not suit up (and is reportedly dealing with a "slight knee tear). Still, White's heavy snap total, usage, and production should serve as a glaring reminder of how crucial he can be to this explosive attack. Amidst a completely depleted receiving corps, White is a rare reliable and familiar target for Brady. Expect him to vacuum targets, at least throughout Julian Edelman's suspension; White's one of the only Patriots pass-catchers with established history dominating in the short-to-intermediate range, and might even inherit some slot snaps. This was abundantly clear from the first drive, where White was the offensive engine, as White logged the game's first five touches, and totaled 6 of the 8 looks for 44 total yards on the drive. Over the past two seasons, White has ranked 10th (56) and 3rd (60) in RB receptions, and is now staring at the most vacant aerial pie of his Patriots career. He was the RB19 in fantasy points per opportunity in '17, and should see more volume than ever before in a wide open backfield and pass-catching corps.
The old saying goes: where there's enough smoke, there's probably fire. John "Smokey" Brown has lived up to his nickname and produced plenty of buzz since joining the Ravens.
He's been labeled the "standout" of Ravens camp, with "nobody making more plays than Brown."  Quarterback Joe Flacco credits Brown with his improved downfield success,  with the two connecting deep so often it's been labeled "routine."  Head coach John Harbaugh has said that Brown has "been better than expected," calling him "a complete receiver for us."
And now, following a beautiful 7-yard, toe-tapping score, the in-game action is matching the puff. This suggests there could indeed be some real fire here, and makes Brown the ideal "Penny Stock" WR target for your late rounds.
Indeed, Brown has been largely ineffective the last two seasons while dealing with complications from his sickle cell trait. Yet, he's made some changes in his diet and routines, and thus far hasn't missed any practice time. Thus far, this is allowing his talent flourish — especially his high-end speed (4.3 forty, labeled "the fastest player in the NFL" by Carson Palmer).
While this may be coach speak attempting to hype up morale surrounding the Ravens offense, Brown is a perfect fit with Flacco's talents.  Flacco has one of the strongest arms, and, reportedly fueled by his team drafting Lamar Jackson, he's having "far and away the best camp of his career." This praise has been backed thus far by Flacco's stellar 12-of-16, 143, 2 TD preseason statline in roughly one half of action.
Yet, with a lack of WR chemistry (or proper motivation from Flacco), this deep connection has been missing in the Ravens offense for quite some time. Over the past five seasons, Flacco is the worst-rated deep-ball quarterback. He completed only 24.6 percent of his throws that traveled at least 25 yards in the air, recording 12 touchdowns and 14 interceptions for a 62.3 rating.
If the Flacco-and-Brown connection continues to flourish, the veteran QB should have no problem returning to his deep-slinging ways. From 2010-12, only Drew Brees and Aaron Rodgers  connected on more passes of 25+ yards. Plus, over his magical four-playoff game championship run in 2012, Flacco completed 19 of 40 passes (47.5 percent) that traveled at least 15 yards in the air, throwing five touchdowns and no interceptions. This blazing-fast WR and strong-armed QB combo could be deadly if the pair feed off one another, and marks a quality "Surrounding Talent" score.
Plus, Brown's potential Target Share is massive. No team has a higher amount of Vacated Volume than the Baltimore Ravens, who have 332 targets (59.1%) and 2.829 air yards (71.3%) available from last season. Though Michael Crabtree projects as the "Target Hog" here, Brown should easily slide into the No.2 role, while garnering plenty of deep looks and end zone upside. The "Usage" will be plentiful.
Thus, with a lovely combination of "Individual Talent," "Usage," and "Surrounding Talent," Brown is shaping up to be among the best "Penny Stock" investments that can be made. Only two seasons seasons ago, Brown racked up 1,003 yards and 7 TDs in a highly-promising sophomore campaign, and was pinned as the next big WR star by many. While he comes with some serious health risk after two injury-plagued seasons, the stars are aligning for a massive bounce back for the star. Plus, there's no risk and only reward here considering his bottom-barrel price tag (192, WR68 ADP and 165, WR65 ECR). By comparison, he's risen to 119 overall and WR50 on my latest Big Board, and offers explosive upside for his bare-bones price — Penny Stock Investing 101.
In our Matt LaFleur breakdown, we raved about Taywan Taylor's limitless ceiling in the new OC's screen-heavy, vertical-based attack. This was fully on display in a 4-catch, 95 yard, 2 TD monster against the Bucs. As a rookie, Taylor's mammoth upside rotted in a "Exotic Smashmouth"-plagued rookie year. Following massive "Usage" and "Coaching Scheme" upgrades, Taylor comes with far more fantasy upside in his sophomore campaign.
Back in our early-June Coaching Carousel, The Wolf was already sniffing out Taylor's massive upside. He wrote Taylor "was extremely explosive in college, with a game very similar to Robert Woods who thrived with LaFleur last season. Taylor has stuttering quicks and is dangerous on the short routes out of the slot, yet can plant-and-go vertically as well. LaFleur will undoubtedly capitalize on this versatility, as Taylor thrived on bubble screens, jet sweeps, and designed short YAC plays — all staples in this creative attack. Even if he's currently going undrafted, Taylor should absolutely be on your radar."
Taylor's prime fit and dangerous screen ability were glaringly evident on his 47-yard catch and run score. The Titans' uber-talented and athletic line got out front in a hurry, and Taylor read his blocks to perfection. He knifed through the congestion before busting into the open-field where no one will catch him and his blazing speed.
On his final drive of the night, Taylor logged 16 and 29 yard receptions, before capping his night off with a 3-yard slant score. Largely undrafted entering Saturday's contest, Taylor will unfortunately now be a far more popular "Penny Stock," but for good reason. He's an explosive "Individual Talent" who'll be utilized far more often and properly in LaFleur's creative, aggressive scheme. Expect a handful of week-winning swings, with season-changing upside if he can carve out a meaningful weekly target share.
With Julio Jones sitting, Calvin Ridley flashed his potential while operating as the clear top WR for the Falcons. The Alabama wideout hauled in 3-of-5 looks for a team-high 49 yards and a score, including a 36-yard bomb from Matt Ryan. In general, the Falcons moved the ball with ease, and seem ready for a rebound in Year 2 under Steve Sarkisian.
Ridley was quiet in his Falcons debut, but was heavily involved against the Chiefs. At 6'1″ with a 4.43 Forty, Ridley can be a mismatch terror — especially while facing second coverage opposite of Julio Jones. Teammates can't stop raving about Ridley, both in his approach and ability:
"C-Rid always looks good," receiver Marvin Hall said. "He has a motor. I'm so excited for him and it's just the beginning of something special. He's very humble, he acts like he's been here before."
"It's hard to say he's a rookie," linebacker De'Vondre Campbell said of Ridley. "He came in really polished, he looked like a vet from the beginning. He has a ridiculous stride, he covers a lot of ground really quick. He's a mismatch problem. We have a really good receiving corps. On almost any other receiving corps in the league, he'd definitely be a No. 1 receiver. He's going to be able create mismatches and dominate."
With immense ability and a juicy opportunity, Ridley drips in upside at his 114 price tag. This is especially true if Ryan and the entire Falcons bounceback in their second season under Sarkisian. On that note, expect Ryan to be an incredibly high-floor, sneakily high-ceiling QB2 option that's a perfect late-round complement to a Patrick Mahomes start.
This wraps up our Preseason Week 2 Fantasy Football Breakdowns. To catch these updates in real-time, be sure to check and bookmark our Fantasy Football Stock Watch, and make sure to check our Fantasy Football Big Board to see all the major rankings implications.  Plus, if you think The Wolf is insane, let him hear it! Come at him on Twitter or Snapchat