II. Quarterbacks
A) Long Term Options
1) Tyrod Taylor (QB – BUF, 40%)
FAAB: $15 (more if QB needy)
Stat Line: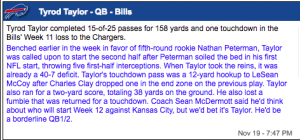 Schedule Analysis (Look at this complete joke, Easiest):

Breakdown:
Nathan Peterman provided some of the highest level comedy that'll ever grace an NFL Field. Though Sean McDermott is being a prick and playing coy over his Week 12 starter, there's no conceivable way he can go back to Peterman after his five interception disaster.
Which means Taylor steps right back into one of the juiciest late-season schedules possible. 4/5 remaining contests versus bottom-10 teams, and the hardest matchup the 13th easiest?! I'll worship at the TyGod altar all day.
Only McDermott stands in the way of Taylor and weekly top-10 QB status — something the dual threat QB has achieved each of the past five weeks outside his 3 FP Week 10 dud. Even in just one half versus LA, Taylor totaled 18 FPs, and the train will only steam further ahead to finish the season. The rushing ability is well known, and Taylor will be playing fired up for a big pay day as he auditions for his next gig.
Check if Taylor's benching landed him onto your Waiver Wire, and never look back.
B) Week 12 Streamer(s)
1) Jacoby Brissett (QB – IND, 17%)
Thanks to a Week 11 Bye, Brissett is widely available despite 27.5 and 24.5 FP masterpieces in his past two. Fresh off week of rest and recovery, Brissett will square off with the highly burnable Titans secondary. The rushing ability + TY Hilton's Home Run ability create a monstrous ceiling that's buoyed by a fairly safe floor. Roll out Brissett with confidence if you're starter is banged up or floundering (cough, Dak, cough).
III. Wide Receivers
A) Long Term Options
1) Corey Coleman (WR – CLE, 32%)
FAAB: All of it. Blow it all
Stat Line:

Schedule (31st easiest):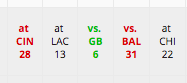 Breakdown:
Even on the Browns, Coleman has flat out gotten it done: 2.5 Games Played. 24 Targets. Both full games = double digit FPs.
The schedule may be the second hardest remaining, but Coleman also just succeeded against Jalen Ramsay — arguably the toughest cover in the league. If he can produce this well in the snow and against a top corner, Coleman's upside is enormous. The true weekly WR1 target shower he'll receive creates a sturdy floor to pair with this astronomical uspide, creating some genuine WR3 appeal with some very real WR2 upside.
Indeed, Josh Gordon is slated to return in Week 13, but Deshone Kizer has consistently locked in on Coleman when he's been available. If anything, another explosive threat should help Coleman and his 4.37 speed burn more freely.  If I'm needy for WR and/or flex depth and miss on Perine, I'm spending it all on Coleman.
2) Josh Doctson (WR – WAS, 28%)
FAAB: If I miss on Perine and Coleman… pretty damn close to all of it
Stat Line:

Schedule Analysis (12th Easiest):

Breakdown: 
Chris Thompson and Terrelle Pryor are officially out of the picture, while Jordan Reed will forever have a fleshy patch between the legs. Thus, the contending mouths continue dropping, while Doctson's usage and output continue rising over in Washington. That's formula that brews fantasy success more often than not, especially the way Kirk Cousins has been delivering the mail lately. Additionally, Doctson's faced some of the league's top corners, and the schedule looks far lighter moving forward. All the stars are aligning for this massive natural talent to finally live up to his limitless potential.
3) Kenny Stills (WR – MIA, 38%)
FAAB: $15
Stat Line: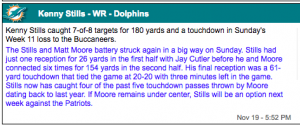 Schedule:

Breakdown:
Though stats can often lie and deceive, there's one thats truer than Shakira's hips: Stills' is a MONSTER with Matt Moore at QB.
As always, if Matt Moore is playing QB for the Dolphins, Kenny Stills is the chalk. Here's why: pic.twitter.com/qtHWEAecCo

— Scott Barrett (@ScottBarrettDFB) November 19, 2017
Literally, only DeAndre Hopkins / Deshaun Watson, Julio Jones / Matt Ryan, and Antonio Brown / Ben Roethlisberger have scored more FPs per game as a QB / WR combo the past two years. With a slew of beautiful matchups, Stills definitely has a few more explosions up his sleeve. As long as Moore is starting, the burner will be in my fantasy lineup, period.
B) Stashes
1) Josh Gordon (WR – CLE, 33%)
Last call on Josh Gordon, who is set to return next week. Indeed, he's been out of football for nearly three years. Still, I'll always find room on my bench for a talent that can rack up nearly 1,700 yards in only 14 games… while apparently high and drunk. And I thought making it to the fridge earlier tonight was impressive in that state!
Gordon's obviously a long shot, but especially at this stage of the season where Bye Weeks are long done, there's no higher upside stash either. Find a way to roster him, if for nothing else than the ever-so-slight ball tickle you'll get each time you see "Josh Gordon" at the end of your bench.
2) Dede Westbrook (WR – JAX, 31%)
The debut was lackluster on paper, but Dede was whipping in-and-out of his breaks and is in an elite class of big-play ability. It's almost a matter of time before he explodes, so I'm not giving up hope yet. Why not?
III. Tight Ends
LOL. There's literally nothing, so if you're more desperate than anything that's ever existed…OJ Howard (TB – 17%) ripped off a few of his trademark "change of direction, no one is covering me" type of plays en route to 50 yards and a TD. It's either he's wide open and puts together a monster, or gives you a literal goose egg, so I'm not sprinting for that type of risk. He's far more stashable than before, especially with Cameron Brate being the world's most pathetic player.
If you're truly desperate, Bears TE Adam Shaheen (0%) has flashed some upside for two straight weeks. He's enormous at 6'6″ and 270 LBs, and this team is devoid of any true targets. Mitch Trubisky had clear eyes for this monster, who's role seems to only be growing and thus he belongs on radars.
Week 11 Waiver Wire Top 10
Tier One
1) Samaje Perine (RB – WAS, 35%)
2) Corey Coleman (WR – CLE, 31%)
3) Tyrod Taylor (QB – BUF, 40%)
Tier 2
4) Josh Doctson (WR – WAS, 28%)
5) Kenny Stills (WR – MIA, 38%) * If news breaks Matt Moore is the starter for RoS, move Stills to top of list
6) Josh Gordon (WR – CLE, 33%) * If you don't need any startability, Gordon belongs under Coleman.
7) Devontae Booker (RB – DEN, 7%)
8) Austin Ekeler (RB – LAC, 35%)
9) Case Keenum (QB – MIN, 40%)
Tier 3
10) Corey Clement (RB – PHI, 10%)
11) Rod Smith (RB – DAL, 18%)
12) Damien Williams (RB – MIA, 35%)
13) Dede Westbrook (WR – JAX, 31%) * Move just under Booker if you need pure upside. 
14) Marquise Goodwin (WR – SF, 15%)
15) OJ Howard (TE – TB, 22%)
Have questions about the Waiver Wire? Drop Player X for Player Y? How much of XX FAAB Budget? Did he miss anybody?
Sound off below or hit The Wolf up on Twitter or SnapChat  @RotoStreetWolf