Are you in debt? Do you or a loved one suffer from addiction? Are you eager to better your life through higher education? Unfortunately, I can't help you with any of those things. But if you are in desperate need for a FLEX option, I'm your guy.
I know how things can be. Sometimes you are down on your luck. Plans don't always work out and your options can be limited. We have all been there. That's why I'm here to extend a helping hand. Each week I'll offer you a Sunday Morning Dart Throw.
Dart Throws are the long shots, the guys with unnoticed potential, and for the purposes of this article, the players who are available in 80% or more of leagues. If your back is against the ropes and your FLEX spot looks dicey, consider my Sunday Morning Dart Throw.
Availability percentages are based on ESPN.com. This article excludes players who are available in less than 80% of leagues.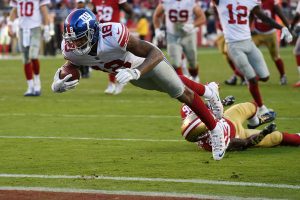 Roger Lewis – WR – Giants
Availability – 96.1% of Leagues
What? You mean to tell me you have never heard or Roger Lewis? With Odell Beckham Jr., Brandon Marshall, and three other Giant receivers placed on Injured Reserve, this second-year player from Bowling Green has been thrust into action. Lewis is coming off his best fantasy performance of the season, hauling in three of his four targets for 33 yards and a touchdown in San Francisco.
Today he faces a Chiefs defense that has surrendered the most fantasy points to opposing wide receivers (PPR & Standard). What's more encouraging is that game-flow should be on the 23 year-old's side. Kansas City is coming off a bye, and is the fifth-highest scoring team in the league (28.1 PPG). New York's defense seems to be regressing by the week, and is allowing the fifth-most points per game (26.4). Logic tells us the Giants are going to be trailing big, leading to a pass-heavy offensive outing.
As if you needed more incentive to give Lewis a chance, lead receiver, Sterling Shepard, is battling an illness, and is unlikely to suit up today. If Shepard sits or is limited, Lewis will receive a larger share of Manning's passes. The conditions are right for Lewis to produce.