Player Stock Ticker
DraftKings Week 4: Picks, Sleepers and Strategy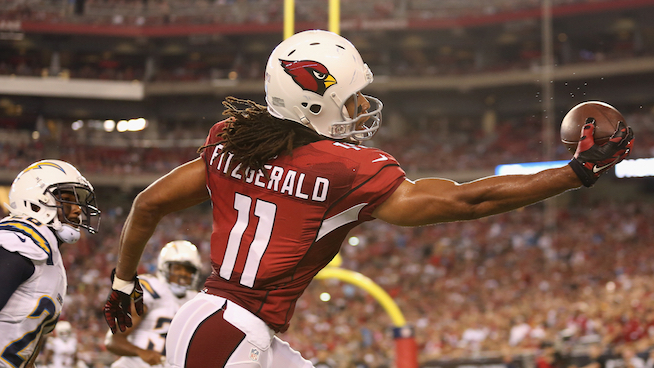 Per usual, these follow standard Draftkings prices containing games in the Millionaire Maker (No Thur/Mon games) ***For some reason, the SNF Indianapolis/Seattle contest was not included in this slate***
Quarterbacks
Top Shelf

Tom Brady ($8,000) – Another week, another masterful performance by the GOAT. Brady had one of his more impressive games in his career against a very good defensive line that gave him fits all day. The heat didn't slow him down as he threw for five touchdowns against a banged up Texans secondary. At home against Carolina, there's no reason Brady can't keep up this rampant pace to 2017.

Retail Price

Philip Rivers ($6,300) – Rivers had a horrific week against the Chiefs throwing three picks with no touchdowns. A nice bounce back game at home against a depleted Eagles secondary should have Rivers back to his normal numbers.
Carson Palmer ($6,100) – Palmer has thrown for 300+ yards in back to back games. With a serious lack of a running game, the Cardinals have relied on Palmer's arm to carry them. The 49ers are not a threat to stifle Palmer, as they were carved up by the Rams last Thursday night.

Bang For Your Buck

Eli Manning ($5,700) – Manning and the Giants offense woke up last Sunday largely due to the return of OBJ. With still no running game, Manning has had all the responsibility for the Giants offensive success. We just watched Tampa Bay get destroyed by Case Keenum and the Vikings, so Eli could be an option here as a cheap QB.
***Trevor Siemian ($5,200)*** – I really like Siemian this week at home fresh off a disappointing matchup in Buffalo. Denver has looked so much better at home, and after watching Kirk Cousins have his way with the Raiders I like this spot. Oakland's strength on defense is their front line and line backer core, giving Siemian the chance to use his skilled receivers.
Deshaun Watson ($5,100) – Watson looked very good compared to most rookie QBs that go up against Bill Belichick. Sure the Patriots defense isn't up to par, but Watson mostly made good, smart throws and took it himself when it was there. He's looking more and more like an NFL quarterback and returns home against the Titans defense who finally let Russell Wilson out of his shell.

Running Backs
Top Shelf

Le'Veon Bell ($8,700) – Bell somehow dropped $100 in this week's slate despite getting back to his normal heavy usage. The number of touches should continue going forward, and with Big Ben knowingly struggling on the road Bell should be featured heavily for the Steelers come Sunday.
Ezekiel Elliott ($8,200) – Zeke bounced back nicely Monday night against the Cardinals where the game flow allowed him to get his standard twenty plus touches for the Cowboys offense. We still haven't had that signature blow up game from Zeke yet, so what better chance than against a Rams defense that was just made to look like Swiss cheese by Carlos Hyde (another former Buckeye back).
Devonta Freeman ($7,300) – Freeman has seen his number of touches increase every week so far this year and has produced very nicely in back to back weeks. With Freeman seeing this high of a workload, he's a great bid for 20+ points while being $1k cheaper than the studs.

Retail Price (aka Rookie RBs)

Christian McCaffrey ($6,800) – Once Kelvin Benjamin went down with a scary knee injury, McCaffrey saw his usage spike in the receiving game. 9 catches on 11 targets for 101 yards against the Saints while McCaffrey is likely to be the biggest benefactor of Benjamin's absence. Now traveling to New England, the Patriots have allowed opposing offenses to have big games. McCaffrey could put up similar stats to what Kareem Hunt/Tyreek Hill did in Week 1.
Leonard Fournette ($6,700) – Fournette has been nothing but consistent his first three games of his NFL career. He's had a touchdown in all three games while getting the lion's share of touches for the Jags. Now going to face the Jets, Fournette could be looking at a ton of carries as Jacksonville is a road favorite for the first time in practically forever. I don't see him being limited or slowed down by the Jets whatsoever.
Dalvin Cook ($6,500) – Cook has had a monster workload in Minnesota and the team continues to label him as their feature back. He's had 20+ carries in both home games while being a threat in the receiving game. Another home game against the Lions should feature Cook once again who has great value for only $6.5k.
***Joe Mixon ($5,700)*** – Big fan of Mixon in this spot against Cleveland in Week 4. After the Bengals fired their offensive coordinator post Week 2, Bill Lazor came out and featured Mixon as the team's lead back in the offense. He handled 18 carries while adding 3 receptions against Green Bay. He looked good, and looks to be the guy for Cincinnati moving forward. This week against Clevaland's shitty defense/team/city could be Mixon's coming out party. Look for Mixon to come out swinging (wink wink).

Bang For Your Buck

Duke Johnson ($4,500) – Johnson finally got a big share of touches in the passing game, and even found the end zone rushing the ball. Feature back Isaiah Crowell has done jack shit for the Browns so far just opening the door further for Duke. For this low a price, you just need a decent amount of catches against the Bengals and maybe another score to make it all worth it.
Jonathan Stewart ($4,300) – If you're looking for a very cheap option to punt at RB, Stewart could be worth a look. He's getting the most carries in the backfield for Carolina and could be the guy when the Panthers get down into the red zone. He's more of a reach, as I'd prefer to spend up at RB this week.
 
Wide Receivers
Top Shelf

Odell Beckham Jr ($8,900) – It's not that I don't like Antonio this week, but more so that I'd rather "spend down" for Odell and his matchup in Week 4. Odell returned to 100% and showed just how good he really is hauling in two amazing touchdown grabs. A truly elite player in the NFL Beckham's mouth must be watering after watching Keenum and the Vikings shred the Tampa secondary to shreds. Odell is expensive this week, but worth it.
AJ Green ($8,600) – As obvious a squeaky wheel situation as Green was in last week, he delivered with a big stat line. Green has had past success against the Browns, and looks to continue to hum in Bill Lazor's offense. Another solid performance is on the way here for Green.
Keenan Allen ($7,200) – While Allen put up a dud last week against the Chiefs, I want to hop right back on against the Eagles. We saw what Odell Beckham did versus the Eagles, and while Allen isn't nearly as good as OBJ in terms of talent, Allen can still do work against a depleted secondary. Allen has been targeted 10,10, and 9 times over three games so the workload is there for Keenan to capitalize.
Stefon Diggs ($7,100) – Some might shy away from Diggs coming off a HUGE week 3 performance, but I don't intend to. Diggs matching up at home against the Lions is solid even with Case Keenum at QB. Ride him while he's hot before his price skyrockets.
Retail Price

***DeAndre Hopkins ($6,400)*** – Hopkins leads the NFL in targets through three weeks while being tied for third in receptions. He's been as consistent as they come outside of Antonio Brown at the receiver spot, and Hopkins still hasn't had that blow up game yet. As Deshaun Watson gets more comfortable in the offense, Hopkins' ceiling will only rise going forward. At home against Tennessee looks like a plus matchup after what Doug Baldwin just did last week.
Larry Fitzgerald ($6,100) – Fitz has generally been a monster in the beginning of seasons the last couple of years. His target numbers have been high and he was the key part of the Cardinals offense this past Monday night against Dallas. He looked great and didn't look the part of a 34 year old receiver. At home against the 49ers, Fitz should continue to dominate as the Cardinals struggle to run the ball.
Devin Funchess ($5,300) – Similar to McCaffrey above, Funchess should greatly benefit from Benjamin's absence. He's been playing a ton of snaps and running a lot more routes than ever before. He finally hit double digit targets last week against New Orleans and now faces a struggling Patriots defense. Newton is going to have to throw the ball to somebody, and that looks to be Funchess in this scenario.

Bang For Your Buck

Danny Amendola ($4,900) – Amendola returned last week from injury and had some clutch catches late in the game to help the Patriots to victory. While his end numbers weren't very impressive, he grades out nicely out of the slot against Carolina who is rather weak in that matchup in the secondary.
Marquise Lee ($4,500) – Unfortunately the London Jaguars return home to America so Jacksonville's production is likely to go down. However, against the New York Jets opposing teams have the opportunity for big games (unless you're the Miami Dolphins) so Bortles could ride his hot streak going into Week 4. Lee has been the focus of a lot of Bortles' targets, more so than his more expensive teammate Allen Hurns.
Eric Decker ($4,200) – We saw what Tom Brady did to a depleted Texans secondary, and now Decker and the Titans get to face them fresh off a date with the Legion of Boom. Decker put up a respectable 4 catch 49 yard game while predominantly being covered by Richard Sherman, so a much better game is likely to come against the Texans.
Robert Woods ($3,900) – Woods was overshadowed by teammate Sammy Watkins against the 49ers, but quietly but up 6 catches for 108 yards last Thursday. Watching the Dallas defense struggle to contain Carson Palmer and the passing attack last Monday, Woods could be in for a nice complimentary role behind Watkins similar to what John and Jaron Brown did for Arizona.
 
Tight Ends
Top Plays

Rob Gronkowski ($6,600) – Gronk continues to dominate inferior defenders and rack up the points with Tom Brady. Few teams have that one stud (Eric Berry) that can really take Gronk out of a game and neutralize the all-pro tight end. Carolina doesn't have that. Gronk should feast again.
Zach Ertz ($6,300) – Ertz has been a target hog in Philly so far as Carson Wentz' go to guy in the offense. He's averaging about 17 points per game so far and has been as consistent as it gets for the TE spot in 2017. Starting the year with a $3,500 salary, Ertz has skyrocketed in price rightfully so. Another option you can lock into your roster for a near guarantee of success.

Bargain Plays

***Cameron Brate ($3,800)*** – It's well known that the weakness of the Giants defense has been at the linebacker position. Winston and Brate hooked up for a score last week against the Vikings, so while Mike Evans and Janoris Jenkins get matched up, it should allow more room and looks for Brate to make an impact this week.
Evan Engram ($3,000) – Engram is the safer play at $3k this week as he's averaging close to 5 catches for 50 yards each game. He's becoming a bigger factor in the Giants offense which is creeping back to life thanks to OBJ.
Austin Seferian-Jenkins ($3,000) – ASJ is the riskier play here in his second game back from suspension. His initial debut saw him tied for the team lead in both receptions and targets so it looks like he could have a nice role in the offense. While the Jaguars secondary is likely to shut down the Jets receivers, ASJ could be looked upon often in Week 4.
Defense
Top Plays

Jacksonville Jaguars ($3,600) – The Jags have certainly had their ups and downs this season but find another great matchup here against the Jets. It's always fun to pick on the Jets because of how bad they are, and how good the Jaguars secondary has been.
***Cincinnati Bengals ($3,500)*** – Similar to the Jags, we can always pick on the Browns for being so hapless and miserable. The Bengals also boast a strong secondary and underrated defense. It's a toss up between these two for which you prefer more.

Bargain Plays

Arizona Cardinals ($3,200) – The Cardinals ball hawking secondary should have no problem shutting down whatever Brian Hoyer plans to do come Sunday. The main focus will be on slowing down Carlos Hyde and the run game, after Ezekiel Elliott gashed them Monday night.
Dallas Cowboys ($2,500) – A big stretch play here would be Dallas, one of the cheaper options out there. The Cowboys have showed the ability to get to the QB with a handful of sacks from their talented front seven. As good as Gurley and the Rams have looked, it's a home matchup that doesn't look too terrible if you need the extra cash.
Be sure to let me know how much money I won you, @theJMcGuinness.
Also, last week's picks can be referenced here.