As the playoffs quickly approach, I've spent some time reflecting on previous playoff runs. More specifically, I've been thinking back to injuries that have left players unavailable for the fantasy playoffs.
In 2022, Derrick Henry and Jalen Hurts were unavailable down the stretch. In 2019, the RB2 (PPG), Dalvin Cook was unavailable for both the semifinals and fantasy championship.
It's unfortunate, but injuries are a big part of the NFL. Replacing these players in your lineup will make or break your week, especially in the fantasy playoffs.
In 2022, replacing King Henry and Hurts with players like Tyler Allgeier and Brock Purdy worked out just fine.
Looking back to 2019, the most obvious replacement for Cook was his backup, Mike Boone. In Week 16 of 2019, Boone entered the lineups of many Cook owners (myself included) playing for a fantasy championship. Boone fell flat on his face, putting up 33 total yards on 12 touches in a loss to Green Bay.
All of this is to say that you can succeed with replacements in your lineup. It just takes a little extra effort to pick out the ideal fill-in player.
Things are no different in Week 10, injuries are piling up, and four teams are on bye. With a limited player pool, some players may have to be elevated from your fantasy bench to active duty.
But what running backs can be trusted in your lineup in Week 10?
JAYLEN WARREN WEEK 10 OUTLOOK
Throughout the season, Steelers running back Jaylen Warren has been in a tug-of-war with Najee Harris. Both backs have different skill sets and compete for touches on a weekly basis. At this point, Warren has pulled his way to a 50/50 split with Harris.
In Week 9 Warren played just 40.1 percent of snaps. However, he set a career-high with 87 rushing yards and received a season-high 11 carries. Warren was also tackled inside of the one-yard line in this game. A touchdown there would have dramatically changed his week.
On the other hand, Harris finished with 69 yards and a score on 16 attempts.
Week 9 aside, Warren has outperformed Harris throughout the season. At this point in the season, Warren is outperforming Harris in explosive run rate, missed tackle rate, and yards after contact per attempt.
Warren's performance, combined with an increase in volume in Week 9, indicates that he may be in line for a larger role down the stretch this season. Even if this doesn't happen in Week 10, Warren has a solid matchup this week and could find success with his typical workload.
Warren and the Steelers face Green Bay this week. The Packers have been below average against running backs this season, allowing the 11th most fantasy points per game to RBs.
Green Bay has particularly struggled with pass-catching RBs. Ranking in the bottom 10 in receptions and receiving yards allowed to running backs, the Packers are vulnerable through the air.
As the "change of pace" back in Pittsburgh, Warren handles a lot of the receiving work. Warren ranks top 12 in target share, raw targets, and receptions among RBs.
I expect Warren to catch between 4-6 catches in Week 10. With his 9.03 yards after the catch per reception, Warren can easily have a few big plays against this Packers defense.
JAMES CONNER WEEK 10 OUTLOOK
At this point, it's been a disaster of a season in Arizona. Week 10 should inspire excitement and drive into the Cardinals' locker room. Arizona will benefit from the return of quarterback Kyler Murray and is hopeful for the return of running back James Conner.
Obviously, this is not a 100 percent guarantee that Conner will play this week but interviews from coaches and consecutive limited practices for Conner seem to indicate that he will return.
If Conner is back, can you put him back in your lineup? The answer is a cautious yes.
In Conner's absence, Arizona's rush offense has struggled mightily. They rank about league average in most rushing metrics. However, from Weeks 6-8, quarterback Josh Dobbs was the team's second-leading rusher and accounted for nearly 40 percent of Arizona's rushing yards.
To say the Cardinals lack running back production would be an understatement. What has Conner done while healthy? Produce.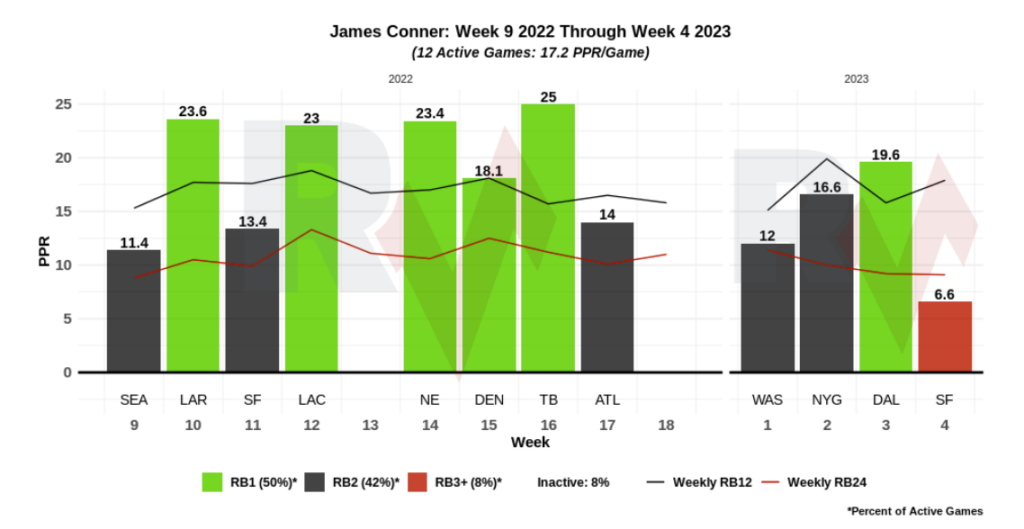 I showed this chart when discussing Conner as a trade target this week, but I think it's worth showing again. Conner has been a King of Consistency in his time with the Cardinals, in the sense of both true football and fantasy football.
Conner has a tough matchup this week, with Arizona taking on the Atlanta Falcons. Atlanta has been able to contain running backs throughout the season, giving up the 6th fewest points to RBs.
Even though the matchup is tough, Conner can enter your lineup if you don't have another viable option. Head coach Jonathan Gannon is likely desperate to get production out of RBs. Coupled with the return of Kyler Murray, this is the perfect opportunity to get the offense back on track this season. It's difficult to speculate on health, but if Conner is even approaching 100 percent, he will see a heavy workload in Week 10.
GUS EDWARDS WEEK 10 OUTLOOK
At this point, Gus Edwards reminds me of the Jerick McKinnon of last season. Neither of them had a significant impact between the 20s, but after entering the red zone, they turned into prime Barry Sanders.
In the past two weeks, Edwards has turned 24 carries into five touchdowns. This includes five carries for two scores last week.
His stat line from last week should tell you all you need to know. Gus Bus played 18.4 percent of snaps and received five carries, but managed to produce 17.2 fantasy points. This is simply not sustainable.
The score of this game definitely played a factor in Edwards' lack of playing time. Baltimore beat the Seahawks 37-3 and led 30-3 by the end of the 3rd quarter. However, in the first half alone, Edwards handled just 38 percent of the running back carries.
Last week's matchup with Seattle also led to the emergence of Keaton Mitchell.
Mitchell will not be a workhorse running back by any means. But his Week 9 performance does mean he will be involved in this backfield in some capacity.
A closer game will tell how this backfield will be split up. But it appears that we will be dealing with a three-headed monster that will be quite volatile in fantasy.
When it comes to Edwards, he will likely rely on touchdowns to find fantasy success. This should not be relied upon in fantasy, especially from a committee RB. This is especially true in Week 10 with Baltimore taking on the Browns who have shut down running backs (and entire offenses) regularly.
Edwards should be kept out of lineups in Week 10 and managers should be cautious moving forward this season.