After a devastating ACL injury in mid-December of last season, Kyler Murray was placed on IR and has been there ever since. After reporting to practice last week, however, the fantasy football buzz surrounding a return is starting to grow.
All you have to look at are his fantasy stats to see why.
KYLER MURRAY IS A FANTASY SUPERSTAR
Kyler Murray has played four seasons in the NFL leading into the 2023 year. Almost from the outset, Murray has been a standout fantasy quarterback. From his sophomore season on, Murray has ranked as a top 12 fantasy quarterback 66% of the time. This is a considerable sample size–a ranking he has achieved in 27 out of his 41 starts. In Week 14, Murray suffered the aforementioned ACL injury. Excluding that game, Murray was a top 12 fantasy QB in 9 out of his 11 games (82%).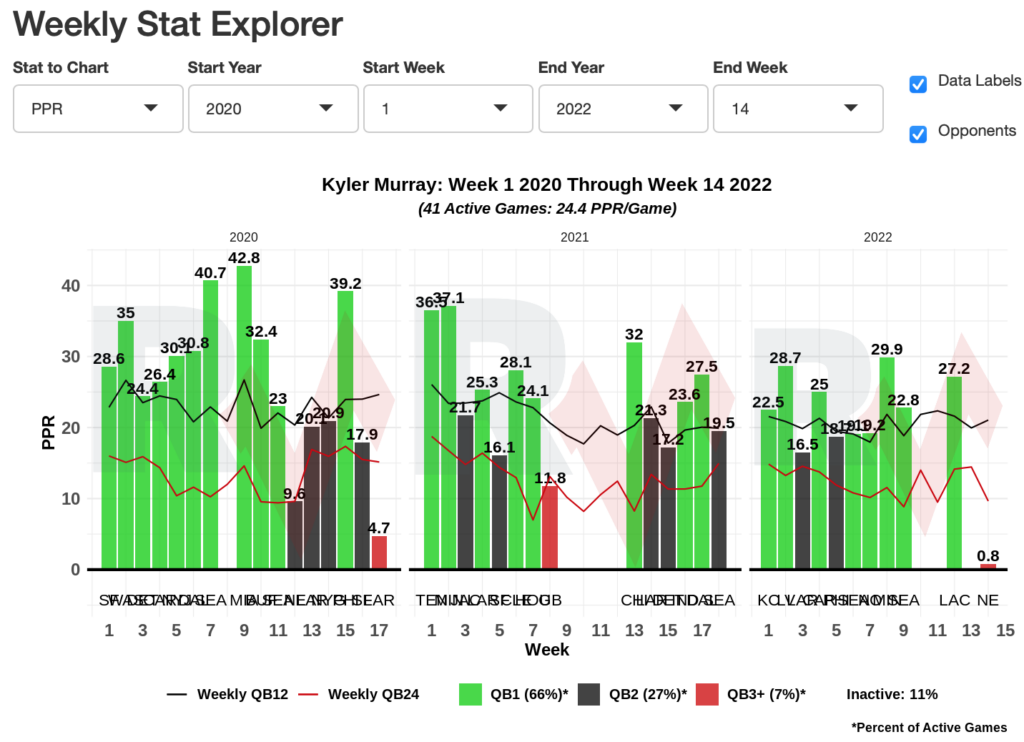 graphic courtesy of www.rotoviz.com
Murray has demonstrated the ability to combine substantial passing numbers with the always coveted Konami upside. He passed for almost 4,000 yards in each of his last two full seasons and kept defenses on high alert with his dual-threat running ability. Murray ran for 819 yards and scored a staggering 11 rushing touchdowns in 2020.
When a guy puts up numbers like that, it's hard not to pay attention.
WILL HE ACTUALLY COME BACK?
The Cardinals have until November 8th to add Murray to the active roster. Although the team has said they will not rush Murray back, there has been speculation he could be back as early as Week 9 or 10. Josh Dobbs, who has been the starting QB for Arizona this season, has crashed down to Earth the last couple of games after a surprisingly decent start to the year. Dobbs has seen his completion rate and QBR plummet, and he has not thrown a touchdown pass since Week 5.
"Based on the early returns, so far so good. However, don't expect a quick move back to the active roster for Murray," Ian Rapoport said last week. 
"Sources say Murray's return is expected to take multiple weeks, with the most likely outcome that he practices for three weeks, then plays on Nov. 12 against the Falcons. There is also a chance he is able to return on Nov. 5 against the Browns if all goes perfectly well on the field and off it."
Of course, sitting at 1-6, the Cardinals will not be a playoff team with or without Murray this year. However, they surprisingly have some intriguing pieces that could make some noise in the back half of the season to stack some much-needed wins for their first-year head coach. Hollywood Brown has 60 targets through seven games, while it looks like they drafted two young, foundational pieces with Michael Wilson at receiver and Trey McBride at tight end. Plus, the offensive line is better than most thought it would be with rookie left tackle Parris Johnson, and the running game is solid, as well.
While this could suggest Arizona could end up letting Murray take the season off entirely and get fully healed, the reporters close to the team seem to think we will see him back on the field before too long. For fantasy owners, this could be an unbelievable opportunity.
KYLER'S FANTASY UPSIDE
With a fantasy resume as stacked as Murray's is, you might think there's no way he'd be on waiver wires as talks of his return begin. As it turns out, this is not the case.
Kyler Murray is available in 43% of all Yahoo leagues and a paltry 23% of ESPN leagues. For a legitimate starting fantasy quarterback dripping with literal overall QB1 upside some weeks, this is tough to pass up on.
If you have any QB issues at all, you need to add Murray now. Like, don't even finish the last few sentences of the article. Leave this site, pick him off waivers, and stash him in your IR. Then, we'd love it if you came back.
Even if you have a solid QB already, snatch him up and keep other owners from getting him. Suppose he doesn't pan out. No big deal. If he does, and someone else grabs him, you'll be kicking yourself when he's dropping 30-35 in the playoffs against you.
Chances like this only come up a couple of times a season. You are going to want to jump on this one. Pick up Kyler Murray today.