Volume is the lifeblood of fantasy football success. The Workload Report was created to help visualize the crucial snaps, targets, touches, air yards, and other advanced usage metrics that matter.
The Workload Report is broken into three distinct sections: opportunity, production, and results. The ultimate goal is to dive in and discover where these coveted fantasy points are coming from every week for every team. Each week, we'll highlight several categories and dive into which players showed up and why. Then, at the bottom, I'll give one important takeaway for all 32 NFL teams.
In addition to the screenshots below, check out the full version of The Workload Report to dig into all the data yourself.
If you have any feedback, feel free to hit me up on Twitter, and we can talk shop!
(By Team, How to Use, Team Totals)
WEEK 1 FANTASY ALL-STARS
Dedicated to the players who break 30 PPR points each week

We got a classic Tyreek Hill spike week on Sunday against the Chargers. It's actually pretty impressive that he dropped an 11-215-2 line, and it was only 45% of the Dolphins' fantasy points. He outscored the Cardinals, Bengals, Giants, and Seahawks by himself.
Brandon Aiyuk followed up his training camp buzz with an absolute alpha performance in Week 1. His teammate Christian McCaffrey also cracked the list this week (if it expanded down to 25 fpts), and these two dominated the Steelers, combining for 77% of the 49ers' fantasy points.
SAVED BY THE ENDZONE
These players may have a high fantasy score, but most of it was due to TD "luck"

These are always some of the more fun ones to parse through, and Justice Hill is a perfect example of this in Week 1. Only a 30% snap rate, but two touchdowns on eight carries is pretty good involvement. Couple this with JK Dobbins being out for the year (Achilles), and it seems like we have ourselves a priority waiver wire pickup.
Cam Akers and Kyren Williams, both making the list, might be a telling sign of how fluky the Rams' run game was against the Seahawks. If we take away the three touchdowns, these two backs combined for 81 yards on 37 carries, which is simply not good. I do like the Williams usage out of the gate, and I think he makes sense as a waiver target, but I wouldn't be rushing to throw either of these two in your starting lineup.
A TOUCHDOWN AWAY FROM BREAKING THE SLATE
Had any of these guys hit paydirt, we may have been hearing a lot more about them this week

After we just talked about the Rams RBs overproducing, two of their WRs appear on this list of underproducers. Rookie Puka Nacua showed out in his debut with a 41% target share and ten catches for 119 yards. Meanwhile, his counterpart Tutu Atwell had an impressive 14.6 aDOT coupled with a Receiving Air Conversion Ratio (RACR) of 1.02, which is very efficient. I would buy both of these guys for at least as long as Cooper Kupp is out.
Speaking of big rookie performances, Zay Flowers fully looked the part on Sunday against the Texans. His 48% target share was definitely a bit of a surprise, and at times it looked like they were force-feeding their rookie WR. Seems like great things are in store for Flowers in Baltimore.
DOMINATING THE DOMINATOR RATING
(Rec. Yds + Rush Yds)/(Team Rec. Yds + Team Rush Yds) + TD Share + Air Yd Share (WR/TEs)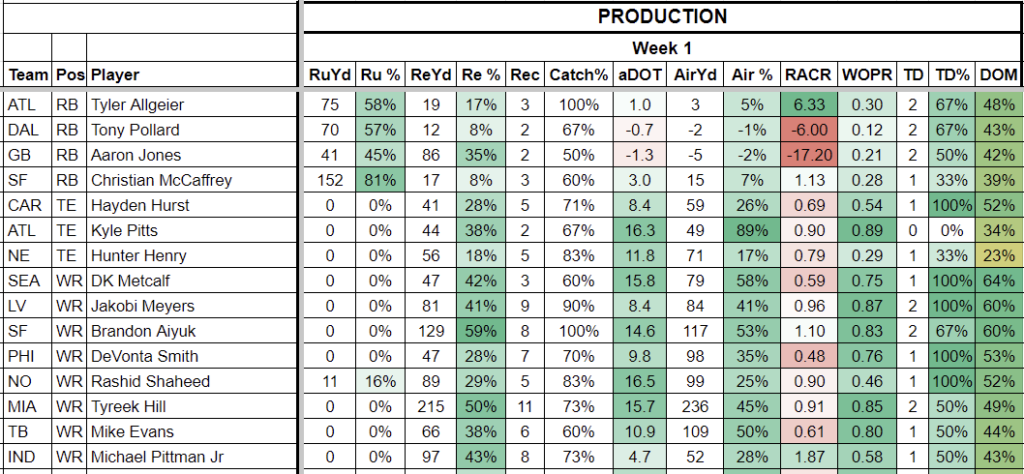 When I review this list, I like to focus on the players who made it with the least amount of touchdowns scored. Kyle Pitts, of course, sticks out as the only player with an outsized dominator rating and no Week 1 TDs. This is just another chapter in the frustrating life of a Pitts fantasy owner, as all of his advanced stats are elite, but his usage by the coaching staff is far from it. It looks like another potentially tricky season for both Pitts and Drake London this year.
I want to touch on DK Metcalf, DeVonta Smith, and Rashid Shaheed here since they are all WRs with a good amount of competition on their own teams. It's important to dig in and see which of these dominator ratings seems the most sustainable. Metcalf (94% snap) and Smith (98%) were both on the field a ton, while Shaheed (49%) definitely ran hot when he was out there. Similarly, both Metcalf (0.75) and Smith (0.76) had elevated Weighted Opportunity Ratings (WOPR), while Shaheed (0.46) was more average. Lastly, Shaheed (0.90) ran hot on RACR, while Metcalf (0.59) and Smith (0.48) did not. I am not completely writing off Shaheed's performance in Week 1. Still, I am definitely more confident that the underlying metrics from Metcalf and Smith to be sticky and potentially pop here soon.
AIR YARDS= FUTURE PRODUCTION
Who saw Air Yards > 35%, but fantasy share < 20% this week?

Of course, a large air yard share is only beneficial if your team actually passes for a lot of air yards (looking at you, Atlanta Falcons). So, for the purpose of this section, I will focus on the guys with the largest tally. It was a bummer to see Tee Higgins put up an absolute goose egg in Week 1, but his target share (27%), aDOT (18.1), Air Yards (145), and WOPR (0.77) combine to tell a borderline elite story. I am willing to chalk this up as a weird outlier game for both Higgins and the Bengals and have no fear of loading him up in Week 2.
Keenan Allen had a very typical Keenan Allen game against the Dolphins: always reliable for many targets and receptions. However, it is encouraging to see him getting as significant of an Air Yard share as he did. With him climbing in age, we will want to keep a close eye on how his Air % and RACR trend throughout this season, so we can understand if he still has the juice to convert opportunity to fantasy points in this new Kellen Moore offense.
Terrace Marshall, Michael Wilson, and Jonathan Mingo appear on this list, but they all have miserable RACR below 0.30. We don't have enough data on any of these guys to tell for certain whether these RACR games are outliers or typical performances from them. So, I would pause for now and see how they perform over the next few weeks.
RECEIVING ALPHA DOGS
Anything above a 0.8 WOPR is considered ELITE

Even though his quarterback, Ryan Tannehill, had a pretty brutal showing in Week 1, it's hard to deny that the Titans' game plan was to go to DeAndre Hopkins early and often. Similar to Keenan Allen above, we really want to focus on Hopkins RACR here over the next few weeks. A lot of the peripheral stats indicate elite usage and opportunity, however, if he's "lost a step" and ultimately can't separate and capitalize, then it may be an up-and-down fantasy season. I love the Week 1 numbers, though.
Calvin Ridley, one of the more polarizing figures this offseason, showed out in his first game back from his gambling suspension. Posting a stat line of 8-101-1 with a 34% target share and a 0.87 WOPR is evidence that things are clicking here with new quarterback Trevor Lawrence.
I think we can pretty safely drop the Davante Adams red flags off into the trash can. It seems like Jimmy Garoppolo will be a more than serviceable QB for the Raiders, and seeing Adams clock in with a WOPR of 0.85 in Week 1 is really encouraging. Of course, his teammate Jakobi Meyers stole the TDs, but I would look to Adams in a blowup spot with Meyers in the concussion protocol ahead of their matchup with the Bills.
RUSHING WORKHORSES
Which players commanded more than 80% of their team's rushing yards?

It's definitely worth noting that Najee Harris and his 52% snap share sticks out on this list. However, his 60% rushing attempt share aligns with the rest of this group. In other words, we really need to count on efficient performances from Najee, since his involvement and usage are rather low, and when we don't get those efficient weeks, we finish with 5.3 fantasy points like he put up against the 49ers.
It seems like Alexander Mattison's Week 1 performance is getting slightly overlooked, but there's not much more we could have asked for. Of course, the Vikings were playing a bit of catchup against the Bucs on Sunday, so the rushing volume wasn't there for Mattison (11 attempts). But the 73% snap share, 65% rushing attempt share, and 83% rushing yard share are all very encouraging. Similarly, Kenneth Walker, whose team was in catchup mode most of the 2nd half, didn't get there on volume, but the underlying opportunity metrics are very elite.
SNEAKY PASS-CATCHERS
Non-WRs who saw a hefty receiving share this week

Again, we must be cognizant of Bengals (82 total receiving yards) and Falcons (115 yards) showing up on this list because these offenses simply did not complete passes in Week 1.
Aaron Jones was a man-possessed to begin the second half for the Packers and probably would have had a bigger day if he didn't have some hamstring tightness paired with a big fourth quarter lead. His 15% target share was encouraging, and seeing that turn into a 35% receiving yard share is a great sign since the Packers continue to have a rotating cast of injuries in their WR room.
Derrick Henry, on the other hand, mainly makes this list because of one large reception. His 9% target share is nothing to get excited about, and his 48% snap share is actually a cause for concern. Henry will get the ball when he is in the game, as he still posted a 60% involvement rate and a 33% usage rate on his 30 snaps. Still, this is a spot I want to monitor closely moving forward.
LOSING GRIP ON RB1 STATUS
These RBs are all seeing decreases in their USG rating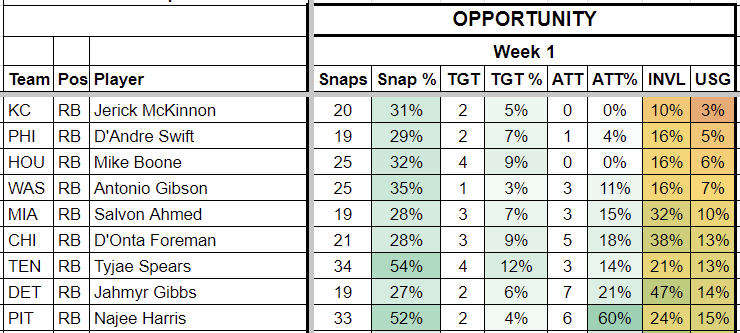 In future weeks, we'll be able to compare this category against previous usage, however, for Week 1, I am picking the RBs who saw 19+ snaps and had the lowest usage rate (targets + attempts / TEAM snaps). Understanding how usage differs from involvement (targets + attempts / PLAYER snaps) is an important building block for future editions of The Workload Report.
Seeing Antonio Gibson with only three rushing attempts and one target on a 35% snap share was definitely concerning. I wouldn't necessarily say that the game against the Cardinals was never in doubt, so it's not like Gibson got played off the field due to game environment. If this continues, he might be a guy that you'll need to decide on cutting ties with early in the season.
The Bears' backfield will be a headache to figure out this season. Yet, D'Onta Foreman's involvement in Week 1 is actually a bit more positive than his low usage number might suggest. While he was only on the field for 21 snaps, he had a target or carry in eight of those, which is good to see. It's hard to be able to count on any of these Bears RBs until we see anything else but a true committee.
ONE THING FOR EACH TEAM
A quick takeaway for all 32 teams in the league based on this week's games
ARI – Zach Ertz is the TE to own while healthy: 10 targets on 77% snap share.
ATL – It's a super condensed skill position group here, with only five players registering snaps. It's too bad they don't want to throw the ball.
BAL – Zay Flowers & Odell Beckham >> Rashod Bateman. Bateman was only on the field for 39% of snaps without Mark Andrews, which is not a good sign.
CAR – Chuba Hubbard (36% snaps & 28% rush attempts) is definitely a road bump in Miles Sanders' path to a bellcow workload.
CHI – Two targets for DJ Moore in a game they were trailing big just doesn't add up. I'm willing to chalk it up to Jaire Alexander's coverage, but we must see big things from Moore in Week 2.
CIN – 82 passing yards = delete the game from database. Joe Mixon did post pretty elite opportunity stats across the board, though.
CLE – Three tight ends and five WRs registered snaps, which is the opposite of a condensed offense. However, Elijah Moore and Amari Cooper were the bright spots. Both are buy-low candidates after a wet weather Week 1.
DAL – TE Jake Ferguson's seven targets an 0.53 WOPR is very appealing moving forward.
DEN – The Greg Dulcich injury boosts Adam Trautman, who already saw a 72% snap share and 17% target share against the Raiders. But, I'm not sure if Trautman has any real fantasy ceiling.
DET – Jahmyr Gibbs had a 47% involvement rate on 19 snaps, and if you watched the game, you are hoping the Lions keep loading him up. I would be buying after the Week 1 glimpses.
GB – Luke Musgrave with an 18.0 aDOT and a 25% Air Yards Share? Wheels all the way up.
HOU – Nico Collins saw 165 Air Yards in Week 1, and his 0.83 WOPR is ready to explode here soon.
IND – Anthony Richardson looked like a competent passer, and Michael Pittman is the main beneficiary. Eleven targets for 8-97-1 feels oddly sustainable. Amazing 7th round pick this summer.
JAX – Right now, Tank Bigsby is not a threat to Travis Etienne, who posted an 80% snap share, 73% rushing share and had five catches for 27 yards. It could be a big year for the Jags RB1.
KC – Thirteen skill position players not named Patrick Mahomes and Travis Kelce recorded a snap in Week 1. You will not be starting any of them in Week 2.
LAC – Even rushing attempt split for Austin Ekeler and Joshua Kelley. Kelley becomes a priority waiver target if Ekeler misses time with an ankle.
LAR – I am buying Puka Nacua more than Tutu Atwell mostly because Nacua doesn't weigh 115 pounds, but the numbers say to be buying both of them.
LV – This was an incredibly condensed production tree in Week 1, with Josh Jacobs, Davante Adams, and Jakobi Meyers scoring 90% of the fantasy points. These are things we like to see.
MIA – I am a bit concerned about how similar Jaylen Waddle's target share, air yard share, and WOPR look compared to River Cracraft and Braxton Berrios, but I'm not pressing the panic button just yet. Many things look weird when your alpha WR has 215 receiving yards.
MIN – Jordan Addison vs. KJ Osborn will be an important one to watch. The rookie was more efficient in Week 1, but Osborn still saw 91% of the snaps.
NE – Hunter Henry with an 11.8 aDOT on six targets…what more do you need from an 18th round Tight End?
NO – Derek Carr throwing for almost 400 Air Yards was not something I had on my Week 1 bingo card. It could mean real positive things for this NO Saints pass-catchers. It could also mean the Titans are still a massive pass funnel.
NYG – The G-Men really couldn't get anything going against the Cowboys' defense, who I'm pretty sure was the second-highest scoring "player" behind Tyreek Hill this week.
PHI – D'Andre Swift with a 19% snap share and Rashaad Penny as a healthy scratch is straight-up confusing. Philly backfield might be a tough puzzle to solve. More to come on Thursday night.
PIT – With Diontae Johnson set to miss a few weeks, Allen Robinson (old) is the unsexy waiver pickup, while Calvin Austin (young) is the sexy target.
SEA – Zach Charbonnet was not a threat to Kenneth Walker in Week 1. It's hard to tell if that was due to the trailing game script, but right now, it's nowhere close to a split backfield.
SF – At least the 49ers have a very condensed offense, because after their performance against the Steelers, it seems like at least two McCaffrey, Aiyuk, Deebo Samuel, and George Kittle will go off every week.
TB – So far, it's Evans > Godwin. But, the latter was very efficient in his opportunities. A 97% snap count for Cade Otton is amazing.
TEN – Only three targets for Treylon Burks is a bit concerning, as is the 50-50 snap share split between Derrick Henry and Tyjae Spears. Vrabel, give us some answers!
WAS – Curtis Samuel, Jahan Dotson, and Terry McLaurin might all be good enough to each be a thorn in the side for the other two players each week. Very spread out production in Week 1.