Is it finally the Chargers' year?
The Bolts have been seemingly everybody's sleeper Super Bowl pick for the last two or three years now. With studs like Justin Herbert, Keenan Allen, Austin Ekeler, and Mike Williams on offense, they seemed destined to find glory. Yet, through those three years, they've had a combined record of 26-24, with only one playoff appearance (a historic 27-point blown lead to the Jaguars).
Now, the Chargers have brought in Kellen Moore, former Cowboys offensive coordinator, to light a spark in their team. What does he bring to the table? Well, for starters, Dallas has been excellent on the offensive side of the football during Moore's tenure. In the last four years, they have finished:
2022: 3rd in points; 10th in yards
2021: 1st in points; 1st in yards
2020: 17th in points; 14th in yards
2019: 6th in points; 1st in yards
Apart from a down year in 2020, the Cowboys have really only been matched by the Chiefs, making them one of the most potent offenses over this span. Now moving to the City of Angels, Kellen Moore has inherited a group of players slated to explode.
The most enticing aspect being brought to the table is the deep ball.
FILM BREAKDOWN
Kellen Moore has a very special talent: getting his best players one-on-one matchups. His use of motion causes major problems for defenses, who are constantly getting their schemes exposed leading to easy points. Take this play from the Cowboys' Wildcard matchup against the Buccaneers: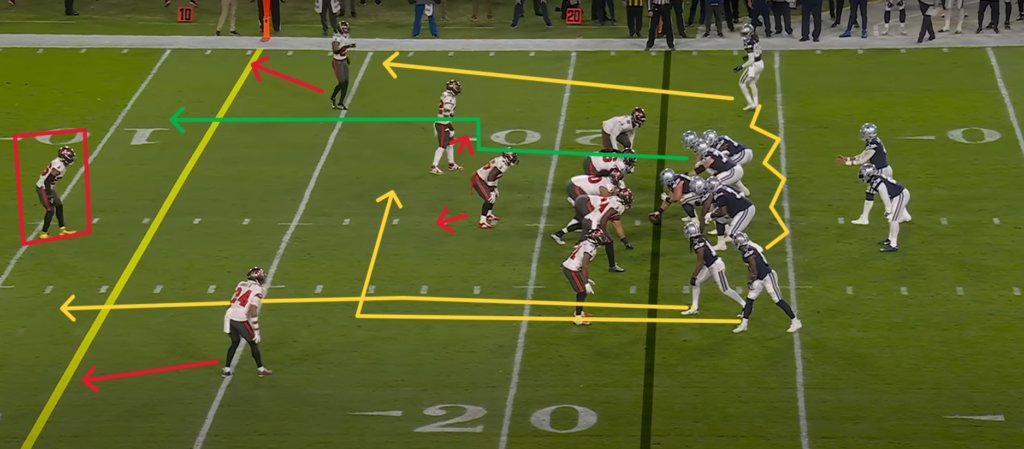 There are a lot of arrows here but stay with me. Ceedee Lamb's motion across the formation sees none of the defenders move an inch, and based on their high-safety look, this reveals a pretty standard Cover 3 defense. So, Dallas uses this newfound knowledge to send Dalton Schultz (green) on a double move up the seam. With the far-side corner occupied and the safety frozen off of a T.Y. Hilton seam route, Schultz is open for six, all due to Kellen Moore's strategy.
This is just one instance, but Moore does this all the time. His ability to open up one-on-one chances and scheme up open players is impressive. The constant air barrage causes the defense to become even more predictable when they know they have to stop the pass. Consistent nickel looks with an extra defensive back become common, along with Cover 4. Kellen Moore knows how to take advantage of this.
Take a look at this play, where he schemes up an open man: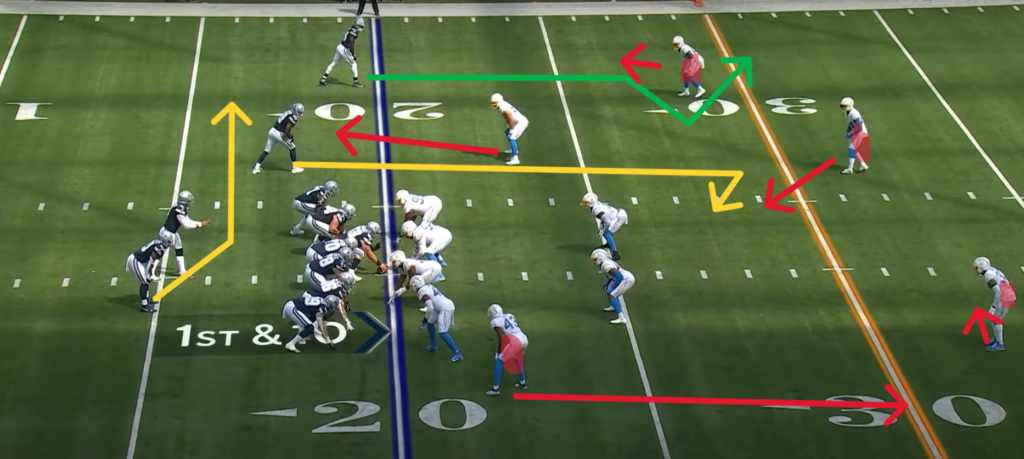 Here, the Cowboys know the Chargers are in a Cover 4 look, with the four defenders I have highlighted in deep quarters. To take advantage of this, Moore sends Ezekiel Elliott to the flats to occupy the curl-flat defender, forcing the middle safety to take the curl route in the slot. This leaves CeeDee Lamb (green) on the outside, one-on-one, which he exposes for a first down. Now, CeeDee is a great route-runner, but Keenan Allen's routes and Justin Herbert's arm may be able to make even greater plays out of these open routes. 
Now, with teams running nickel, game planning against the pass, and feeling pretty defeated, this is when the running game can open up. Austin Ekeler may not be around next season, but Joshua Kelley and Isaiah Spiller are certainly no chumps. Although, Bijan Robinson is suddenly looking very enticing to the Chargers' front office. His fit in the offense would be spectacular given his athletic talent and his ability to open up the pass (as well as vice versa), so he seems like a great pick.
CHARGERS OUTLOOK
Keenan Allen is looking to get back to form. He has had the fifth-most receiving yards among all players from 2017-2021, averaging almost 1,200 yards and 6 touchdowns in each of those seasons. He has been graded as a top 15 receiver every season but one since 2016 by PFF, and a new system should ignite his flame. As one of the most fundamentally sound players in the league, he has been viewed as having some of the best route-running and sure-hands you could ask for. Moore will have a field day with a vet like Allen.
On the other side, there's Mike Williams. He has been much more volatile over the last few years, but showed great flashes at the start of 2021; if you remember, he was a consistent WR1 to start the year and looked like the steal of the draft.
Last year was a step-down, but granted, he was battling a high-ankle sprain that kept him sidelined for a bit. A new offensive coordinator could be exactly what he needs. Grabbing contested catches is his strong suit and Kellen Moore's offense is geared to force it downfield.
According to Pro Football Reference, Dak Prescott finished top ten in the league with 8.2 intended pass yards per attempt, essentially meaning the Cowboys like to throw deep. Despite his great passing numbers overall, Justin Herbert ranked 31st in this same stat, which is unfortunate for 6-foot-4 Mike Williams' production potential. That should change very soon.
Keenan Allen is currently ranked as WR17 (+7 vs. ECR) with Keenan Allen right behind him at WR17 (+2 vs. ECR) on The Wolf's 2023 Fantasy Rankings, so starting thinking about drafting these guys. Justin Herbert is currently sitting at QB6 (+1 vs. ECR) and could end up being a great steal if you can get him late enough, or make a play for him in dynasty, as this is the year we could see him go from elite to generational under Kellen Moore.