RB 23 vs. RB 81 That's the pre-season difference in ADP between Cam Akers and Kyren Williams.
Once again, Akers managers are panicking after Williams appeared to be the preferred back in Sunday's tilt against the Rams.
In our week one edition of the Workload Report, we see just how bad the rushing game was, despite the three rushing touchdowns.
Indulge me momentarily as we partake in a thought exercise where we look at stats without touchdowns for further context. Without the three touchdowns on the ground, the two backs combined for 81 yards on 37 carries. Yikes! Sorry, but 2.2 YPC isn't going to get the job done.
Williams appeared to have a more valuable role. In fact, Williams' opportunity suggested he should have scored 16.9 xFP with three fewer opportunities than Akers' 12.4 xFP.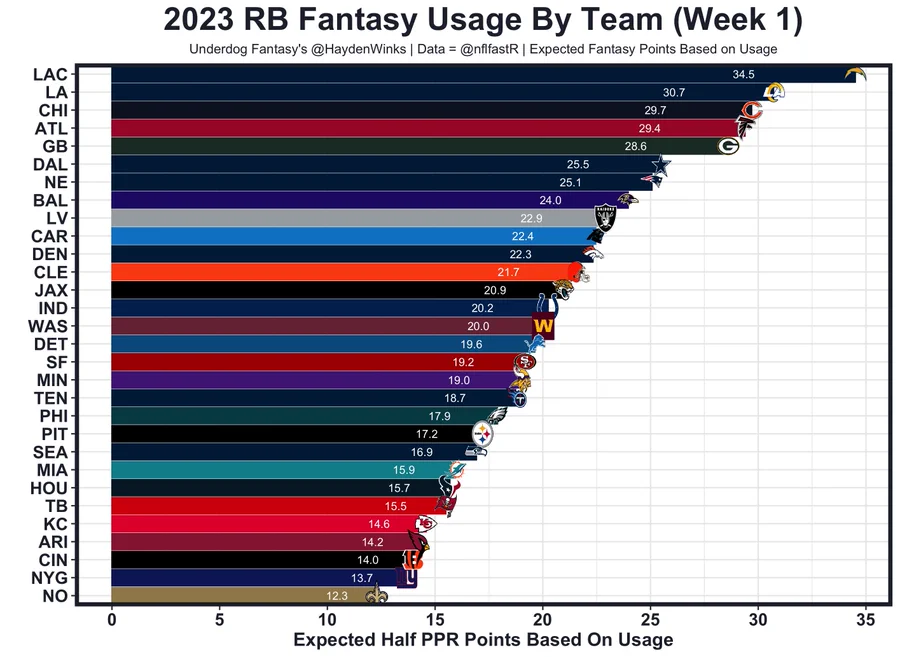 Williams was involved in 74% of the team's routes and totaled 57% of the team's rush yards, vs. Akers' 32%.
It is worth noting that, when it came time to close the game out, Akers got the nod. Obviously, the Rams still trust Akers to handle a heavy workload, and he did finish the game with 22 total opportunities.
So who can you trust?
The answer is neither… at least not yet.
The run blocking for the Rams was absolutely atrocious. Starting center Coleman Shelton was the lone bright spot for the big men in the trenches. According to PFF, Shelton posted a 92.5 run-blocking grade… on the Rams' six zone-blocking rushing snaps, while he scored 52.0 on the Rams' 31 gap-blocking snaps.
No other offensive lineman graded above 58.1 as a run-blocker.
With the San Francisco 49ers next on the docket, fresh off holding the Pittsburgh Steelers to 41 total rushing yards, there is little reason to start either.
It's best to let this mess of a backfield play out beyond week two and reassess.