With Travis Kelce out of the lineup on Thursday night, the Skyy Moore truthers were out in full force leading up to kickoff.
Fantasy analysts across the internet thought he could go nuclear in Kelce's absence as Patrick Mahomes' WR1! The Wolf boosted Moore up to WR31 on his Week 1 Rankings! There are also rumors swirling that the person who wrote this article benched Gabe Davis (who will go 6-150-2 on MNF) for Moore just minutes before kickoff!
Then, he put up a fucking goose egg receiving line after earning the start and playing a career-high and receiver-high 70% of the snaps. Don't let the snap share fool you. He's not a buy-low. It's clear Patrick Mahomes does not trust him, even with Kelce in street clothes. When his number was called three measly times late in the game, he came up short.
To put Moore's performance into perspective, he was only one of two skill position players on the Chiefs without a reception. Moore had significantly more snaps than something called Matt Bushman, who had seven snaps to Moore's 45 and ran two routes to Moore's 29.
Truly pathetic.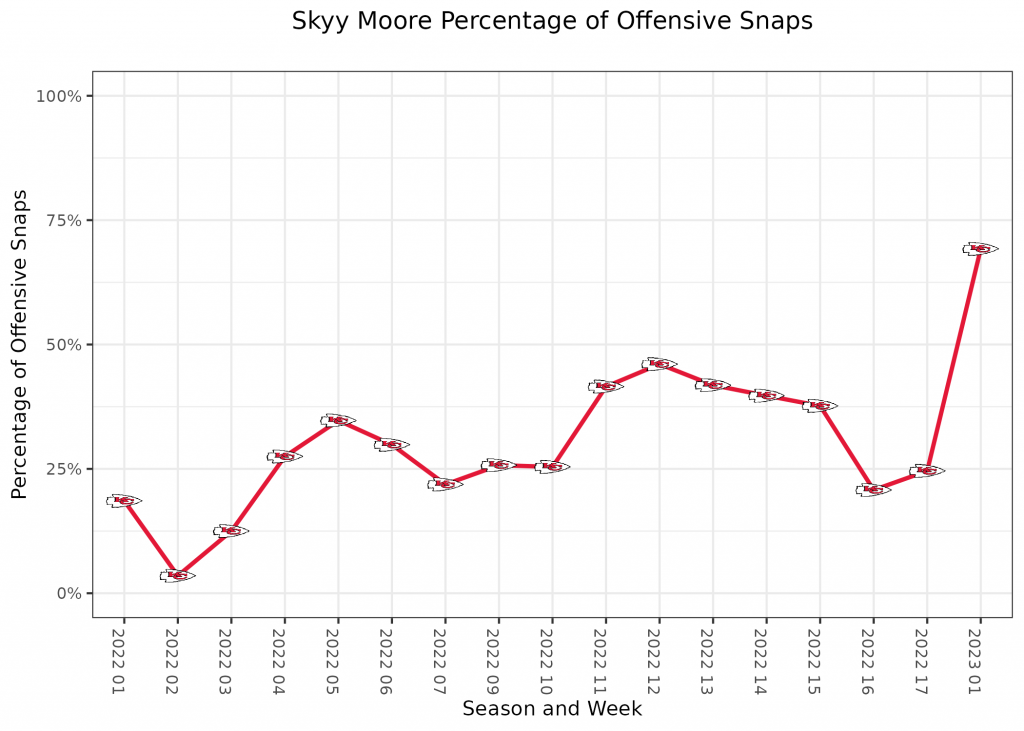 The table was set for Moore to succeed in Week 1. Kelce's double-digit targets and receptions were up for grabs. The Chiefs' receiver depth chart was as open as it gets. The Lions' secondary allowed nine players to exceed 100 yards receiving in a game last season. They also allowed 23 touchdown receptions last season. Yet, Skyy Moore did cardio for four quarters.
Moving forward, the Chiefs passing offense is something else with Kelce out of the lineup. Rashee Rice had a very solid NFL debut, catching three of five targets (on only 12 routes!) for 29 yards and a score. If you want to laugh, it took one game for Rice (10.4 fantasy points) to best Moore's top fantasy output (6.8) of his 17-game career. Additionally, Kadarius Toney was an embarrassment who basically cost his team the game.
Overall, it shouldn't shock anyone if Rice eventually leap-frogs Moore on the depth chart. Plus, the available target share will dry up once Kelce returns.
So, to answer your questions: Yes, you can hate cut Skyy Moore. And no, I'm not bitter (yes, I am bitter because I drafted him at 8.12 in my big-money league over the likes of Courtland Sutton, De'Von Achane, and Zach Charbonnet).
Cut ties with your ninth-round pick and let someone else toggle between starting or sitting him after he posts a lucky and random 5-76-1 in a few weeks.