This 2023 dynasty fantasy football trade value chart looks different than other trade charts you're used to seeing. Most other analysts take their dynasty rankings, apply arbitrary numbers to each player based on rank order, and call it a day.
I tried to make this chart more valuable by providing context. Explanations for each column can be found at the bottom of the page.
All values are based on a 12-team Superflex league with 10 starters and full-PPR scoring without TE premium. All draft pick values are assumed to be 2023 picks. Click the links below to see the value of other positions.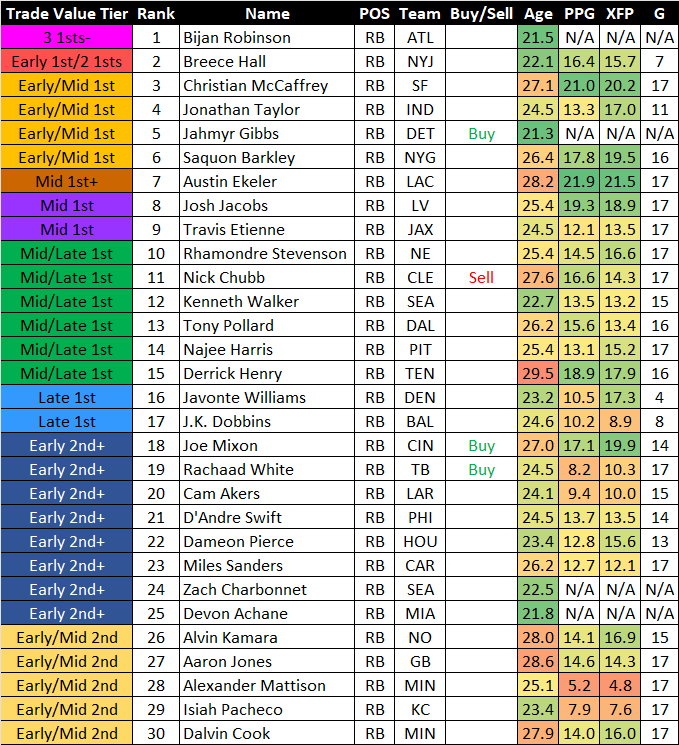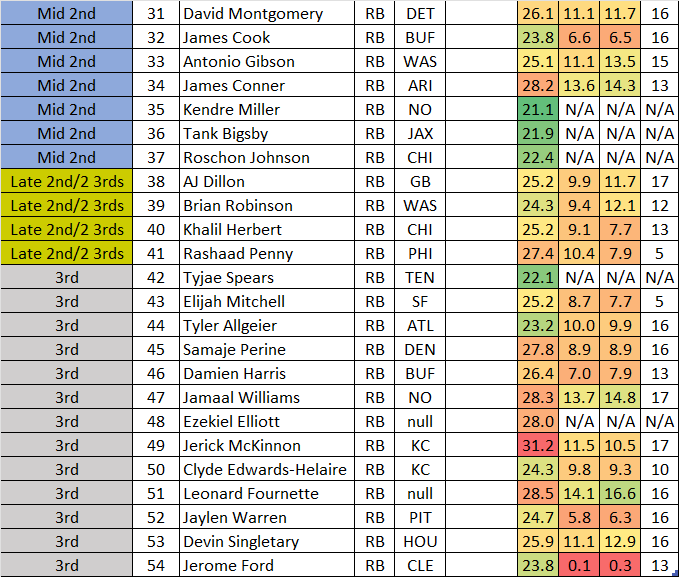 KEY:
Trade Value Tier
This column provides the rough market value for each player in terms of draft capital. Players and picks can be combined to create fair offers. For example, a player worth three first-round picks would be roughly equivalent to a player worth two first-round picks, plus a different player worth one first-round pick
Rank
This column contains my dynasty rankings by position. I recommend focusing more on the trade value tier than the rank column. Players within the same tier are very similar, and I would usually like to trade players at the top of a tier for a lower-ranked player in the same tier if I can get draft picks or other assets on top. The rankings take market value into account
Buy/Sell
I would look to target players in trades labeled "Strong Buy" or "Buy" if you can acquire them for market value. I would look to trade away players labeled "Strong Sell" or "Sell" if you can get market value in return. The ranks and tier values take market value into account, so I believe players labeled "Buy" will either produce more fantasy points than their market value indicates or increase in market value in the future. The opposite is true for players labeled "Sell."
PPG
Points per game scored in 2022 using full-PPR scoring
XFP (Expected Fantasy Points)
This column contains data from the same games through Week 14 of 2022.
XFP calculates the value of each target and rushing attempt based on the distance to the end zone and air yards. These historical data attributes correlate highly with fantasy points per game (PPR scoring).
For more information on Expected Fantasy Points and to utilize our XFP data tool, click the link below:
G
Games played in 2022
RSJ'S XFP TOOL: CARRIES, TARGETS, AND AIR YARDS FOR EVERY PLAYER