Even though the lights shine brightest during the first round of the NFL Draft, guys like Stefon Diggs and Antonio Brown were born out of the later rounds. The 2023 rookie class gives us another opportunity to dig through the laundry list of new pro arrivals to see if we can find the next hidden gem or gems for dynasty football rookie drafts.
MARVIN MIMS JR., DENVER BRONCOS (PICK 2.32)
The Broncos still have Courtland Sutton, Jerry Jeudy, and Tim Patrick, so it's hard to imagine where Marvin Mims immediately fits in. However, the trade rumors this offseason concerning Sutton and Jeudy were hot, and as the first Sean Payton-era Broncos receiver drafted, we have to consider his future as a starter.
Mims profiles as a field stretcher with top-end speed. Beyond his deep threat potential, NFL.com's Lance Zierlein believes Mims "has the athletic qualities to expand" on his route tree in the pros. Most incoming rookies get critiqued on their route-running without any explicit mention of their potential to improve.
With a class-leading 18.0 air yards-per-target, Mims' speed got him day two draft capital which seems to serve as a vote of confidence from Denver's front office that he can develop his game beyond just a deep threat. If he can do that, especially if becomes one of Denver's top-two receivers at some point, spending a late-second-round rookie pick on him in a rookie draft will be a steal.
JALIN HYATT, NEW YORK GIANTS (PICK 3.10)
Jalin Hyatt's 2022 collegiate production at Tennessee and his mix of elite athleticism made him the top-scoring receiver in the ranks of NFL.com's Combine scoring, for what it's worth.
Hyatt comes in with a slender frame at 6'0″, 176 lbs, but hopes to get his weight up to 190 for the season to offset the issue.
The word on the former Vol is that he can take the top off of defenses the way the Giants' receiver room couldn't last season, which can open up the run game more for Saquon Barkley and Daniel Jones. If this hype holds true, he could easily find himself in two-wide receiver sets, and it certainly doesn't hurt that he's just the second receiver drafted in the Brian Daboll/Joe Schoen era.
In an offense trending up from last season, that could mean enough playing time to avoid the high volatility and low floors that can sometimes come with deep threats, making him an attractive late-round dart throw in redraft leagues. As well as a late-first-round value in dynasty rookie drafts who's still going as late as the early third round, according to recent ADP.
MICHAEL WILSON, ARIZONA CARDINALS (PICK 3.31)
With DeAndre Hopkins remaining in Arizona for at least one more season, Michael Wilson is similar to Marvin Mims in that he landed in a crowded depth chart that could impact his 2023 fantasy outlook. Plus, Wilson has a lengthy injury history, having only played 14 games for Stanford the past three seasons due to three injuries, courtesy of Draft Sharks:

The undisclosed injury that ended Wilson's 2022 season puts an element of mystery on whether or not these injuries will affect his pro career, but the Cardinals felt confident enough in his potential to make him a Day 2 pick.


At 6'2″, 213 pounds, Wilson's size is very nearly identical to Hopkins, with Wilson coming out of college with a better athletic profile. If the Cards got him as a Hopkins replacement, he'll have to overcome the stigma of being a non-early declare, which may be excusable considering all the missed time he's had the past three years.
Having been asked to incorporate a more elaborate route tree in college could help speed up his transition to the NFL, which at age 23, serves as more of a necessity than a luxury. Intangibly speaking, analysts observe that Wilson plays with a sense of urgency, which could translate to "got that dawg in him." Largely going in the fourth round of dynasty rookie drafts, if at all, Wilson is a pick with next to no risk in case his pro career doesn't produce fantasy relevance.
TYLER SCOTT, CHICAGO BEARS (PICK 4.31)
With Darnell Mooney set to become a free agent after this upcoming season, the Bears might be preparing for Scott to occupy a Mooney-type role, as they share very similar athletic profiles.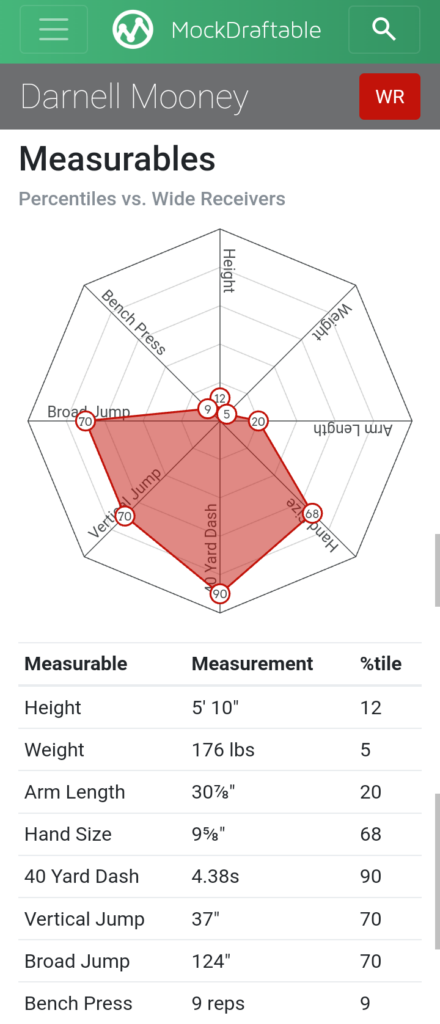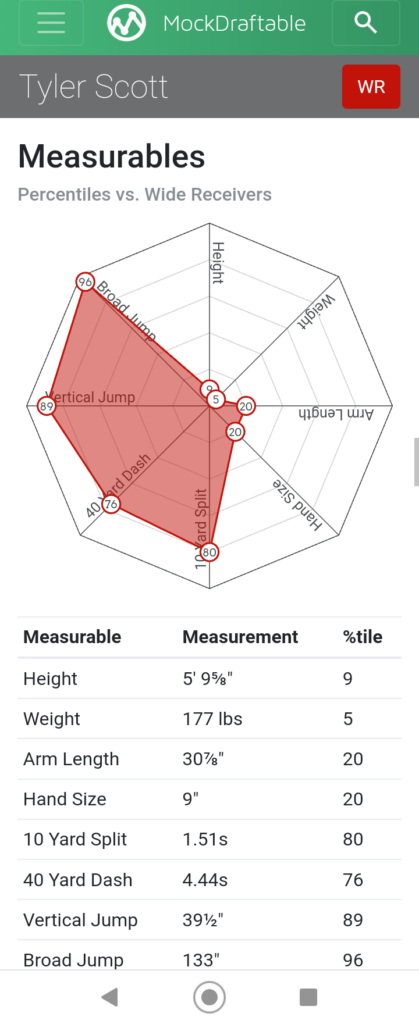 Now with DJ Moore in town, it's tough to project how well a no. 2 in a Bears receiving core will fare, as historically the franchise hasn't been an aerial powerhouse. This could change as Justin Fields continues to develop his game, and as Scott develops his own game, he could become more than a field-stretcher with top-end speed (4.44 40-yd dash).
A late-round dart throw in dynasty rookie drafts is suitable for anyone looking to be patient for a year or two before seeing the results pay off. Due to his upside in an ascending offense, Scott is an optimal Taxi Squad candidate.
PUKA NUCUA, LOS ANGELES RAMS (PICK 5.42)
The number one WR prospect in Utah coming out of high school, with titles like Mr. Football and the Utah Gatorade Player of the Year, those accolades didn't translate to production during Nacua 's first two collegiate years while at Washington, with a season-ending broken foot injury contributing to that his freshman year.
After transferring to BYU for his junior season season, the numbers much more paralleled the high school accolades as the Cougars utilized him more as a rusher as well as a receiver.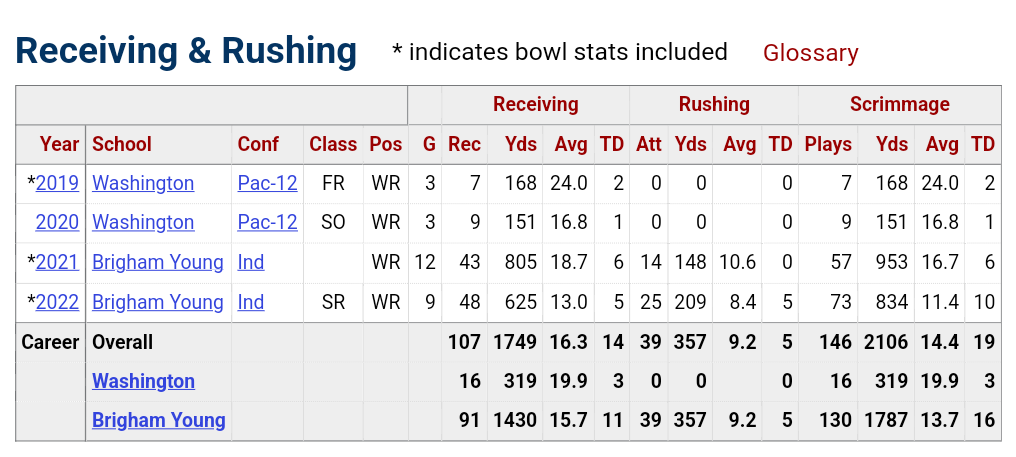 — via Sports Reference —
As a general prospect, there wasn't a lot of excitement due to a lack of route-running prowess, and according to Lance Zierlein, a difficult time ahead of him as a separator against many and press coverage. But as with many sleeper receiver candidates, not having much of a route tree could be a matter of untapped potential due to offensive scheme at college and how much was asked of him to do.
Post-NFL Draft, the hype train started chugging about Nacua's landing spot with the Rams. His heavy use as a gadget player draws a lot of comparisons to the play style of Robert Woods, a previously non-rosterable fantasy receiver who Rams coach Sean McVay turned into not only turned fantasy-viable, but a consistent fantasy starter.
Below are the top 5 WRs in YPRR against zone coverage last season. #NFLDraft

1. Rashee Rice 3.85
2. Puka Nacua 3.81
3. Marvin Mims 3.60
4. Jalin Hyatt 3.51
T5. Tyler Scott 3.47
T5. Trey Palmer 3.47

— Nick Penticoff (@NickPenticoff) May 2, 2023
Though lacking a formidable route tree, if Nacua can find holes in zone coverage and continue racking up yards-after-catch at the pro level, Sean McVay is as good as any offensive mind to utilize it, and cause Nacua to contribute in fantasy lineups, even if it doesn't happen right away.
Success during a game is a different animal that during off-season programs, but so far, Puka seems to be doing and saying all the right things, impressing Rams coaches and players on a team that doesn't have an established WR2, so the opportunity is there.
As time has gone on since the NFL Draft, Puka has become less and likely to be undrafted in rookie drafts, and now, someone dropping a 3rd round pick for him isn't out of the question.
KAYSHON BOUTTE, NEW ENGLAND PATRIOTS (PICK 6.10)
Like Michael Wilson, Kayshon Boutte's college career was hampered by injury. But unlike Wilson, he's given reason to question if he's "got that dawg in him." Doubts about his mental toughness arose largely from his inability to build off of his freshman season in 2019, in which he racked up 5.2 catches-per-game, 77.8 yards per game, and 14 total touchdowns in 16 games before fracturing his ankle. Those numbers dropped to 4.4 and 48.9 respectively, with only two total scores in 11 games played.
Boutte entered his final season at LSU as a potential round-one receiver, but a mix of character concerns, effort, injury, and an abysmal NFL Combine dropped him all the way to the sixth round.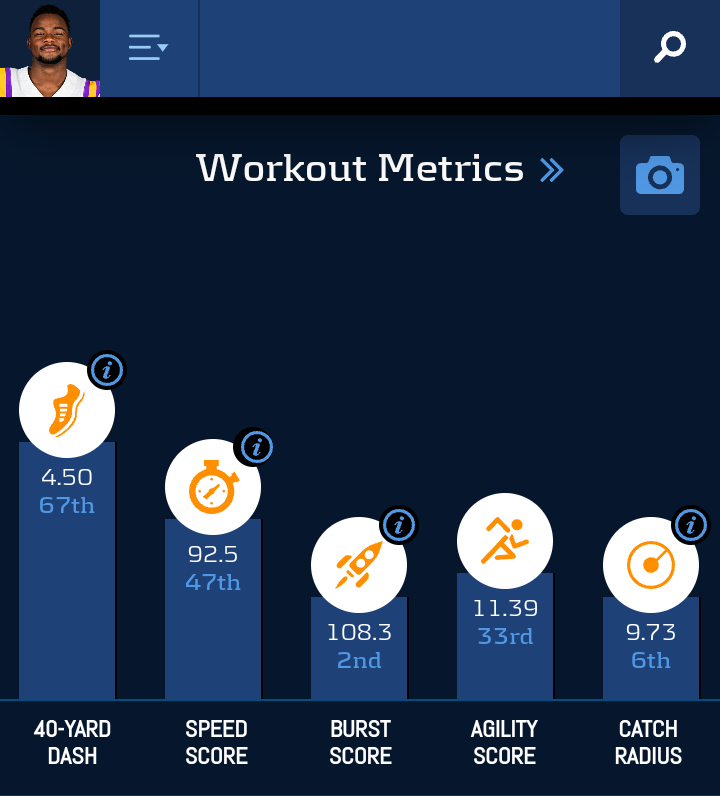 A poor combine showing didn't quell concerns about his ankle recovery, and tension with LSU coach Brian Kelly during the 2022 season certainly didn't help either. Going into the draft, it was believed that coaching at his new destination will be of utmost importance to prevent Boutte from becoming a bust and for what it's worth, he now gets to learn the Patriot Way. Perhaps Belichick and O'Brien (aka the Bills…okay, I'll stop) can unlock the player that looked like he was starting to come back into form during the back end of '22, including his 6-107-1 performance against Georgia in the SEC Championship game.
Boutte could very likely go in the third round in rookie dynasty drafts, and no earlier. Spending a second round pick to get him may pay off considering his ceiling, but the red flags are a-plenty, and they're no secret, so play at your own risk.
Uncover more late-round rookie fliers using The Wolf's 2023 Dynasty Rookie Rankings.