Player Stock Ticker
Fantasy Football Week 5 Cut List: Is it Finally Time to Say Goodbye to Allen Robinson, Chase Claypool?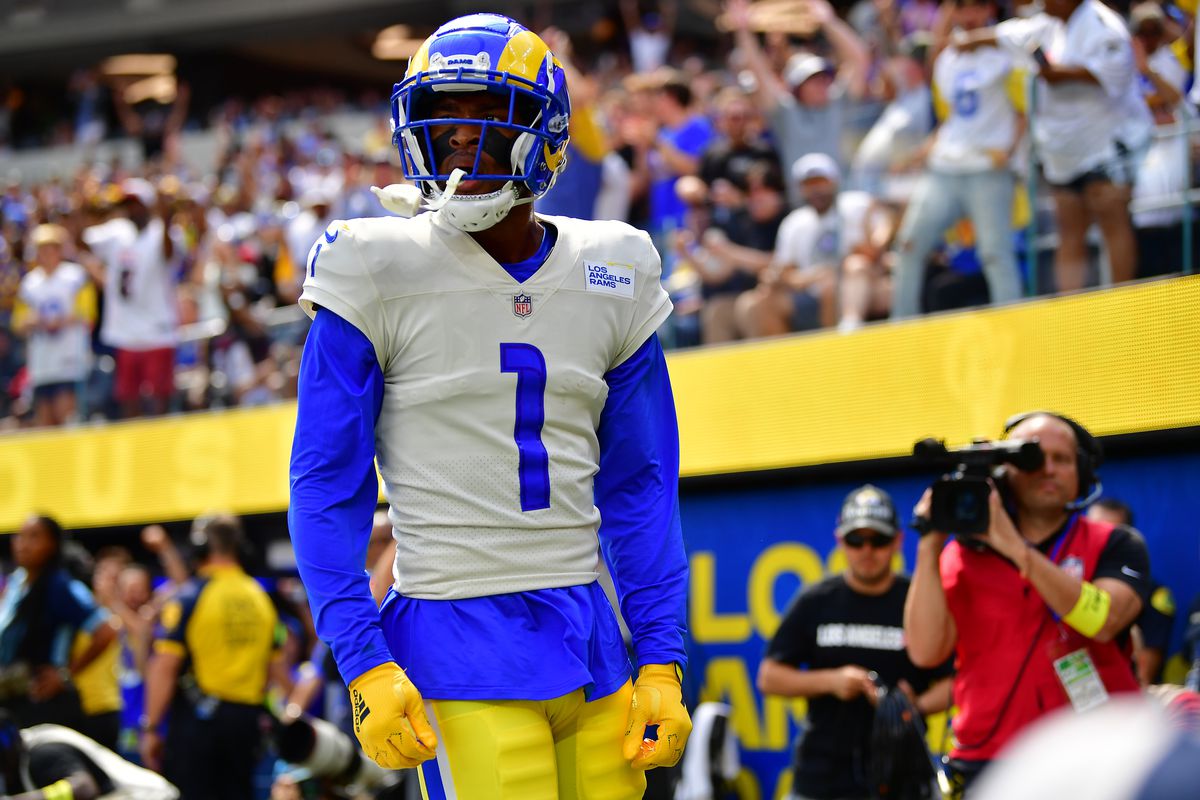 Fresh faces and fresh circumstances always beg the question: is this for real, or just a flash in the pan (see George Pickens' coming out party in Kenny Pickett's first game)?
After a month of football, a lot of freshness is wearing off, and it's on savvy fantasy players to recognize what the true colors are.
Roster percentages are (NFL.com, Yahoo, and ESPN)
BAKER MAYFIELD (8.7%, 13%, 11%)
The Cardinals' pass defense was exploitable, but the only bright spot Mayfield could muster against them was his connection with Christian McCaffrey.
And honestly, any quarterback could connect with CMC. More play like this, and Baker could lose his job to Sam Darnold after he gets back from a high-ankle sprain.
MARCUS MARIOTA (38.6%, 27%, 30%)
After a decent first two weeks, Marcus Mariota may have been figured out. Though the Browns allowed over 200 rushing yards to the Falcons this past week, they held Mariota to 7-of-19 passing for 139 yards and an interception — and that was without Myles Garrett and Jadeveon Clowney.
The week prior, Mariota went a pedestrian 13-for-20 for 229, one TD, and one INT against the same Seahawks defense that Jared Goff went off against despite not having D'Andre Swift or Amon-Ra St. Brown.
With the Buccaneers and 49ers in the next two weeks, it could soon be Desmond Ridder time.
GREG DORTCH (20%, 32%, 23%)
Outsnapped in week 4 by Rondale Moore 65-to-27, and with the imminent return of DeAndre Hopkins, the writing's on the wall for Dortch. It was fun while it lasted.
MIKE GESICKI (41.1%, 26%, 52%)
Mike McDaniels' arrival set Mike Gesicki up to focus more on his blocking, which could have meant more snaps and more opportunities.
However, his four catches for 41 yards and a touchdown (62-percent snap count) in Week 2 now looks like the anomaly, with the other three weeks combining for only four catches for 30 scoreless yards (six targets, 42 percent snap count). It's scary, considering the lack of talent and fantasy relevance at the tight end position.
GET THE SCISSORS READY…
JAMES COOK (23.6%, 35%, 40%)
This isn't so much a "prepare to dump him" post as it is "prepare to be disappointed".
Devin Singletary's workhorse role took two and a half years to show up and had many doubters about his ability to shoulder the load.
But even after James Cook was drafted, Singletary is still carrying the load, including an 88-percent snap share in week 4 against the Ravens.
So far, the bulk of Cook's carries have been in garbage time, and he's no lock to overtake Zach Moss as the Bills' RB2.
So even as a handcuff, it's time to consider the very real possibility that if Moss gets hurt, Cook still won't put up FLEX numbers, and if Singletary is out, Cook is no lock for your starting lineup.
CHASE CLAYPOOL (52.9%, 56%, 76%)
After being a clear third in snap count among Steelers' wide receivers, George Pickens was only two behind Claypool this past week, 47-to-45. And now with a second straight week out-targeting Chase, the fresh-faced rookie has put Claypool's fantasy roster spot on alert. To make matters worse, he made little-to-no effort on the jump ball that resulted in Kenny Pickett's first interception.
ALLEN ROBINSON (71.3%, 90%, 85%)
He was supposed to have the best quarterback of his career. The preseason reports were glowing. And yet somehow, Matthew Stafford has a 70.7 completion percentage this season, but only 50 percent when throwing to A-Rob. And it's not like it's gotten any better with time.
Cooper Kupp saw 14 receptions for 122 yards this past Monday night, and the Rams only scored nine points against the 49ers. Future defenses will be just fine letting Kupp monopolize targets if that's going to be the outcome.
To be fair, the Bills (who the Rams faced in Week 1) and 49ers could arguably be the best two defenses in the NFL, but A-Rob's connection with Stafford is so bad right now, that at some point, something has to change. The longer Robinson produces like a WR7, the less fathomable it becomes that he can turn it into WR2 numbers.
Dropping A-Rob still sounds absurd. But, it's time to start considering the option.