Player Stock Ticker
Romeo Doubs is a Must-Add Off the Fantasy Week 4 Waiver Wire as Aaron Rodgers' Potential WR1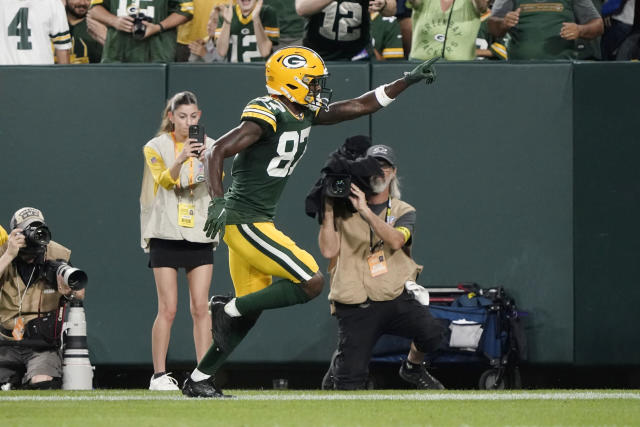 Heading into the season, the Packers wide receiver room was a land of opportunity. We watched to see who would catch on, as whoever did would likely become a consistent target for Aaron Rodgers . After week 3, Romeo Doubs looks like he may fit the bill.
Allen Lazard. Christian Watson. Sammy Watkins. Randall Cobb. The fantasy community went on the quest to predict who would emerge as Aaron Rodgers ' WR1 in 2022.
Fresh-faced rookies naturally get hype largely due to being unknown commodities in the pros, with their potential still uncapped. Naturally, Watson, who was drafted two rounds ahead of Doubs, got the bulk of the rookie hype.
But Doubs stood out enough right away to get noticed in the football world. Now, I'll take my grain of salt for bringing up training camp hype, and another one for quoting Aaron Rodgers :
"Every single day, there's been at least one 'wow' play [from Doubs]," Rodgers said during camp. "And that's rare for a young guy like that. We've had some guys over the years do that, but they are all in the top 10 of Packers receiving history. Good start for him."
Others at Packers camp gave him props for his route-running, which is notable since it was considered the part of his game that arguably needed the most work, followed by inconsistent hands and focus drops, perhaps the two biggest reasons for his lower draft capital.
But with Watkins and Watson continuing to be hampered by injuries, Doubs has had the opportunity, and in Week 3 against the Buccaneers, capitalized on that opportunity by catching all eight targets for 73 yards and a score.
That begs the question, has Doubs earned Aaron Rodgers ' trust?
The hype train is rolling again, with The Athletic's Matt Schneidman claiming that Doubs "showcased his route-running prowess and speed in the open field."
Then, there's ESPN's Rob Demovsky, who said Doubs could win the coveted WR1 job in Green Bay:
"The way Aaron Rodgers  raved about him after Sunday's game, Doubs just might be next in line for that role. While Rodgers is always going to rely on Randall Cobb and Allen Lazard, there's no denying that Doubs can do things others can. His combination of route running and athletic ability — combined with fast-improving hands — make him the most likely receiver to break out in this offense. That's not to say Christian Watson won't, but Doubs is off to a much faster start, and there might not be any looking back now."
Well, okay then. Is the search over? Is it DoubSZN?
It's still a short sample size, but obviously, an alpha WR in a Rodgers-led offense is going to be a hot commodity. If he's available on the Week 4 Waiver Wire in your redraft leagues (4.6% rostered on NFL.com, 26% Yahoo, 16% ESPN), he's likely going to cost you a pretty penny, too. But anytime the most metric-centric, analytical fantasy players are being 100% honest, they tell you: go get your guys.
Don't be surprised if you have to drop at least 25% of your season-long FAAB budget and don't regret it if the Bucs game happens to be a flash in the pan for Doubs. The upside you're chasing is respectable.
For dynasty, there isn't much to talk about. Those who drafted Doubs were very likely already high on him and waited for this breakout. Thus, they won't be looking to sell high unless the trade offer was ridiculous.
What about the staff at Roto Street Journal, do we think he's a stud? I mean, he did play for the Nevada Wolfpack, so…
But for realsies, keep an eye on The Wolf's Rest of Season Big Board updates to see if Romeo overtakes Davante Adams rest-of-season. Okay, maybe I wasn't 100% realsies with that one either, but definitely follow how far his stock rises.
Doubs sits at WR44 on The Wolf's Week 4 Rankings.