Player Stock Ticker
DeVonta Smith Cemented as a Weekly Fantasy Starter After Week 3 Breakout Versus Commanders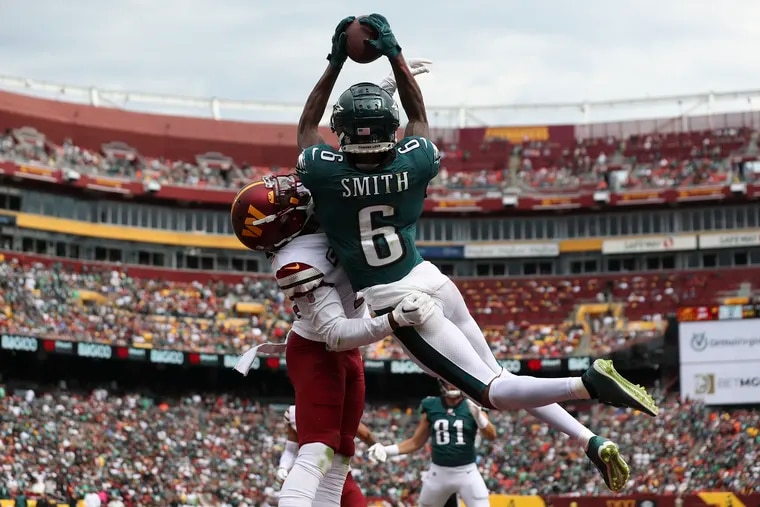 The Eagles are flying at 3-0, and they're doing it through both the ground and the air this season.
"The arrival of player X on team X will open up more opportunities for player Y."
There were a lot of those narratives during the offseason due to so many players hopping teams. The arrival of AJ Brown to Philly is so far bringing that narrative to life for DeVonta Smith.
Coming into Week 3, Jalen Hurts was eighth in the NFL in passing yards. He added another 340 to that against the Commanders, going 22-for-35 with three TDs and no interceptions.
Highlighting Hurts' performance is that the Eagles could only muster 72 rushing yards as a team. Heading into the game, they ran the ball on 53.7-percent of their plays, mirroring their league-leading 52.7-percent from last season.
But against Washington, they had to pass to succeed, and they did. They had a pass-run ratio of 35-30 and DeVonta commanded the alpha-WR duties going 8-169-1.
So what about Smith's goose egg against the Lions in Week 1?
Week 1 is typically sloppy, fluky, and weird. We shouldn't hold much stock in it, for a team whose success can only be optimized by keeping Smith, Brown, and Dallas Goedert involved, just like in Week 3, as all three found the end zone.
He also saw a lot of former first-round CB Jeff Okudah, who has bounced back in a big way after getting away from Matt Patricia and recovering nicely from his Achilles injury.
Smith's upside makes him essentially an every-week fantasy starter, the downside being that AJ Brown's presence could definitely lead to a handful of disappointing fantasy days for Smith.
But that's the ride we should have been prepared for when getting DeVonta on our fantasy teams.
Brown is a beast, but the Eagles traded up to get Smith at pick number 10 for good reason last season. He can hold his own, breaking the Eagles rookie receiving yards record, and outproducing other top receiving talent during his Alabama tenure.
After showing that they can win in the air or on the ground, the effectiveness of the Eagles' offense may raise DeVonta Smith's rest-of-season ranking on Wolf's Big Board, which currently stands as the WR48 (-6 vs ECR).